What's the perfect font size for Business Cards?
Follow the guide to stand out loud and proud. And legible.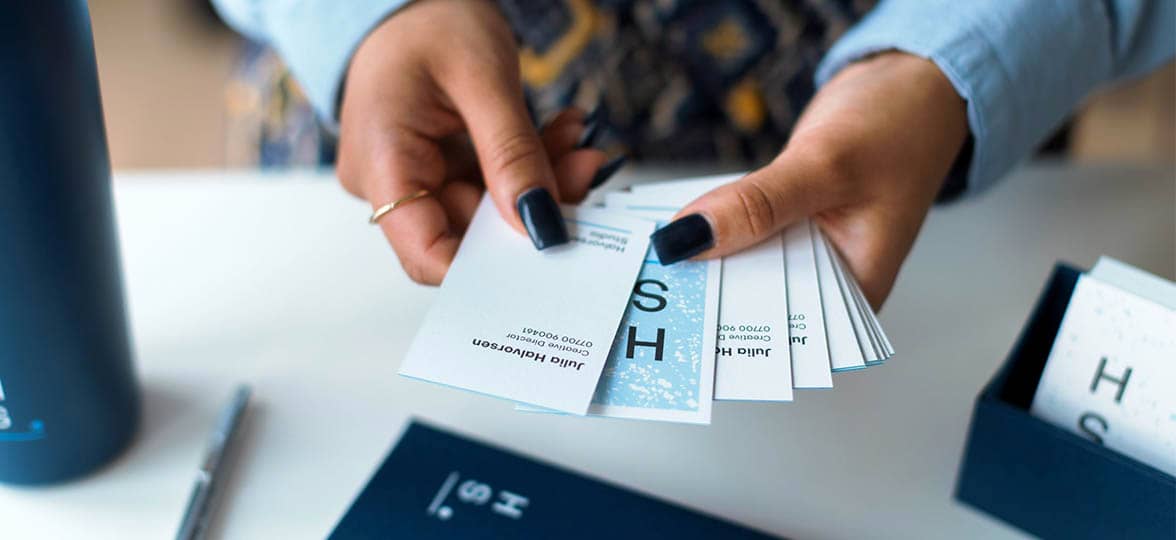 Good Business Cards do the talking. But with a tiny font, it may be more of a whisper.
So what size font is best for Business Cards? Specs, typefaces, special finishes… – we've got you covered.
Finding the Holy Grail of Business Card font sizes
It's actually pretty easy to pick the right font size for your Business Cards if you follow some basic rules.
First, you should know font sizes are measured in points. That's the number you see on your Word documents and Photoshop files when you adjust the size of your text. The size of a point has varied between 0.18 and 0.4 millimeters over the past 200 years. And there are approximately 72 points in one inch. The point is, points are tiny.
Now we've got our units right, let's start with the ideal size. The recommended font size for Business Cards is 8pt or over.
If you really have to go tiny, the smallest font size for Business Cards is 7pt. Very small text can look good on screen but doesn't print well. Anything below that size will be unreadable to anyone. And if you're using your cards as something else (like loyalty cards), then your T&Cs should be no smaller than 6pt.
What if you're using special finishes?
The specs above work well for regular print. However, when it comes to special finishes like Gold Foil and Spot Gloss, the smallest font size for Business Cards is 10pt. Otherwise, the small gaps in your typography will cause pooling. (To be clear, pooling has nothing to do with swimming. It's when the special finish spills out beyond the limits of your design because gaps are too small.)
Looking for more special finish tips? Check out our guide to setting up your files for foil (and our FAQs).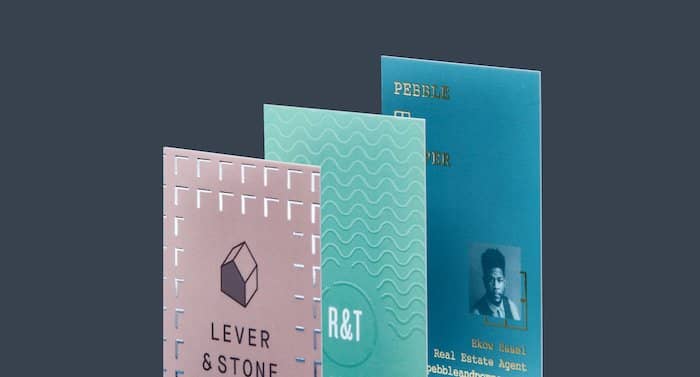 Size isn't everything
So now you know how to choose the best font size for your Business Cards, but there's more to consider. Readability isn't just a question of size. It's also about color, weight and style. Tick all the boxes with our tips below:
Font color
Print is a science – especially when it comes to picking your font colors. To make sure your text stands out, use bold colors made up of just one or two CMYK inks. CMYK represents the four ink plates used in printing: cyan, magenta, yellow and "key" (basically, black). 100% "k" text will be crisper and more legible.
When you're choosing a font color, consider your background and the rest of your design, too. Avoid combinations of "vibrating colors", where the brightness of both colors causes a clash that affects legibility. Vibrating colors are:
Red and green
Blue and orange
Green and blue
For color combos that work, try these.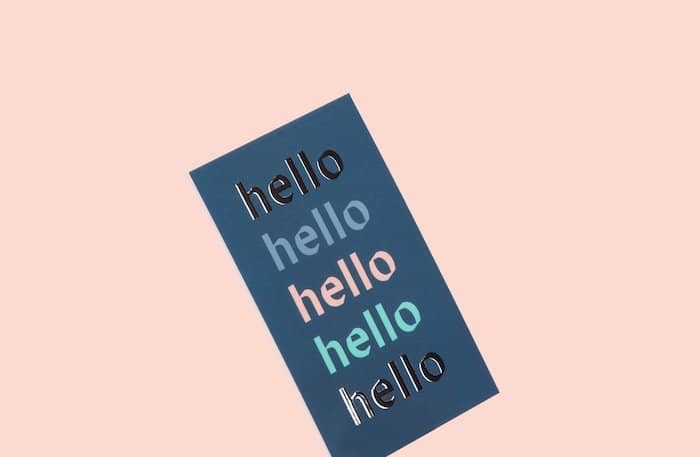 Font weight
Bold, medium, or thin? Most typefaces are available in various weights and part of a bigger font family. Bolder fonts tend to be more legible than thin ones, especially on print. If you're using special finishes for your Business Cards, steer away from extra bold (and extra thin) fonts to avoid pooling and misprinting.
Font style
When you're choosing a typeface, legibility should always be front of mind. Avoid intricate and calligraphy-style fonts for contact details and information. You might lose clarity.
Sans serif fonts (minimalist fonts with no lines finishing the strokes) tend to be clearer and more readable, making them perfect for small type and contact information. Serif fonts, with their old-timey curves, are a little bit more detailed. You can play with various weights within the font family to create a coherent look, or pair a sans serif font with a serif or a script one.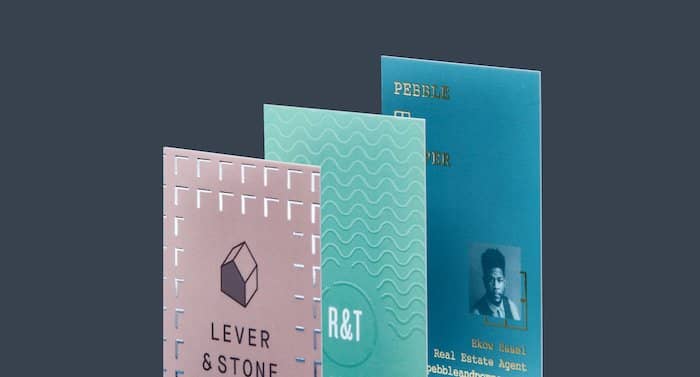 With their handwritten style, script fonts are better for logos and names. Avoid using them for small details such as phone numbers and addresses. As the Business Card's font size shrinks, you can lose some of the nuances that make its beauty (and clarity).
Need more guidance? Lucky for you, we've got 10 font ideas for Business Cards.
Now you've picked the font size for your Business Cards, but have you decided on your card's dimensions yet? Check out more tips to make your Business Card stand out here.
Keep in touch
Get design inspiration, business tips and special offers straight to your inbox with our MOOsletter, out every two weeks.
Sign me up!