10 of the best and most inspirational fonts for business cards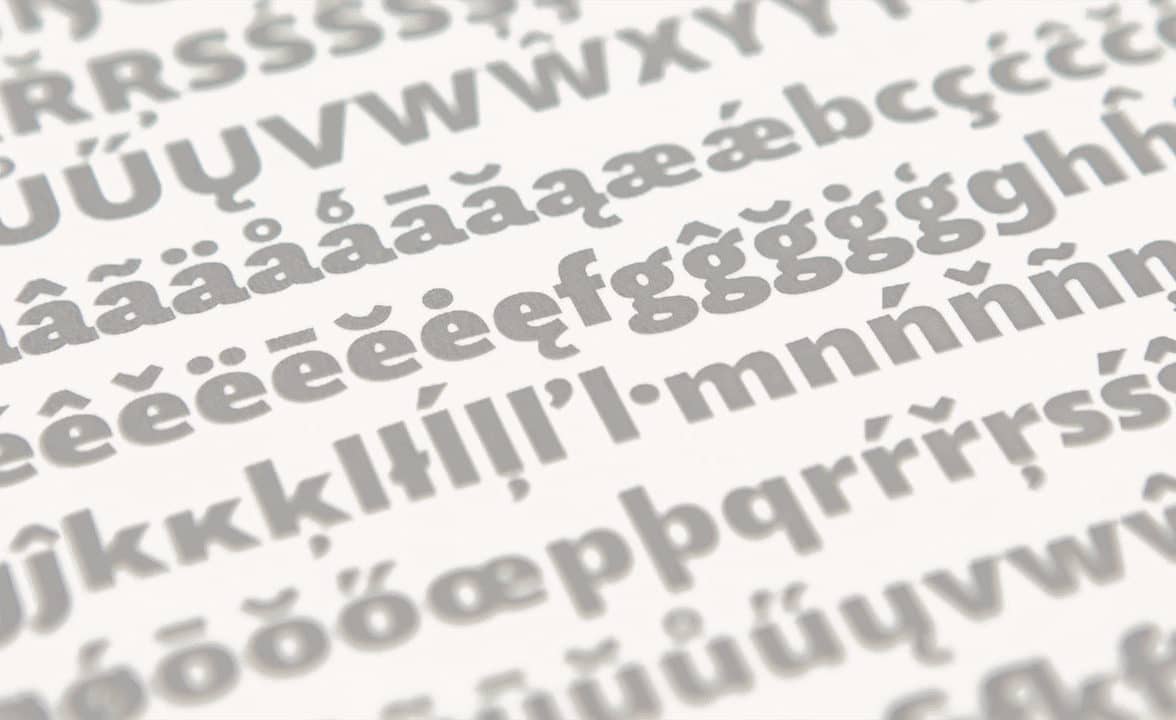 We've compiled a list of 10 top fonts for business cards to help you get your brand looking its best.
Fonts are a tool that can communicate the voice of your brand. From serif fonts that communicate a classic look and feel to script fonts that give your brand a proprietary identity, font selection can solidify your brand in the minds of your audience.
When choosing your business card font, it's important to consider how the fonts you choose will appear when printed in all colors and sizes so your information comes across loud and clear. And while some more playful fonts may look good on your screen, they may print in a way that doesn't capture the fine-pixel details. So, what are the best business card fonts out there?
Types of fonts
First things first. What exactly are the three main types of fonts to consider for your Business Card?
A serif is a mark (or in type lingo, a "stroke") added to a letter or character to give fonts more structure. These fonts have a classic feel, and are most commonly attributed to old typesetting techniques used in letterpress printing.
https://www.instagram.com/p/CCob1QiF6a3/
Literally meaning "without serif," sans serif fonts are simplistic, modern fonts typically used in web design. The clean and simple nature of sans serif typefaces makes them ideal for pairing with more ornate typography and logos. A great font for business card details as it tends to be more legible.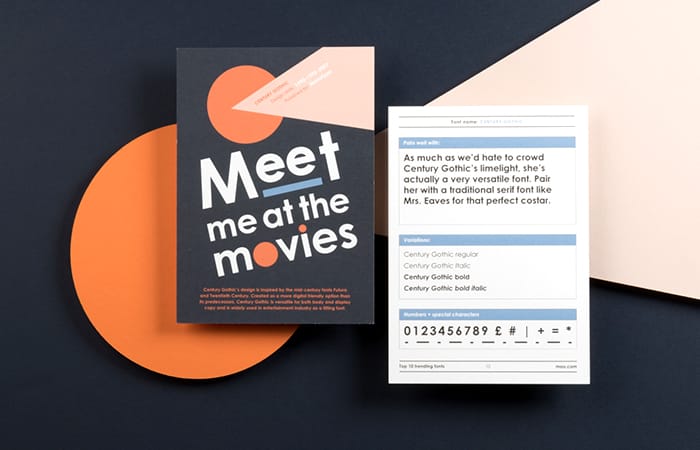 Script fonts are fonts where the letters are connected, as if handwritten in cursive. These fonts have a dynamic feel that naturally carry the eye through the words with their connectedness.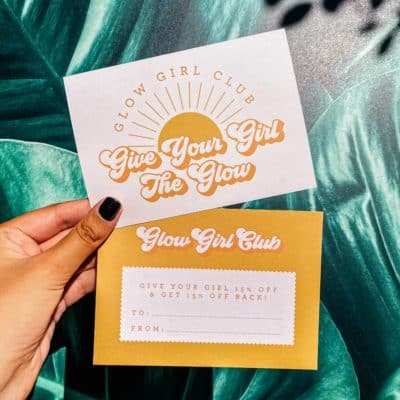 Things to consider when choosing a business card font
Before asking yourself which font is best for your business cards, there are some elements you should take into account. When selecting a font for a business card design, here are a few factors to keep in mind:
When searching for the best font for your business cards, you'll most likely be looking on a computer screen. When you choose your font, make sure that the text works at smaller point sizes. When you're finished with your design, be sure to zoom out to the actual business card font size to ensure your information text is clear.
Bold, medium, thin—these are terms describing a font weight, or relative size options of each font letter and character. Most fonts come in a variety of weights and treatments—often referred to as a font family. Some, like Book and Roman weights, are more scannable when printed versus on a digital screen. But remember, thinner and lighter fonts may not print as clearly as bolder fonts—especially at smaller point sizes.
When looking for the best font for your business cards, legibility should come as a priority. We all want our brand to get noticed, but be sure to choose fonts that are entirely legible at all sizes, so that no detail gets lost. Sure, that fancy script might look good, but what does it actually say?
Pairing two fonts together is a science. But unlike science, you only know a font choice is right when you feel it. Play around with sans serif and serif pairings—or even script pairings—and the results may surprise you. It's also a good idea to choose fonts with similar, or compatible, strokes and shapes as your logo design.
With those key factors in mind, we've put together some ace examples of fonts in all shapes and sizes to inspire you to think beyond Arial. Here's our list of 10 inspirational business card fonts to get you going:
Serif Fonts for business cards
Here's a selection of good fonts for business cards if you're partial to serif.
1. Plantin

Why it works: Developed in 1913, Plantin is a classic serif typeface that has remained relevant for over a century. Its solid design and elegant spacing made way for countless modern fonts—it was even the inspiration behind the now-ubiquitous Times New Roman typeface. That makes it one of the best fonts for a business card.
Why it works for print: Most famously seen in the Monocle Magazine header font, Plantin is a true workhorse font for print of all sizes. Plantin comes in a variety of weights and styles, including light, regular, semibold, bold as well as italics. These weights allow you to call-out certain information, such as job titles, emails, or phone numbers while keeping a cohesive look for your business cards.
2. Lapture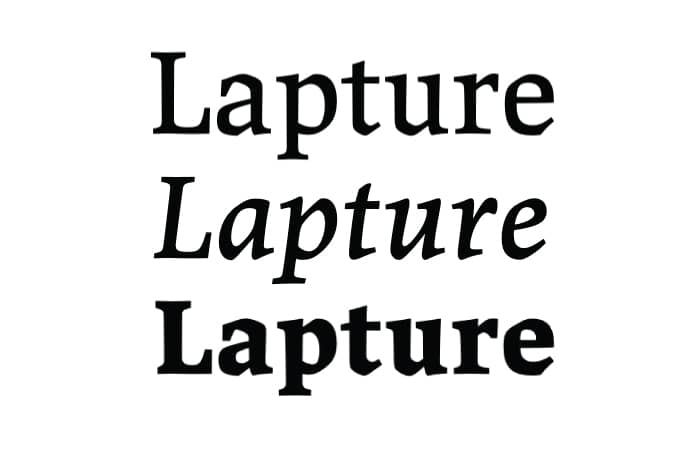 Why it works: Designed by Just Another Foundry, Lapture offers a quirky take on a modern serif font. Subtle geometric strokes give the rounded parts of each letter a unique look and feel. Classic yet upgraded, Lapture can communicate exactly that feeling for your personal brand.
Why it works for print: Your business card font should stand out. Lapture has a naturally bold type structure, which makes it suitable for printing small point sizes. It is also a legible option no matter what kerning and tracking space you apply to the text, which makes it a very good font for business cards.
3. Clarendon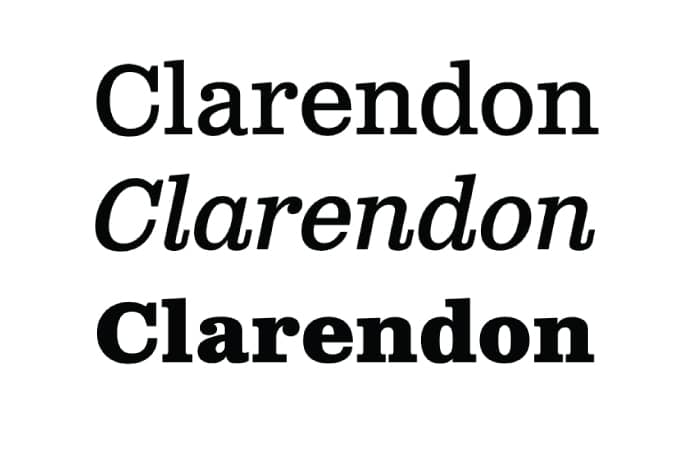 Why it works: An industry classic, Clarendon is an often-mimicked slab-serif font originally designed in 1845. The serifs in this font are bracketed, giving each letter a strong geometric presence. Clarendon is also known for its decorative letters, such as the capital Q and capital R, which all end with curved, elaborate strokes.
Why it works for print: The geometric nature of this slab-serif font makes it ideal for standing out on the printed page. Using Clarendon on your business cards will surely command attention upon first glance.
4. Rockwell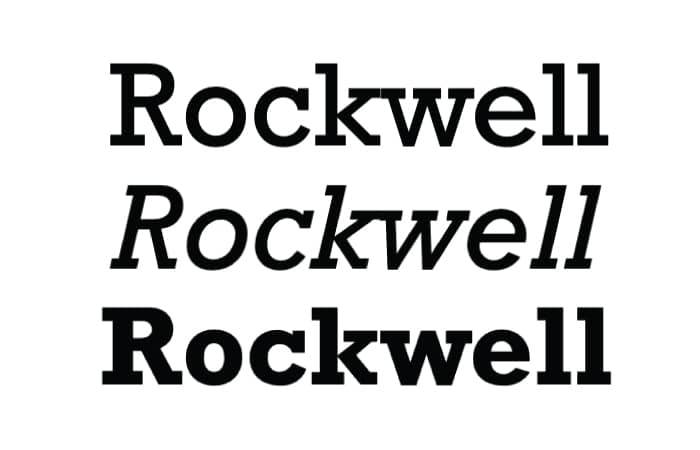 Why it works: Initially released by Monotype in 1934, Rockwell is an iconic and approachable slab-serif font. Coming in a variety of weights and stylings, from bold italic to condensed, Rockwell maintains its distinct personality no matter how it's used in designs.
Why it works for print: Like most slab-serif fonts, the strong square and rectangular serifs in Rockwell anchor the text when laid out in designs. The circular strokes on letters like 'o', 'q', and 'p' have a neatly circular and symmetrical quality to them that will compliment geometric designs.
Sans Serif Fonts for business cards
5. Akkurat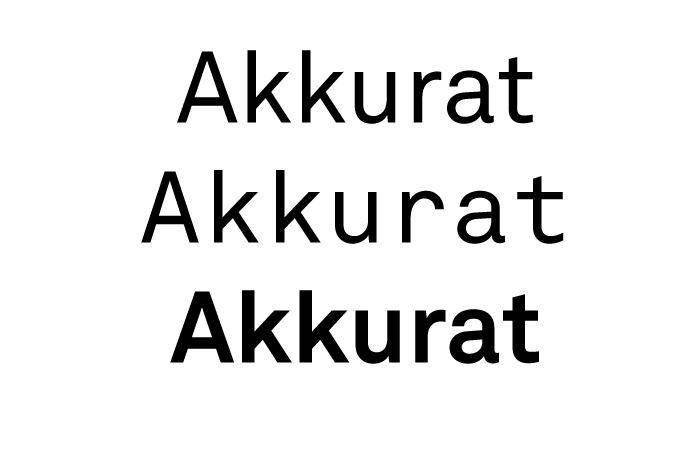 Why it works: In its relatively short existence, Akkurat has made a considerable impact in the design world—being adopted on websites and print alike. It has a simple yet expressive quality to it and is able to clearly communicate messaging in the design world without alienating, which makes it one of the best fonts for business cards.
Why it works for print: Akkurat is a clean sans serif font that is the perfect partner to more elaborate typefaces. If your logo or branding treatment has loud and impressionistic notes, then Akkurat can be the clean and trustworthy counterbalance for your contact information.
6. Helvetica Neue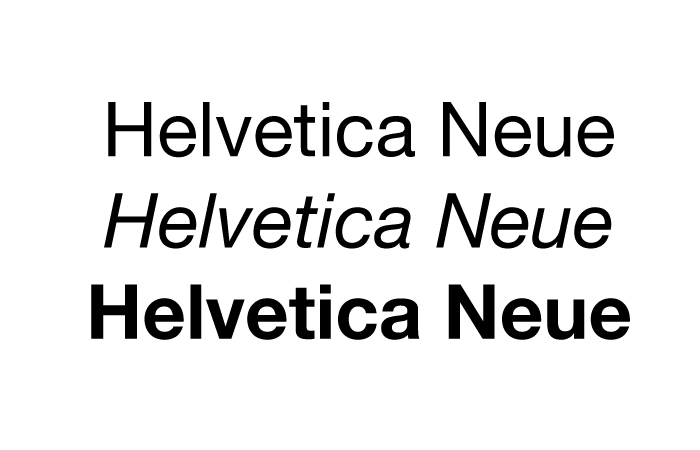 Why it works: Helvetica is one of the most ubiquitous and recognizable fonts in the world—but Helvetica Neue is having its own moment in the spotlight. Having the same clean and modern characteristics of its namesake, Helvetica Neue can communicate a familiar-yet-different appeal—an upgrade on something that already has universal appeal.
Why it works for print: If you're looking for business card font ideas, the diversity of the font family should be an important factor. With a whopping total of 51 different character weights, Helvetica Neue is an extremely versatile font for those in need of a few options while maintaining a sense of consistency. While the bolder weights will appear loud and clear on a printed page, counterbalancing with a light or oblique type treatment will bring a sense of harmony to your business card layouts.
7. Avenir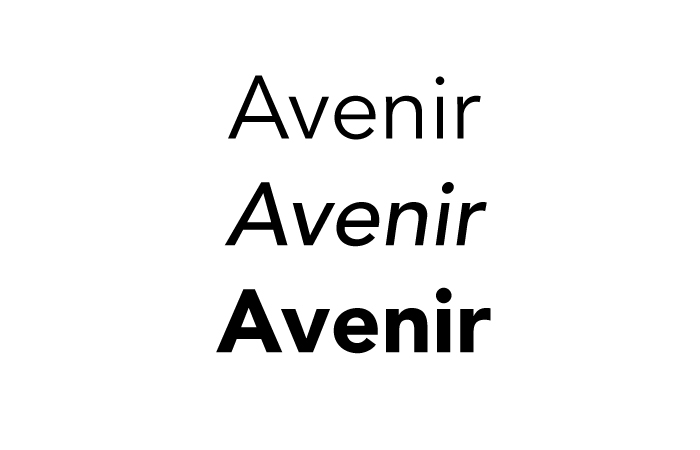 Why it works: Modeled after the iconic Futura font, Avenir is a welcome evolution of the clean, modern appeal of its predecessor. Avenir is a crowd-pleaser, with refined curves and inviting, yet sophisticated nature—perfect for font and logo pairings.
Why it works for print: A true labor of love, Avenir was designed with multiple font weights, including Book and Roman versions, giving it an advantage when used for print.
Script Fonts for business cards
8. Cortado Script
Why it works: This energetic brush script has a natural handwritten feel, thanks in part to the alternate glyph options to avoid repetition within words. The angles of this script guide the eye from left to right and provide an evocative handwritten feel, while still maintaining legibility.
Why it works for print: It would be labor-intensive to handwrite your details and names on each business card you hand out. But Cortado is an inspirational font that can provide an easy alternative to giving a handwritten and human touch to your brand.
9. Manus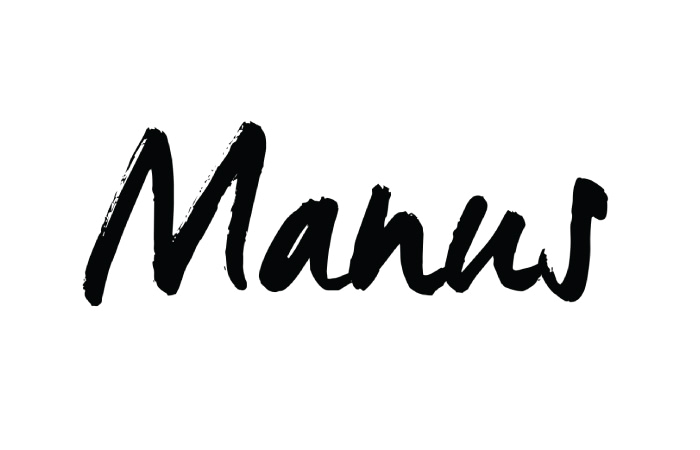 Why it works: A true alternative to handwriting, this script typeface will make even the seasoned designer do a double-take to check for wet ink. With plenty of flourishes and organic strokes, Manus creates a sense of brush writing without all the paint.
Why it works for print: As a bold brush typeface, Manus works well when printed in larger point sizes, making it ideal for names and logos that you want to broadcast. As the point size shrinks, some of the nuances start to disappear, so think of Manus as a counterweight to more modern sans serif fonts.
10. Fabfelt Script
Why it works: A true retro script, Fabfelt provides a welcoming feel without the brushmark and grain effect common with brush strokes. But don't let that deter you—Fabfelt is the perfect modern adaptation of classic signage we know and love.
Why it works for print: Another inspirational font for creatives. Fabfelt's script weight is ideal for printing at all sizes, with a satisfyingly even width throughout the glyphs. There are enough script flourishes in the strokes to keep the eye engaged and will provide a recognizable and memorable appeal for your information.
So there you have it—an array of fonts and type families from the 1800s to the present day. No matter how your brand evolves, there will always be a rich type heritage to draw inspiration from to match your brand voice.
Found the best font for your business cards? Put your font choice to the test and print some brand-new Business Cards.
Keep in touch
Get design inspiration, business tips and special offers straight to your inbox with our MOOsletter, out every two weeks.
Sign me up!