9 creative, alternative business card uses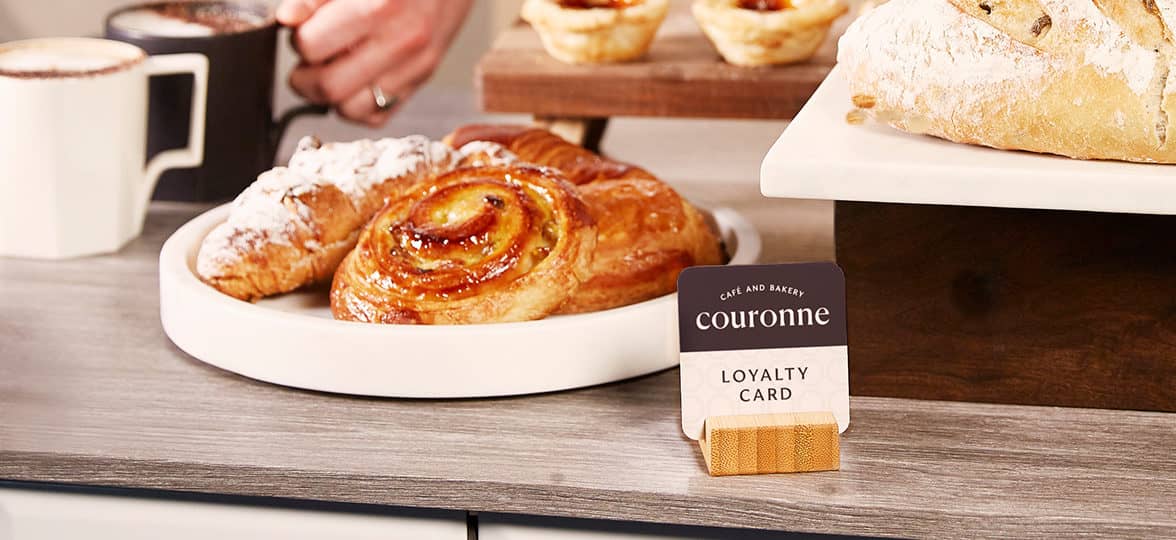 A business card's primary purpose is to create connections. But there are so many more ways this trusty little piece of card can benefit your business.
They can be designed and printed in nearly any font, color and design you can think of, so when it comes to what's put on each side, the sky's the limit.
From loyalty cards to swing tags, here are 9 slightly different business card uses that can help you build business connections…
1. Loyalty cards
We all get excited as the stamps build up towards our well-earned free coffee, right? Loyalty cards are a great way to encourage commitment and reward repeat customers. Brand it well with a clear logo or image on one side, and space for the stamps on the other. Ten or six works well for most companies, and fits neatly on a business card too.
Who should use them?
Any business where regular customer visits are the norm, like bars, restaurants, lunch spots and coffee shops. Spas, salons and even services like window cleaning or garden maintenance could benefit from it, too. Customer loyalty cards can help link up different branches across a franchise, since customers can use them in different locations.
What's the business benefit?
The loyalty stamp card adds a little bit of gamification to the bricks-and-mortar shopping and leisure experience, and it's fun for the customer to see their stamps add up.
It can make the difference between someone choosing your business over a competitor's, especially if the result has good value. 
Loyalty card design tips
Planning to use ink stamps? Make sure the card is light in color so the stamp will show up. Use a card with a matte finish or absorbent surface so the ink won't smudge off. 

Do something different. Go for an unusual shape (like a

square card

) to help your

customer loyalty card

stand from the others.

Add a line of copy to remind customers what their reward will be.

Make sure the branding on the card is consistent with your store or venue so customers remember at a glance that the card is from you – there may be several in their wallet, after all.
2. Appointment cards
Remind customers of an appointment with your company using a nicely-branded card. Leave a space for your staff to write down the time and date of the appointment, as well as notes like who the appointment is with or what service has been booked.
Who should use them?
Appointment reminder cards are handy for any kind of business where services are arranged in advance. That includes real estate agents – as a save-the-date for an open house – doctors, dentists, hairdressers, salons, mechanics, therapists and personal trainers.
What's the business benefit?
Not only is it a handy reminder for the customer, it's also an extra reminder of your business, especially if it's left on the fridge or stuck on a pin board after the date has passed. Two birds, one stone…
Appointment card design tips
Display contact details for your branch or store, including the address and phone number. This will come in handy if the customer is running late or needs to change their appointment.
Consider adding a message like "if you need to cancel, please let us know as soon as possible" on your appointment business cards to minimize the chance of no-shows.
3. Referral cards
Like loyalty cards, referral cards are handed out to existing customers to spread the word to friends, family and colleagues. If that person follows the recommendation and visits your business, both customers can receive a discount or a freebie.
Who should use them?
Leisure and retail companies, legal services, accountancy and tax preparation businesses could all be candidates for this kind of promotion.
What's the business benefit?
Offering a peer-to-peer referral promotion like this should quickly increase your business' visibility in a community and boost brand awareness.
Referral card design tips
Include spaces for the names of both 'referred to' and 'referred by' customers so you can make sure they both get their benefit.

Use the

referral business card

like a micro-flyer for your business, as part of its job is to get the new customer to visit you or your website. Remember they may never have heard of you before, so add images that show what you have to offer, and consider adding a bullet-list of services.

Add a line of copy that explains what will happen when their friend redeems the card. For example "Give this card to a friend and they'll get $10 off. We'll also add $10 credit to your account ready for your next visit."



Wondering what else to do with business cards? Here are a few more business card uses to put a classic or mini-sized business card to work for your business…
4. Swing tags
Using your trusty hole-puncher, you can turn business cards into swing tags for clothing and textiles. Your company logo on one side, price and product details on the other.
5. Table numbers or place settings
Use business cards as name or number labels. They'll add an extra dash of ambient branding at your next corporate event.
6. Mini rulers or guidelines
Print business cards with measurements running down the long edge, and you've created a helpful wallet-sized measuring tool to give away to customers. It's a continuing reminder of your brand, too. 
7. Collectable art
Running a restaurant, cafe or bar? Keep your most loyal clientele coming back with mini art cards in a range of collectable designs. Hand out a card with each purchase, and offer a free drink or social media shoutout for anyone who gets the set. Kind of like Pokémon.
8. Discount code coupons
Share your latest discount or promo code by handing it out on cards at your store or trade event.
9. Mini feedback forms
What does your company do well? What could it do better? And what's a quick way to get your customers to answer this question anonymously? Well, you could simply print cards with these questions and space for their answers, and provide a drop-box at your store or branch for them to leave their replies.
Ready to get creative with business cards? From gold foil to spot UV and Letterpress, print cards with extra eye-catching papers, color print that pops and oh-so-customizable templates.
Keep in touch
Get design inspiration, business tips and special offers straight to your inbox with our MOOsletter, out every two weeks.
Sign me up!