Make customers come back with stunning loyalty card designs
Get inspired with these loyalty card ideas and give clients one more reason to love your brand.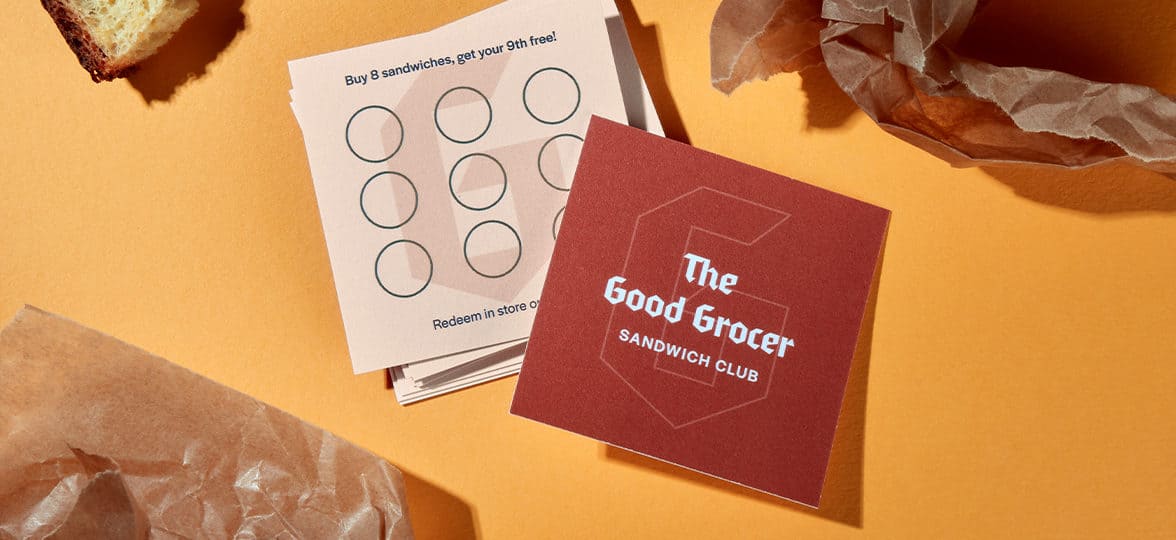 A free coffee. 20% off. A surprise gift. We've all been there – and we've loved it. Stamp cards are an awesome way to reward loyal customers and make them feel special. They're also a great place to showcase your branding with an original design that'll make them smile as they come back, day after day (after day).
Give customers one more reason to love your brand with custom stamp cards. Get inspired with some of our creative community's most original loyalty card examples.
British graphic designer Brooke Henning is passionate about branding and social media. However, the young entrepreneur behind Brooke Kimberly Creative is as fluent in print as she is in all-things digital. Committed to helping businesses small and large build a powerful and consistent brand experience, she designs beautiful promotional materials for various businesses, from cosmetics to grooming services.
For pet service Scruffy to Fluffy, Brooke designed a range of marketing materials including two lovely loyalty card designs for their grooming and dog walking services. "The design was inspired by my client's brilliant business name (I adore it!) – Scruffy to Fluffy – the deep grey resembles the 'Scruffy' and the silver resembles the 'Fluffy'. I created Alice's branding completely from scratch, with the help of Pinterest to kickstart my imagination."  By highlighting the paw designs and cursive font with Silver Foil, she gave an elegant, minimalist touch that makes the brand stand head, shoulders, tails and paws above the rest.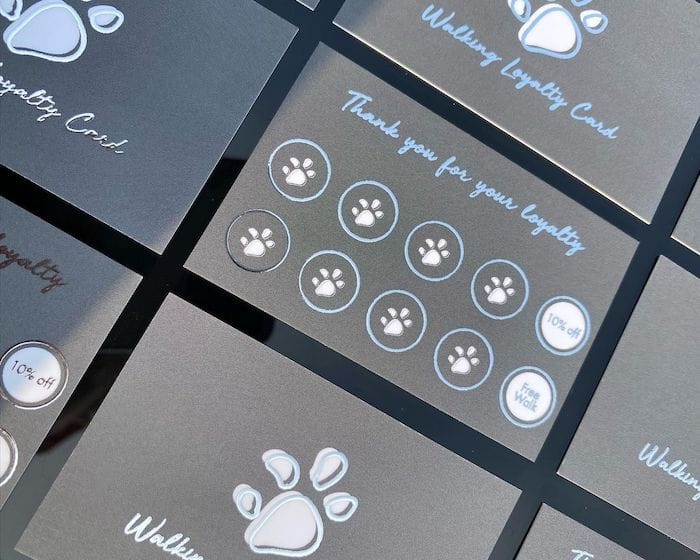 Ellie Barker is a brand identity and stationery designer from Manchester, UK. When she's not creating beautiful Postcards and Greeting Cards for her brand Ellie B. Studio, she is committed to turning businesses into lifestyle brands that have personality and draw attention.
For Butt Naked Aesthetics, she created a versatile stamp card design that doubles as a Business Card. "The owner of Butt Naked, Khyre, is such a glam and gorgeous girl. I feel like these cards are her in stationery form.  I went for [the Super paper] as we wanted the cards to be luxurious, and the Raised Spot UV really added that touch – plus, the matte finish was dreamy.". Ellie's clever use of Raised Spot UV Gloss to highlight the key details is a playful reminder of the brand promise: gorgeous, plump lips and a luxurious experience. Her favorite part? "The little butt naked stamp on the back of the loyalty cards, so cute".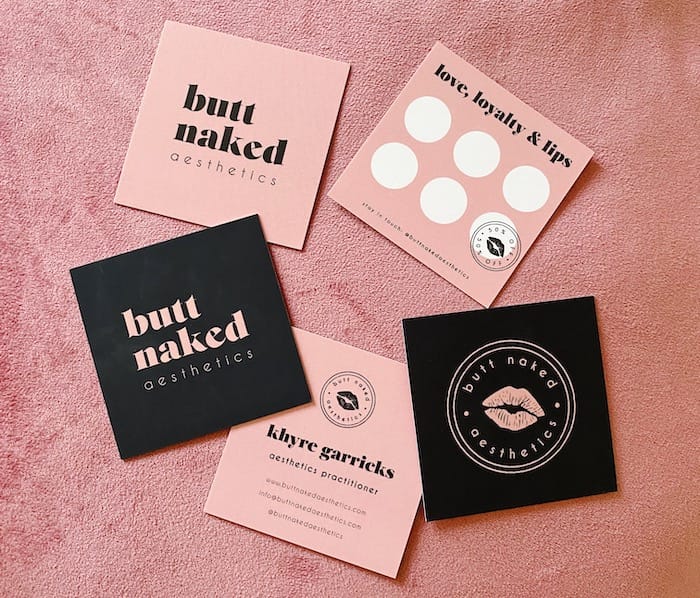 Twins Ellen and Alex started their Instagram account The Logo Page for fun, but what started as a hobby quickly turned into a successful business. Specializing in logo design and branding, they're a big hit with fashion and beauty brands.
Looking for a fun way to brand Cloud 9 Nails' marketing materials, the two sisters came up with a simple, yet clever loyalty card idea. Putting their own twist on the good old debit card design, they imagined a "bank of loyalty" card to reward the nail and beauty brand's customers. "We love how fun and bold they look and the hidden details you wouldn't notice until you look closely, such as the contactless icon and the cloud stamps to tie in the branding. We also like how you can write the client's name on them, making [the cards] really personal". And with a lovely Gold Foil finish, they look even better than the real thing.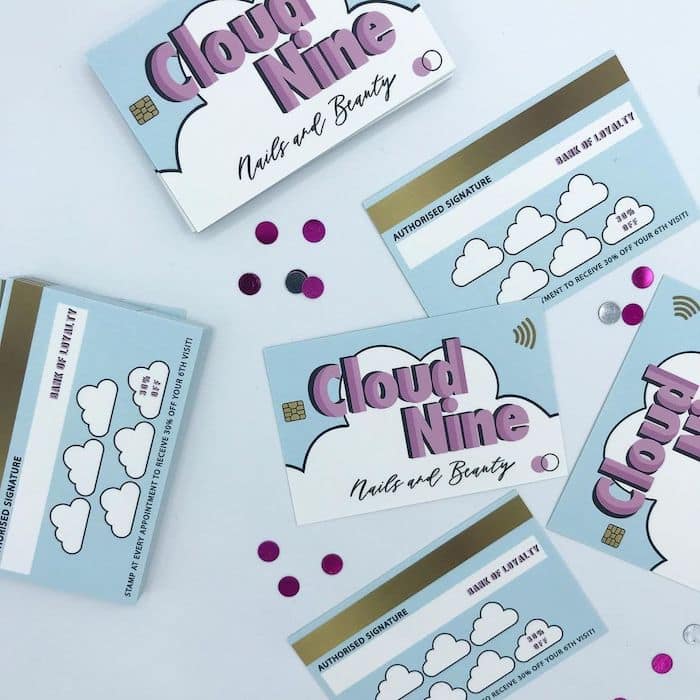 With designs that pop and a healthy dose of humor, Laura, founder of Flubble Bubble, has one goal: to funk up your brand (and fund her pizza addiction). An enticing promise from the young entrepreneur – and one that she intends to keep with her bold and colorful designs.
For Paige, the talented nail technician behind All About Nails, Laura combined millennial pink and gothic type for an indulgent naughties extravaganza. She also included a beautiful butterfly as a nod to Paige's favorite nail art design. She turned the brand's stamp card design into a beautiful collectible, with a thick, premium feel and rounded corners. For her, the cherry on top was adding a glossy Raised Spot UV finish: "[it] ticks every box, and if I could I'd cover my whole life in Spot Gloss! It is super popular with my clients too, which shows how a little bit of gloss can take your business a long way."
Rhianna B. Dunn: customer (and planet) friendly
Aussie designer Rhianna B. Dunn is the brains behind the eponymous web and branding studio. Working with a wide range of businesses, from tech companies to coffee shops, she masters analogue and interactive alike to provide her clients with beautiful design that reflects their brand. 
For Chapel Park Café's loyalty card design, Rhianna used Cotton, our planet-friendly paper made from 100% recycled T-shirt offcuts: "I used the recycled cotton paper, because it's environmentally friendly and has a great natural texture. The uncoated finish is perfect for loyalty cards because you can write and stamp on it without smudging." It gave the stamp cards a subtly textured feeling that screams authenticity, highlighting the Brisbane business's love for simple, quality products. What she loves most about the cards? "I love what the quality of the cards adds to the whole brand identity experience, and the depth that the recycled paper gives to my chosen colors."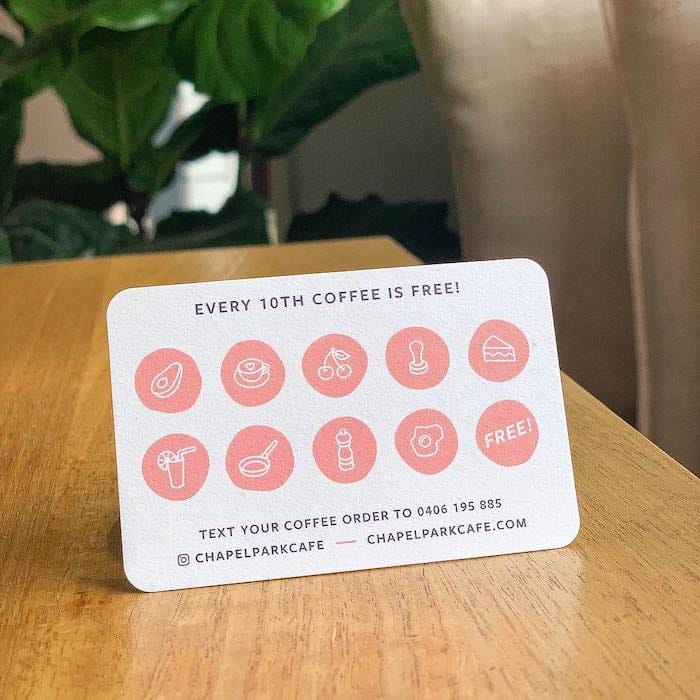 Emily Bourke is an Australian designer with a knack for graphic, branding & digital design. On a mission to bring her unique flair to every project, she juggles retro and modern aesthetics with artistry to illustrate her clients' very own signature.
For Platinum Nail Bar's loyalty card design, she combined a dreamy gradient with a clean yet spirited font, playing with light thanks to a subtle transparent Raised Spot UV finish. "I'm obsessed with Raised Spot Gloss! I encourage everyone I work with to get a spot gloss finish on pretty much everything. The gloss adds a touch of timeless opulence you just can't achieve with other finishes."
Ready to build customer loyalty? Create your very own loyalty card designs here.
Keep in touch
Get design inspiration, business tips and special offers straight to your inbox with our MOOsletter, out every two weeks.
Sign me up!