They add a swinging last touch with custom hang tags
These three brands poked a hole in MOO cards – and it changed everything.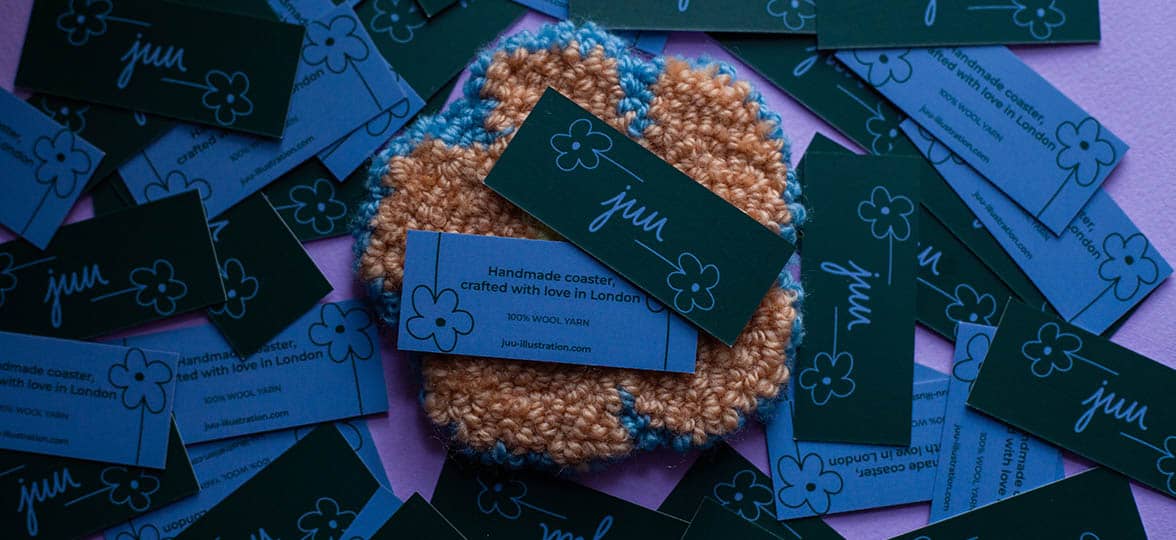 There are so many ways to use Business Cards beyond sharing your details. One of them's hanging from a thread – in a good way.
Hang tags can be a great opportunity to let your brand shine. Discover three brands that poked a hole in MOO cards and gave them a (swinging) new life.
Child-like wonder
Joana is an illustrator and print designer based in London. She recently launched her brand Juu, where she offers fluffy handmade pieces, Notebooks, Greeting Cards and more. Her fun-infused designs are inspired by the carefree spirit and boundless imagination of childhood. "I want for people to have a sense of playfulness and childlike wonder, so I normally look for inspiration in old children's storybooks, but also in art and design books."
Joana used Original MiniCards with a matte finish to create her custom hang tags. "I was looking for ways to tag my products and stumbled across the MiniCards while I was browsing MOO's website. I thought that would be the perfect size, as a normal Business Card would be too big and overpowering to tag things like coasters."
With their playful size, the MiniCards were also a great way to make Juu's swing tags embody the brand's values. Joana chose a handwritten logo and flower illustrations for the front and took advantage of the other side to provide more information about the product, its origins and materials and her website.
If you're looking to create your own hanging labels, Joana has some tips for you. "Have fun with it, make it reflect your brand identity, and remember to keep it clear and easy to read." Check out our font size guide to create striking AND legible hang tag designs.
What's next for Juu? "I have just launched punch needle headbands in the Sugar+Style stores, and now working on setting up my own online shop!" Joana's hang tags might be small, but she's definitely on to big things.
Circular thinking
Candice is the creative mind behind otràvie. Located in Switzerland, "where life is well-timed but not rushed," a passion for sustainability and a keen eye for hidden gems have been the inspirations for her vintage brand. "The name otràvie translates to 'another life' in a mix of Spanish and French, two cultures and places that I love. 'Another life' is the ethos and authentic story behind the brand."
"Circularity has always been a key theme in my life. I translated this into my passion for curating vintage clothing and one-of-a-kind objects that make life more beautiful. otràvie was founded with the intention to see with new eyes, with a belief that in the same life you can always start anew. This philosophy is how I see clothing."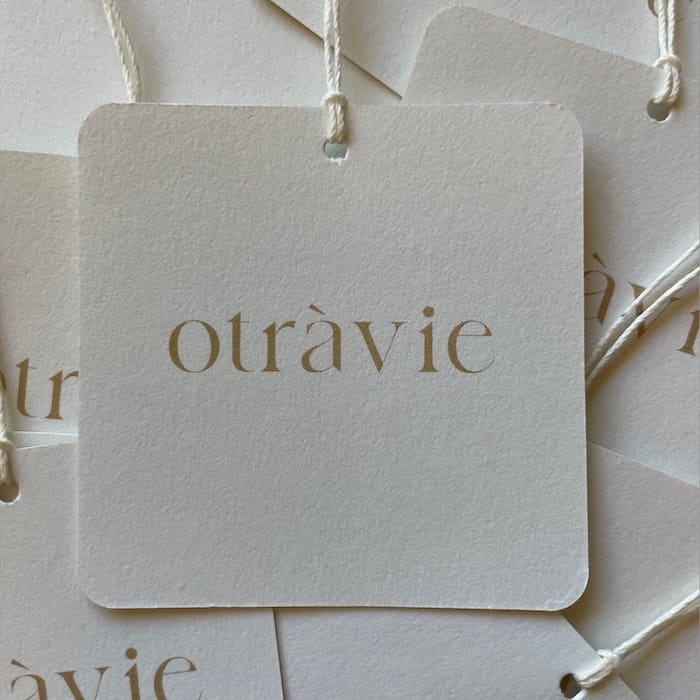 She used the same approach when creating her clothing hang tags. "When developing the hang tags, it was important to me to find an option of quality which also embodied sustainable elements. As otràvie is a sustainable brand, it was only natural that any marketing material or paper product representing the brand would be sustainable as well."
Candice chose a square format Business Card with rounded corners for a striking effect. "I found the shape and size to be perfect for a hang tag design. I was so pleased with the quality of the finished product. The serifs of the otràvie logo and color are executed so beautifully. Even the fine print on the backside is crisp and legible."
She went for a timeless minimalist look with a logo on the front, with care information featured on the back. To anyone designing their first swing tags, she advises keeping your purpose in mind.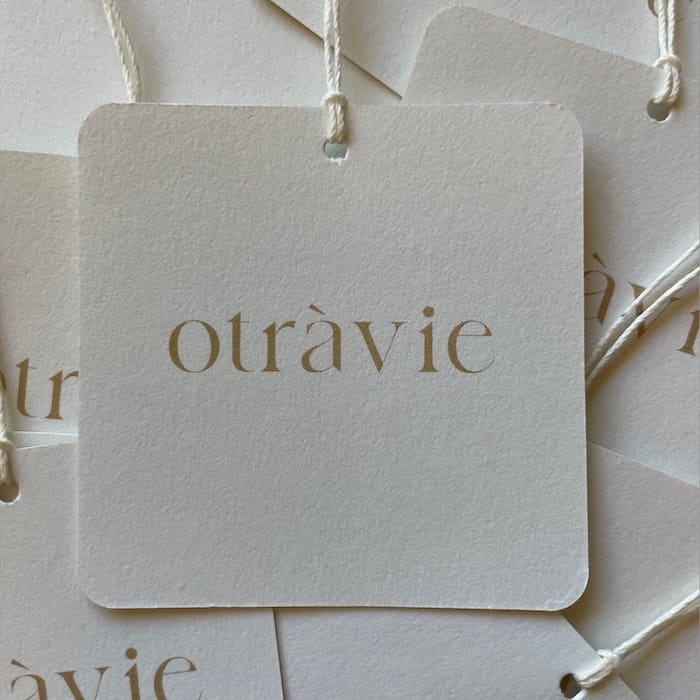 "The product hang tag is the platform to say what's important about the product you're selling, but it should also embody the spirit of the product and create a beautiful experience for the customer. I like to think if you only had the hang tag in front of you to speak for your product and not the product itself, would it convey the product and brand message?"
Inspired by travel and culture, Candice is heading back home to the US to uncover some more preloved gems. "I plan to do some serious vintage collecting while there. Being in Switzerland has been so great for finding beautiful pieces from all around Europe, but I look forward to incorporating some items from the US as a unique offering for my Swiss-based customers."
Retro dreams
Lucia is the founder of Sydney brand Lucia Veronica. She creates Australian-made, vintage-inspired silk sleepwear and "Dream Pillows" – a product designed to promote sleep and relaxation. Nature inspires the deep, dreamy hues she uses in her designs. "My inspiration mostly comes from sunsets and sunrises – colors that naturally come to life.
"Lucia Veronica is inspired by femininity, old fashion timeless styles, and vintage flair with high-waisted bottoms and square necklines. I like to think the styles are timeless and bring out elegance, seduction and play all at once."
She chose Luxe MiniCards with a pink seam for her custom clothing hang tags. "It matched my brand colors, and it was very important to me to get luxurious paper and details. A lot of work goes into creating handmade luxurious items and the finishing touches could make or break all that work.
"MOO was of specific appeal because of the quality. The design process was easy to follow, and it allowed me to bring to life exactly what I had in my mind."
Lucia used the front of her product hang tags to showcase her branding and location – a key selling point for the Australian-made clothing brand. She included her logo, website and silk care instructions on the back. Her clothing and accessories are made with sustainability in mind. So it was important to her to help customers care for them, prolonging their life. Her hang tags tell a story behind the care instructions – a story of care, and respect.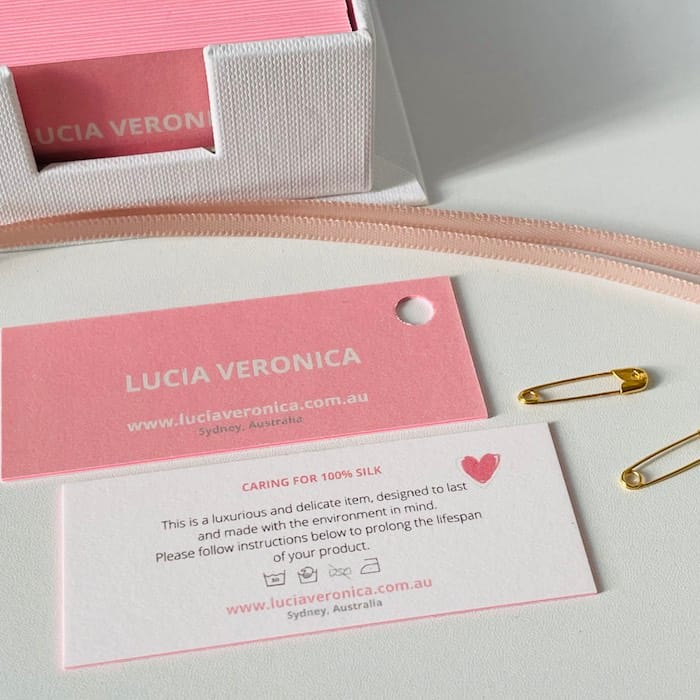 If you're creating custom hang tags for clothing (or anything else), Lucia recommends letting your imagination run free. "Enjoy the process and have fun. The platform allows you to play around and create multiple styles, so use your imagination, bring out the creativity and see how good it feels to bring to life something that is purely your creation." Next step: attach your custom hang tags with string or a ribbon, and ta-dah.
As for the future, it's looking bright for Lucia Veronica. "There are so many fun projects lined up! I've been collecting images and patterns for over a decade, so my current projects include launching new products, and a very exciting photoshoot I have been working on behind the scenes for over a year."
Create your own custom hang tags using MOO Business Cards and MiniCards.
Keep in touch
Get design inspiration, business tips and special offers straight to your inbox with our MOOsletter, out every two weeks.
Sign me up!