Óura: how a lockdown hobby turned into a branding gem
We met Óura's founder to talk about its fresh branding and the ups and downs of entrepreneurship.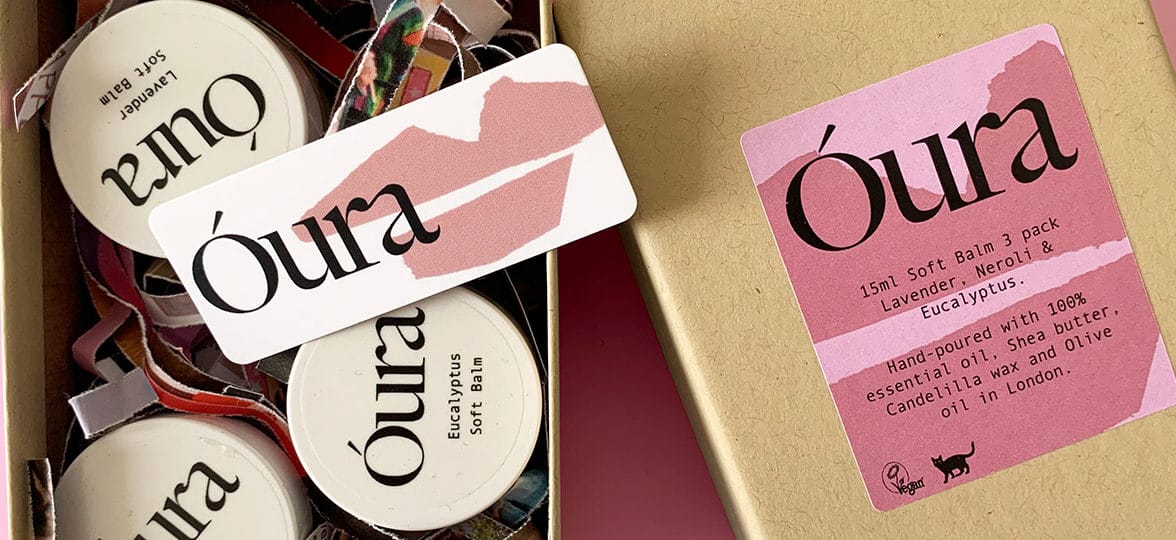 Óura is a small lifestyle studio offering ethical and environmentally-friendly homeware such as candles, balms and soaps. Hard to believe that this impeccable branding is the work of one woman, Ezrea Cartier, but the driven young Londoner has more than one trick up her sleeve. Focused on providing an unforgettable experience on a limited budget, she put together a promotion strategy that would make the biggest brands green with envy.
We met Ezrea to talk about her ethos, her journey to entrepreneurship and how she developed Óura's fresh branding and best-in-class promotion strategy.
Tell us a bit more about yourself. How did your journey lead you to the world of natural lifestyle products and cosmetics?
I'm Ezrea, I'm 25 and I'm from East London, UK. I don't have a conventional journey into starting a business. I grew up in a household that has always had a strong bond with animals and cruelty-free ethics. That, coupled with the fact that my sister and I always had troubles finding brands we really liked due to our sensitive skin, led us to more simple and natural ingredients.
My mother has always been entrepreneurial and supportive of everything I've wanted to do, and I've always had an independent and DIY ethic. So, when the idea to start a business came to me, I knew instantly that I wanted to focus on lifestyle and cosmetic products.
How did you end up launching your own brand, Óura?
In March 2020, the lockdown had just started and I found myself on furlough with a lot of free time to explore new hobbies. I decided to try and make some simple candles. I had been tinkering with starting up a small business on the side of my full-time job, and knew it was going to be something related to lifestyle, as I could never find anything that really matched my aesthetics.
One morning, it all clicked and I thought I'd try it out. I felt like there was a small gap in the candle market for something that was slightly different from the usual candle brands, and I could see how I was going to build Óura out of this.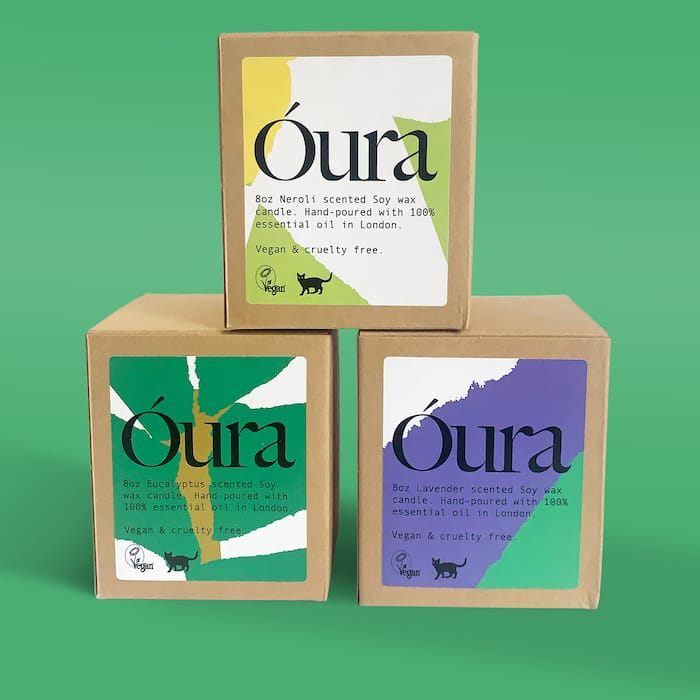 Did you face any obstacles creating your own brand?
The biggest challenges are challenges we still have today with perfecting the recipes and making sure the candles meet our expectations. One of the earliest challenges was what to do with the candles that weren't quite good enough. As a small business this was precious wasted ingredients and an extra cost we needed to account for. We quickly came up with a solution: The "Ugly Duckling" versions of our products allowed us to still sell these products by being upfront with our customers. It also perfectly married up with our sustainable ethos as a brand.
The other on-going obstacle with creating your own business is finding enough room for everything! There's never enough room to produce a batch in our kitchen and even less room to stock all the finished products.
What do you find the most rewarding and the most challenging about being a one-woman business?
The most rewarding thing is seeing the final product boxed up, labeled and completed. I still enjoy putting all the labels on the boxes myself and seeing the products stack up in our makeshift storage. Seeing people enjoy the products and take an interest in the brand is very surreal – so is being asked to do interviews for companies like MOO! We have also been approached by a handful of department stores about stocking, although lockdown has thrown a few spanners in the works on that front. It makes us feel like we're doing something right.
The most challenging is the doubt that sometimes creeps in when designing a new product or reaching out with press releases. Being a one-woman band is also pretty challenging, wearing the many hats of running a small business (especially now!): being the accountant, the support team, the marketer, producing the candles, maintaining social media… It can all get fairly exhausting!
You managed to make your visual identity both creative and consistent. Did you have any experience of branding before creating your own business?
Thank you! I had no experience with branding at all but I knew what I didn't like and what I thought would feel like Óura. For this, I turned to my partner, who runs the design studio Michael Arnold Studio, to produce the branding, packaging and overall experience of the products. It was a really intensive process where the final idea originated from a "design accident" that evolved into something we both knew was the right route. We have received a number of compliments on our packaging and features on design sites and we're looking to keep bucking the trend with our branding to deliver something that we couldn't find anywhere when we started.
What do you want to convey with Óura's fresh branding?
That you can have high quality products that aren't stuffy and overly pretentious. Óura is as much about not taking ourselves too seriously as it is about beautiful, luxury, cruelty-free products.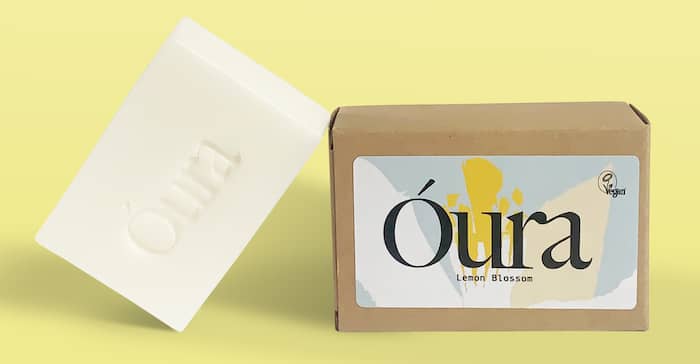 When it comes to inspiration, what are your top 3 aspirational brands?
I love Neal's Yard for their sustainable ethics as well the quality of their products; Jo Malone for their aesthetics and eponymous founder – an inspiration for all one-woman business owners –, and finally Yankee Candle for their range of experimental scents.
How did you approach your promotion strategy?
We knew early on that we would not be able to compete with the big brands in terms of price and marketing budgets, so we had to create an experience with our products that couldn't be easily forgotten… on our shoe-string budget!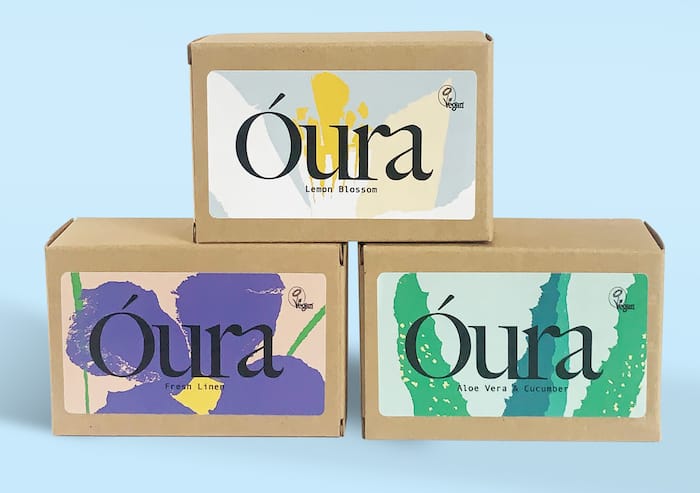 A big part of this were products from MOO that allowed us to get affordable promotional materials and finishing touches without compromising on quality. We also knew that our best shot was creating an 'Instagram-able' product and packaging, which fed into our strategy of spending time on the overall experience.
How do you use MOO to get the word out about your brand?
We have worked with MOO to create Stickers, Postcards, Business Cards and Gold Foil cards. We use our stickers obsessively on everything we ship out and our Gold Foil cards go to customers that make large orders or to PR teams… Everybody loves them!
Are you working on any exciting new products that you can tell us about?
We're looking into adding some new fragrances into the mix and continue to focus on un-fussy products. We're also looking to do a lot of pop-ups this year and are in touch with a major department store about putting one together with them. For those who can't wait, we recently released our new line of Minis that we will be developing further in 2021.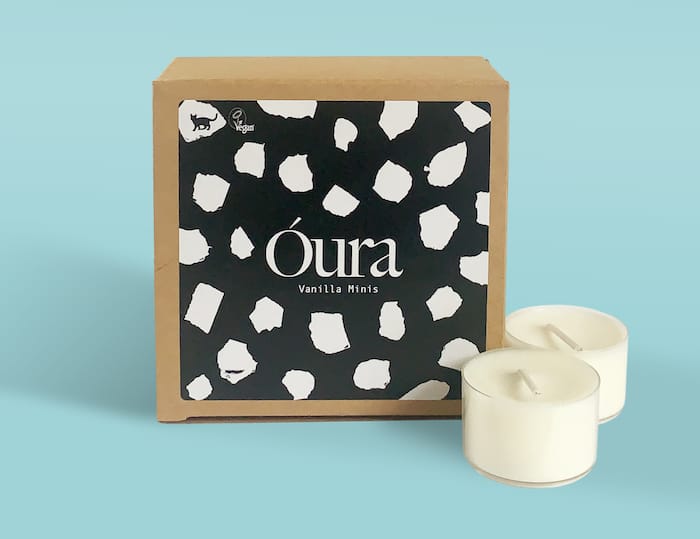 Do you have any advice for people trying to create their own brand?
It sounds cliché, but just start it! You have to be bold with it – you can't pursue your dream in secret and hope none of your friends or family see it in case you fail. You just have to do it because it could all be worth it. 
Look at your competitors and see what you would do differently. What don't you like about them? What are they missing? Can you add something new, not necessarily groundbreaking, but different to the mix? What ethics drive you when buying and can you introduce this in your brand?
Get the word out about your brand and give your clients the ultimate customer experience with Stickers and Postcards.
Keep in touch
Get design inspiration, business tips and special offers straight to your inbox with our MOOsletter, out every two weeks.
Sign me up!