Christen Robinson on finding your true self as an artist
We talked to Robinson about choosing mediums, goal-setting, and knowing her value as an artist.
Christen Danielle Robinson is nothing if not a multifaceted artist. Trained as a graphic designer and painter at the University of South Alabama, the Mississippi-based creative is also a hand-letterer, illustrator, podcaster, YouTuber and mother. That might be a lot of hats to wear for some but not for Robinson, who juggles her many talents with skill and confidence.
We talked to Robinson about choosing mediums, goal-setting and knowing her value as an artist.
Tell us a bit more about yourself
I was born in Lucedale, Mississippi, where I'm currently residing. My work is filled with quirkiness, color, patterns and personality. I help brands and clients use their voice through lettering, vibrant colors, playful illustrations and a clean layout. My work is inspired by everyday things, feelings, and travel. 
When I'm not creating, I'm loving on my nine-year-old daughter named Maurlee. Growing up, my mom had a sticker book and we would collect all sorts of stickers with colors, illustrations and words and that sparked a light in me to love creativity. As a child, she loved entering my work into contests and I actually won once! 
My dad was fun and outgoing but most of all, he was an artist. He could sit in a room and draw everything just as it was. The first book he ever bought me was a "drawing figures" book. He's also responsible for who I am as an artist today. Having encouraging parents is why I followed my heart and fulfilled my dream of becoming a designer.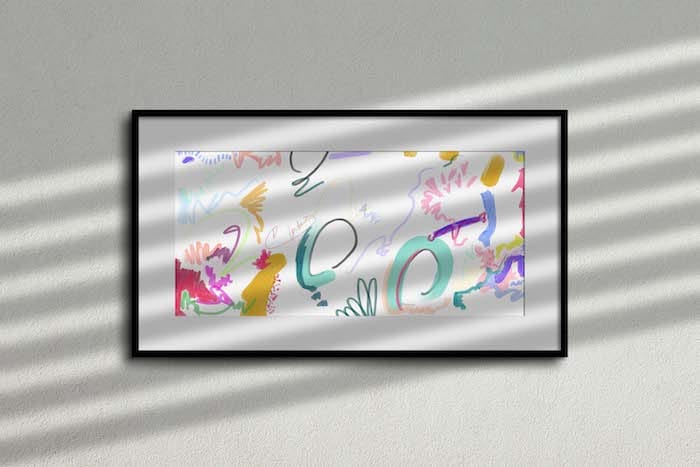 Your style is colorful and full of life. How did it evolve over time?
I always had a good handwriting and got many compliments from my teachers growing up – it looked like I was drawing my words instead of writing them. When I was younger, I was into realism and still life. I would doodle in my sketchbook for fun with colors and shapes, but when it came time to get serious about drawing something, I wanted to be seen to show off my talent. I thought that meant drawing serious things as they were. 
Being my true self as an artist was worth the points being counted off
It wasn't until college that I realized I needed to show what I had been hiding in my sketchbooks. In painting class, I would paint landscapes with colors that were not in the sky and I often got points counted off for it, but deep down it just felt right – so I didn't stop and I let it carry over to my design work as well. I started taking notes with sketches and illustrated with color and hand-drawn type. I realized that being my true self as an artist was worth the points being counted off. It helped mold me into the creative I am today. 
You also often share powerful messages. What do you want to convey with your work?
I want my work to convey a sense of inspiration, togetherness and equality. My dad always taught me to treat people right and to help people. I feel that this is the motivation behind each piece that I create. Whatever viewers get from my art, I want it to be connected to "love your neighbor" in some way. Always kind vibes and love.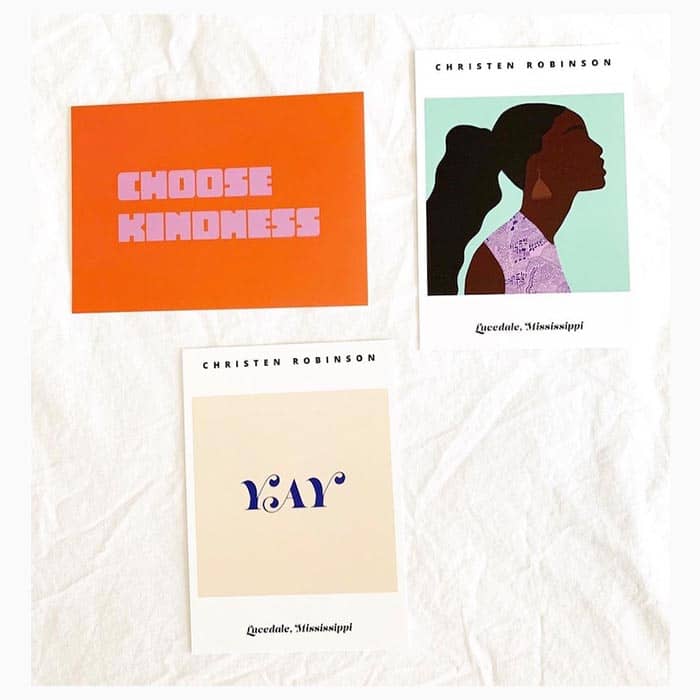 Do you face any challenges in your career as a Black female artist?
As a black female, I often feel overlooked. This was one of the reasons why I decided to pursue working for myself. I was a designer at a magazine that didn't value me as a person or for my talents but wanted to work me to the bone without compensation. 
I wasn't allowed any room for error
I felt like I was there to make the company look good by showing diversity, but my voice didn't matter. Being overlooked was one of the worst feelings, mostly because I know that they knew I was capable of more but wanted me to see just how much I didn't matter. I had to work harder than my co-workers and wasn't allowed any room for error.
That's where knowing your own talent comes in. I was able to stand strong, be nice, and not let them know deep down I wanted to cry because of how they treated me. But knowing not all people are like this gives me hope for a better future and more opportunities.
Figurative illustration, abstract art, lettering… You can do it all! Do you have a favorite medium?
Being able to work with multiple mediums is both rewarding and stressful. While I love digital print, I think that I find painting to be so relaxing and carefree. I can sit and literally paint scribbles all day and it can be an amazing piece. 
"You don't have to have a plan every single time when you're creating"
You have more control over color and texture when painting on canvas so I think this is why it's my go-to when I want to relax or I'm feeling emotional. You don't have to have a plan every single time when you're creating. I like letting my paint, pens, canvas, etc tell me what to do.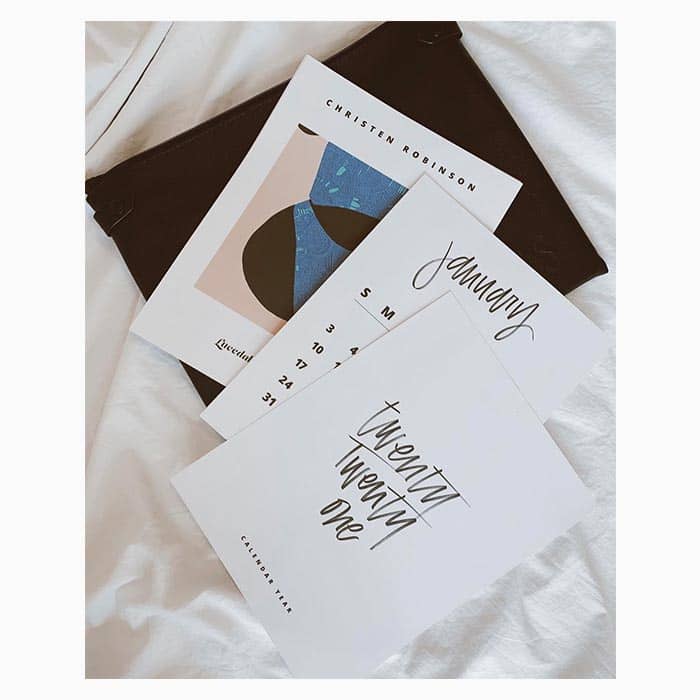 Can you walk us through your creative process?
Whenever I start a new project, I think my first step of the process is always research – even if it's just referring to my own work for information or ideas. I read, look at pictures, dig through art supplies, turn on music, look at the sky and use everything around me to get ready to begin. 
I like to soak in everything around me and then allow myself time to work. Then I write out a schedule that I can work with without getting overwhelmed. After this, I start a mood board. I design a visual layout for direction and then start thumbnails for a realistic example. Different variations of concepts help me to visualize how the final project might look.
In the final stages, I figure out what tools I want to use to pull everything together, refine my design and then use a series of questions to critique my own work and see if it's ready to be sold.
As a designer, who would be your dream client?
I would love to work with Target. I'm in that store like every single day and the nearest one to me is like a 45 min drive! I would love to see my art on some shirts in there, some greeting cards, bags, or even their marketing. I love designing posters, so to have my art on one of their displays would be pretty cool too. I have a list of companies I'd love to partner with, so I'm hoping doors will open for me soon to connect with more brands.
Which project are you most proud of to date?
The project that I'm most proud of is an abstract digital painting series I did on my Instagram. I did this series while I was sick last year and didn't have a lot of energy to sit up and paint a canvas. I used my iPad to make almost thirty [paintings]. 
I ended up making sales from something I was doing therapeutically for myself. Turns out people liked this series and wanted to buy these pieces, so I sold digital prints. I feel like these are the most rewarding projects because I wasn't stressed about making money at the time. When the offers came in, it was unexpected and I was so happy and grateful.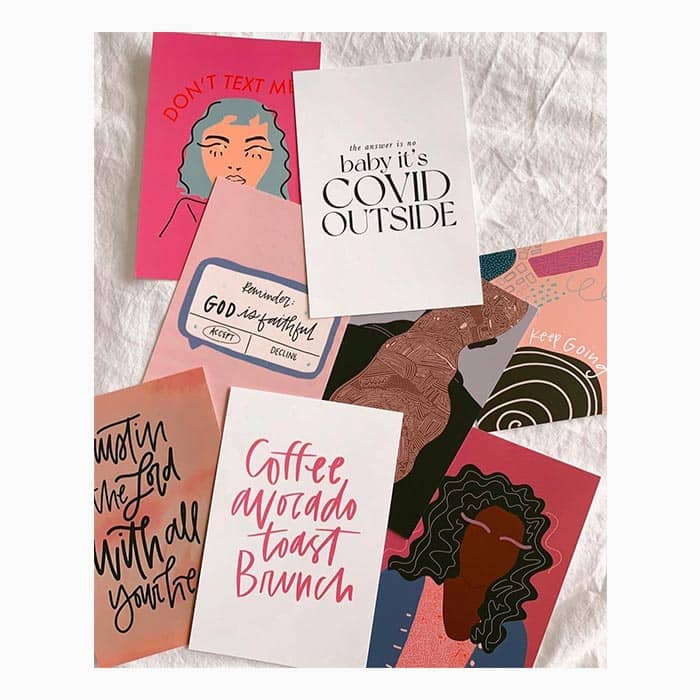 How do you use MOO to promote your business?
I've used MOO for multiple things in the past, but I feel like using the Small Postcards is my go-to. I use these Postcards as my thank you cards. Each order I send off has a note on one side with my logo and the other side has artwork. 
I know that my customers are getting an extra quality print that will last them a while. The cards are sturdy so you can hang them on your wall, stand them up on your desk or even frame them to fit in your space. The price is affordable and the quality of the paper is amazing. The site is so easy to use and very well organized. MOO is also where I will be ordering my daughter's business cards from!
You also have a podcast, Get it girl. Can you tell us a bit more about it?
I started the Get it girl podcast after I got fired from my job in 2019. I was at a job that didn't value me and treated me like I was invisible. I was being "promoted" – which essentially meant more work without a raise. 
My podcast is important to me because it's the first thing I did to start a new chapter in my life. I want everyone to feel and know they can go after their dreams as long as they keep the dream alive and work towards it daily. While I want to inspire individuals, I also want this podcast to be a more personal space to build a relationship with my listeners and share more personal parts of my life.
Any big goals for the future?
I hope that in the near future I'm able to reach 1K subscribers on YouTube, therefore opening up opportunities for sponsorships and more room to grow and be seen. YouTube is one of the many ways, as a creative, I am able to show my work, personality and lifestyle while connecting, building trust, and a partnership for potential work opportunities. 
I hope to show more of my creative process and style and by doing so, get comfortable showing myself doing more live work. I'd also love to paint a mural!
Any advice for multidisciplinary creatives?
My best advice would be to find balance and have a schedule. I think what helps me stay on track and allows me to work in multiple areas of art is having a plan. You can spend five hours stressing about all of the things you have to do in a day or you can plan the day before by writing out your tasks and allowing yourself a certain amount of time to work on each task. 
If you are not organized […] it's easy to get lost
By doing this, you won't get overloaded, but instead, you feel a sense of accomplishment from sticking to your plan and seeing results. You can be talented in numerous things, but if you are not organized and on top of things it's easy to get lost. Also, stay connected with people who like to do what you do.
Like Christen Robinson, create mini pieces of art and spread the love with MOO Postcards.
Keep in touch
Get design inspiration, business tips and special offers straight to your inbox with our MOOsletter, out every two weeks.
Sign me up!