The jobs of the future are coming – with awesome business cards to match
What job could you be doing in 20 years' time? We've teamed up with top sci-fi author Max Gladstone to find out…
Mobile developers, Social Media Strategists, and Growth Hackers are all jobs that didn't exist 20 years ago, yet now, it's hard to imagine a time without them. With the workplace ever-changing, and new methods of working being introduced all the time, it left us wondering what the future holds.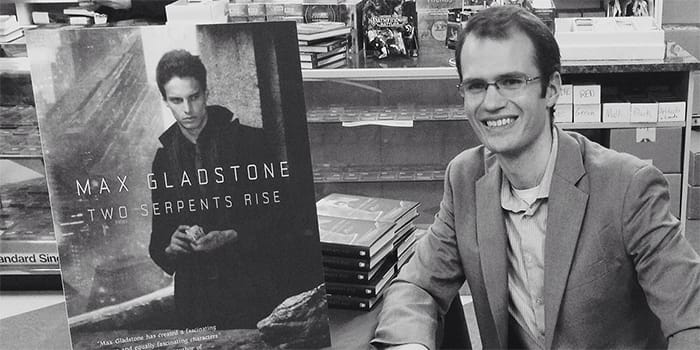 In partnership with sci-fi author Max Gladstone, we've created 6 jobs of the future from Digital Archaeologist to Fabric Programmer. We caught up with Max to find out what inspired these jobs and got his thoughts on the workplace of the future, too.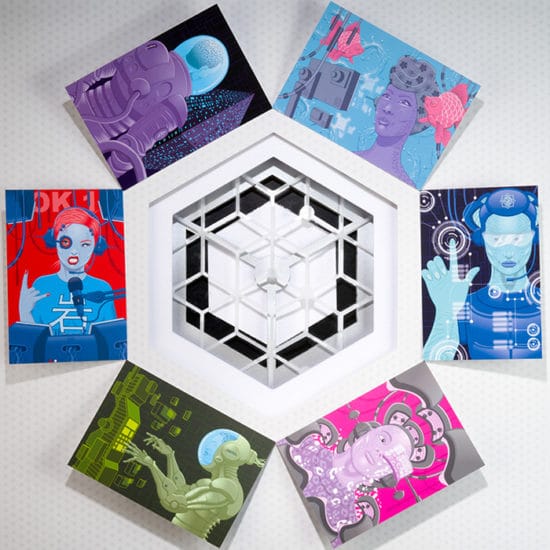 It's fair to say that studies in Chan poetry and Ming dynasty fiction perhaps aren't the most conventional of choices; so we were fascinated to find out what drew Max to this and how his studies later went on to influence his love of sci-fi.
"I've always been interested in China –my parents have backgrounds in world religion and philosophy, so I grew up around these texts. When I was a kid, I started reading Journey to the West in translation, and from there my interest in other countries and other languages really grew."
Max's background in sci-fi
But, what about his passion for sci-fi? Max told us: "My uncle gave me a cardboard box full of science fiction books after I told him I was interested in sci-fi – meaning Star Trek, mostly. At the time, I didn't have a sense of the history of the genre or what sort of books were out there. So, this box became my reading list for the next couple of years, and my love for the genre grew from there ."
Reading and writing fiction in particular has always been a firmly rooted passion for Max too – in fact, he wrote his first novel when he was in high school. Nowadays, his inspiration comes from, as he puts it, "the enormously complicated world that we live in".
"It's really hard to write about the complexity of our world with conventional literary technique – that's the beauty of science fiction – you get to use metaphors that create a language that helps people understand the world better, or see it differently."
Imagining the Jobs of the Future
So, what inspired the jobs of the future? Max told us: "Many of these jobs emerge from conversations I had while working as a tech industry analyst – studying developing tech trends in corporations. But, the really cool challenge I faced when working with MOO was to consider what individual human beings might do – and what they're already starting to do."
"I started by projecting into the future trends we're seeing right now in the marketplace, and asking what opportunities might become available to address the challenges these technological developments will present. We're already seeing huge advances in consumer augmented and virtual reality technology, between Apple's inclusion of AR software in iPhones, the popularity of AR-layer games like Pokémon Go, and even Microsoft's HoloLens—so of course we're going to need jobs like the Personal Reality Designer. Their role is to create a virtual space for you to navigate – think of it as the individual's user experience of their digital life."
Dealing with the digital pile-up
But, with all this tech in the world, information security and data protection is rapidly becoming a hot topic! Max explains: "we're all leaving enormous virtual trails behind us – anyone who's been using the internet for 10 years or more has left a trail of shell identities scattered behind them". Just cast your mind back to that embarrassing Myspace profile you had or even that chat room persona you made for playing Call of Duty – ever think about what happened to those accounts after you abandoned them?
"That's where jobs like the Cloud Cleaner and the Home Cyberneticist come in. The Cloud Cleaner scrapes your personal data off the internet, protecting you from doxxing and surveillance. And, the Home Cyberneticist will help you build your interconnected super-house safely and securely as we start to move towards a more connected world."
So, of the 6 jobs Max created, which one would he most like to do? He told us: "I'm really interested in Digital Archaeology – we're creating these enormous multidimensional systems now, immense volumes of data that pretty soon will exist in basically unreadable formats. 5 years ago, there was this big push to train young computer scientists on old software – all the people that created it were retiring and no one knew how to read it. Fast forward to 2037 – we'll be facing this times a hundred."
The Digital Archaeologist extracts insight from tangles of corporate data and excavates the customer insight of dead unicorn startups. They'll also answer questions like, "Where DID Grandma store her photos?"
Imagining the future workplace
So, Max has given us his predictions for the jobs of the future, but what about the workplace of the future? Max thinks "we're going to see a greater diversity of workplaces—as people take into account the type of work that needs to be done". He also believes that the effective trend will be a "move away from a one-size fits all model to a model that involves a lot more internal discussion about what we actually want to achieve in our offices, and creating spaces accordingly."
Max's final prediction is that we might start to see a 3 day weekend – if that's the case, we're totally ready for the future!
The jobs might be years away, but these awesome Business Card designs are up for grabs right now
Keep in touch
Get design inspiration, business tips and special offers straight to your inbox with our MOOsletter, out every two weeks.
Sign me up!