Designing with Pantone's color of the year 2018
Pantone announced its color of the year for 2018. But what does it mean for the world of design and how can you incorporate it into your business' branding?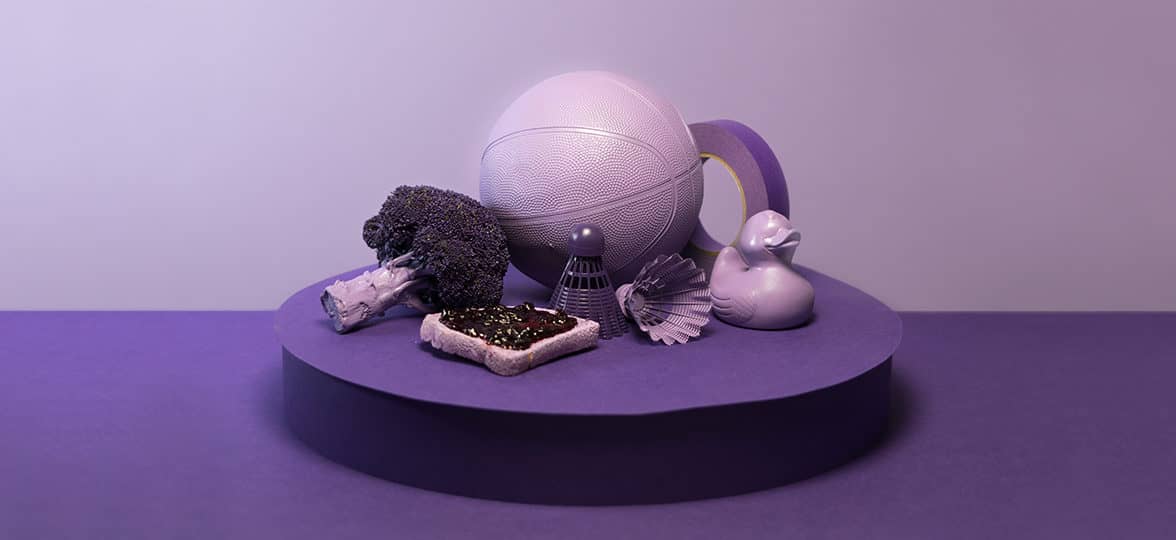 Ultra Violet is a vibrant and dramatic color, a cool, complex purple – and it's been named Pantone's color of the year for 2018. But what does that mean for the world of design and how can you incorporate it into your business' branding?
Galaxies far far away, Purple Rain, magic, chocolate, royalty, the Cheshire Cat, David Bowie, the future…just a few things that make us think of Ultra Violet, Pantone's newly announced Color of the year 2018.
What is the Pantone color of the year?
Every year, global authority on color, Pantone Color Institute choose a color to define the year ahead.
Color of the year stems from an analysis of everything happening in the world at the moment – design, fashion, art, news, travel and more – a visual snapshot of the global cultural mood.
This year's choice is Ultra Violet, a blue-toned 'cosmic' purple, otherwise known as 18-3838. Pantone describe it as "dramatically provocative and thoughtful" but the internet can't make up its mind.
We can agree it's an unexpected and somewhat divisive shade and it's certainly a world away from last year's fresh shade of green, Greenery. But it's a bold decision, as Color of the year often is, and it comes with a mission:
"Ultra Violet communicates originality, ingenuity, and visionary thinking that points us toward the future." – Pantone
We asked the MOO design experts what they thought of the choice and how you can put this color into practice when creating or refreshing your own design and branding.
Ultra Violet in design
Millie Davies, Lead Designer
Ultra Violet makes me think of space and all those beautiful images of far away galaxies. They seem unreal – bright and vivid – exactly like this color.
I love what Ultra Violet conveys; luxury, ambition, wisdom, independence, creativity, inventiveness, mystery and magic. It's an exciting choice and it seems Pantone are trying to push us to imagine what is yet to come with this color.
It's not a color I use often in my work, in my opinion purple is generally the marmite of the design world. (Some people love it, others hate it!) As it is so vibrant, it's a difficult color to use in print but it would work well for digital work. It's often associated with luxury so works well for brands wanting to get across those values.
Product Design's take on purple
Toby Hexall, Director of Product Design
Ultra Violet makes me think of night time, it's an opulent color that feels like it should be tactile to the touch.
Purple can be a difficult color to use in product and packaging design – it's provocative and often divides opinion, but used as an accent it can really elevate a product. Although Ultra Violet is not an overtly bold hue of purple, I think it should be used in moderation to add depth to an overall look.
It has an inky depth to it that could lend itself very nicely to print if you're looking for a luxurious feel – especially in a business setting. Adding a gloss or a matte finish will greatly affect the overall feel of this color as well.
The view from UX Design
Jane Austin, Director of Design and UX
I love purple, it's not an every day color – it feels decadent and indulgent – something you see after dark.
Ultra Violet makes me think of Prince, chocolate, pansies, royalty and velvet.
In terms of putting this color into practice from a UX point of view, it's a tricky one. Interface design is very reticent – it sits back and lets the content sing. I can't imagine a purple interface, I think it'd be overwhelming and would detract from the content. Perhaps there's a way of subtly using accents of Ultra Violet – I'm interested to watch how brands interpret it for their branding, site and beyond. It certainly won't be boring!
"My advice? Go forth into the Ultra Violet unknown and experiment…" – Toby Hextall, Director of Product Design
Here's what we think 2018 might look like:
Let us know what you think of the color in the comments below!
Keep in touch
Get design inspiration, business tips and special offers straight to your inbox with our MOOsletter, out every two weeks.
Sign me up!