Line & Honey: nurturing wellbeing and visibility through art
We met Amberlee Green to talk about the links between visibility, art and mental health.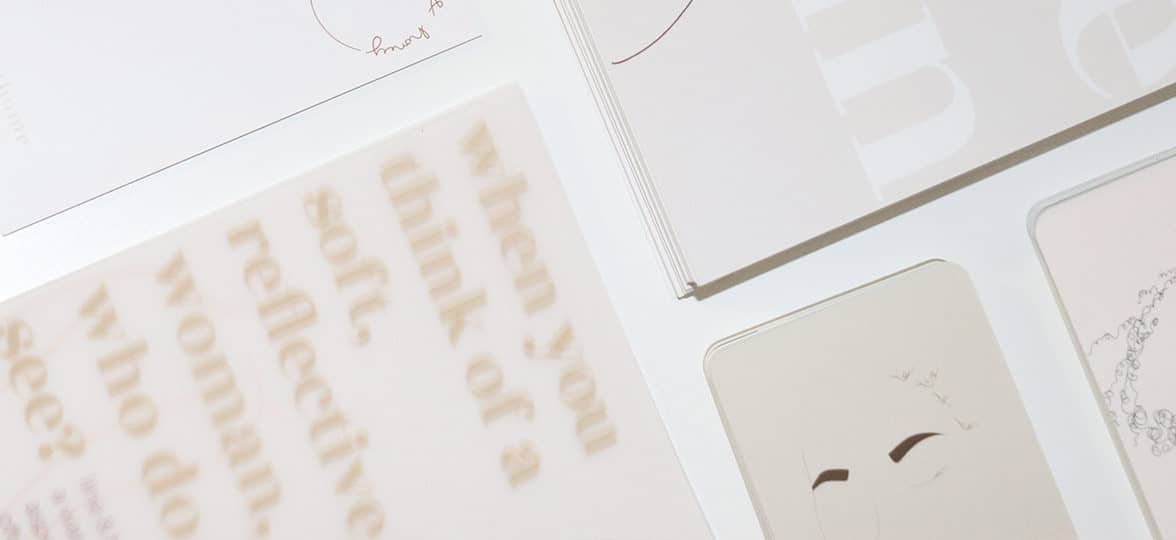 Amberlee Green is a London-based creative and mental health professional. With her brand, Line & Honey, she uses her unique experience of art and wellbeing to create moments of self-care through art. Minimalist line work and soft, natural colors are used across illustration, design and textile based products. Each piece conveys a sense of well-being and shines a warm, glowing light on the visibility of women of color.
We met the founder of Line & Honey to talk about her artistic journey, the links between art and mental health, and how more representation in art can empower and improve the wellbeing of Black women.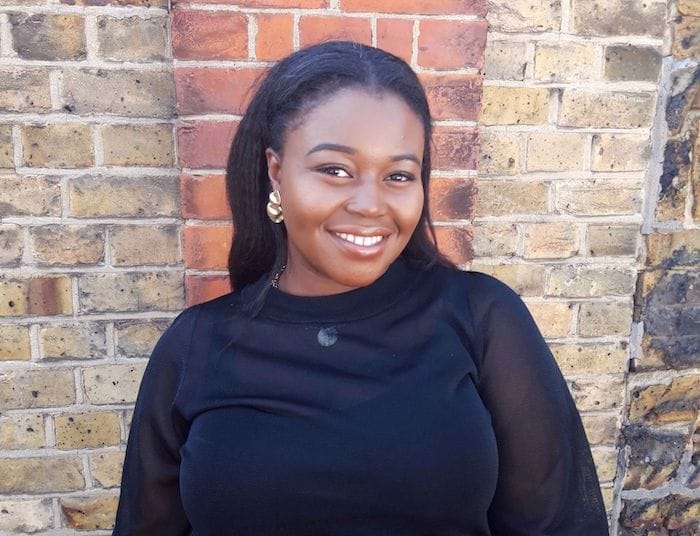 Tell us a bit more about yourself. Where does your love for illustration come from?
I'm a self-taught illustrator, researcher and full-time mental health practitioner in an arts university in London, UK. I have always worked in mental health – I spend a lot of time focusing on its impact on a person's day-to-day life, but also on wellbeing and recovery.
My creative practice was born out of this, because I started drawing as a means of personal self-care when I needed it the most. I completed my postgraduate study at the Division of Psychiatry whilst working full time, and during my final research thesis, I found myself burnt out and exhausted. Illustration acted as a mindful activity to relax me during this time, and I picked up a stylus for the very first time – I used to paint. Wellbeing is at the root of everything I design.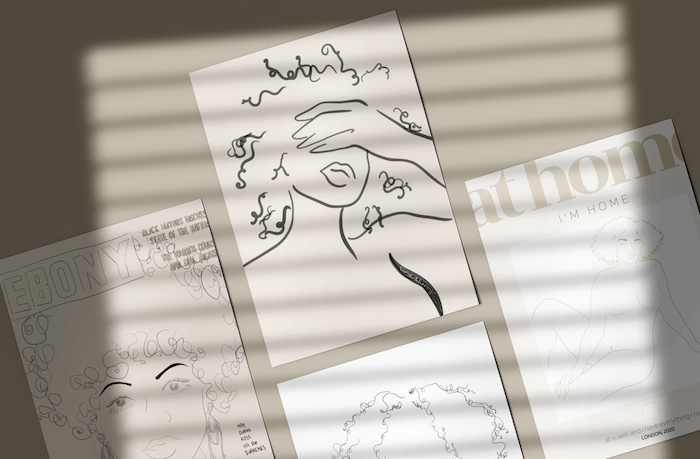 I founded illustration studio Line & Honey about 3 years ago. I think the space between minimalism and maximalism is a spectrum, and whilst in many ways I am a maximalist – my character and humor perhaps–, I've always been drawn to minimal aesthetics, and I utilize design as a tool for balance the two. I feel that my illustrations really complement me and it's a really soothing experience to create.
How would you describe your style, and how did it evolve over time?
My illustration style is line-based and intricate, which leads to pieces either very detailed, or almost abstract. It's interesting because my minimal style is a direct result of the space I was in when I first started illustrating. Starting at such a stressful time in my life, the pieces I created were soothing for me – I was using slow-considered lines to create portraits of fictional people living fictional, peaceful lives. 
I remember asking myself if I could create artworks that feel complete with as few lines as possible. This is how my trademark style was born.  By creating a piece that was calming for me, the result was also calming for others, and this focus of wellbeing has stayed at the core of my work over the years as my creative practice has grown.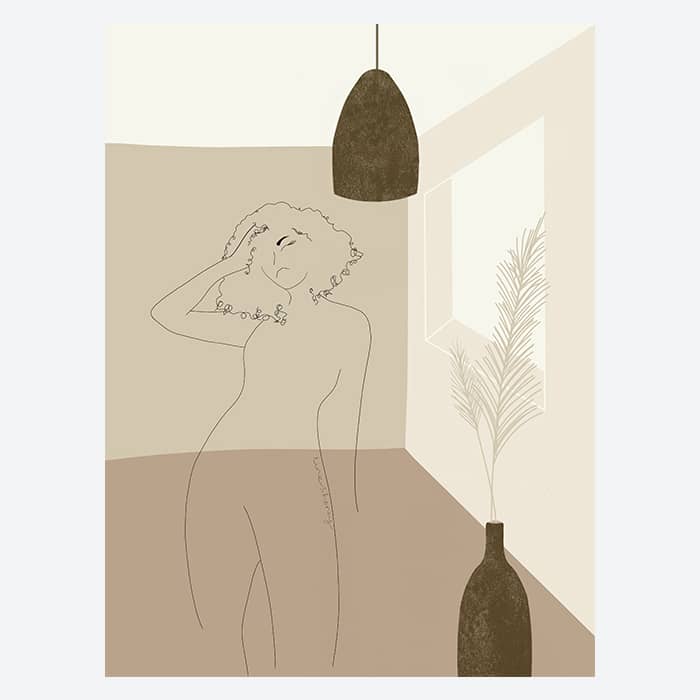 In some ways, much of my work is similar to when I first began, and though I have explored other things such as the use of color, the main thing that has changed is my experience and improved techniques. I used to add photographic background layers, but I've really challenged myself to keep it minimal in order to increase the impact of each illustration and what I am trying to communicate. As my confidence in my ability grew, I realized that I needed to strip back things that were unnecessary to leave room for what I actually wanted to depict. Looking back at my work, it feels it has matured alongside me.
What inspires you, and what do you want to express through your artwork?
My work is inspired by two main things: minimal design and Black women. Black women are key to my creative practice – I draw what I know, and when I first started creating, portraits of women just being is what came out the end of my pen. I am really inspired by the duality of Black women, and how we exist with multiple layers in this world, because we have to.
Line & Honey exists to provide a lesser seen view of Black women
Minimal design also really inspires my work, because it complements the why perfectly. Line & Honey exists to provide a lesser seen view of Black women. I focus on soft, vulnerable, reflective aspects of our existence because I want these sides of us to be visible – see our manifesto. The delicate line work lends to the intricacy and complexity of the subject matter; muted color palettes play off the colors of our skin; and the negative space in each piece gives the viewer room to breathe.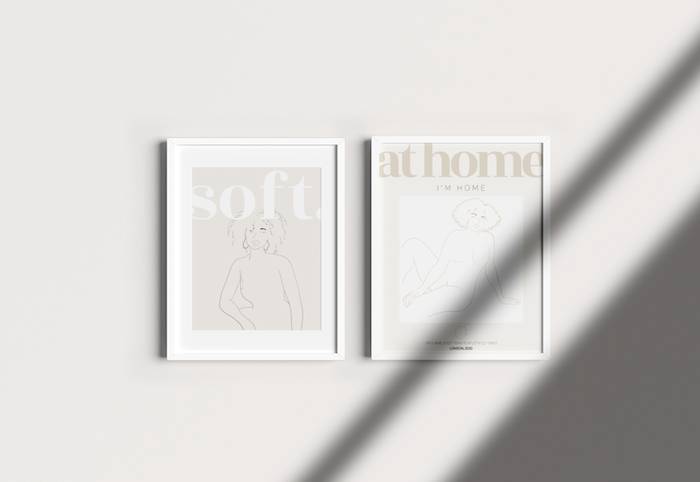 How did you end up launching your own brand, Line & Honey?
Line & Honey as an illustration studio happened really organically. What started as a self-soothing project for my eyes only, became something that had the same effect on others. As I slowly started to share the pieces I was drawing on Instagram (first post!), I slowly started to convince myself that this was something the world needed too. 
I wanted Black women to be seen, and I wanted to own the lens we were seen through
Being a 'creative' or a 'business owner' was not a part of my experience at all at the time, so it was a lot of boldness and hoping for the best on my part. The key to the whole experience was knowing what I wanted to illustrate and how I wanted each piece to make people feel. I wanted Black women to be seen, and I wanted to own the lens we were seen through. This has translated well to the commission side of the business, as I illustrate brand assets for other businesses that have the same goal.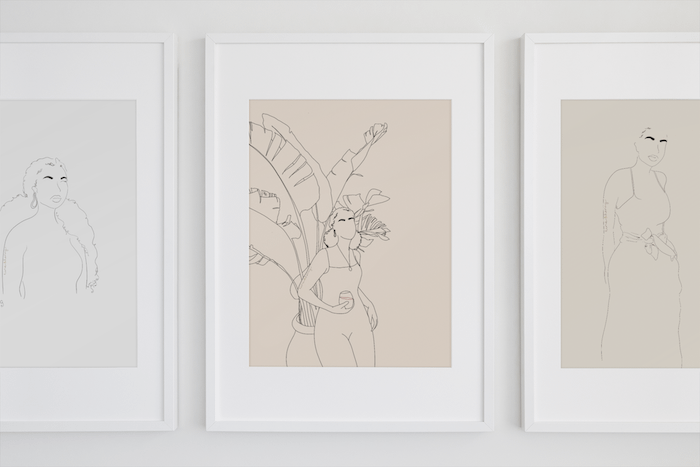 I create pieces I would hang in my home – and I actually do hang them all over my space. I am the kind of artist that hangs her own pieces up, and I'm not ashamed! The thing is, line art and minimal pieces are what I'm drawn to, and though many retailers sell simple art pieces, they don't feature Black women or have the meaningful stories behind it. I am inspired by our complexity, and these are the things I want to be visible in the illustration space. This is the foundation of the studio – creating illustration pieces to hang in the home and illustrating for other businesses that want their visual design to be inclusive. 
Intersectionality seems to play an important role in your work. How do you think the visibility of Black women in art is shaping their perception in society?
Intersectionality is key, because being a Black, young woman in the UK with Jamaican parents leads to a unique set of experiences that are invisible unless consciously brought to the forefront. I am very aware of all the strands of identity that make me me, and whilst I can celebrate this, I am also aware that these parts of my existence can also be subject to different layers of misinterpretation or prejudice.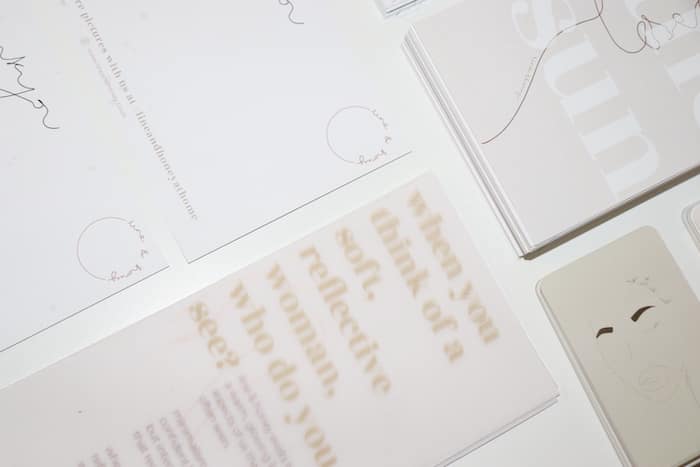 Art has always been a vehicle for innovation, difficult conversations and representation of different time periods, therefore the visibility of Black people in art and illustration, as told by Black people themselves, is revolutionary. It brings permanence to our existence, gives us ownership of our own cultural capital, and allows us to tell our own stories in a way that can be enjoyed by everyone. This year, I co-authored an academic article in the Journal of Illustration exactly on this topic. I explored how the positive depiction of Black women in art not only promotes our mental health, but shows the world that we exist in ways the world never sees. 
As an artist and mental health professional, how do you see art as a way to improve wellbeing? How does that extend specifically to women of color?
To me, art and wellbeing go hand in hand if used well. It all revolves around intention – this goes for both creating or engaging in art. Firstly, the physical act of drawing can be used as an exercise in mindfulness. Taking the time to identify a subject matter you love and using intentional lines – or whatever your medium is – to illuminate this is a fulfilling process.
Illustration can provide a common language that goes beyond words
Then there's the idea that women of color specifically benefit from positive representation in art as it counteracts self-limiting views and opens up infinite possibility. Illustration can provide a common language that goes beyond words, and therefore has the potential to be more inclusive and accessible.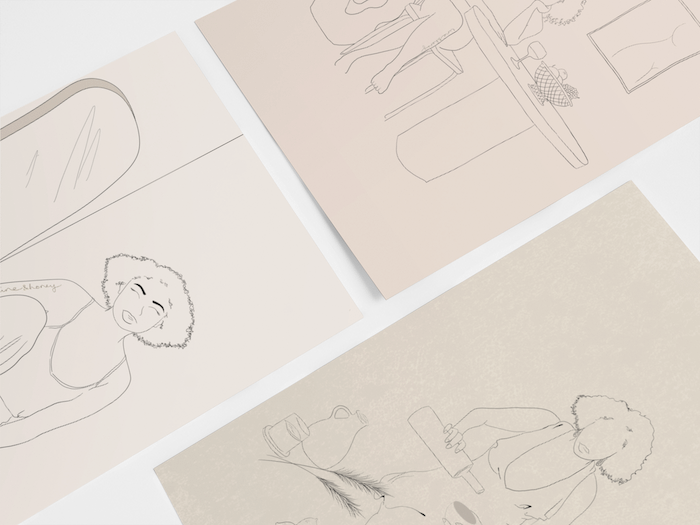 Lastly, I really see the benefit of communities centered around creativity. Women of color need these spaces to breathe and feel well, and we have so many rituals and aspects of our normal lives that are intrinsically creative and promote our wellbeing.
Do you face any challenges in your career as a Black female artist? Do you have any advice for fellow creatives struggling to get noticed?
This is one of the areas where intersectionality really does have to be considered. Female artists can often be unseen in the art & design industry, and Black creatives are grossly underrepresented across the board. So to be a Black woman absolutely comes with its fair share of challenges. Focusing on the things that help, there are so many things I implement to act as a direct buffer to the negativity that could come my way.
Community

. When I say this, I don't just mean the support network you have around you. I am talking about identifying and consciously surrounding yourself with people that are in the same or tangential spaces to you – creatives of all kinds, whether you know them or not! Every time you open Instagram, you need to see people that look just like you, creating and being their authentic self each day. These people from your community, and you are reminded each time you see them, that what you are doing is possible.

Boldness & Growth

. What better antidote to negativity than success? I think it is central to keep at it and grow your creative practice, despite the challenges. For me, building a strong visual identity, and staying consistent helped build Line & Honey's presence beyond the doubts I had from people with 'more experience' than me. Being bold with the plans for your brand is stronger than the people dedicated to misunderstanding you. 
How do you use MOO to promote your brand?
MOO printed my first ever business cards, and I haven't looked back. I use the Printfinity option to showcase all of my illustrations on my business cards, and my customers absolutely love them. A previous customer sent an image of it hung in her office space as she felt it was like a mini piece of art itself, and the quality reflects that. At the moment, I am using the Business Cards alongside glossy long Flyers as compliment slips. The slips have a choice of two different illustrations and an affirmation in our brand font, and on the back, I handwrite a thank you note for every single order.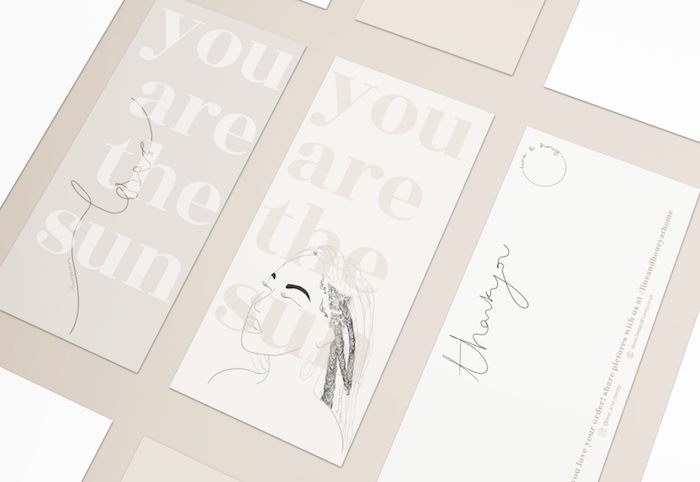 This is a really important part of my brand experience, as I wanted to stay away from a generic typed message. These elements are put in a luxe translucent matte envelope alongside our brand manifesto printed on transparent paper and a shipping invoice printed on a beautiful recycled paper. Textures are really important in our unboxing experience. I can honestly say that it is my MOO pieces that make me feel excited to package up my illustration prints and send them to customers.
Which piece are you most proud of to date, and do you have any projects coming up you'd like to share with us?
Where do I start! I would love to share two: the first is a limited edition piece called 'power & strength', created shortly after this year's Black Lives Matter campaigning for George Floyds' life began. All of the proceeds were donated to Runnymede Trust, a British independent think tank dedicated to research on social justice and racial equality. 
The second is also really personal, as it is this piece from the current collection based on a legendary Ebony magazine cover from 1970. At the end of last year, I became a solo homeowner(in London, I know!) and this was the first piece I commissioned myself for the space – it now lives proudly on my wall.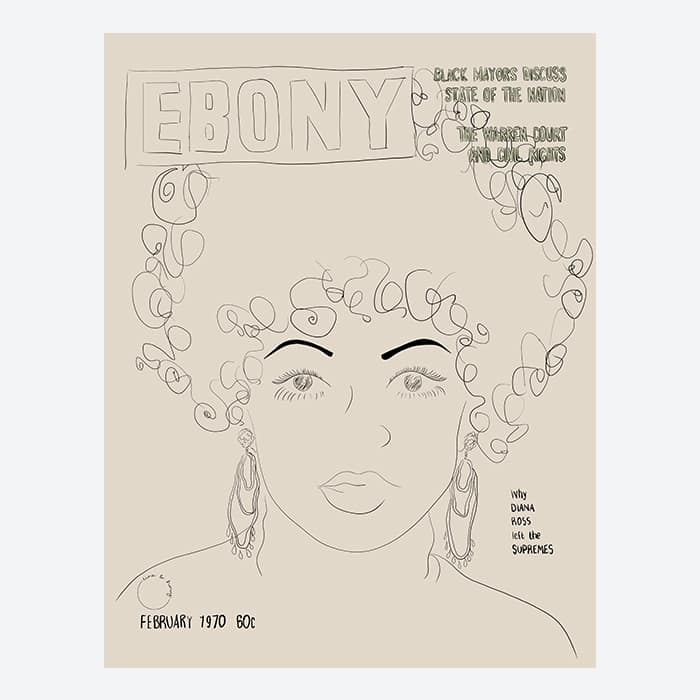 What's the one piece of advice you would give to creatives to manage their mental health and stay inspired?
Create what you want to create. I would encourage us all to really ground ourselves in what we actually want to create and understand how we can bring ourselves into each piece. Whether it's your personality, heritage, way with words, or aesthetic tastes, identify what you want to be the root of your work – the thing that everyone sees when they interact with it – and stay true to this as the art & design space can be overwhelming.  
Get the word out in style with MOO Business Cards and Flyers.
Keep in touch
Get design inspiration, business tips and special offers straight to your inbox with our MOOsletter, out every two weeks.
Sign me up!