How to develop an award-winning product
Solveiga Pakštaitė is the girl behind the glasses at product design house Design By Sol. Her revolutionary product Bump Mark has won design awards, piqued…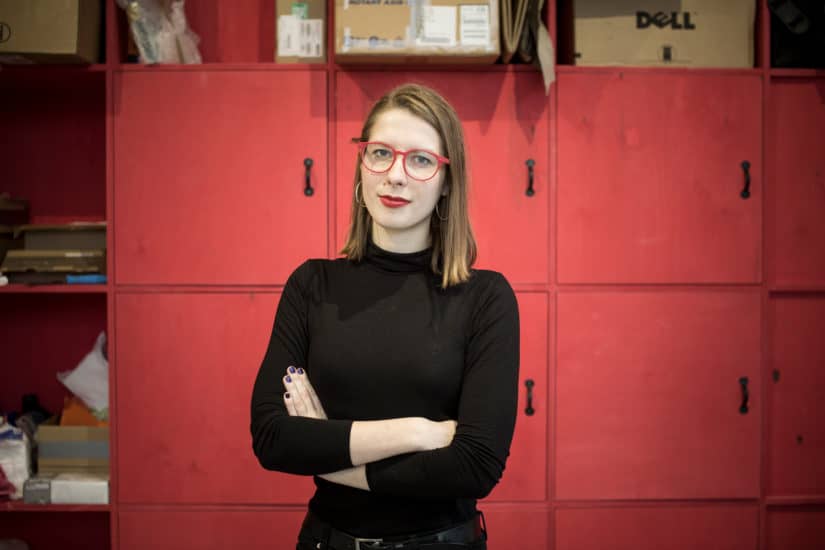 Solveiga Pakštaitė is the girl behind the glasses at product design house Design By Sol. Her revolutionary product Bump Mark has won design awards, piqued the interest of major food retailers and could change the face of the food market.
Firstly, what exactly is Bump Mark?
Bump Mark is a label featuring plastic ridges covered in a gelatine solution which models the decay rate of the food it's stuck to, meaning the ridges can be felt more clearly as the food's freshness wanes.
How did you develop the product?
I've always been interested in using design to problem solve, and during my sandwich year at university, I was working on a brief for charity Guide Dogs for the Blind Association. I got to ask lots of blind people lots of questions, so I talked to them about things that I was curious about. One day I was looking at a sell by date on something, and I learned that the blind didn't actually have an easy way of knowing when their food goes off.
So I back to university to finish my course and developed the idea for my final project. Quite quickly I realised it's not just blind people who are blind to expiry dates. I applied for and won a James Dyson Foundation Scholarship to help develop the project, but because the materials used are really cheap, I didn't spend any of the money, so decided to use it to file a patent. I just thought it would be a good learning experience. But that's how I ended up protecting my idea, by accident really.
You now have a team of seven, how did you tackle growth?
I got onto an incubator programme called Climate-KIC. The whole idea of the programme was to equip you with the business skills to take your cleantech idea forward, but I was still running the company on my own from my childhood bedroom in my parents' house, which made it all feel a bit make believe.
Shortly after this I was accepted onto a brand new accelerator programme. There are manufacturing experts in-house acting as mentors, there's a state of the art workshop for prototype building and there's a fixed desk system which meant I could actually start growing my team. Right now there are 7 of us on the team.
What advice do you have for people starting their own business?
At the end of the day, even if you fail, you learn so much. There are benefits, you get to manage your own time, sometimes you get to travel, sometimes you win competitions. But the day to day life of running a start-up involves a lot of uncertainty – I'm learning so much but it's definitely not for the faint-hearted. Get out there and meet people too, I am not a big fan of stuffy organised networking events, but there are lots of interesting talks and socials where you can meet other entrepreneurs and people who can help your venture. People say that my Business Cards are memorable which also helps!
What's the biggest thing you've learnt so far?
You have to be really careful too that your relationships don't suffer. I have started to be really careful about using the phrase 'I don't have time',because everyone has exactly the same amount of time. It's just up to you what you choose to do with it. Saying instead 'I didn't make time, I'm sorry' makes you re-evaluate the choices you've made.
Are you developing a product? Share your experiences below!
Written by Katrina Vines
Keep in touch
Get design inspiration, business tips and special offers straight to your inbox with our MOOsletter, out every two weeks.
Sign me up!