Made in MOO: the secret life of design services
We asked Rachel Rodgers, head of design services, about the secret life of our design services team.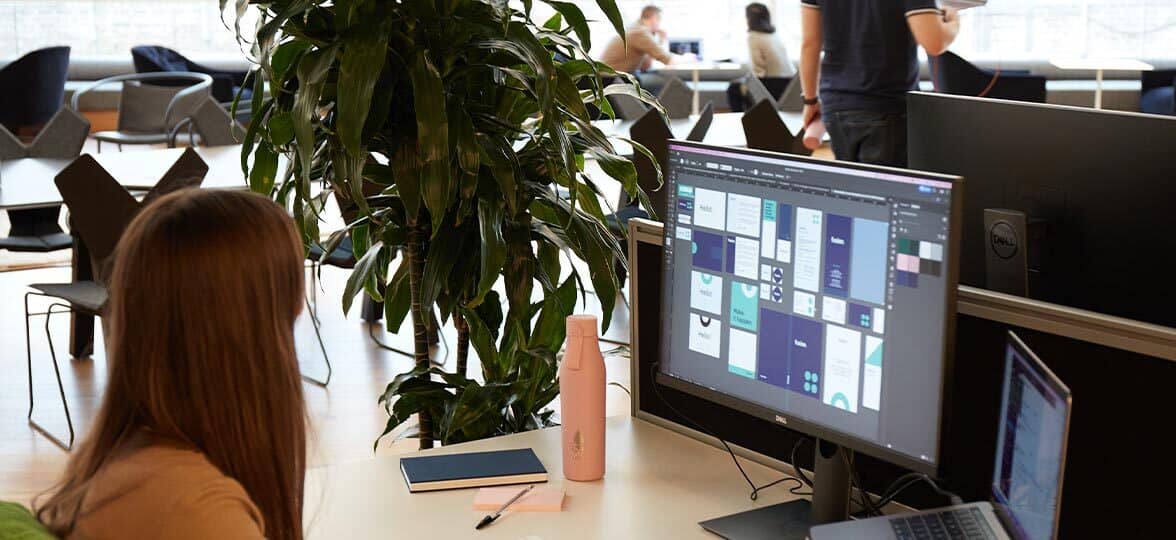 Here at MOO, we're nuts for design. Among our creative bunch, our design services team help companies keep their branding consistent across every asset – be it print or custom merch. But they're also highly creative souls with a taste for new challenges.
We asked Rachel Rodgers, head of design services, about the secret life of the team.
Design services in numbers
The team is made of 22 people spread across Denver, Providence and London, helping you bring your wildest custom Planner dreams to life – and keep your Business Cards nice and consistent.
Design services are made of production artists, designers and management. Production artists are our artworking superstars. They're responsible for a variety of tasks such as layout, editing and quality control. They're also the ones creating templates for your brand.
Designers create custom designs for businesses. They're the ones who come up with creative ideas for your custom products. And managers keep all that bunch organized.
The team gets an average of 180 requests a day, from support to quality checks. That's A LOT of design. They're using no less than nine different tools and platforms to handle it all.
A day in the life
Coffee, playlist, go
For production artists, the day starts with some quality control. It's a good opportunity to dive into a favorite playlist or listen to that true crime podcast they've been binging. Then it's time to make sure our customers' artwork is print-ready.
Mornings are when Abby, our production artist in Denver, feels most productive and focused. Her first coffee of the day may have something to do with that. Over in London, Alejandra likes to focus first thing, using afternoons to catch up with her US counterparts.
The afternoon's often spent helping customers with their artwork, before closing out the day templating her clients' designs. It's Abby's favorite activity. "I enjoy getting to create templates for a customer's platform as well as the problem-solving that comes with more complex designs." Even when it means working on a 263-template request for The American Institute of Architects. "It was daunting at first, but it was a great first experience with a massive ticket!"
In the (creative) zone
After a morning coffee (the first of many), our designers jump into their queues to make a few quick edits to customers' artwork. Then, it's time to meet with fellow designers – to critique in-progress designs and get each other's feedback. After lunch break, it's headphones-on for the rest of the day while tackling some bigger custom design projects.
For Holly, junior graphic designer in London, afternoons are for design and connections. "I usually structure my day so my custom design projects are worked on in the afternoon, meaning I can really get creative during this time. Also, the US team logs on at this time, so I love catching up with them."
Based in Providence, Ricky also enjoys afternoons the most. "Once the afternoon rolls around I'm really able to just put on some music and focus on bigger projects and really get in the zone."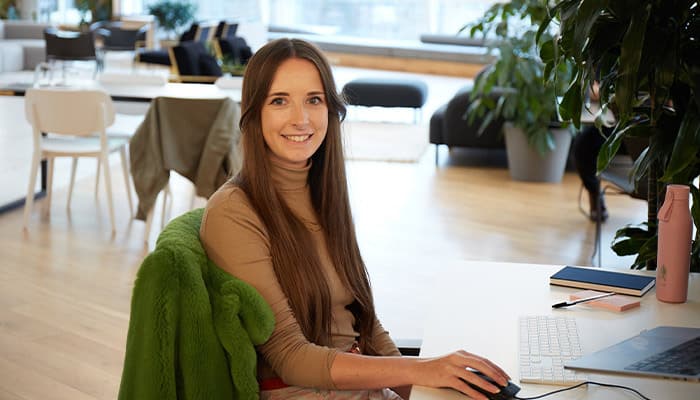 One thousand and one requests
The team sees a lot of requests go through – some stranger than others. From holographic business cards to finding "the whitest white" and taking an inkjet printer apart, their expertise is often sought after for the most unexpected things. Quality control is also an opportunity to peek at customer designs – "it's a fun way to see all the cool (and sometimes crazy?) artworks our customers print".
Design services also have a secret life as an internal design support team. "Most people know us as the customer-facing design team, but we also provide design support internally to other teams at MOO. Whether it's designing sales enablement pieces, training tools or office party invitations, we love supporting other departments."
Flexing their creative muscles
When asked about the team's favorite tasks, Rachel doesn't need to think twice. "Custom designs provide a chance for team members to flex their creative muscles and elevate a brand across MOO's product range."
Holly also loves inspiration pieces. "I love giving the customer a range of inspirational product designs and showing them different ways to adopt their branding that they may have never considered before."
"I love showing them different ways to adopt their branding."
The team's pet peeves? A design-resistant file. "Sometimes, we're working with low-resolution assets, improper file types or minimal content and direction, so it takes extra troubleshooting, care and expertise to ensure we deliver delight to our customers."
There are two exceptions to the rule. Alejandra loves to do what she calls "recreations." "Like trying to turn a photo or a low-res design into something we can print nicely." For Ricky, it's an exciting challenge to take on. "It's like putting together a puzzle, matching colors, fonts and logos."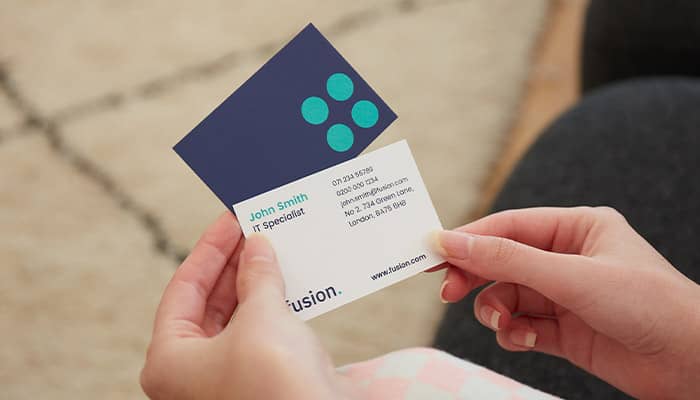 "Never gets boring!"
At the end of the day, the variety of products, industries and companies is what keeps the team excited. Alejandra sums it up best: "I love that we're able to work on so many different designs, for a great variety of customers and companies, with such different brand guidelines and needs. Never gets boring!"
Ricky agrees. "You never know what type of customer you might be working with. One day I might be designing a Postcard for a cosmetic company and the next I'm creating some Water Bottle designs for the Denver Broncos. It's always a fun surprise!"
His proudest moment is getting his holiday card templates up on the site. "In the early days of the pandemic, we all worked on creating some nice Greeting Card designs that customers could order. It was just meant to be a one-off project but mine ended up being picked as a Greeting Card template on moo.com. Pretty cool to have that up there!"
For Holly, it was working on our collaboration with the plant shop Daddy's Plants. "I loved working with other designers to create a suite of products that the owners were thrilled about and used in the Pride parade as well as their store. "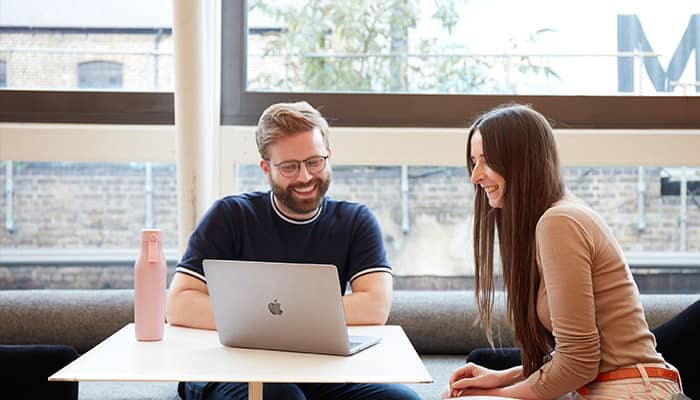 Talent, check.
Design services are a friendly bunch with eagle eyes and a passion for design. The team's most seasoned MOOster, Michela Tedesco, has been with us since 2014. While junior designer Logan Bruner, who joined in June, is the newest addition. With backgrounds in graphic design, fine arts and photography, their creativity extends beyond the office doors.
Rachel is proud of her talented crew. She cites Ricky and Michela as the team's star breadmakers, while Trevor is a fine artist and Claire has 15 years of Irish dancing under her belt. And that's not including Matt's martial arts experience and Brianna's bass-playing skills – to name a few.
A tight-knit bunch
They love design, but also each other. The team works (and plays) together – and that's what makes design services so special. It's Holly's favorite part of the job. "I love my team and how helpful everyone is when we need advice or critique." Alejandra is a great example of that team spirit. She helped create a quality check guide to train new joiners and to use as a reference for the whole team. Did someone say team player?
Rachel adds: "We always end our team meetings with something silly – from a debate about whether a hot dog qualifies as a sandwich, to guessing movie titles based on a vague synopsis, or trying to draw a famous logo from memory (recalling the Starbucks logo is harder than you think!)"
What's next for design services?
For now, Rachel and her team are excited about the holidays. "Each year, we look for new ways to inspire our customers and provide them with the right products, designs and services to support their businesses during the holiday season. So we have some fun ideas up our sleeves for the season…"
In the long term, design services are looking forward to our upcoming launches and the new opportunities to create custom-branded merchandise. Stay tuned!
Want to join our team of designers and production artists? Connect with us on LinkedIn and check out our current vacancies here.
Keep in touch
Get design inspiration, business tips and special offers straight to your inbox with our MOOsletter, out every two weeks.
Sign me up!