Great design for everyone+ – an interview with Queer Brewing
Discover how Queer Brewing are making their mark on the world.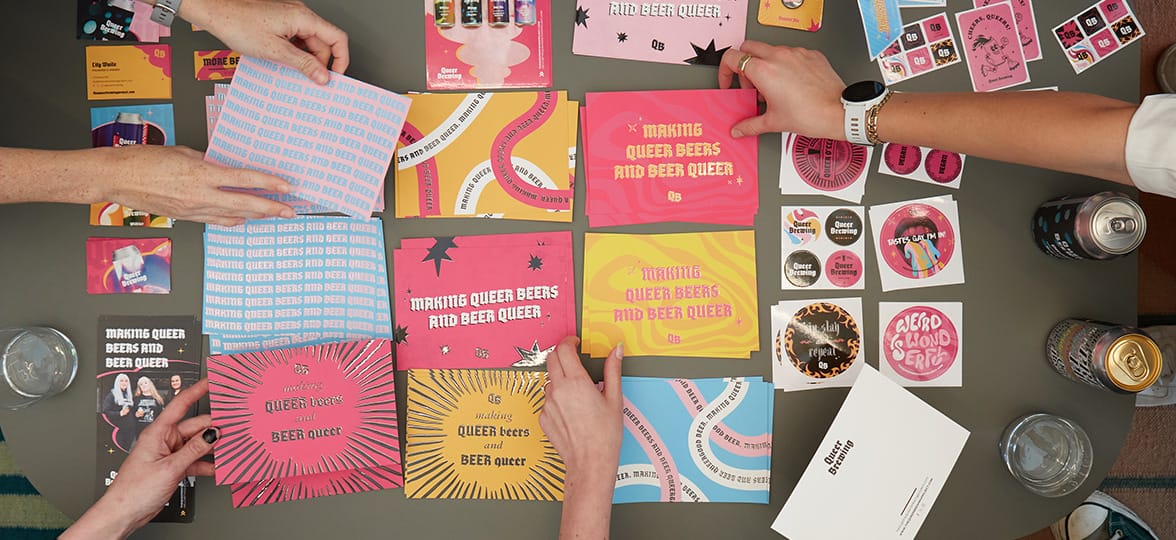 At MOO, we love meeting our customers in person. So we were thrilled to welcome Lily (Owner and Founder) and Charlotte (Creative Director) of Queer Brewing to our London HQ this month.
We met this awesome duo (and their two lovely dogs Teddy and Pickle) back in the summer. It was clear from the outset what an incredible business they were running, so we jumped at the chance to share their story. And being big believers in 'great design for everyone' – we decided to gift them a suite of new MOO products, to both celebrate and support their growth.
Who is Queer Brewing?
Founded in 2019, Queer Brewing is a queer and trans-owned brewery whose aim is to increase visibility and representation for LGBTQ+ people through great beer. They produce a range of styles, from iconic Witbier through to delicious pales and IPAs, (and everything in between).
Queer Brewing has raised tens of thousands of pounds for LGBTQ+ charities in numerous countries, by brewing collaborations all over the world with some incredible breweries. (In a nutshell – they're pretty cool.)
Making queer beers and beer queer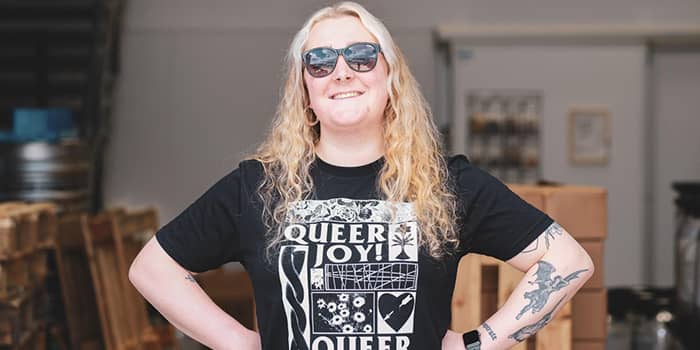 Queer Brewing Founder, Lily Waite, began her start-up journey when she worked in various bottle shops and bars while at university. It was during this time that she began blogging about beer from the perspective of a queer trans woman in a very male-dominated and heterosexual industry.
"As a result of my work, I began speaking on diversity panels and events and got incredibly frustrated with the fact that it was the same people on these panels saying the same things with very little action happening. So I wanted to do something tangible", she said.
Clear (and queer) values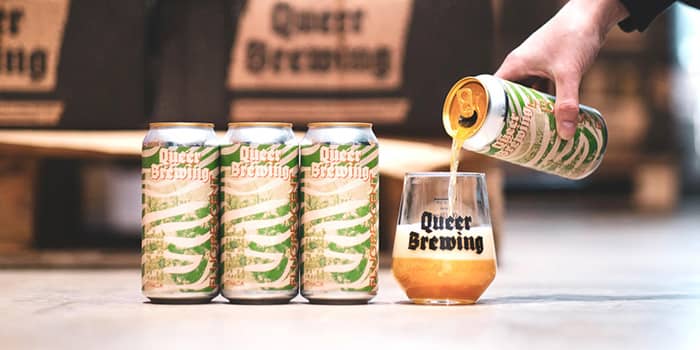 Queer Brewing stands for two main things; representation and visibility. Aside from the incredible beer they brew (we've tried it and can confirm, it's delicious) – Lily and Charlotte are the brand. They live and breathe their core values day in and day out.
"Trans people are really poorly represented in beer so we wanted to do something about that."
Until only recently, Queer Brewing was the only trans-owned brewery in the UK, and about one of three or four in the world. "Trans people are really poorly represented in beer so we wanted to do something about that. I've always been incredibly vocal about who I am and the challenges people like me face within this industry. From the start when people saw the word 'queer' on a tap list, they felt represented. And when people told me what that meant to them we realized we were doing the right thing", said Lily.
Meeting the MOO team
As part of our collaboration with Queer Brewing, we challenged Ellie and Cammie from our Design Services team to work on a full suite of marketing materials. From Luxe Business Cards, to Stickers and Postcards, both thoroughly enjoyed the opportunity to be 'let loose' on such an exciting project.
"Seeing a Queer Business succeed in a space that once excluded us is truly inspiring. As a queer person, it's personal and reminds me of the progress we've made together", said Cammie. "It was great to work with such a bold, colorful brand. It made creating design elements and layouts really fun for us", added Ellie.
Lily and Charlotte were full of praise for the creative support they received from MOO. "We gave them our color schemes, fonts, and graphics, and what we've been given in return is just fantastic", said Charlotte.
Designing for visibility
So how did we do it? Designing print products to elevate your brand is easy when you know how. First of all we had a detailed discussion with Lily and Charlotte to hone in on what would really benefit their business. With multiple customer touch points (from online orders to festivals and events) it was a great opportunity to cover all the bases.
Loud and proud Business Cards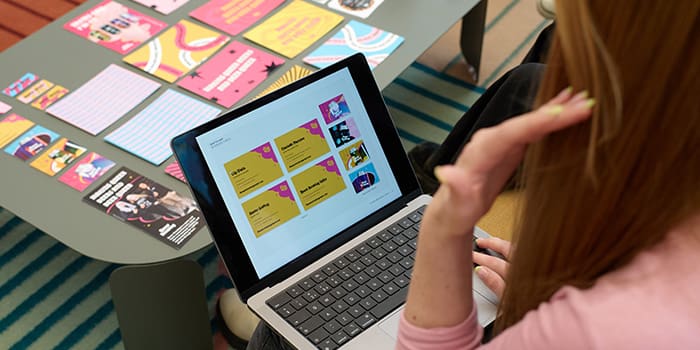 As a small (but mighty) team, Queer Brewing Business Cards need to pack and punch. So Ellie and Cammie set to work on creating a variety of designs using our Printfinity service. The resulting template celebrates each of their beers in all their glory, and adds real surprise and delight to these networking essentials. Finished with a Luxe seam, they simply ooze quality.
"MOO's neon pink Luxe seam complimented their color palette to a tee. Our branding discussion even led to a unique Business Card use case which was to create a square backing card to go with the Enamel Pin badges they sell", said Ellie. (You can check out some other awesome use case ideas here.)
Postcards that tell a story
Lily and Charlotte have been on quite the journey, and a big part of their growth involves shouting about their business to new customers. We worked with them to create pearlescent marketing Flyers to introduce their team, and vibrant Postcards to promote their products. Both prints make the perfect addition to their packaging, and help connect customers to their brand.
"Picking up marketing materials, seeing a great design, and seeing how professional they look and feel legitimizes the brand in some way. Especially from a marketing perspective", said Charlotte.
Messaging that sticks (literally)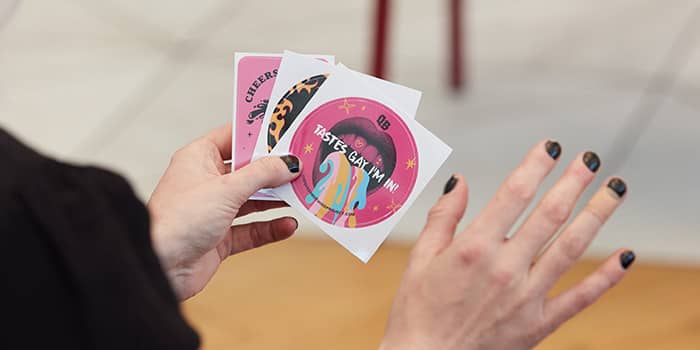 Stickers may be small but they're hugely versatile. And when it came to designing them for Queer Brewing, our team worked on a number of different use cases. From packaging embellishments to event giveaway tokens. The most important element was bringing their brand messaging to the forefront of the designs, and celebrating everything that they stand for as a business.
"Queer Brewing gives so much to the LGBTQ+ community, so we're honored to support them in any way we can"
"It was great to work with such a bold, colorful brand. It made creating design elements and layouts really fun for us", said Ellie. "Queer Brewing gives so much to the LGBTQ+ community, so we're honored to support them in any way we can", added Cammie.
Making your mark
When asked what their top tip would be for growing a small business, Lily commented 'Stay flexible and have fun with it". And we couldn't agree more. With a MOO Business plan, you unlock the expertise of our great Design Services team, plus gain access to a variety of different MOO products to suit your business. Flexible, marketing solutions are (quite literally) at your fingertips.
Ready to get started? Fill out the form below and a friendly account manager will get in touch to help bring your project to life.
Because great design is for everyone+.
Keep in touch
Get design inspiration, business tips and special offers straight to your inbox with our MOOsletter, out every two weeks.
Sign me up!