Holiday cards: why we love them (and why you should too)
Spreading holiday cheer can be more beneficial than you think.
Building a personal connection with your customers can make your business shine. And one way to do that is by sending Holiday Cards. But in this ever-growing era of digital marketing, do physical cards still hold value? The answer is yes!
Sending a Holiday Card around the festive season is thoughtful and guarantees a feel-good vibe. It can also strengthen your working relationships, re-engage customers, or simply make partners feel valued. In this article, we talk about the benefits of sending Holiday Cards and share what some of our customers have to say.
Strengthening relationships
A Holiday Card is more than just a fold of paper. It's a thoughtful gesture that shows your clients, partners, or customers that you appreciate their support. It's a tangible way to say thank you that can strengthen your business relationships.
Customer retention is an important part of every business, and connecting throughout the year is a great way to remind people that you exist! Emotions play a key role in decision-making – and this is why many businesses engage in what is labeled 'joy marketing' as a way to build loyalty. Our lovely customer Enclave, told us; "We opted to print Holiday Cards as a gesture of appreciation towards our valued partners, customers, and friends".
Physical vs digital
Who doesn't love receiving a card in the mail? With our inboxes becoming evermore cluttered, tangible paper products give your business an opportunity to make an impression. Extra points go to well-designed Holiday Cards that are display-worthy on a mantelpiece or notice board.
"Print materials help us stand out and people appreciate our cards year after year".

Beth Harris – Resort Hotel Association
Our client Beth from the Resort Hotel Association printed some stunning Silver Foiled Holiday Cards with MOO in 2022. She stated; "Having beautiful Silver Foil cards printed to send out during the holidays made this piece of mail very special and different from our competitors. Print materials help us stand out and people appreciate our cards year after year".
Another client, Courtney from Longship agrees on the importance of print marketing materials in an overly saturated digital world. "While our marketing efforts are heavily weighted in digital messaging, print products provide a special element and personal touch," she said.
Reinforcing brand values
Holiday Cards can also serve as a subtle marketing tool. By incorporating your logo, brand colors, or even a brief story about your company, you can reintroduce your brand identity and keep your brand messages front and center.
Enclave's Marketing and Design Assistant, Lily, walked us through their Holiday Card design; "Our approach involved harmoniously integrating our brand's color palette, embedding our logo, and incorporating linear design elements that subtly mirrored the angles found in our logo while infusing the design with festive, Christmas-inspired ambiance".
Holiday Cards also give businesses the chance to showcase their company culture. Cards that reflect the company's values, mission, or personality can give recipients a glimpse into the company's unique identity. This can differentiate a business from its competitors and make it more memorable.
"Print products remain impactful for our brand mission by offering a tangible and memorable touchpoint with our audience."

Lily Fraser – Enclave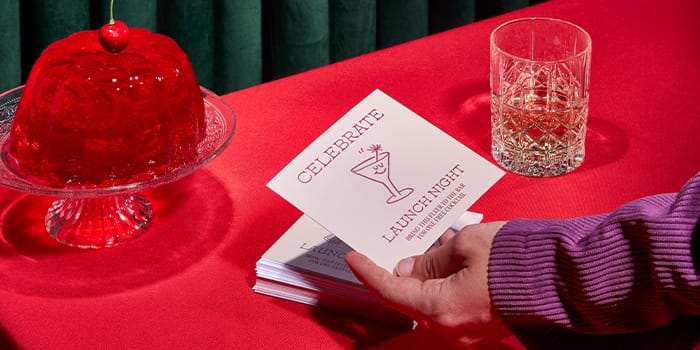 An opportunity to say 'thank you'
Above all, sending Holiday Cards is a traditional and heartfelt way of saying thanks. It's a chance for businesses to reflect on the support from customers, clients, and partners over the years, which is a fundamental part of any business relationship.
Our client Courtney, from Longship, told us the main reason behind printing Holiday Cards; "We decided to get these printed because they are a great way to spread holiday cheer while also showing appreciation to our network of customers, carriers, and vendors that we partner with on an annual basis".
5 tips for creating a Holiday Card
1. Personalization is key
Use recipient names and personalized messages. This makes the card feel extra special and meaningful. Using our Printfinity feature, you can have a range of different designs within a single pack without over-stretching your budget.
2. Quality over quantity
Opt for quality paper and special finishes. A well-crafted Holiday Card shows your business cares about quality.
3. Showcase your brand:
Include your company logo or colors in the card's design. And make sure the card is on-brand to reinforce your brand identity.
4. Add a digital CTA
Pair physical cards with digital elements such as QR codes to your website or social media page.
5. Timing matters
Send your Holiday Cards early enough to ensure they arrive before businesses close for the holidays or even incorporate them with holiday gift baskets.
Ready to create your Holiday Card for 2024? If you're looking for more ideas on what to include you can check out our handy guide. Or if you need some design support, fill in our short form below and we'll be in touch to help you get started.
Keep in touch
Get design inspiration, business tips and special offers straight to your inbox with our MOOsletter, out every two weeks.
Sign me up!