Martin Agency celebrates back-to-back wins with MOO Water Bottles
This award-winning advertising agency is celebrating with stylish, quality gear.
Fresh off the heels of a second consecutive award-winning year, Martin Agency's Cultural Impact Lab wanted to celebrate in style — and that's when they met MOO.
About Martin Agency
Martin Agency is well-versed in the art of cultural storytelling. As an award-winning, full-service advertising agency whose reputation dates back to 1969, they've become known for producing culturally relevant, long-lasting and impactful stories. From Oreo to Geico to DoorDash, Martin Agency works with some of the biggest (and most recognizable) names on the planet.
But at this advertising agency, the team knows cultural impact doesn't just happen — it needs to be engineered. And that's exactly what the agency's Cultural Impact Lab is all about: the fusion of PR, social and media expertise. With a combination of earned media, proprietary tools and predictive analytics, the Cultural Impact Lab ensures its brands are always at the forefront of the cultural conversation.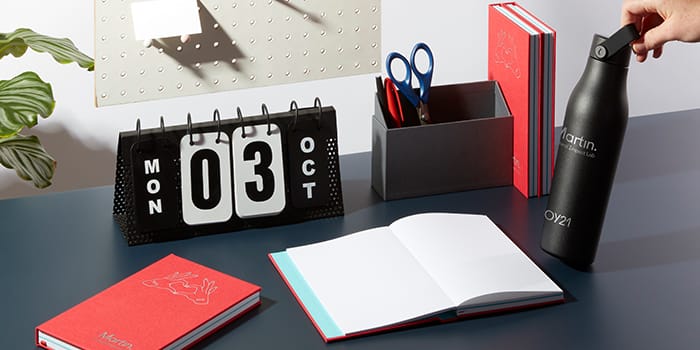 The challenge
It was hard enough to foster connection in the traditional workplace, let alone during a pandemic. Like many organizations, the Lab'semployees were scattered across several remote offices — an obvious hurdle for any business that depends on communication and collaboration.
The physical distance between teams didn't affect their performance as Adweek named Martin Agency its "U.S. Agency of the Year" in 2020 — and then again in 2021. To celebrate its back-to-back award-winning years, the Cultural Impact Lab decided to gift its diverse team of talented employees with brand new office gear.
"Being named the best agency in the industry is no small feat," said Jaclyn Ruelle, SVP and Managing Director of the Cultural Impact Lab at Martin Agency. "It's such a nice moment for us to cherish and having these products that memorialize it by always being in our hand and on our desks is a special reminder."
For such a momentous occasion, the team wanted something more than your ordinary merchandise. As a leading brand-building agency, the agency is deliberate in the products it chooses. The Cultural Impact Lab wanted to align office gear to the company's values — products that could leave a positive, lasting impression of their brand. But they also needed to be stylish, useful and durable enough to withstand the hectic everyday workflow of life at a top advertising agency.
The problem? The overwhelming amount of cheap swag options available made it difficult and time-consuming to find quality items that could be produced in a timely manner during the pandemic. For an achievement as big as this, the team needed a better solution.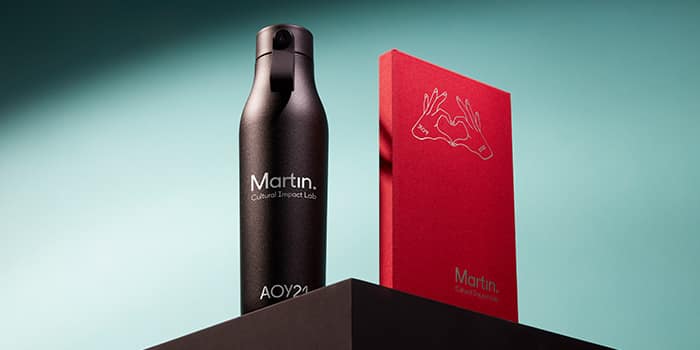 The solution
Fortunately, the Cultural Impact Lab team found their partner in MOO with a little help from a friend.
"Relationships matter!" said Ruelle. "A former colleague and friend Angela Giovanello introduced us and has helped keep MOO top of mind."
MOO's reputation for quality, premium products that tend to "surprise and delight" when you open them is what sealed the deal for the Cultural Impact Lab team. They were impressed with MOO's "purposeful product options" and "well-curated line of stylish, useful items." Martin Agency also was pleased to see that because MOO's branding is subtle on every product, their message would be able to take center stage.
The two companies worked together to create a series of high-quality, purposeful gifts that would both celebrate the agency's achievements while connecting teams to their brand values. Ultimately, they decided to feature their logo and Agency of the Year win on a black Water Bottle bundled with custom Notebooks — the perfect curated package to stay focused, organized and inspired at work.
According to the team, every step of the MOO collaboration process was "seamless," and "super easy" — from the initial order to customer service, timely delivery and opening experience.
"We just felt really taken care of by the MOO team," Ruelle said. "They were all about making products that we could be proud of."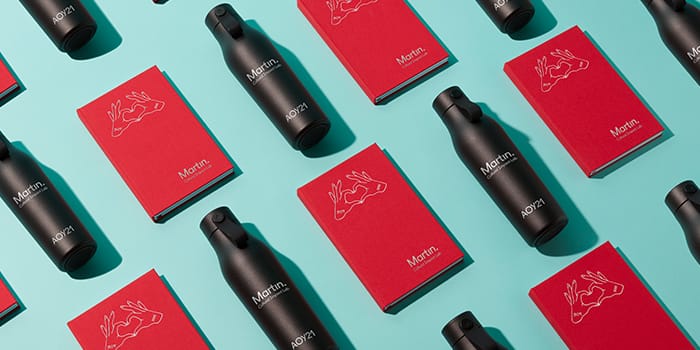 The results
Martin Agency's Cultural Impact Lab decided to surprise its team with the Water Bottles and Notebooks during a weekly status meeting. According to Ruelle, the staff were "pumped" to receive their new gear.
"Everyone loves a personal touch and the fact we were to have something special that was just ours allowed us a very proud moment," she said. "We take pride in quality and MOO helps us deliver that to our teams."
"The quality of MOO products has far exceeded my expectations," added D'Eric Watson, brand communication specialist. "Not to mention the attention to detail for the custom engraving on the Water Bottle and Notebooks. Chef's kiss!"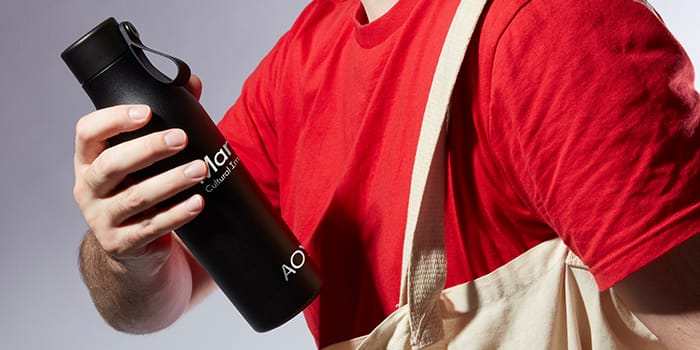 Elsewhere in the Cultural Impact Lab, employees are especially pleased that their products aren't only high-quality and long-lasting, but useful and purposeful, too.
"Thank you for these amazing products," said Errick Page, cultural impact specialist. "The Water Bottle is my new favorite, and the Notebook comes in handy during my many Zoom meetings. Perfect additions for back-to-the-office life."
After the big unveiling, theCultural Impact Lab has enjoyed the value the branded Water Bottles and Notebooks have brought to current and prospective client meetings.
"They are definitely a conversation piece and usually result in us being able to talk about the quality and kindness of Team MOO! Given the reaction from our staff, we are definitely looking at using MOO for corporate gifting season," said Ruelle. "They are perfect for our customers, partners and prospective clients." 
If one thing's for certain, it's that this agency knows how to make an impact — and branded Water Bottles and Notebooks are just one piece of the puzzle.
Get in touch to learn more about our solutions for your business.
.
Keep in touch
Get design inspiration, business tips and special offers straight to your inbox with our MOOsletter, out every two weeks.
Sign me up!