Big words, big ideas: meet Timothy Goodman
This artist, designer and all-round good egg finds inspiration in everything from Kanye to heartbreak – and we are here for it. We met him to explore his passions and why he thinks design is a practice, not a profession.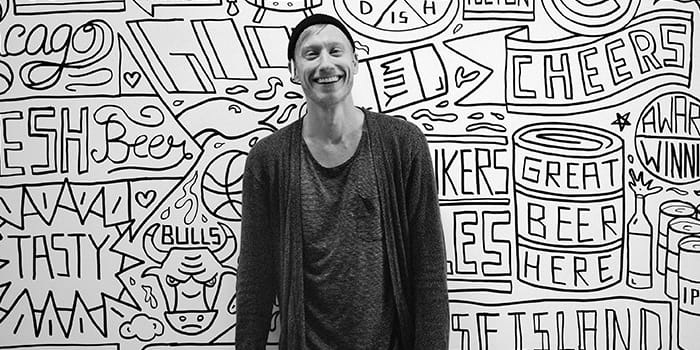 Routine, for Timothy Goodman, might as well be a dirty word. His job sees him travelling worldwide, working on installations, or tucked up in his studio in New York City. With a schedule that sometimes needs to encompass client meetings, and others calls for the kind of all-nighters that so many creatives will recognize, he thrives on the mix-and-match professional life he's built for himself. He told us, "It's always changing. And I enjoy that."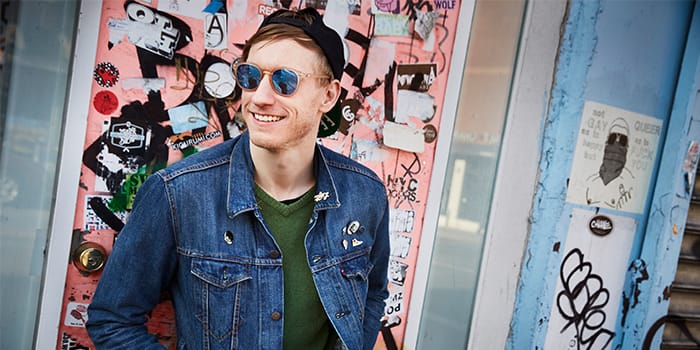 Meetings are the death of creativity
It's this restlessness that's inspired our latest artist collaboration – Timothy's designed a limited edition Notebook with us, featuring his graphic style captured in this tongue-in-cheek text, picked out in silver foil: meetings kill creativity.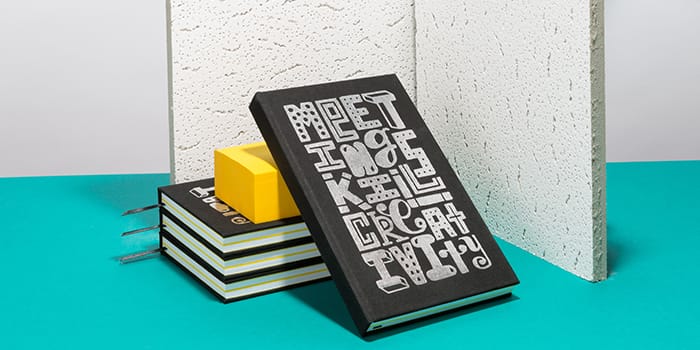 Like most of us, though, he recognizes the constant conflict in the necessity of these time-sucking appointments. "As a creative person, I loathe meetings. Yet, as a business owner, I need to be in them a lot. I loved the irony of people using my notebook while sitting in another boring meeting, so I wanted to fight back with the art." Just the kind of attitude we like.
"Approach graphic design as a practice, not as a profession."
From painting walls to painting on walls
Timothy's background didn't start, like many of his peers, in fine art or graphic design, but rather a more domestic kind of painting, "After barely graduating high school, I started working for a guy named Dave Suster," he told us, "who ran a painting and home improvement company in Cleveland, Ohio. For three years I worked full-time painting homes and doing faux-finishing on walls as I took night classes at a local community college."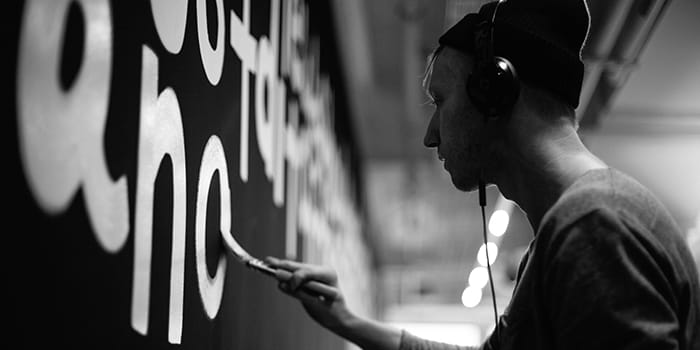 This large-scale experience has carried through to much of his work today – as well as bold graphics, Timothy's recognized globally for his thought-provoking murals.  "Later, I moved to NYC to go to design school at the School of Visual Arts (SVA). After connecting the dots, I see how much I really enjoy the physicality of creating murals and transforming the way a space feels through my work."
Making that move from commercial to creative isn't something easy, though. We asked Timothy about how he managed to make such a huge transition. "I'm a big believer in having mentors, and I think it's paramount to find someone that will help guide you in a way that teaches you more about life. I've been lucky to latch on to many people through the years. I always tell my students at SVA: don't worry about what you want to do as much as who you want to work for." Timothy's also really clear on another thing – that design isn't just a job: "Approach graphic design as a practice, not as a profession," he insists.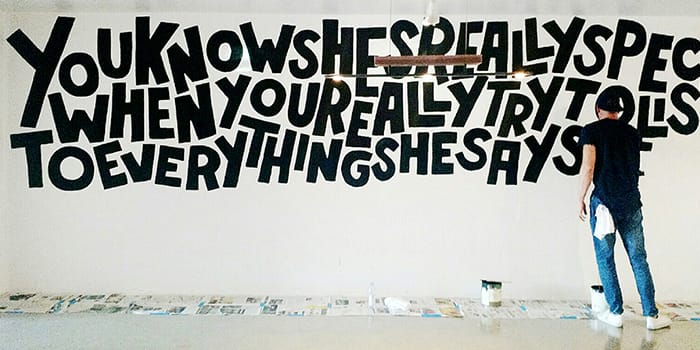 "Don't worry about what you want to do as much as who you want to work for."
A point to pivot
But sometimes, a single project can change the course of your entire professional life. The major breakthrough for Timothy came during his full-time position at Apple, based in San Francisco. "Six years ago, I made a decision to get my hand in my work more," Timothy told us. "It all started when I had the opportunity to do a mural for the Ace Hotel in NYC. I locked myself in this hotel room for 3 days with a paint marker and I never looked back. That project has since changed the trajectory of my entire career from being a more traditional graphic designer working in branding to working for myself creating a variety of murals and installations for clients all over the world."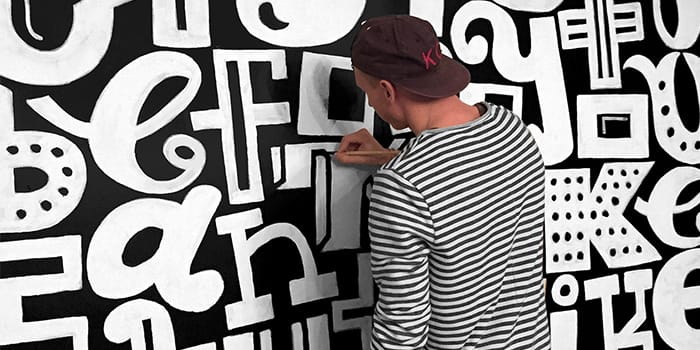 This variety means a broad range of inspiration too – and we've never worked with someone who has pulled out quite such an evocative list of influences. He cited: "Movies, documentaries, politics, reading biographies, music, Bob Dylan, Kanye, the history of jazz music and how it impacted the fabric of America, music producers, NBA basketball, writing, traveling, airplanes, falling in love, getting your heart broken, making mistakes."
Sign. Us. Up.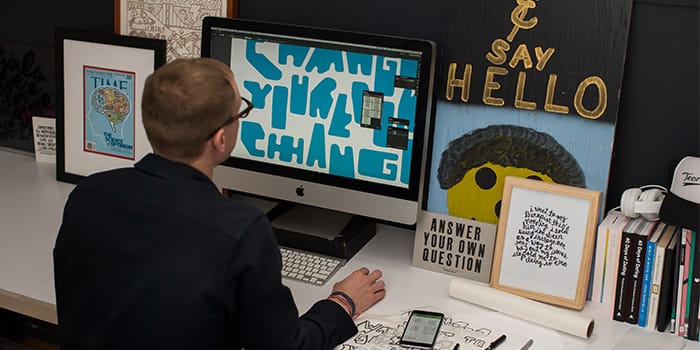 What makes you tick?
'Passion' might be a cliched word when you're talking about an artist, but it's no surprise that this range of influences leads to a strong, well… passion. Timothy believes powerfully in the impact that great design can have – something that's close to our hearts too. "I've learned that the greatest joy I personally have as a designer is connecting to other human beings through my work," he relates. "I also believe that sharing your personal stories is a sort of activism. I want to bend and twist and shake and squeeze the most out of my work without getting too caught up in the end game or the failures along the way."
Whatever the project, though, Timothy is always aiming to keep his eyes on his overall goal – the things that drive him. "My focus is trying to make work that both stimulates me and that also emotionally connects to an audience in big and small ways," he explained. "As designers, I feel we have unique abilities to tackle topics in ways that haven't been explored before."
"As a creative person, I loathe meetings. Yet, as a business owner, I need to be in them a lot."
But how does he do this – create something that expresses an idea in ways the language alone cannot? By keeping an eye on the words themselves. "I always try to create work that is driven by an idea or the content, first. I've always loved writing, and through the years I've pushed to author my own work—whether that's a mural for a large corporate client like my Target murals, authoring my book Sharpie Art Workshop, making art for Instagram like my Memories of a Girl I Never Knew series, or creating projects like 40 Days of Dating and 12 Kinds of Kindness with my creative partner Jessica Walsh. It's all centered around writing and authoring work via my own voice. That's what I did for the MOO notebook, too."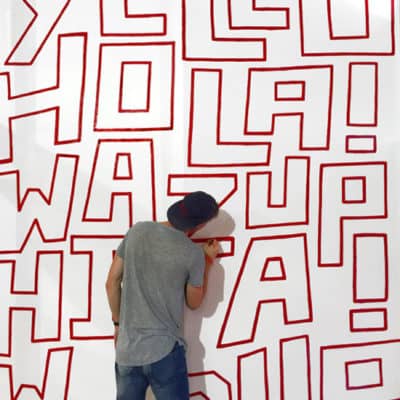 And what else does Timothy have coming up in his schedule? "I love my clients, and I want to continue working for more great clients – but I also want to continue to make robust personal projects that are important to me and others. My friend Amélie Lamont and I just launched People of Craft, a resource website showcasing all kinds of people in design. Furthermore, I have a major collection of t-shirts & bags launching with Uniqlo this winter that I'm very excited about." BRB, we're just clearing our wardrobes…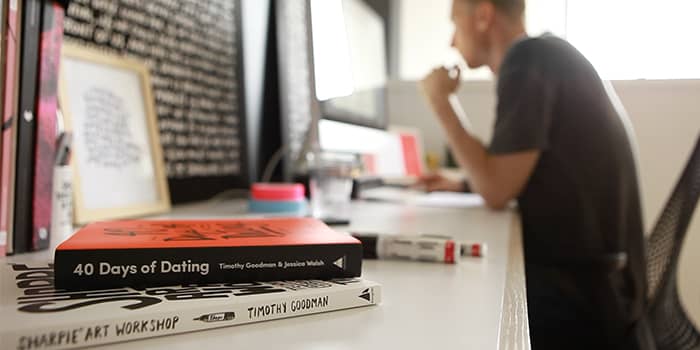 MOO X Timothy Goodman – the Notebook
We were so pleased to have this opportunity to work with Timothy, and we couldn't be more delighted that he is too. "I've always been a big fan of MOO, I've ordered postcards and business cards through them many times in the past. I was super excited to create a custom notebook together!" Aw. Timothy. You're making us blush.
Want the Notebook? Get it here
Keep in touch
Get design inspiration, business tips and special offers straight to your inbox with our MOOsletter, out every two weeks.
Sign me up!