"We're so much more than our bodies": How Venetia Berry is reclaiming the female form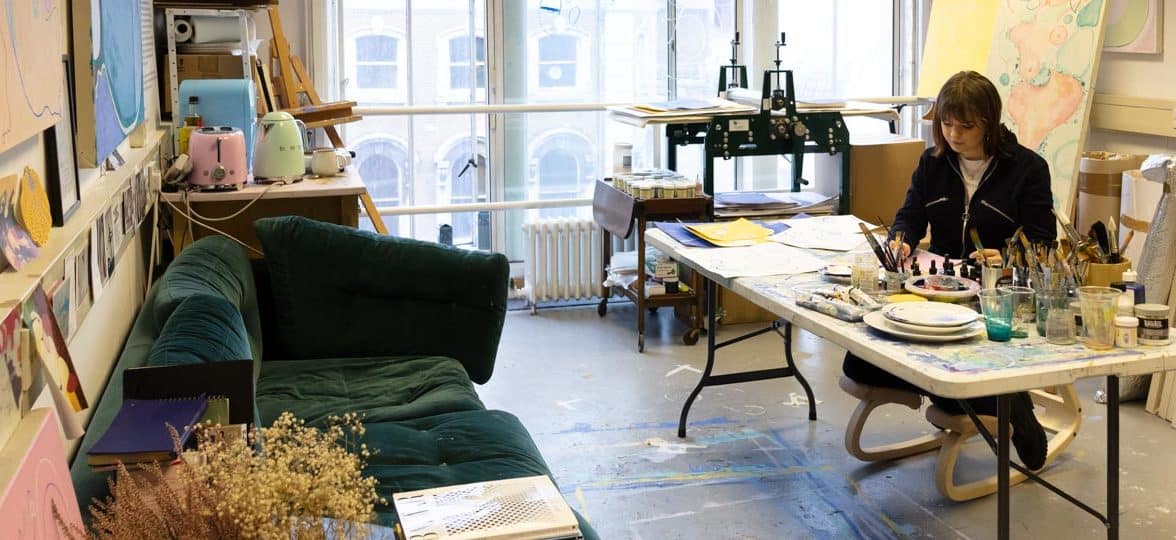 Beginning her artistic journey with a passion for portraiture, London-based artist Venetia Berry has explored many mediums; from etching to painting and pottery. But at the core of her work there's a constant drive to reverse the male gaze, celebrating feminine and non-binary forms through organically undulating pure line.
We caught up with Venetia Berry to explore her stripped-back style, how she's fighting the male gaze, and the process behind planning her first solo exhibition.

Your work is full of abstract, fluid marks and pure line. Talk us through how you developed your style.
I've always aimed to create something that's both minimal and complex. For me, the use of the pure line often means only using the marks that are essential for each work. It's been present in artists' works for centuries within their drawings, but more recently, the line is used as an art form in itself. 
There's something beautiful about returning to the roots of art — the simple drawn line; it can be so evocative and open to interpretation. When working in portraiture I was always focused on layering paint and using lots of it. As I've focused more on the female form, I've loved bringing back the simplicity of the line in my work; marrying together painting and drawing throughout the process. 
How do you want people to feel when they see your pieces?
I want my work to feel optimistic. There's a lot of negativity in the world and art has the opportunity to bring a moment's respite. I want people to look at a piece and feel confident in themselves and their bodies — and think twice about criticising them. My work is celebratory, but also highlights issues of mental health and anxiety.
You work across lots of different disciplines. What are the  challenges of working with so much variety?
The time to do it all! You can never stop learning with art, and each discipline has its own character and place. 
I often find each practice weaves into the other and they don't seem like different disciplines, more just another way to work. It's important for me to have something in my creative bucket that isn't for sale. It allows me to return to the reason I create in the first place. 
How do you keep your style looking distinctively 'you' when working in different disciplines?
A certain amount of adaptation is needed; for example, pottery and painting are very different mediums. But I think it's more a case of adapting the medium to suit my style rather than vice versa. For me, it's so important not to force anything. It should be a natural movement from one discipline to the next with the 'me' aspect there, naturally.
Why do you choose to work in a pastel palette? Has your choice in color evolved over time? 
My palette has definitely evolved. When I started art school I was obsessed with Caravaggio and chiaroscuro painting. I try not to plan too much, but when I start a painting I usually have an idea of the color scheme in my head, but it always turns out completely different in the end! 
I tend to work with 3-5 pastels to create a sense of balance in a painting. I'm not sure why these colors speak to me, but I love their muted nature. For me, straight 'out of the tube' colour can feel too garish, but this could all change next week! That's the thing I love about painting — the instinctive nature of it. It's like someone else has chosen the colors for me, and I put them down without considering how they'll work together.
Your work aims to 'celebrate the female form and to reverse the male gaze'. Talk us through how you channel this message through your art. 
The female nude has been painted and drawn for centuries by male artists for a predominantly male audience. As a female artist, it's important for me to portray women through the eyes of a woman. 
Although my figures are too abstract to represent reality, they aim to be inclusive to all shapes and sizes. As someone who grew up in a world where only one look and size was advertised as the 'right' one, it's so important to me to rise up against that expectation. I want my work to take back the ownership of the female form. To be a woman, painting women, for a predominantly female audience. Each person has their own way of speaking out and using their voice. Mine happens to be through art.
What sparked the drive to create art that celebrates women?
As someone who has always lacked body confidence, it makes so much sense to me why I paint what I paint. I think it is important to change the way we see ourselves, compare ourselves and criticise ourselves. 
As much as my work is about celebrating the body, we must also remember that our bodies are just the thing that carries our character, thoughts and personality around. We are so much more than just our bodies, and I always consider myself to be painting for my younger self, as she could have done with some more self-confidence. And if my work makes one girl, woman, boy, man, non-binary person rethink their criticisms of themselves, then I'll be happy! 
Have you found a community in the creative sphere with other artists who share your passion for celebrating women?
Definitely! We live in such an online world, which is brilliant for artists who often spend the days alone. Through being a part of Partnership Editions, I really feel that I've become part of a solid community, and I'm so delighted to be a part of it. There's often negative press surrounding women climbing over one another to achieve success, but in my experience the opposite has been true. I feel so lucky to be surrounded by such supportive and inspirational women. 
You've held some fantastic solo exhibitions. How did you know when it was time to take the leap?
For my first show I was incredibly lucky, as my cousin, Alex Eagle, owns an exhibition space in Soho that she allowed me to use. It took me about a year to create a body of work to show.
Having my friends there as moral support was fantastic, as well as being a great way to fill up the room and get the atmosphere buzzing. Since then I've built more of a client base and see more new faces when I exhibit.
What's the most challenging part of holding an exhibition?
The biggest stress is usually getting the paintings to the space — usually very early in the morning — and hanging before people arrive for the Private View. One day I dream of having a couple of days to set up! I tend to work better under pressure and am often working right up until the week before the exhibition opens. There is no right way to do it, but I found a pace that suits me. 
Every exhibition is scary, but there was something about the first that felt very soul bearing. I wasn't sure whether I'd be able to continue in an artistic profession before that first show, so there was a lot riding on it. I remember having a very sore face from all the smiling and talking to people. 
Do you have any advice for artists looking to hold their first exhibition?
If you're lucky enough to know anyone with connections, write them an email. You might be surprised at how many people want to help out. If not, approach a space yourself; some rental venues might lower their prices. It's also good to get the word out as much as possible, too. I wrote to lots of newspapers and magazines — it's worth a try!
If you are really keen on one particular gallery or paper, write a really personalised letter to them. I've made invitations with MOO for all of my previous exhibitions. People love receiving and displaying them at home, and I think it's because in a world of technology, there's nothing better than getting something hand-written in the post. 
Finally, if you had one piece of advice for other creatives, what would it be?
It would be to be yourself — there is only one you! Having your own voice is so important. Make something that is 'you' through and through, and don't be tempted to follow a trend. Go with your gut.
Keep in touch
Get design inspiration, business tips and special offers straight to your inbox with our MOOsletter, out every two weeks.
Sign me up!