The power of pattern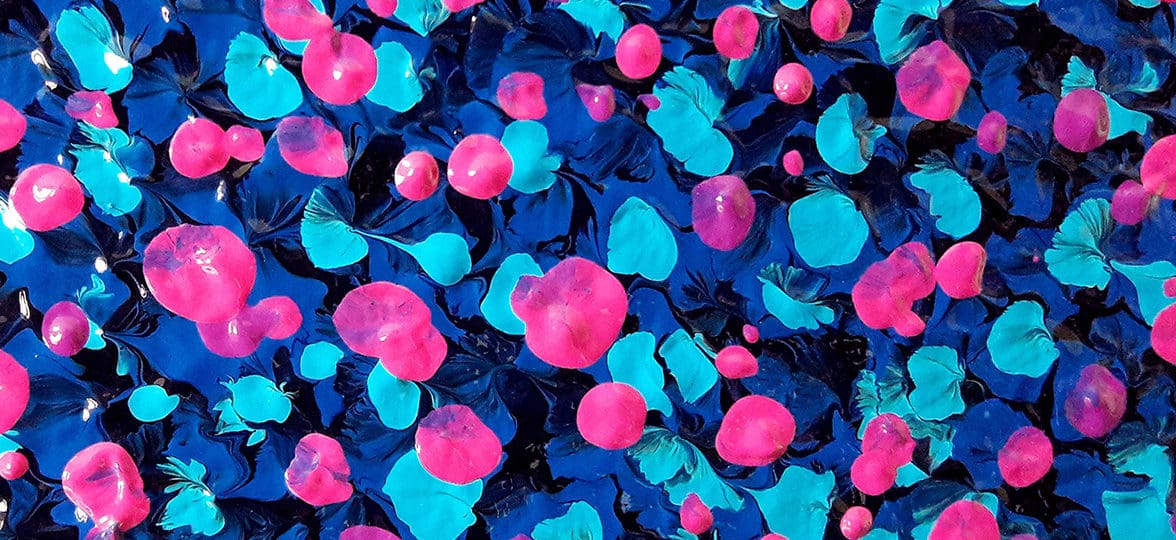 These pattern designers are turning their lush large-scale creations into pocket-portfolio-prints.
Patterns are everywhere – from the bold and abstract to the meticulous and monochrome – and we love 'em! We were super excited when these 4 pattern designers crossed our path and couldn't wait to share the awesome ways they've transferred their large-scale creations into small-scale collectable prints.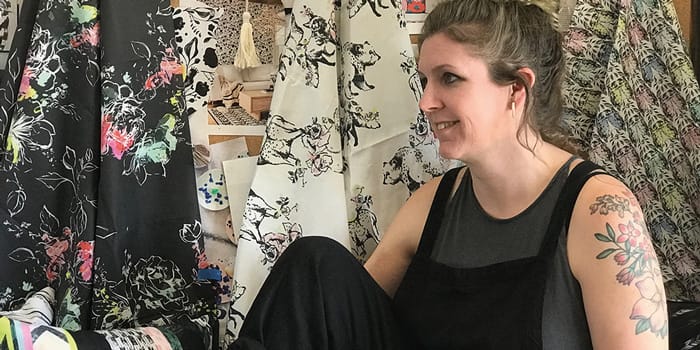 Pattern State is a surface design studio run by Sarah English. She specializes in the art direction of everything from fabric, to wallpaper, to apparel. Her distinct pattern styles draw on classic ink illustrations paired with splashes of color. After getting her MFA in Studio Art, Sarah had a 13-year career as a textile designer where she honed her skills applying patterns in the fashion industry. In the spring of 2017, Sarah shifted gears and went full time into Pattern State to focus on producing her own design work.
"When I'm on the hunt for a new idea, I love to travel," Sarah tells us. "Even if it's just getting out of town for the afternoon—the disruption in my usual surroundings allows inspiration to come to me." When inspiration does come, Sarah thrives off the unpredictability of her creativity. "My patterns start with a drawing, and I don't always know how they're going to turn out. I love the discovery that happens every time I create a new print."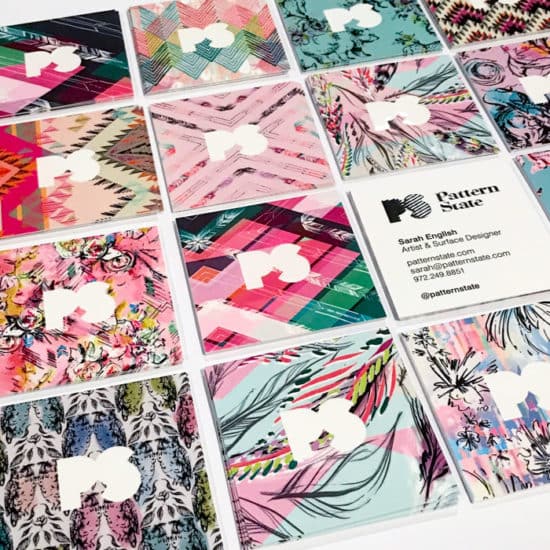 When approaching new customers and potential collaborators, Sarah always has a pack of Business Cards handy. She printed Square Business Cards with Printfinity to highlight the range and depth of her pattern designs. "Printfinity is essential as a pattern designer, allowing me to showcase the broad aesthetic of my studio." The Square Business Cards also serve as a mini print takeaway. "The square cards add a bit of cool factor. Who doesn't want an extra dose of fun?"
Print your designs on Square Business Cards
Just outside of Leeds, UK, you'll find Karen Lewis' quaint textile design studio. After years of teaching, she decided to pursue a creative outlet so she can spend more time at home with her family. And it paid off—her studio currently designs quilting fabrics for renowned supplier Robert Kaufman in Los Angeles, which are printed on the Kona cotton solids range. She also hand-prints fabrics featuring her signature designs for crafters and quilters to purchase for their own projects To keep her customers engaged, Karen has a fabric of the month club where customers can subscribe to receive the latest pattern designs to try on new projects.
When developing patterns, Karen can't seem to escape her inspiration. "I actually drive myself mad with seeing patterns and designs wherever I go," she explains. "Whether it's the prints my boots make when I walk my dog, or the shadows cast from trees—I'm always seeing patterns." These inspirations translate into quirky and organic patterns that pair with an array of boldly colored fabrics.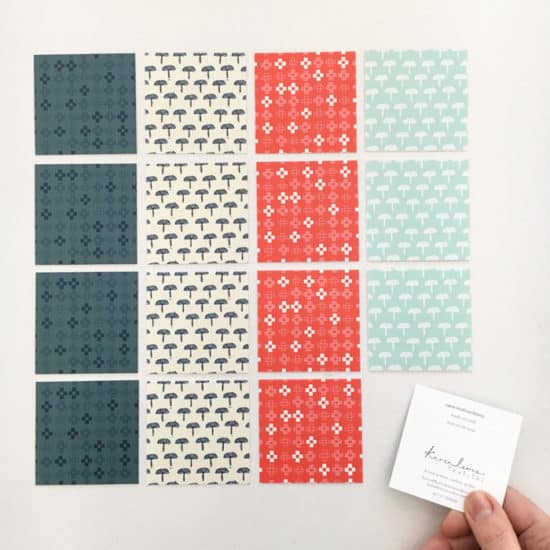 When sending out each fabric order, Karen sends along a Business Card to show her customers snippets of new patterns she's working on. Her latest batch features some new designs from her Robert Kaufman collection using Printfinity and a matte finish. "The matte finish almost feels like fabric. I think it's reflective of my handmade products in that they look nice and crafty."
Promote your designs with Printfinity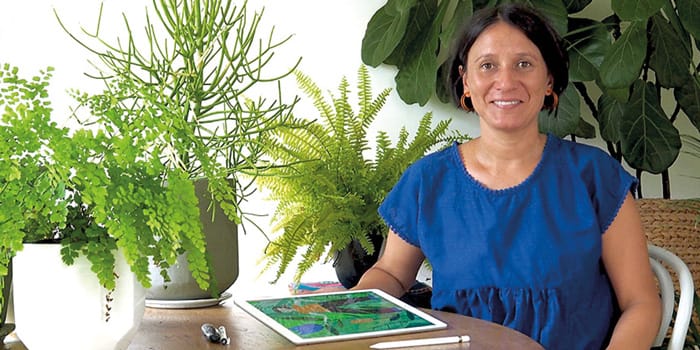 Sinéad Hanley is an illustrator and pattern designer based in Melbourne, Australia. After a career in the advertising industry, Sinéad set up her own creative business to develop a more diverse range of artistic outlets. Combining a love of design with abstract shape illustration, Sinéad's patterns are full of life and a sense of wonder that keeps your eyes occupied.
Sinéad grew up where the city ended and nature began—and that access to wildlife inspires her artistic output. "I find inspiration in waking up to the Magpie warble song, the shape of a garden leaf, and getting outdoors as often as possible," she tells us. Her passion for off-the-grid excursions makes its way into her work—her latest surface pattern design designs are inspired by a trip to ancestral lands in Western Australia that are millions of years old.
When she's not off the grid, Sinéad's hard at work promoting her pattern work. She recently printed some Super Business Cards with Soft Touch finish. "They make the perfect first impression and the Soft Touch gives an extra dimension when you hand them out." With Printfinity, Sinéad can showcase the breadth of her artwork with clients. "I love seeing which patterns people choose! Sometimes people want one of each, which means I'll be needing to reprint very soon!"
Give your patterns a soft touch with Super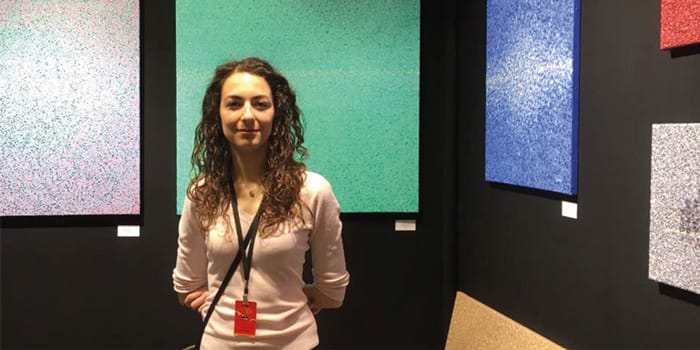 French artist Sophie Artinian has been making abstract oil paintings since 2015. Her work focuses on atmospheric layers of oil paints which are superimposed on the canvas to create unpredictable patterns. Her work draws inspiration from the beauty of the landscape of the French countryside and the beautiful lighting from sunsets and sunrises.
Her recent oil painting work is a big departure from her previous career as a children's illustrator—giving up a whimsical drawing style for more abstract impressionism. "I wanted to explore an entirely new way of creating," Sophie tells us, "which is how I started working with oil paints." Sophie produced her first body of abstract paintings in 2015. And now, she's exhibiting her work in contemporary art fairs all over France.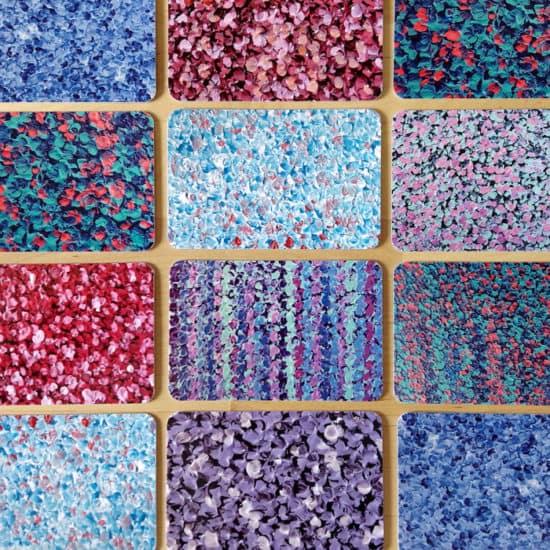 When traveling to art shows, Sophie is sure to keep a set of MOO cards on hand. Using Printfinity, Sophie printed a pack of Rounded Corner Business Cards with details of patterns from her different paintings on the back side to showcase her range. "I love having a small portfolio with me at all times," Sophie says. "It's great to offer people a few different pattern options to take and see which cards people choose depending on their taste."
Round out your portfolio with Rounded Corners
Keep in touch
Get design inspiration, business tips and special offers straight to your inbox with our MOOsletter, out every two weeks.
Sign me up!