How Postcard marketing can help your business thrive
Discover how to garner new customers with Postcards.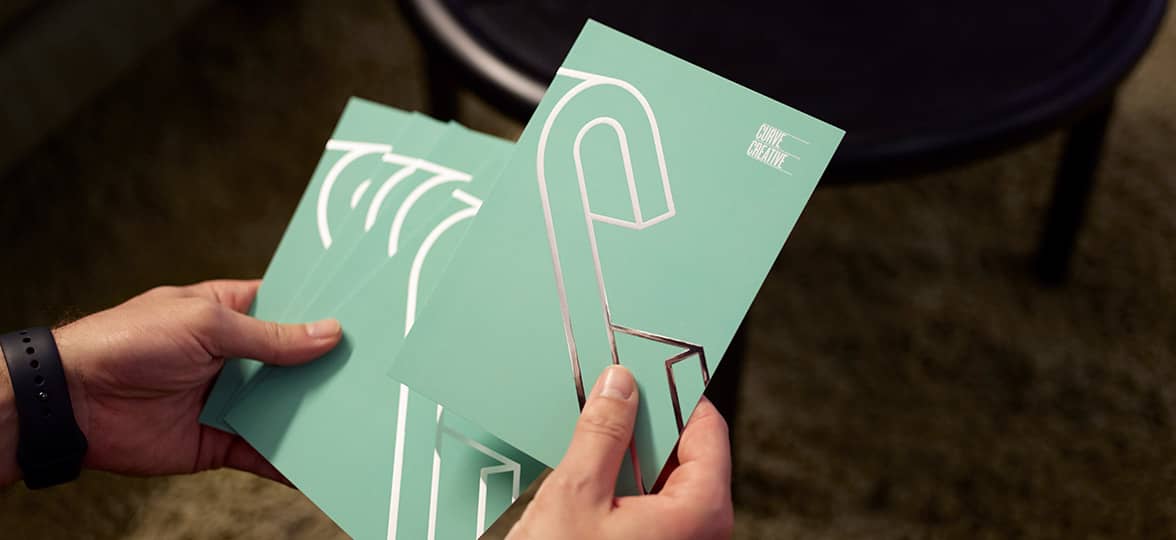 From social media to email and everything in between, today's digital marketing channels are helping businesses reach new customers like never before. And yet, there's no denying the power that traditional tactics can bring to your next campaign — especially when they're used in tandem with online strategies.
Take postcard marketing, for example.
There are countless ways to use Postcards to your advantage, whether it be to engage potential clients or reconnect with an existing customer. No matter if you're a large organization or a small business, they're a powerful tool that not only enhances your marketing campaign, but also delivers a sweet return on investment (ROI).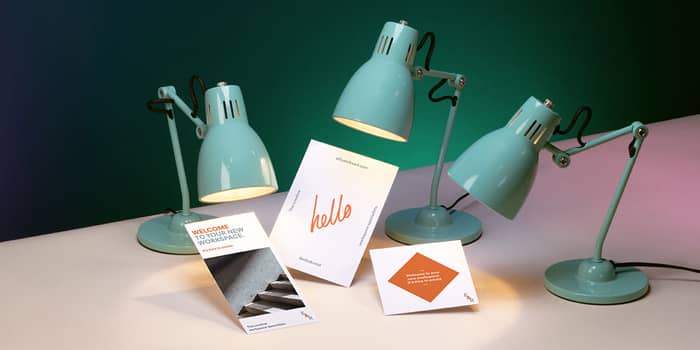 So, let's talk about postcard marketing. From why you should use it to how it works, we'll discuss everything you need to know about incorporating Postcards into your marketing strategy.
What is Postcard marketing?
Postcard marketing is a tactic that allows you to reach your target audience directly, such through the postal service, at a trade show, in a magazine or handed out in person. A Postcard campaign involves printing a branded, personalized Postcard, which might include an exclusive promotional offer, coupon or announcement.
We know what you're thinking: "Postcard marketing? Sounds old school." And you're right! Businesses have been leveraging this marketing strategy for decades. Why? Because it packs a punch.
According to the United States Postal Service, 98% of people check their mail every day. About 77% sort through it immediately, which means your message is almost definitely going to reach over three quarters of its intended audience.
Of course, mailing Postcards isn't the only way you can deliver your message. Face-to-face interactions, such as at an event, are a great opportunity to engage your audience. It's no wonder then why 95% of marketers believe in-person events help achieve business goals.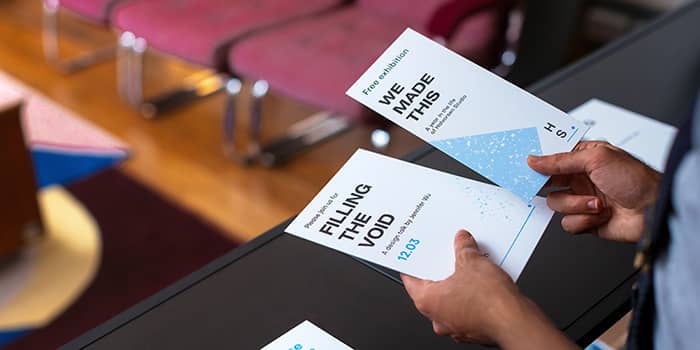 How can you use Postcard marketing?
A Postcard marketing campaign has to have a purpose. Luckily, there's no shortage of ways that Postcards can help your business:
Rekindle connections with past customers: Dealing with customer churn can be a constant headache, but direct mail Postcards can help alleviate the pain. Reaching out to old clients is a good way to mend relationships and let them know they're on your mind. Try mailing a personalized Postcard that expresses how much you miss their business — you just might win them back!
Cross-selling and upselling: Do you have an existing customer that might be interested in one of your complementary products or services? Send them a promotional offer to let them know. For example, if someone recently purchased an item, you can send a Postcard offering relevant accessories or add-on solutions.
Introduce new products, packages and services: Postcards help you announce your latest innovations and offerings at scale. Whether you send them to potential clients or hand them out at a conference, it's a great way to generate interest and drive home a compelling message.
Invite customers to events: Exhibiting at an upcoming trade show or hosting an event? Spread the word by mailing invitations to your target audience (and include a link for them to easily RSVP or buy tickets). This helps drive traffic to the event where you can engage each prospect in person.
Appreciate customers and clients during the holiday season: Holidays are a great time of year to celebrate your existing customer base. Send a personalized Postcard to spread season's greetings and say thanks for doing business. Pro tip: Branded products, like Water Bottles and Notebooks, make great gifts during the holiday season.
Stand out in a competitive market: Making a name for your company is increasingly important in today's crowded landscape. A great Postcard design not only generates brand awareness, but also leaves a lasting impression on the recipient. Better yet, it's extremely cost-effective and won't break the bank — especially compared to other strategies.
What are the benefits of Postcard marketing?
Aside from its use cases, there's a good reason why Postcard advertising is still one of the most popular marketing tactics. Simply put, it's effective.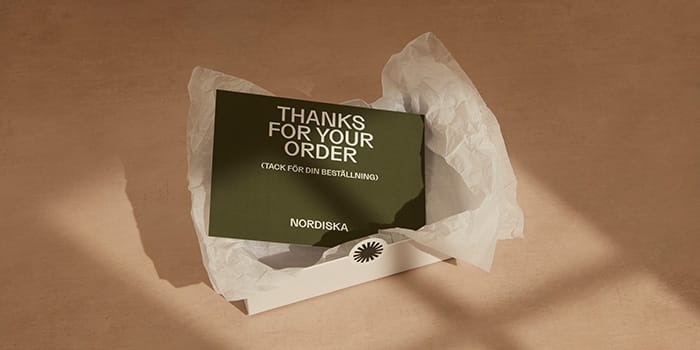 Not convinced? Let's take a look at the biggest advantages of printing Postcards:
Postcards capture attention: An eye-catching Postcard design is hard to ignore. They're visually appealing, enabling you to differentiate yourself from the competition and increase your odds of conversion.

Postcards boost response rates: According to Postary, direct mail has a longer shelf life than other channels, such as email. Direct mail's average response rate is between 2.7% and 4.4%, whereas email is just 0.6%.

Postcards are useful: More than just a two-sided piece of paper, they're resources that contain scannable and helpful information. Plus, they can help potential customers navigate the buyer's journey by making it easy to take their next steps.

Postcards create emotional bonds: A personalized Postcard can establish an emotional brand connection, which is key to both customer acquisition and long-term retention.

Postcards are highly cost-effective: Compared to other forms of direct marketing, Postcard mailing is impressively profitable. According to Postary research, the average ROI of direct mail marketing is $4.09 for every $1.27 spent.
Perhaps most importantly, Postcards fit well into a digital marketing strategy, too. Firstly, they help enable an omnichannel campaign by reaching audiences offline and online. For example, you can leverage Postcards directly following an email marketing campaign. You can also curate a mailing list using gated asset downloads and form fills.
Plus, you can easily track Postcard marketing success through QR codes and personalized URLs (pURL) — a technique many businesses are already using. In fact, a 2022 survey indicates that 84% of Gen Z have received a direct mail piece containing a QR code. By printing these tools onto a Postcard design, you allow recipients to quickly access your website, product or landing page. You can even include trackable phone numbers to your cards to record more responses.
Does Postcard marketing really work?
The best way to answer this question is to examine how printing Postcards works in practice. So, let's review some real-world examples of businesses that are embracing the power of Postcard advertising:
Perpay
Perpay is a financial technology company that offers consumers a new way to purchase and build credit. Its community of over 7 million members shop at the Perpay Marketplace — a service that allows users to pay over time on more than 1,000 participating brands. The Perpay Credit Card also helps members build credit while making everyday purchases (with an average credit score increase of 36+ points).
That's where Postcards come into play. Perpay uses them as carriers for distributing its Credit Card to new cardholders.
"Our goal was to provide our users with a very premium unboxing experience when they receive the Perpay Credit Card," the company said. "We worked in-house to create the design of the carrier to match our credit card branding."
With help from MOO, Perpay completed their design with foil and a soft-touch finish.
"The high-quality foil was a great addition to our carrier design. It not only had a great visual appeal, but the embossed texture elevated the overall feel of the carrier."
And the best part? Their customers loved them.
"Feedback from our cardholders has been overwhelmingly positive, particularly because the credit card packaging presents them with a premium unboxing experience that they haven't experienced elsewhere."
Calm
As the leading app for sleep, meditation and relaxation, Calm is on a mission to support everyone throughout their mental health and wellness journey. The app's content serves users in over 190 countries and in seven languages.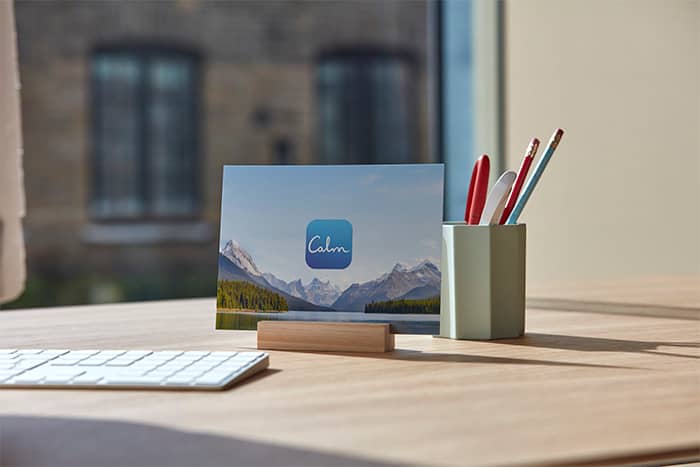 MOO's printing services help Calm on a number of projects, including its Postcard marketing strategy. The company asked MOO to design an editable Postcard template that displayed unique discount codes, which it planned to distribute at B2B networking events. The goal was to promote Calm Business — an enterprise solution that helps employees improve mental health in the workplace.
"Postcards allow us to create different use cases for multiple projects all at once – seamlessly and efficiently," a Calm spokesperson said. "In fact, Postcards have been a great means of direct engagement with our customers."
Postcard marketing tips and best practices
Postcard marketing might seem simple, but there's a lot of thought put into the process. If you want to maximize your chances of success, it's best to stick to a few best practices:
Set goals: What do you want your Postcard to achieve? Establish a specific objective such as attracting new customers or driving traffic to your website.

Pindown your audience: Your mailing list must be highly targeted. The last thing you want is to waste money printing and mailing Postcards to the wrong people. Build your list based on leads you already have, such as people that've filled out a form on your website.

Develop an offer: Focus on benefits — not features. Your message should express how whatever product, service or event you're advertising will help the prospect solve a problem or improve their life.

Set a budget: The bigger the Postcard, the higher the cost. You should also factor in discounts you're offering, as these impact profitability.

Add a call-to-action (CTA): Always incentivize action and encourage the prospect to take the next step, whatever that may be. Preferably, use a trackable CTA like a QR code, pURL or tracking number.

Use design strategically: For instance, Luxe Postcards are noticeably thick and textured, leaving a weighty, lasting impression. Foil Postcards have a shiny, dazzling effect that can wow the recipient and catch their attention.

Outsource design to an expert: Is design not your forte? No worries — it's ours. Simply lean on MOO to help you bring your brand to life through the power of Postcard design.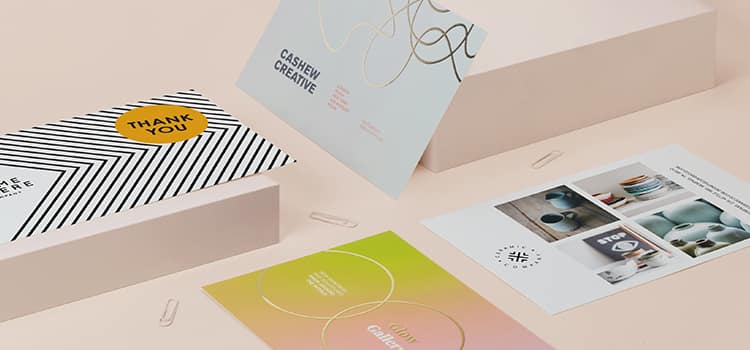 MOO is here to help
At MOO, we're ready to step in and help your business simplify the design process from start to finish.
With our business printing services, you can rest assured that your brand is in good hands. Our in-house design team will transform your vision into reality and help you unlock the benefits of Postcard marketing. Receive a custom Postcard template made specifically for your business needs.
Ready to make the most of Postcard marketing? Fill out the form below to speak with a MOO Expert today.
Keep in touch
Get design inspiration, business tips and special offers straight to your inbox with our MOOsletter, out every two weeks.
Sign me up!