Five MiniCard designs with maximum impact
Discover how five creatives used MiniCards to boost their businesses.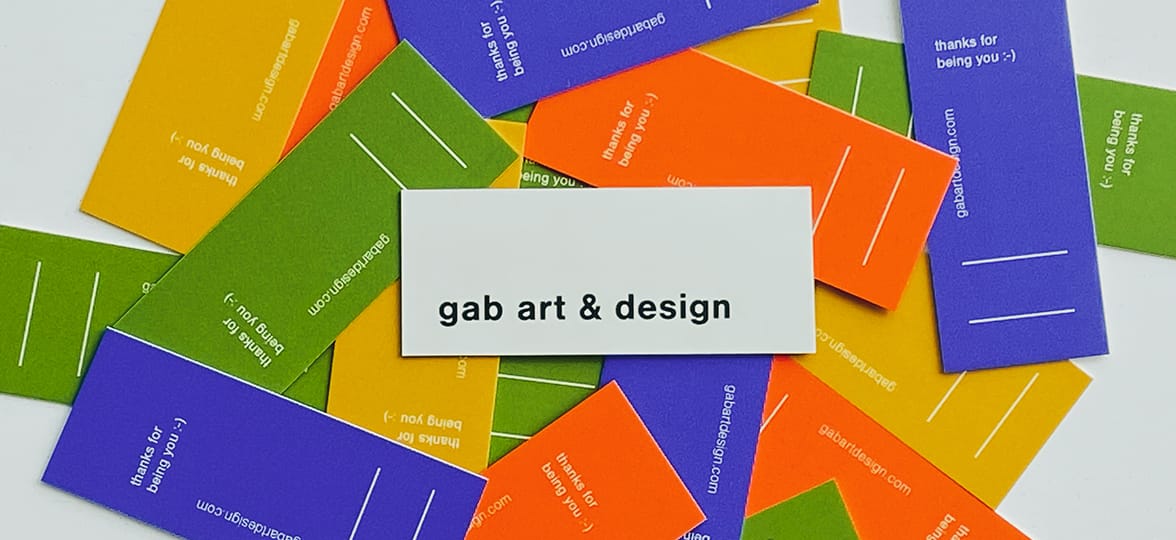 They may be half the size of the regular MOO Business Cards, but some would say they're twice as impactful. From miniature artwork to product tags, see how creative entrepreneurs from the MOO community have found fun ways to use MiniCards to boost their businesses.
Ediana owns a small business called Bright//Trash. She makes and sells upcycled art and other items in a studio space in Asheville, North Carolina.
She chose our MiniCards specifically for the size. And when it came to the design, she aimed for a simple look. "Easy to read, with not too much information." Ediana also told us that her work was inspired, "equal parts by the queer millennial experience, being raised on a steady diet of throwback hip-hop, and a serious Peter Pan complex."
She's had her business up and running for just eight weeks, so there's still a lot to look forward to. But later on this month, she's excited to take part in her first in-person vending experience.
Her advice for someone starting out? "Take advantage of the endless customization possibilities when ordering your MiniCards. Being able to have different colored cards has been such a good conversation starter for me. Oh, and get the keychain case. Just trust me. It's worth it."
Kimberly Solari Brown is a watercolor artist and surface pattern designer based in Ocean Ridge, Florida. She spends her time painting custom illustrations for bespoke invitations and patterns used for textiles and products.
Kimberly chose MiniCards for their unique size. "They make a statement in a simple, chic way." She adds, "I wanted my design to showcase my handwriting in my logo and different colored backgrounds to show the colors in my brand."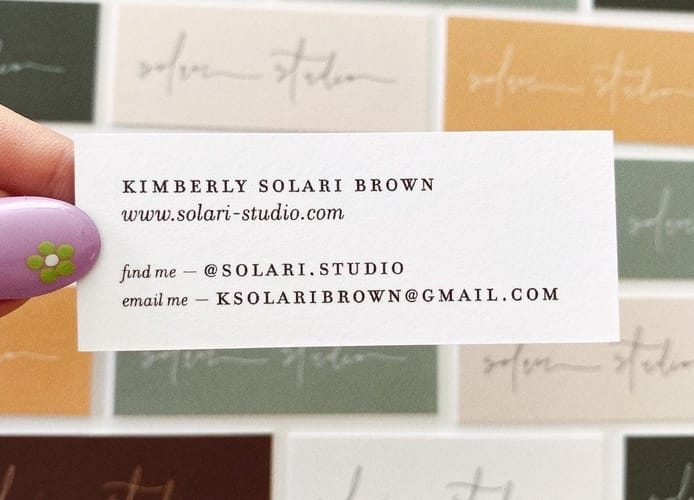 Her cards are inspired by the beach town she lives in. "It never gets old to walk along the beach and experience the colors, smells, and textures of nature and the wildlife that lives here. Each day has unique, beautiful sights to see."
At the moment, Kimberly is designing greeting cards based on vintage Florida postcards and features illustrations too. She's also creating more custom patterns for the library on her website.
Her advice to others using MiniCards – "Make sure to print out your design to scale and check that font sizes are legible before you send off the file to be printed!"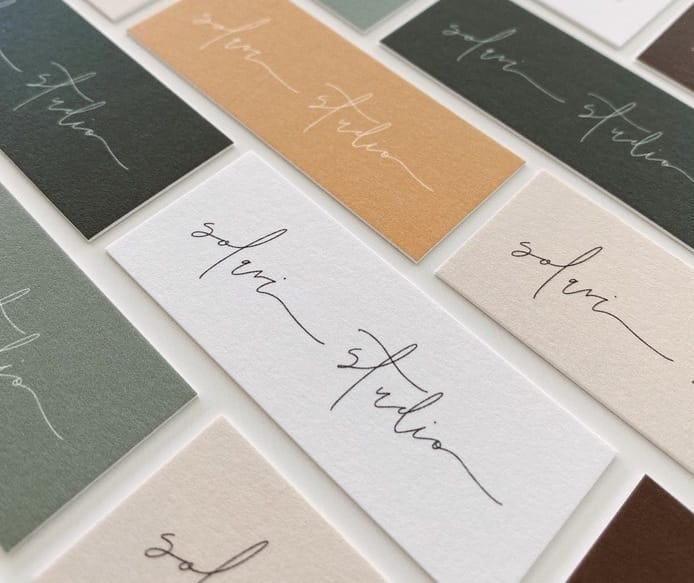 Celia owns a small wine shop in the Fremont neighborhood of Seattle. Previously, she ran restaurants in Los Angeles where she fell in love with natural wines and the wonderful community surrounding it.
Celia chose MiniCards because "my business did not need so much surface area to print on – the minis were smart both economically and ecologically."
She shared her thoughts on the design for her cards. "My design is simple and un-fussy, like the MiniCards themselves! The word 'imperfetta' means imperfect in Italian, the name communicates that we choose to celebrate the beauty in nature and not fixate on making everything homogenous. I wanted the lettering of our logo to be timeless and a little irreverent, classic but not serious."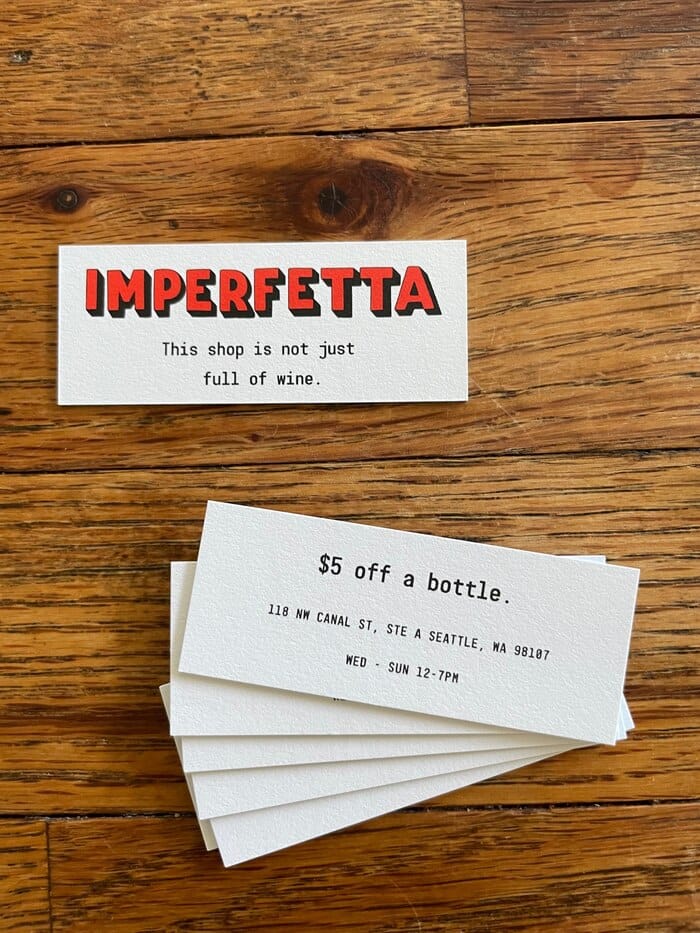 At the moment, Celia is working on fun pop-ups and casual wine tastings at the shop. And her advice for someone creating MiniCards for the first time is simple – "Keep it simple!"
Koyali – The power of Printfinity
Camille Vitré, who goes by the Instagram handle Koyali, is a Swiss graphic designer. She describes herself as a "compulsive artist, a crafty designer, and generally a creative nerd running around with scissors."
Camille picked MiniCards because "nobody could resist these extremely cute and surprising cards, and [they're] even more attractive in vertical format with rounded corners. It feels like holding a miniature smartphone."
She also adds, "The reduced surface makes the paper feel more sturdy, engaging to fidget with it without bending or damaging it. So I pushed these ideas further and, since your Printfinity offer extends to 100 different designs on the MiniCards, I imagined distributing 100 unique numbered tiny prints of my works (before NFT was even a thing haha) as a greeting gift to new people I meet."
For Camille, creating these cards was a meaningful project because they featured over a decade's worth of her art and design – condensed into a miniature portfolio. "I literally curated a pocket museum about my work to launch my new business as a freelance designer." When it comes to inspiration, Camille loves to "iterate and evolve art into design."
Gab art – A kind word can go a long way
Gabby Klein is an illustrator and graphic designer based in Phoenix, Arizona. She started her business gab art & design three years ago when she started selling her sketches at school. From there, she sold prints, greeting cards, homewares and more – whilst also offering her illustration and graphic design services on a freelance basis.
Gabby has been a fan of MOO for a while (and still is). Specifically, she loved Cotton Business Cards. But she was after a product she could use as tags for some pop-ups and markets. And that's when she discovered some other brands here on The Drop using MiniCards in a retail setup. "This felt like the perfect solution, as there was an opportunity to create branded tags that were multi-purpose and fully customizable. Plus I LOVE the option of having multiple colors and designs on each card!"
Overall, she was after a simple design. They would need to contribute to the visual recognition of the brand and incorporate her logo. "I knew that these cards would primarily be used as tags for apparel, so I included two lines to write on, one for the size and one for the price of the garment. I made the lines subtle enough that if I were to leave the card blank and use it as a business card, the lines would serve as a sort of textural design element, rather than a blank space with a dollar sign."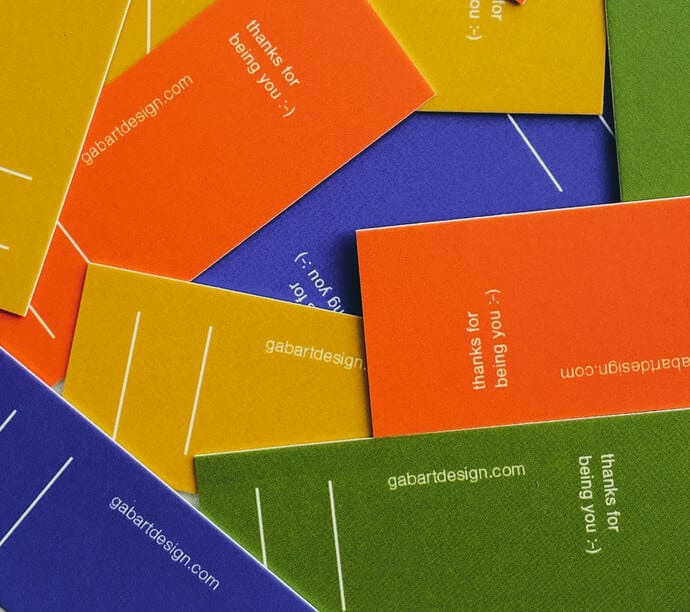 Additionally, she added her Instagram handle and a little message that appears on other pieces of her work. "Overall, this design gave me the freedom to use the cards as tags, to tuck them into online orders, or to hand them out as networking cards."
With her background in interior design, Gabby finds inspiration for her work in mid-century and Scandinavian modern furniture and graphics. "It's all so clean and straight to the point, and there's something special about that method of communication, whether it's visual or tangible."
Her advice to those creating MiniCards for the first time? Use templates. "MOO makes it so easy to bring designs to life, but something I really appreciate is their design templates. Even though I'm familiar with creating these types of files, I love the efficiency of downloading the exact template I need in the program that I prefer to work in, then letting the magic happen…Have fun with your work and create a little bit of variation between each card, whether it's through color, text or images!"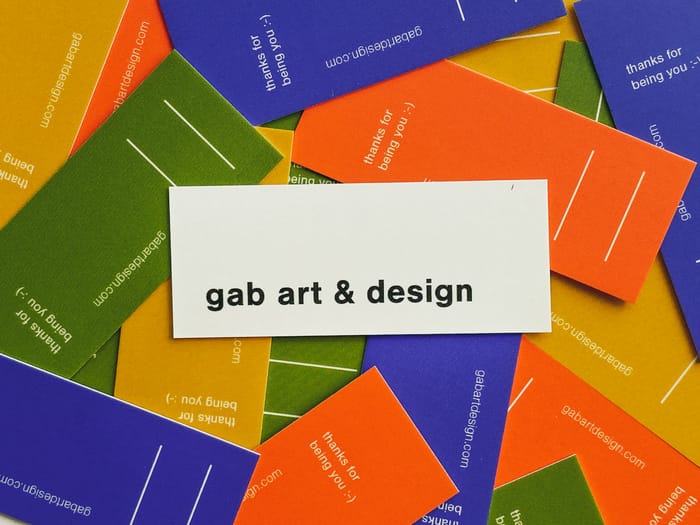 Inspired by these teeny tiny designs? Check out our MiniCards now.
Keep in touch
Get design inspiration, business tips and special offers straight to your inbox with our MOOsletter, out every two weeks.
Sign me up!