"Strive to create work that people want to keep"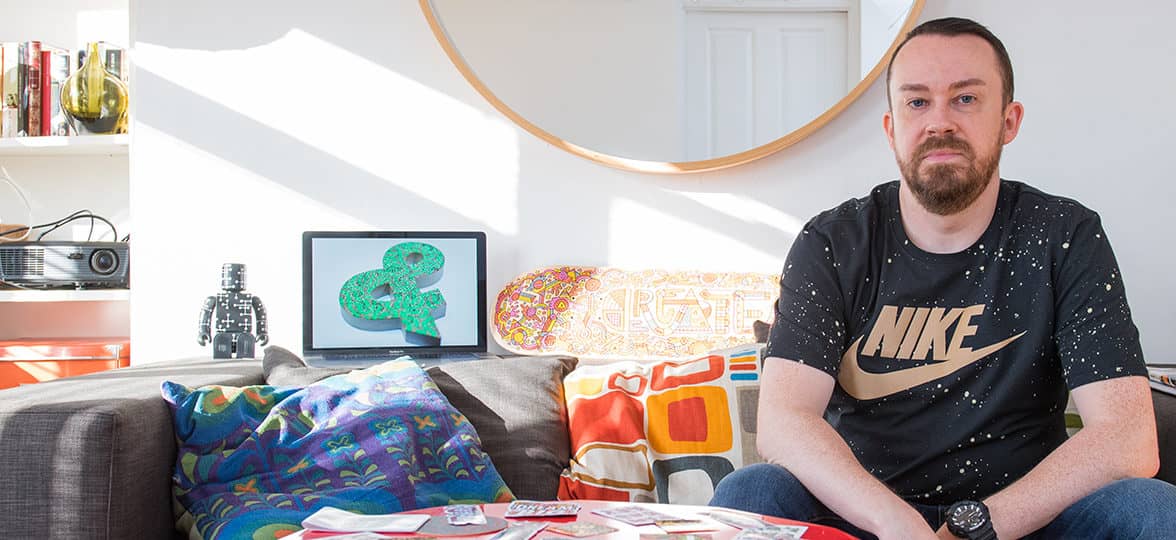 Illustrator and designer Tim Easley's best known for his bright palette and bold lines – but being a designer wasn't always in the plan. Now, Tim's clients include Nike and Etsy – but how did he land them?
Tim Easley's design career was somewhat unintentional. Owner of a record store back in the 90s, Tim later fell into design, developing his now recognizable style that can be seen across his personal and client work. In his own words, his work is made up of "bright palettes and bold lines, fused with playful characters and hand drawn lettering."
Influenced by urban kitsch, nature, and neon signage, Tim has built a fantastic client portfolio including Nike, BBC, Etsy and Disney. But how did he go from owning a record store to designing for Nike? And, how has Tim continued to build such a successful freelance business from the comfort of his own living room?  
Tim! How did you get into design and illustration?
I actually never formally studied design at college or university. I owned a record shop in South London in the late 90s and we couldn't afford to pay anyone to do the design for us so I had a go at it myself. I made a really bad logo, had a go at creating a website and designed some flyers for it.
I'd been working on some other business ideas in the background – one of them was a sneaker website and I ended up doing the design for that too.
A couple of years down the line, I began looking for design jobs and freelance projects – I knew this was the route I wanted to take. I've been designing for about 6 or 7 years now.
Why did you decide to start your own business?
In between going freelance, I'd worked in house for a couple of big brands on various projects but it wasn't a good fit for me. I like working at different times of the day, I'll often start around midday and work through until 10pm. My process involves a lot of thinking – when you're stuck in a quiet office with around 200 people and everyone's got their heads down it can be hard to get into that research mindset. Freelancing allows me to work in a way that suits me.
You've worked with some amazing clients – what did you do to build your portfolio when you were starting out?
Nike US were one of my first big clients back in 2012 – they found my work on Tumblr – I didn't actually post it, someone else did! I got an email from them [Nike] saying they'd found my work and they wanted the design for a t-shirt.
Nike have got lots of agencies working for them and quite a few of the other collaborations have come through them [the agencies] when they've been commissioned for a campaign or something. Having said that, there are agencies that'll often still find me through social media – I post lots on Instagram.
You spent some time working in Tokyo – did that influence your style?
I love Tokyo, I've been there a few times now. It's so bright – there's a lot of lights and it can actually be pretty overwhelming the first time you go there. I love the neons and the culture. I'd say it's definitely influenced my style and the way I like to work.
Tell us about your process. How do you like to approach client briefs?
When I receive a brief, I try to get as much information from the client as possible. I'll then spend some time thinking about what I'm going to do.
I've got really good visualization skills so it's possible for me to plan a lot of the initial stuff in my head, often while on the sofa or in bed. I've even been known to think of ideas while asleep, which would be a nice way to work if I could teach my brain to do that more often!
Depending on whether I'm working in a more regimented or flowing style, I'll start putting shapes together in Illustrator, or sketch out rough ideas. The client will then have some input and I'll edit my illustration or do more sketches where needed. Once everything is finalized, I'll trace my final sketches and get files ready for the client.
You run your business from your home studio – how do you manage your time and do you have any tips for others thinking of setting up their own home studio?
I don't really have a routine, but I will only take on one piece of work at a time. Everything tends to have a very quick deadline – sometimes I can only have around 2 weeks to work on a project, so I do tend to work intensively during that time and then take a minute to stop and reflect where possible before starting my next project.  
I think it's important to figure out how you like to work – I like being at home and I like lots of distraction. Drawing doesn't leave you with much to think about sometimes so I'll always have the TV on or some music playing. That's what works for me – but it won't work for everyone so spend some time working out what's right for you.
My girlfriend runs her own business too – she's a DJ. Every few months, we sit down and have a business meeting. We'll discuss what we want to achieve in the next month, 6 months, even the next year and agree some goals. It really helps having someone to chat through those things with.
What role has social media played in your career?
It's played a huge role in my career so far. As I mentioned before, Nike found me through Tumblr and now, many of my commissions come through Instagram. Some people even reach out to me directly through the channel as opposed to emailing me.
As time's gone on, I've started to focus my attention on Instagram, Behance and my website. There are so many social channels out there now – it can become really overwhelming and you can end up diluting your work and your presence if you try to focus on them all – not to mention the extra workload that comes with managing all the different sites.  
How do you use MOO's products?
If someone buys a piece of my work, I'll always pop a Business Card or a Sticker in the package. Other than that, I actually use Business Cards in a bit of a weird way, I tend not to give them out to people too much. I love to design cards and then take a load of pictures of them and put them on social. I don't really go to client meetings that often so creating cards and putting them online gives me another way to get my details and designs out there.
I designed some cards for my girlfriend – she's always meeting people so Business Cards are really important for her. Whenever she hands them out to people they're always like, 'oh my god, can I take 3?' which is exactly what you want and ultimately fulfils my objective: to create something that someone wants to keep.
What are your tips for aspiring illustrators wanting to start their own business?
Pick one social channel that best represents you and your work and run with it. You don't need to spread yourself across every single social network site to be successful and get your work noticed.
Design your own Business Cards
Photos by Paul John Bayfield
Keep in touch
Get design inspiration, business tips and special offers straight to your inbox with our MOOsletter, out every two weeks.
Sign me up!