See in 2022 (again) with these Lunar New Year card designs
We've designed four Lunar New Year cards to get you in the celebrating spirit.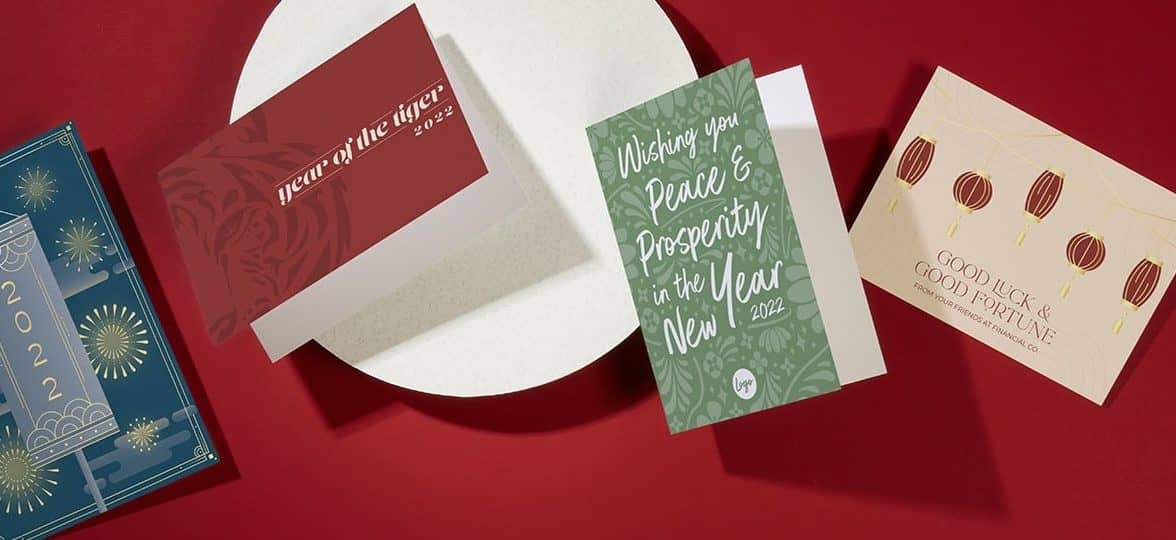 February 1st marks the beginning of the Lunar New Year. It's a time to celebrate the start of spring in the northern hemisphere, when 5pm stops feeling like the middle of the night. So in many ways it's like the other new year, but better. And to give you some ideas for your own Lunar New Year cards, MOO's design team have created a series of Greetings Cards and Postcards for the occasion. 
Peace, prosperity and a pop of green
"My favorite thing about Lunar New Year is all of the colorful celebrations," says graphic designer Katie Thermos, whose Chinese New Year Greetings Card has a very specific color in mind. "I chose green because for my Lunar New Year card because it's often a symbol for prosperity, as well as peace and harmony. It's also the most common color associated with nature, so it complements the organic design elements."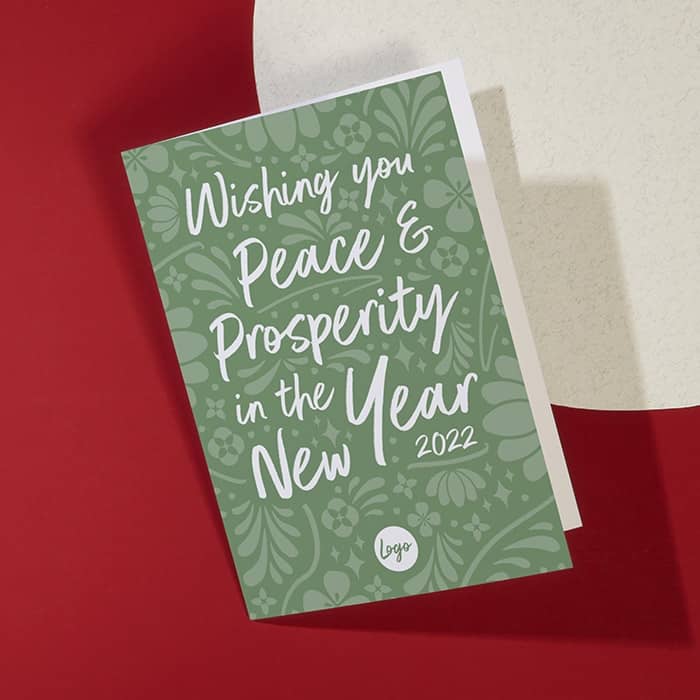 All eyes on the tiger
The tiger is a symbol of strength and courage. Things that somehow feel very "2022". And it's the inspiration for Michela Tedesco's Lunar New Year Greetings Card, too. "I wanted to create something that distilled down everything recognizable as a tiger to its most well-known feature – the stripes!" she says. And her advice for the months ahead? "Don't be afraid to look the upcoming year in the eye and make it better than your last."
Fire works really well
Michela is big on sharing the Lunar New Year wishes, because she's also designed a Postcard, too. And it's quite an explosive design. "Since fireworks and lights tend to come at the end of Lunar New Year celebrations, I wanted it to feel like a joyful finale to the holiday," she explains. "I used the shine of our Gold Foil to emphasize this universal moment of light to ring in the new year!"
"For color, I did some research on the origins of Lunar New Year celebrations, and found some really gorgeous artwork spanning thousands of years! In some of the earliest work, I saw a lot of blues and yellows that I felt could work really well as part of the night sky behind the fireworks, and would be a bit of a contrast to the more traditional red colors commonly used today." And she has a top tip if you're choosing between landscape or portrait: "A taller card gives the impression of the lights rising higher and higher."
The lucky one
We're all hoping for good fortune in 2022, and that's what Katie Thermos's Postcard design is all about. "Different color lanterns can symbolize different events, and red symbolizes good fortune and joy," she tells us. It's also a good excuse to add some Gold Foil because: "Red and gold [are both] associated with good fortune, so it works well with the messaging." And if red's in your brand palette, then you're in luck.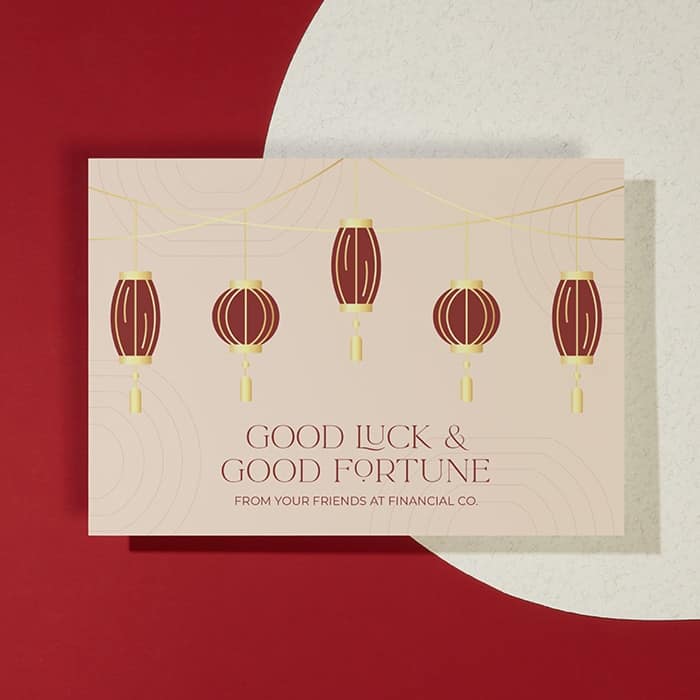 So that's our designers' take on all things Lunar New Year-y. Now it's your turn to create your Lunar New Year card. Whether you show your Tiger stripes or do something totally different, your customers and clients are sure to love it. (And we'd love to see what you come up with on #hashtagmoo.) 
Start making your very own Chinese New Year Greetings Cards and Postcards.
Keep in touch
Get design inspiration, business tips and special offers straight to your inbox with our MOOsletter, out every two weeks.
Sign me up!