6 LGBTQIA+ artists and designers creating for change
Here's 6 queer artists and designers who left a mark – and are still creating for change.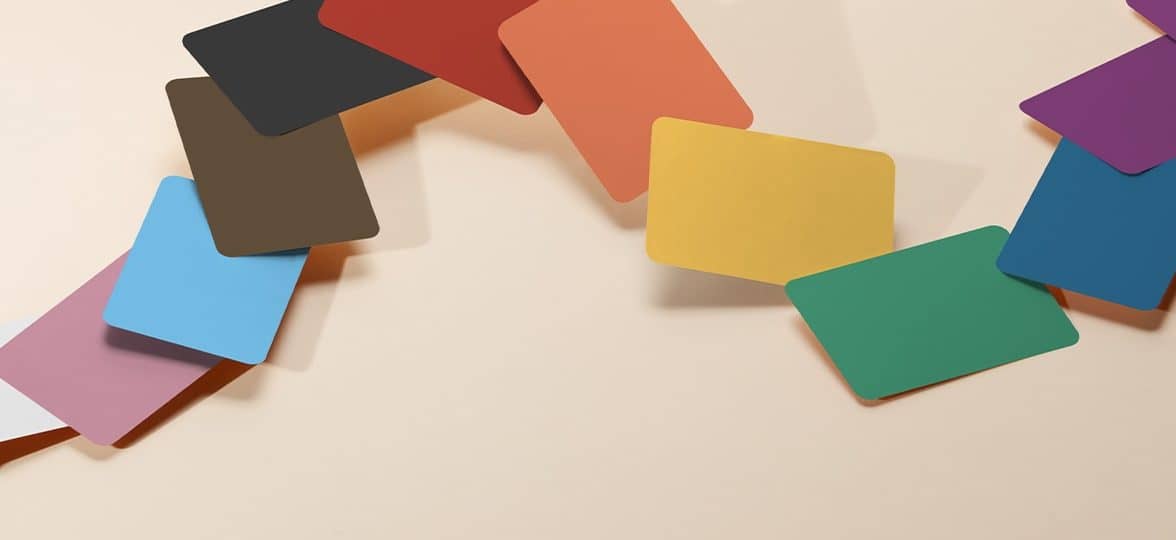 Queer art has a rich history of activism, from the rainbow representation and AIDS awareness to centering marginalized communities and questioning the concept of gender. Exploring the question of identity and community, LGBTQIA+ artists often put their creativity at the service of representation.
Here's six LGBTQIA+ artists and designers who left a mark – and are still creating for change.
Gilbert Baker: Behind the rainbow flag
You might not know him, but you certainly know his most famous work. Born in 1951, American designer and activist Gilbert Baker is the creator of the pride flag. When his friend, filmmaker Artie Bressan, asked him to design a new, more positive symbol for the queer community to replace the pink triangle – a symbol of the gay movement at the time, he drew inspiration from the vibrant night life of the late 1970s to create the rainbow flag.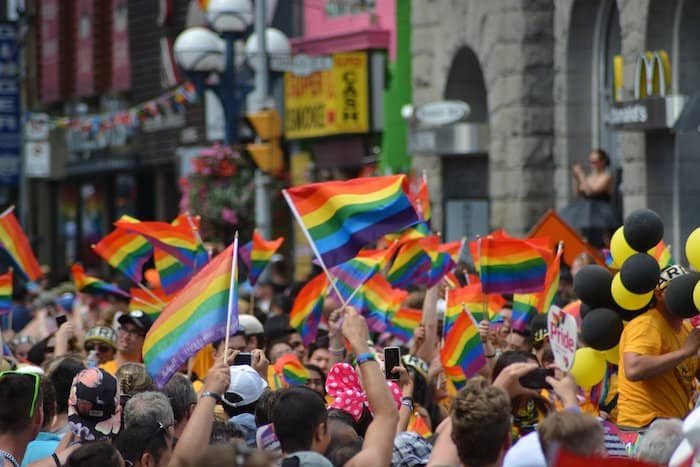 The flag became emblematic of the queer community, a constant symbol of positivity and belonging. In 2015, the MoMA in New York ranked it as an internationally recognized symbol just as important as the recycling symbol. Baker remained a fervent gay rights activist until he passed away in 2017, and paved the way for future generations of LGBTQ+ artists and designers. It also laid the foundation for the most recent pride flag by Daniel Quasar in 2018, which features black and brown stripes to represent people of color, and baby blue, pink and white to include the trans flag in its design.
David Wojnarowicz: Still burning
Born in 1954, David Michael Wojnarowicz was an American multidisciplinary artist, musician and AIDS activist. Moving from New Jersey to Manhattan as a teenager, he became a prolific mixed media artist in the early 1970s New York art scene and gained recognition through his stencils of houses on fire in the East Village. Refusing to settle in one signature style, he continued experimenting with various media throughout his career.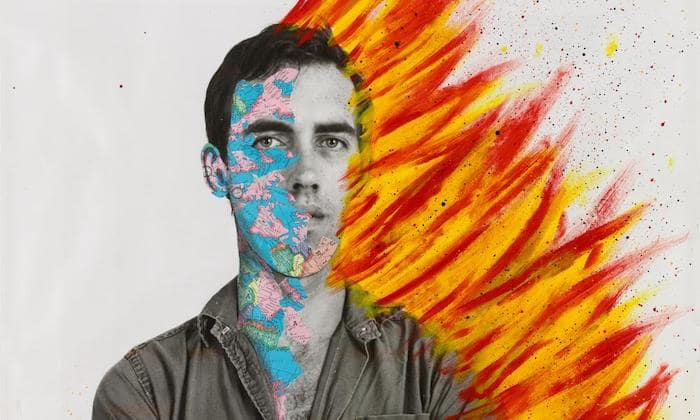 When photographer Peter Hujar, his mentor and lover, died of AIDS in 1987, Wojnarowicz learned he was also HIV-positive. His already politically charged art became more explicitly activist, focusing on the inadequate government response to the AIDS epidemic with striking collages, paintings and photographs.
Keith Haring: Silence = death
Keith Haring's contribution to art is invaluable. Born in 1958 in Pennsylvania, Haring quickly developed a passion for drawing. Twenty years later, Haring moved to New York and discovered the alternative art scene he was longing for, befriending fellow artists like Jean-Michel Basquiat. Outside the established art institutions, he thrived creating art on the street, subway and in clubs. Graffiti became Haring's main form of expression, as a way to make art more accessible to everyone.
"Art is nothing if you don't reach every segment of the people."
Haring quickly reached international recognition in the early 1980s. Despite his popularity with big art institutions, Haring was committed to making his art accessible and created more than 50 public artworks throughout his career, often with a strong social message. Diagnosed with AIDS in 1988, he quickly established a Foundation, with the primary goal to support AIDS organizations and children's programs and provide them with imagery. In his last years, Haring created many artworks to raise awareness about HIV and support AIDS activists.
Zanele Muholi: The other half
South African artist Zanele Muholi is one of the most prominent figures of contemporary photography. The multidisciplinary artist – who describes themself as a visual activist – gives a platform to Black lesbian, gay, transgender, and intersex communities. As a queer artist, visibility is at the core of their work.
"If I wait for someone else to validate my existence, it will mean that I'm shortchanging myself."
With a focus on identity and gender throughout their work, they both celebrate LGBTQIA+ identities and document the reality of violence and prejudice against these communities with series' such as "Only Half the Picture". In their latest project, "Somnyama Ngonyama" ("Hail the Dark Lioness"), Muholi revisits Black identity in a series of self-portraits as alter egos challenging prejudice and stereotypes about Black people.
Aries Moross: Elevating voices
Aries Moross is a British designer and creative director. Specializing in lettering, their bold and colorful visual signature seeps through their every project – from Kiehl's packaging to MOO Journals. Committed to elevating the voices of the non-binary and LGBTQIA+ communities, Moross applies their creativity to projects reflecting their ethos. Their work for Netflix's Transgender Awareness Week campaign and RuPaul's Drag Race – with Studio Moross – is a testimony of their dedication to queer visibility and representation.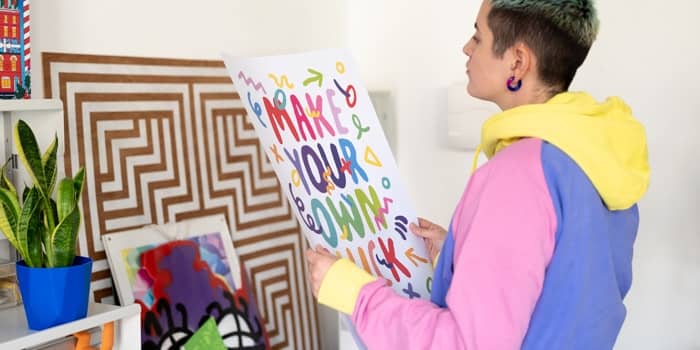 Jes Fan: Between biology and identity
Jes Fan is a Canadian-born, Hong Kong-raised and Brooklyn-based artist exploring the intersection of biology and identity. Often experimenting with biological materials such as blood and hormones, they use science as a medium to question the concept of otherness. With their organic sculptures and installations, Fan dares the viewer to revisit their perception of gender, race, culture and sexuality.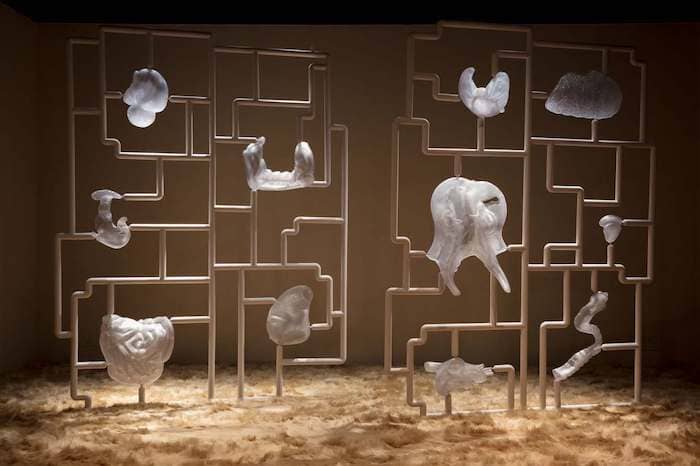 Keep in touch
Get design inspiration, business tips and special offers straight to your inbox with our MOOsletter, out every two weeks.
Sign me up!