Jewelry to make you swoon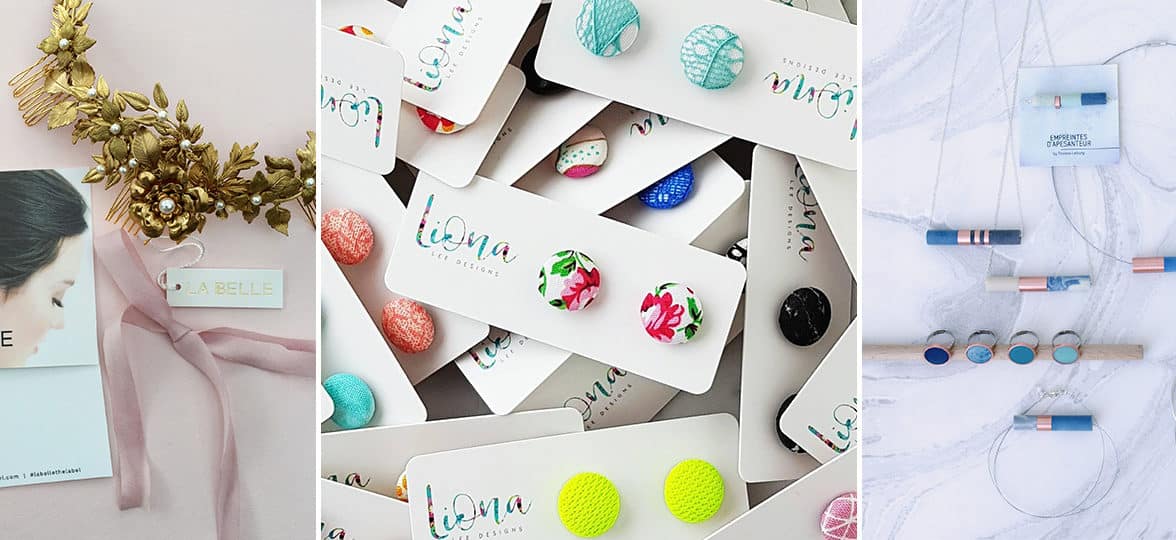 We're totally lusting over this awesome jewelry! From the super sparkly to the ultra modern – you won't be able to resist these designs.
Meet Liona, Hannah and Floriane. Each of these wonderful ladies design show-stopping jewelry that we just had to share! We were totally inspired by the way they use Business Cards to merchandize and sell their wares, too. Check them out.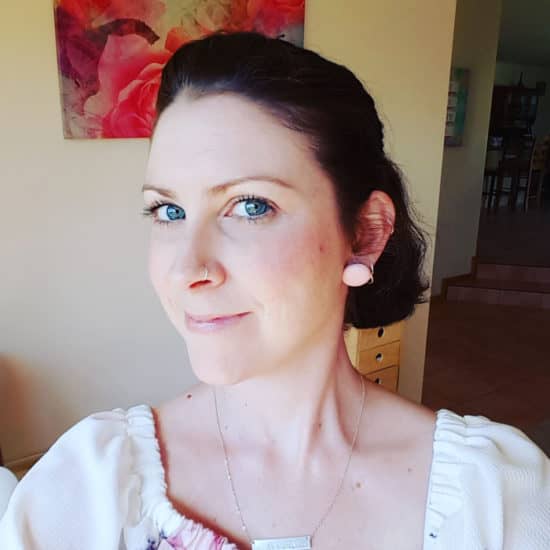 Liona Lee, based in Tasmania, Australia, creates unique, fabric statement jewelry that's fun, fresh and feminine. Before setting up her gorgeous jewelry company she was working as a Dispensary Technician in a pharmacy.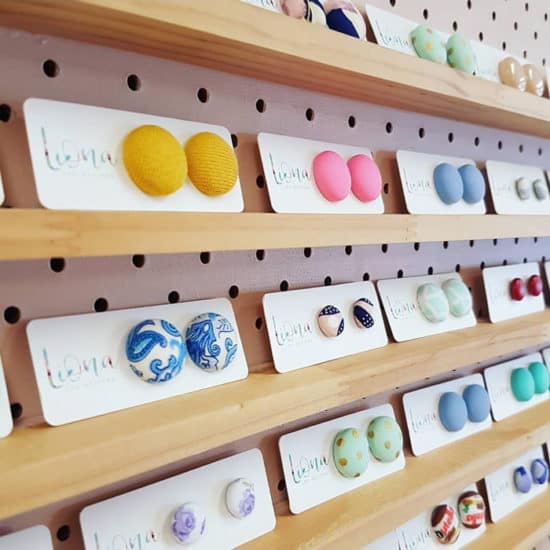 Liona started Liona Lee Designs as her creative outlet – she was sick of boring and drab button jewelry so started making her own modern, colorful and on trend pieces: "there's nothing worse than putting on your favorite outfit and realizing it's missing something! Your style instantly says a lot about you, so finishing your outfit with the right accessories is the fastest and easiest way to update your look". Liona takes inspiration for her pieces from fashion trends and fabric patterns and designs.
When Liona was designing her cards, she knew she wanted them to be simple yet effective: "I wanted my logo to stand out, but also wanted the cards to be simple so that they didn't take away from my jewelry as most of my pieces involve fabric patterns. Liona chose matte MiniCards: "they're the perfect size for my handmade earrings and they also double as fabulous swing tags for my necklaces! The quality is the best you can get. I wouldn't get my cards from anyone else but MOO. Everyone says how effective they are and want to know where they can get some! I don't like giving up my secret too easily though!"
La Belle – owned by Hannah – is an artisan bridal accessory studio located in Canberra, Australia. Hannah's range of wedding veils, dressing robes and hair accessories are imbued with a botanical, bohemian vibe. She draw's inspiration from the exquisite plants and flowers her country has to offer to create a minimalist and effortlessly feminine aesthetic.
La Belle sends her Business Cards out to clients ordering fabric swatches. When creating her cards, Hannah knew she needed a clean and elegant design: "we chose hues that would work seamlessly with our other branding and match the materials we use in the studio. The final card features a photograph of one of our models wearing a delicate, translucent bridal veil. We chose this specific image to complement and heighten the impact of the fabric samples".
La Belle's cards have a matte finish: "our fabric swatches work beautifully with the quality of the card. They look naturally romantic and they complement our branding perfectly. We couldn't be happier with the overall result – fresh, polished and luxurious. Our customers absolutely love receiving their fabric swatches in the post. The card has made the experience that much more meaningful and personal to brides. Thank you MOO!"
Create your own matte Business Cards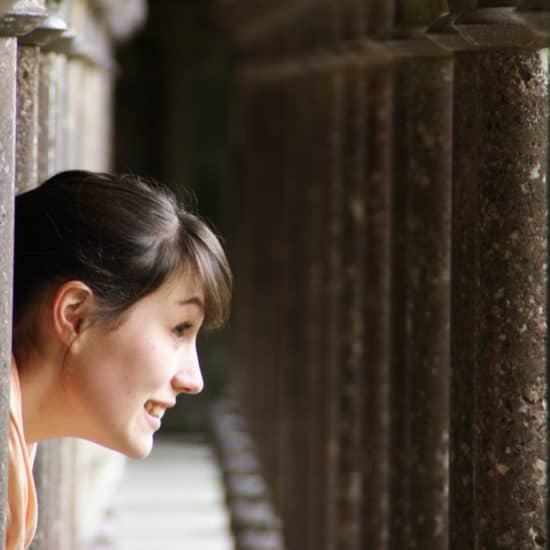 Floriane Leblong, is based in Lille, France. She aims to create 'new energy' through her handmade jewelry line, 'Empreintes d'apesanteur' by combining a variety of materials to create a totally new product. Floriane studied Textile Design for 3 years at the Ecole Duperré in Paris. She then went on to do a Higher Diploma of Applied Arts at Esaat in Roubaix. Following her studies, Floriane got a job as a textile designer for an upholstery and wallpaper company. It was alongside this that she created her first jewelry line.
Floriane's inspiration can come from almost anywhere, a Pinterest image, a journey or the music she listens to. She even tries to translate emotions and sensations into colors or materials. Floriane loves contemporary, minimalist design and enjoys discovering new designers and craftspeople at events such as London Fashion Week, or the Salon Maison & Objet in Paris.
Floriane's #MOOcard creations started with a photo she'd taken herself during a photoshoot for her first collection: "I was able to develop and create my entire visual identity thanks to the multiple formats and products offered by MOO, and with Printfinity, I can match the colour of my backing cards to my products – I love the consistency!" She sends matte MiniCards out with her necklaces and puts her earrings and bracelets onto Square Business Cards. She's also started adding care instructions onto the cards: "people always react positively to my cards and I often get comments on the MiniCards in particular ­– it reminds people of the French Metro ticket. I really think these finishing touches seal the deal and help people to remember my brand. Thanks MOO!"
Add the finishing touches to your creations with Square Business Cards
Keep in touch
Get design inspiration, business tips and special offers straight to your inbox with our MOOsletter, out every two weeks.
Sign me up!