From zero to hero: staying true to your values as you grow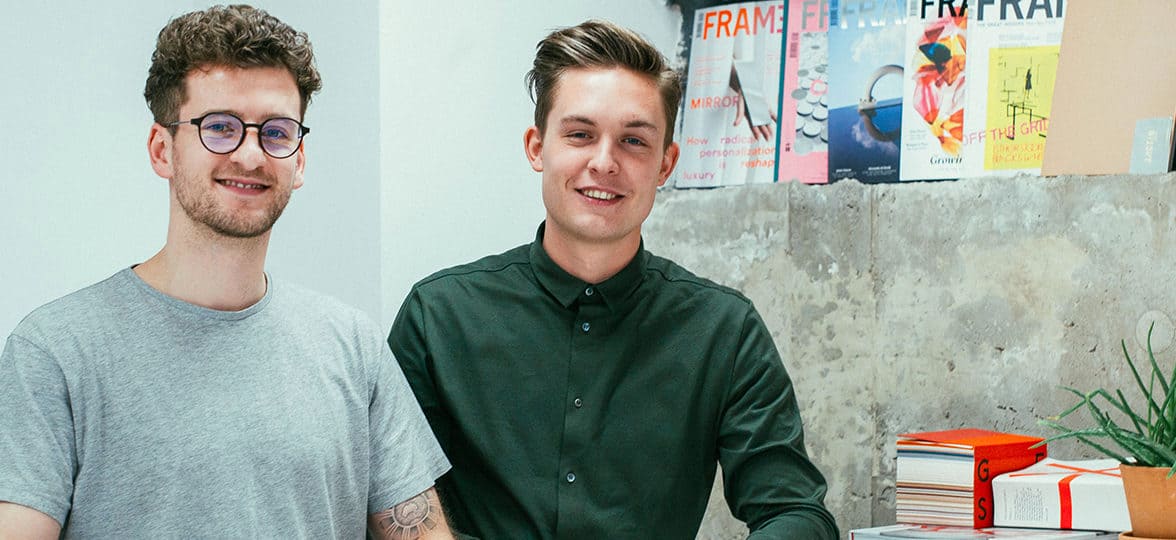 We met UTH Studio – an interior design company based in Manchester to talk branding and how they're keeping hold of that small business feeling as they grow.
UTH was founded in 2016 by Liam and Olly. They focus on interior and product design commissions with the belief that young minds are the most exciting, free from the old school mentality. And, they stand by their mission statement – that they'd never design something they wouldn't live, play or work in themselves.
Liam and Olly originate from the same background in Interior Design at the Manchester School of Art. This is where their talent for conceptual thinking, design and detail was born, forming their studio culture.
Since setting up their studio, they've grown at a fast rate, taking on commissions from all over the globe. So, how are they managing to stay grounded, retaining their small business feeling and what are their tips for other like minded entrepreneurs?
Tell us a little bit about UTH Studio
Olly: UTH is an interior design studio based in Manchester. Liam and I started the company in 2016 – we wanted to change the way design is viewed in the North West.
Liam: We felt like Manchester was lagging a little behind places like London in terms of exciting design, and we saw an opportunity to try and reignite that.
How did you build the branding behind UTH, putting yourself out there for the world to see?
Olly: Step by step, it was a trial and error thing. We reviewed and revised our branding quite a few times. We asked ourselves, 'who are we and what do we do?'. We wanted to express ourselves and our company through our branding.
Liam: Graphically, it's inspired by our love of Scandinavian design. It's clean and simple which allows us to evolve and adapt.
In your own words, you've gone from zero to hero in a matter of months, how are you planning on keeping hold of the small business feeling as you grow, and what things are important for you to preserve?
Liam: We centre ourselves around great design, its potential and what it can offer – we want to keep our brand fresh. We'll continue to bring like-minded people on board – people who have a similar way of thinking and approach to design as we do.
Olly: Quality management is hugely important to us. We don't want to grow too fast, too quickly. We want to maintain a pace that allows us to consistently produce work to a standard that we're proud of.
How do UTH use brand to beat off the competition and stand out from the crowd? And, how do you use MOO products to support you with that?
Liam: We're dealing with some pretty big competition, but we like to keep things simple. We appreciate that we're still establishing our company so we like to keep our pitches toned back and let our work do the talking for us. Our business cards are single tone colours on the front, with our UV spot gloss logo allowing us to show how subtle, yet beautiful, design can be – we feel this reflects us well.
Olly: Our business cards are going to be constantly evolving. As trends change we plan on switching out colours and tones and with the Printfinity option from MOO.
What are your tips for aspiring entrepreneurs wanting to start out in a similar field to you?
Liam: We decided to break the mould a little – we didn't want to come out of university and work our way up the ladder in the hope that we would eventually start designing. We love what we do, and didn't want to have to wait for our big break. We followed our passions and decided to go it alone – so far so good!
What are you guys working on that you're excited about?
Olly: We're working on a number of projects from Manchester to the Middle East. We've recently won a huge project in the centre of Manchester which includes bars, restaurants and apartments. It's really exciting – the brief just keeps on growing. It's just won "Project win of the year" as well, so it was a big achievement and we're made up!
Liam: We've got a work space in Liverpool, as well as a furniture studio in Manchester that we've designed. Within our first year, we're hoping that our jobs in the Middle East will be finished so that we can have a really strong portfolio going into our second year in business.
Ready to brand your business? Create your own Spot Gloss Business Cards
Keep in touch
Get design inspiration, business tips and special offers straight to your inbox with our MOOsletter, out every two weeks.
Sign me up!