Freelancing as a typographic illustrator: signs of success
Trained in design and inspired by her father – find out how Lana Hughes grew her freelance career and why freehand will always beat digital.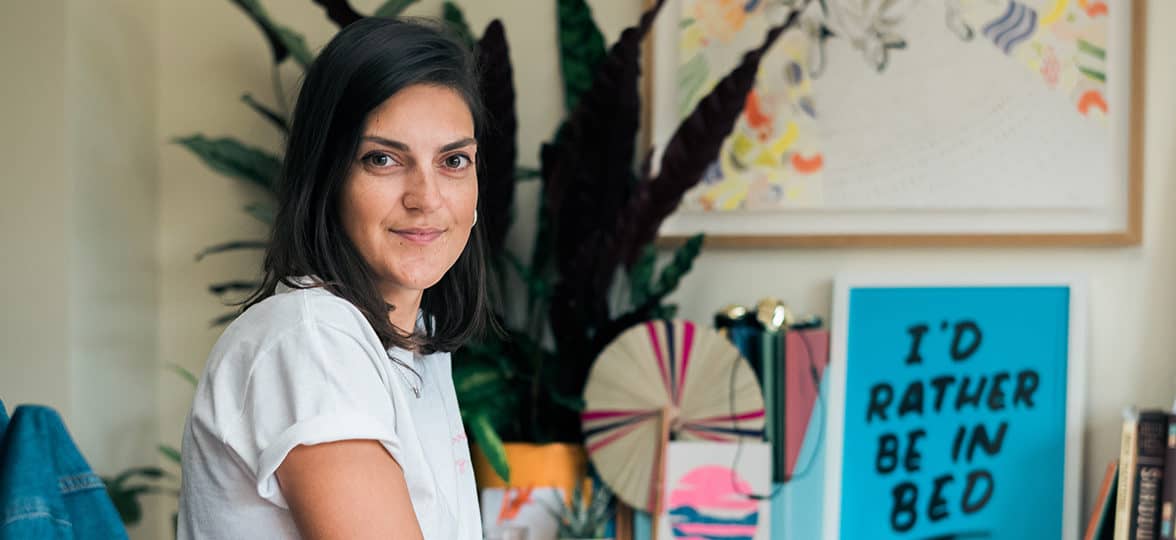 Trained in design and inspired by her father, Lana Hughes paints big, bold, beautiful typography. From murals to postcards, she's saying it loud. We met her to find out how she grew her freelance career – and why freehand will always beat digital.
Lana started her career with travel – after graduating, she spent a year painting her way around Australia and South East Asia. Now back in London, she's creating work for global brands like British Airways, O2, Tesco and Liberty – and she's just launched her own greeting card range with Scribbler Cards too. With workshops and exhibitions cramming her diary too, we're sure in awe.
Tell us about your business – what inspired your love of lettering and sign painting?
I've always had a love for beautifully designed and painted typography, but it was during my studies that I really discovered my love for hand lettering. Before university I studied fine art, so combined my love for painting with type, which to me felt like a natural progression.
What were you doing before you set up your business?
I was working in a design studio – Animaux Circus– that two friends and I founded after graduation. We've been working together for almost 7 years and still are, but it's more of a side project these days.
I'd actually been planning to go it alone for some time, and eventually went for it a few years back. It was the best move – it made me so happy and I've been lucky enough to work with some fantastic clients.
Tell us about your influences – how did you develop your unique style?
My dad loves to sign paint in his spare time, so I was always surrounded by signs and lettering books growing up. He always encouraged me to draw from a young age and as time went on, I knew I wanted to work in the creative industry.
He was a big influence, as well as many other sign and graffiti writers, and illustrators. I spent years admiring signs and street art whilst also working on developing my own style. Eventually, after many years of practice and drawing everyday, I found my own style and methods of creating lettering.
Talk us through your creative process – you prefer to work by hand – why is this?
I really love the whole process of creating letterforms by hand. There's just something about hand painting those smooth lines – you can't quite get the same results digitally. Don't get me wrong, I often create digital artworks for projects and I think they can look great, but every one of my pieces starts as a hand drawing. You can't beat a piece of work that has that authentic human touch.
There's also a technique to be learned for every medium I use – I really enjoy finding new materials and working out how to master them. For example, working with brush pens requires a different method and creates a totally different outcome to calligraphy pens.
You've just launched a greeting card range with Scribbler. Do you approach small scale and large scale projects differently?
I tend to approach all projects in a similar way at the very beginning – it's usually later on down the line that they go off in a different direction. I'll start by spending a day or two sketching and generating ideas which I then pitch to the client.
Once we've settled on a design and agreed what it is I'm going to be creating, I'll then know the scale and direction to take the project in and whether I'll be outdoors, up a ladder painting on location, or if I'll be working in my studio.
How do you get your work noticed and attract new clients?
I do my best to keep my website and social media presence up to date with my most current work. But most importantly, I'll regularly take the time to design fun, up to date promotional materials such as business cards, flyers and postcards with phrases and bits of type on them. I send the postcards out to people for them keep on their desks or send to friends – I think it's important to have something a bit quirky that helps you and your work stand out, that people will remember you by!
I also try to take part in creative fairs and events – I like meeting and working with new people as much as I can. In addition to this, I also paint murals for fun (in the street, or on a building for example) – it's always a good way to get chatting to new people!
How do you stay true to yourself, and maintain your unique style when working with clients?
I like to think that the clients I work with choose me because of my style, as opposed to just having the need for a sign or custom piece of lettering. Over the years, I've taught myself a range of techniques in which to create lettering, which means I've got a varied style and can adapt to fit a variety of briefs whilst still keeping my creative identity.
With most artworks, you can tell they've been created by a certain designer – as an artist, you can't help but put your individual style into everything you create. I work hard to design an outcome that both the client and I are happy with – that's what it's about after all – if you don't create work you're happy with and believe in, why should anyone else?
What's been your favourite client project, and why?
I've absolutely loved working with the team at Scribbler Cards. The pieces I created in collaboration with them were focused entirely on my own designs. The team and I came up with the phrases together and I had free rein of the creative process and what the cards were going to look like.
I worked on another great project for Liberty London where I created a series of hand painted signs for their Christmas shop. It was amazing to go shopping and see them hanging in store!
I also loved the works I created for International Alert– a peace building charity. I like using my work to contribute to help in some small way. If I'm honest, I've loved them all, I love every part of my job!
How are you focusing on building and promoting your brand? And, how do you use MOO to support you?
As I mentioned, I like to try and set aside time to work on promotional postcards and business cards to send out to existing and potential clients. I'm often guilty of being a bit obsessed when it comes to creating my promotional materials – I always want to make sure I've got the best version of my work to make that first impression – and the best print job to compliment my designs.
With MOO, I know it'll always be easy to order prints. The re-order history is really useful, as well as quick turnaround times, and the ability to pick up at a convenient collection point when I get busy. I'm currently working on some new promotional designs that I'm excited to get printed, soon!
What are your tips for aspiring entrepreneurs wanting to start their own business?
I think the best way to go about starting your own business is to find that one thing you're truly passionate about – something that you can see yourself working endless late nights on to become a success.
It can take a long time to feel ready to pitch for that first client, but don't doubt yourself. Keep going and the right people will recognise your hard work and it'll pay off in time!
Make a lasting first impression with Postcards
Keep in touch
Get design inspiration, business tips and special offers straight to your inbox with our MOOsletter, out every two weeks.
Sign me up!