Delicious! Foodie cards that look good enough to eat
Meet 4 of our hottest food industry brand-builders – and see how they built their business (and designed such mouthwatering cards).
We <3 the MOO community! Every day, we're inspired by people all over the world who've built a brand from their own creativity – we think you will be too.
As far as we can tell, Instagram's fuelled almost entirely by the kind of food photography that makes us wish it was lunchtime already. And of course, a lot of these plates come from the awesome entrepreneurs we're lucky enough to count among our customers. Meet 4 of our hottest food industry brand-builders – and see how they built their business (and designed such mouthwatering cards).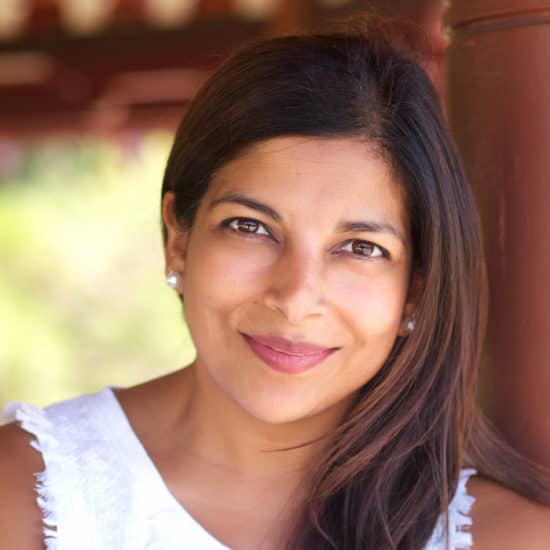 Spice Mama, founded by Shaheen Hughes, is a traditional Indian food and recipe project designed as a tribute to the women in her family. Shaheen hand-makes spice blends passed down through the generations, translating hand-me-down recipes that she shares in pop-up cooking classes in her hometown of Perth, Western Australia. Woah!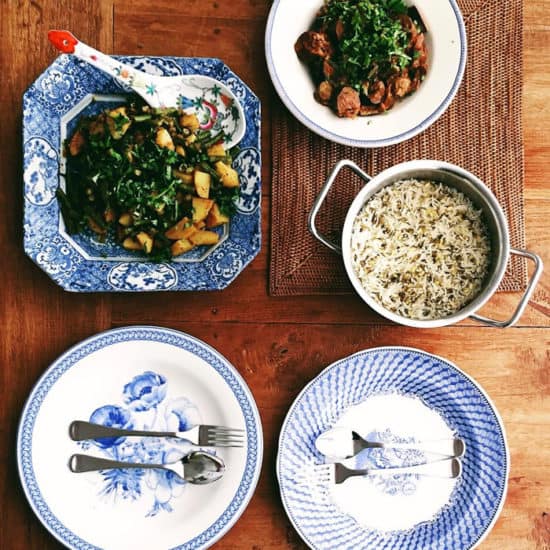 Shaheen told us: "Indian food is one of the oldest cooking styles in the world. There are thousands of years of knowledge about using food as medicine, and how to eat for your well-being." This practice, handed down through generations of women, is exactly what Shaheen wants to keep that alive. She adds, "I want to make traditional, home cooked food look beautiful, and full of the love with which it has been cooked".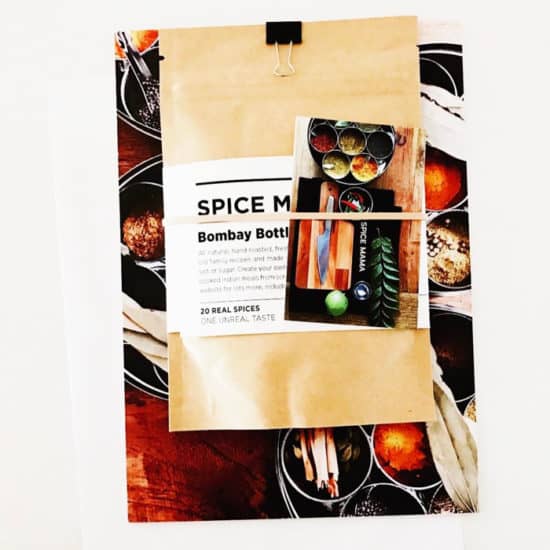 Shaheen designed her cards with Printfinity – so she can show a range of her favourite images. "Indian food is all about a multi-sensory experience," she says. "An explosion of colours, flavours and textures – you have to engage with it visually to really appreciate it".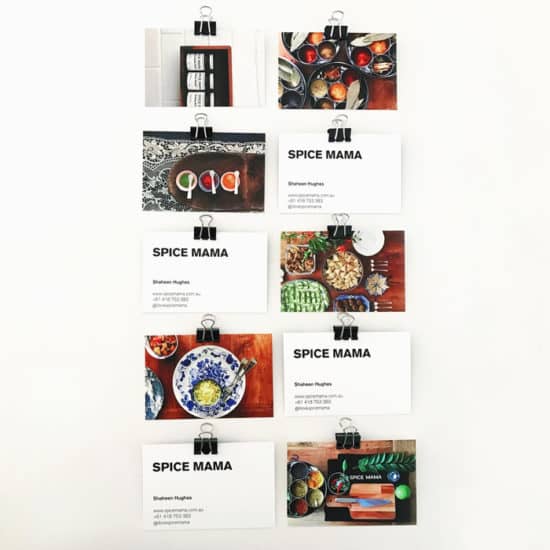 She printed her cards with a matte finish, and explains: "I love the smooth texture and strong stock quality, they are so tactile and really make my images stand out. The cards embody what I want to say about my brand – strong and simple, colourful, beautiful and full of passion. They help emphasise the sensory connection I want people to feel about food. It's sometimes hard to describe a thousand things you want to say about your brand, but I can give people a card and it communicates the lot for me".
Shaheen adds that if she could make one improvement to her cards, it would be to make them scratch and sniff: "I would get them to the smell aromatics, like cinnamon, cardamom and cloves". Yum!
Get Business Cards that speak for you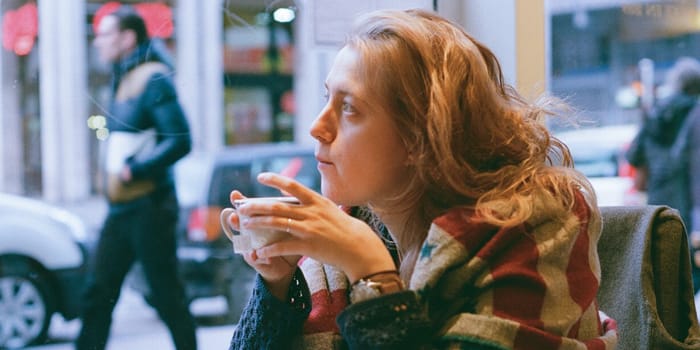 Kate Prihodko is a food photographer from Riga, Latvia, currently living and working in Tallinn, Estonia. Kate's business started with a blog where she shared recipes that she'd created along with beautiful photography to accompany them. After about a year, she branched out into photography for restaurants and enjoyed it so much that she decided to grow her business in that direction.
Now, Kate's work is focused around photography for restaurants, bars and magazines. She also does some advertorial work while continuing to write her own recipes.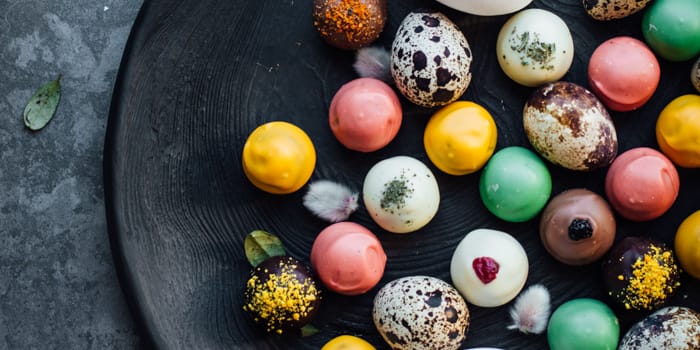 Of course, Kate's business cards had to be focused around food – her biggest inspiration. The hardest decision was whether to feature asparagus or artichokes on her cards – two of her favourite foods. She went for artichokes – great choice – and her friend Tomas, a designer, helped her with the illustrations.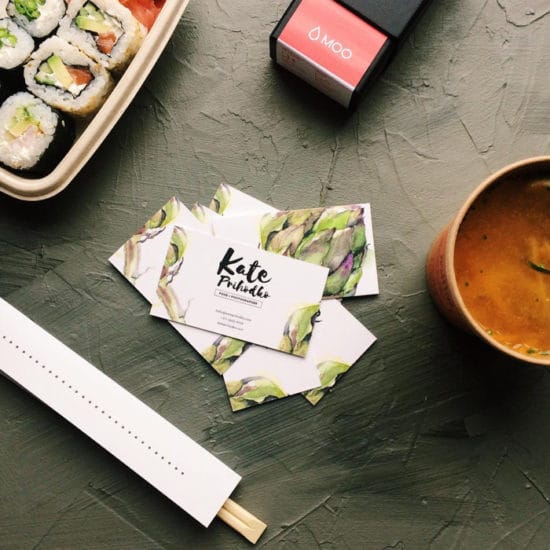 Kate's cards have a matte finish: "I like to go with classic finishes. I was so happy to see the end result – I love my paper and finish choice and my cards fully represent me and my business."
Get your own Matte Business Cards
Latigo Coffee is a subscription-based delivery service based in Los Angeles. With a background in coffee farming and eCommerce (a not-too-common pairing), the founder Mark aims to share the most exciting coffee stories from around the world with their community.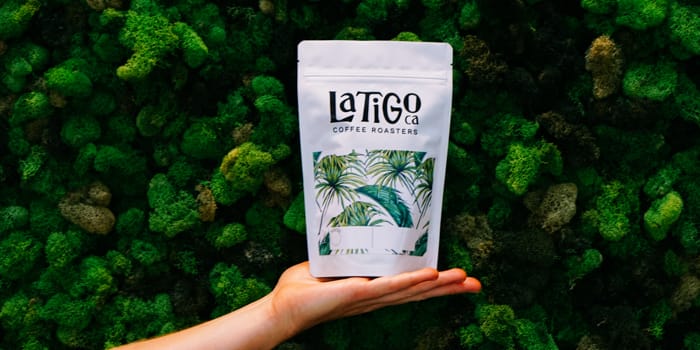 It all started in 2012 when he quit his desk job and moved to Hawaii to work on a coffee farm. In the 5 years since, he's travelled the world in search of the finest coffee experiences. The idea for a coffee subscription (named after Latigo Beach in beautiful Malibu, California) came to Mark during a long bicycle tour of the CA coast last year.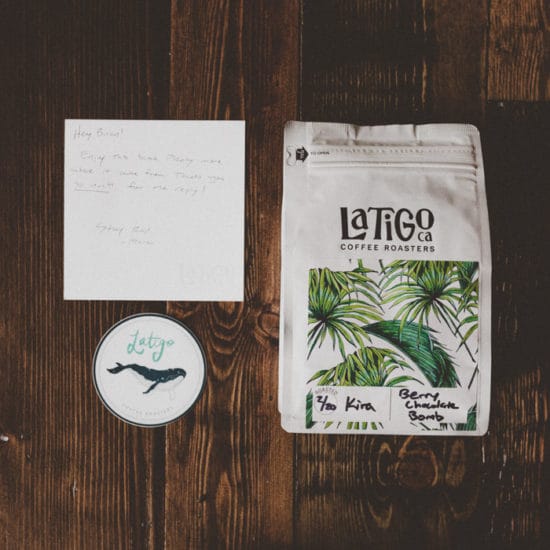 As Latigo Coffee is only available via an online subscription, the packaging and unboxing experience is a huge priority. Having very little experience in design, Latigo reached out to their favorite Instagram doodler, RJ Rabe and shared the "vibe" they were going for. Together, they settled on the "Tandem" idea (the old-school Hawaii surfing design, which involves a Chemex coffee maker).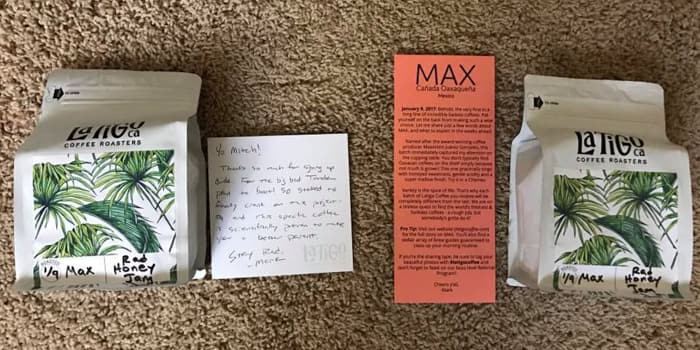 Latigo have printed the design onto Square Flyers – they get sent out with every customer's first shipment. Mark adds, "the flyers were the perfect fit (literally) for our packages. They fit snugly with our shipments – each one features the Tandem design on the front, and we handwrite a thank you message on the reverse side for each customer."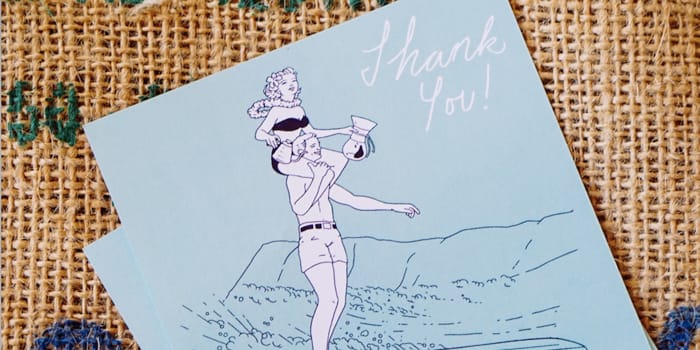 "Being a small bootstrapped operation, high-quality inserts go a long way. It's funny how little things like these "thank you" cards (and our custom packaging tape from Lumi) can add so much value to the brand, even though we're a tiny operation. People love receiving handwritten notes and our unboxing experience is integral to the business."
Let your packaging tell your story – make your own flyers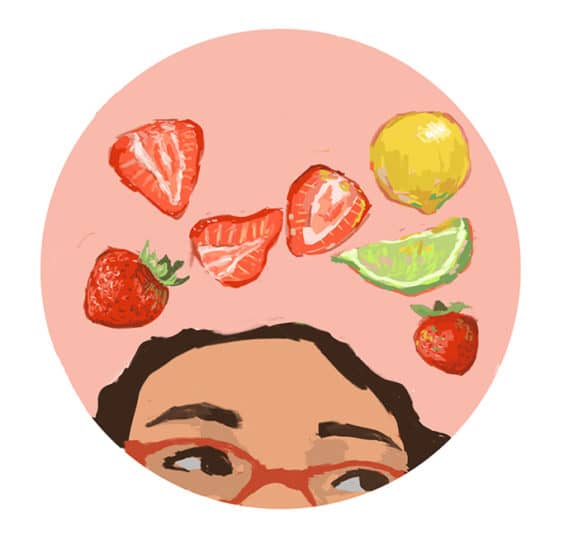 Gabi Zuniga is a freelance illustrator specializing in food. Her aim is to enhance and stylize her subject, showing off it's most interesting features whilst still maintaining the familiarity of the food we all know and love.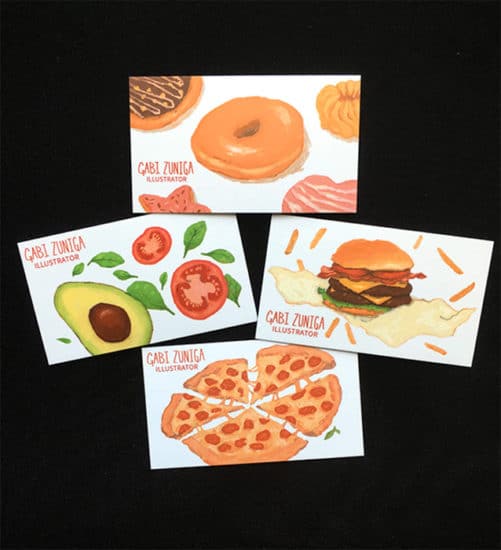 When it came to creating her business cards, Gabi wanted to place the food at the forefront, drawing people in with her eye-catching, appetizing designs. "I love being able to hand prospective clients and the people that I meet a card that I feel good about".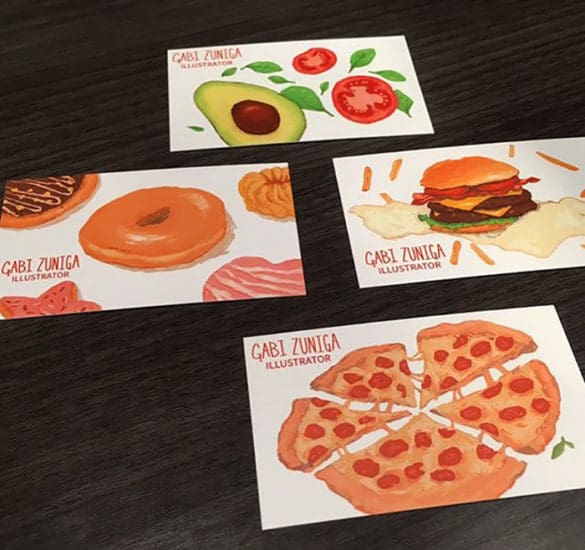 Gabi uses Printfinity on a matte finish to showcase her portfolio: "Being able to get multiple designs on the backs of the cards was big deciding factor for choosing MOO. I love watching people try to choose between which design they love the best – people treat my cards like collectibles".
Showcase your portfolio with Printfinity
Keep in touch
Get design inspiration, business tips and special offers straight to your inbox with our MOOsletter, out every two weeks.
Sign me up!