Creative ways brands have used Printfinity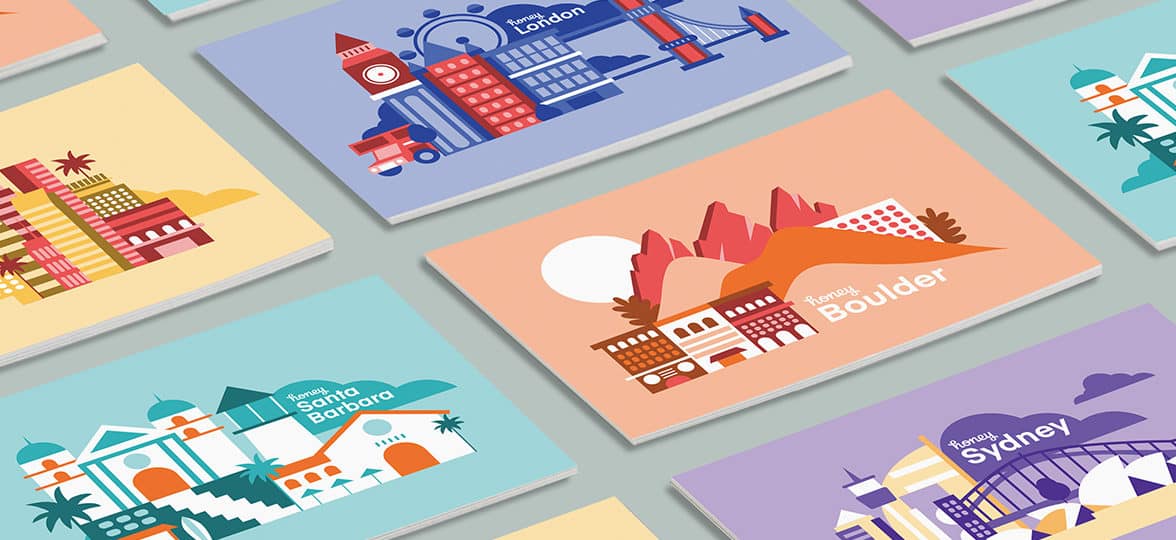 Creativity knows no bounds, and thanks to our exclusive Printfinity technology, neither does MOO!
Variety is the spice of life, and why should Business Cards be any different? MOO's Printfinity feature gives you a whole new way to design for your brand. From creative Business Cards to Letterheads, we've removed the limitations between your brand's multi-faceted character and truly amazing marketing materials for your business. 
What is Printfinity?   
It's freedom, it's fun, it's an endless showcase of your talent, your services, your office locations, your total brand. Printfinity is the option to have a unique design on the back of every custom Business Card, all within the same pack. Whether your company is a creative agency, tech startup, healthcare conglomerate or anything in between, Printfinity is MOO's exclusive technology to let your Business Card designs feature up to 50 variations. Say goodbye to identical Business Cards front and back – Printfinity will make your pack fresh, exciting and new from card one to card 50. 
Custom Stickers, Letterheads, Postcards and more can all be given this premium treatment using our unique technology. Your creative team and marketing team  no longer need to worry about endless back and forth to ruthlessly cut down your Business Card design ideas to a single image – Printfinity gives the green light to your brand's fullest creative potential. 
Just look at some of the stunning Printfinity creations our Business service customers have come up with.

Honey, the browser extension that has taken the world by storm, and done so very much by word of mouth marketing, has incorporated that glowing feedback into its fun Business Cards. Showcasing our Printfinity possibilities, each card displays a different positive user review. 
The versatility of Printfinity perfectly matches Honey. Its deals cover everything from clothing to coffee. The chosen reviews highlight this, from generally showing love to the handy tool to talking about precisely which purchase they saved money on, including vacations and food delivery. 
There's more than just glowing reviews and customer endorsements to these corporate Business Cards, though, there's also clever design. Check out the three deer silhouettes on the review card that celebrates saving '3 or 4 bucks' with every purchase, a haloed cow design for the review starting 'holy cow!' and an actual bottle of 'awesome sauce'.  These fun Business Cards don't just explicitly state why they have been propelled to success by their customers, but offer intriguing imagery for a touch of real artistry and playfulness. 

Not only did Printfinity help Honey realize there's no limit on their design options, MOO's design support made it a reality. Honey's Business Cards have also proven there really is no limit on design inspiration – who would have thought that creativity lay in something as utilitarian your customer reviews? 
Delectable design is served up by Sir Kensington's fun Business Cards, which showcase a range of quirky foodie characters, in keeping with the spirt of their brand. Charm and integrity is at the heart of the business, and what can be more charming than bringing their fine ingredients to life in colorful illustration?

The condiment brand has re-imagined ordinary table sauces by taking a careful look at the ingredients that go into them. It's passionate about defending the 'dignity of food' and how better to show this than by giving their premium ingredients their very own cartoon portraits on the back of each Business Card? Printfinity lets them show off multiple characters in every pack, because every ingredient counts. 
These very same foodie mascots make it onto Sir Kensington's packaging too. The anthropomorphic avocado appears on the packaging of its mayonnaise, while the pretzel appears on the sticker of its mustard bottles. The brand has created a seamless, uniform theme that covers all of its products – from personal staff Business Cards in its SoHo HQ to the jars and bottles customers can pick up off the shelf in their local store.

Always striving for "integrity and charm in balance", Sir Kensington's delightful Business Cards are the perfect match for its belief that food should be treated with dignity.
To Printfinity and beyond
Ready to up your design game? Printfinity will let you add fun variation to all your printed goods, here are just some of the ways to use this clever technology beyond just creative Business Cards.
Letterheads 
The addition of a unique design that switches with each new correspondence subtly positions your business in your client's mind as one that doesn't settle for the boring and mundane. If your public-facing materials like Business Cards and Flyers are bold, bright and beautiful, don't let the fun stop at your client-facing materials. Show that your branding is genuine at every touchpoint, whether it's reaching out to first-time customers or long-term clients. 
Stickers
Stickers are a fantastically versatile way (think instant branding!) to show off some of your best designs, and thanks to Printfinity, you can have multiple on one sheet. Perfect for handing out whole sheets to customers with multiple snapshots of your creativity, or simply having a variety of designs to choose from when you're adding a touch more fun to outgoing mail and packages. 
Flyers
No brand can be embodied by a single image, so it's great that Printfinity will let you show off different aspects of your business. Even if you're only changing the background color, the overall effect is a rainbow of playful design that doesn't shy away from bold shades. When it comes to things like Flyers, where they're quickly thrown away if they don't make a big enough impact, the intrigue of different designs is sure to be a great boost to your outreach.
Show off all your brand's best sides with MOO Printfinity and our Business Services. Click here to request a call from one of our Account Managers.
Keep in touch
Get design inspiration, business tips and special offers straight to your inbox with our MOOsletter, out every two weeks.
Sign me up!