They brought (all) their Sticker ideas to life with Printfinity
Get inspired with 5 brands who used Printfinity to bring their best Sticker ideas to life.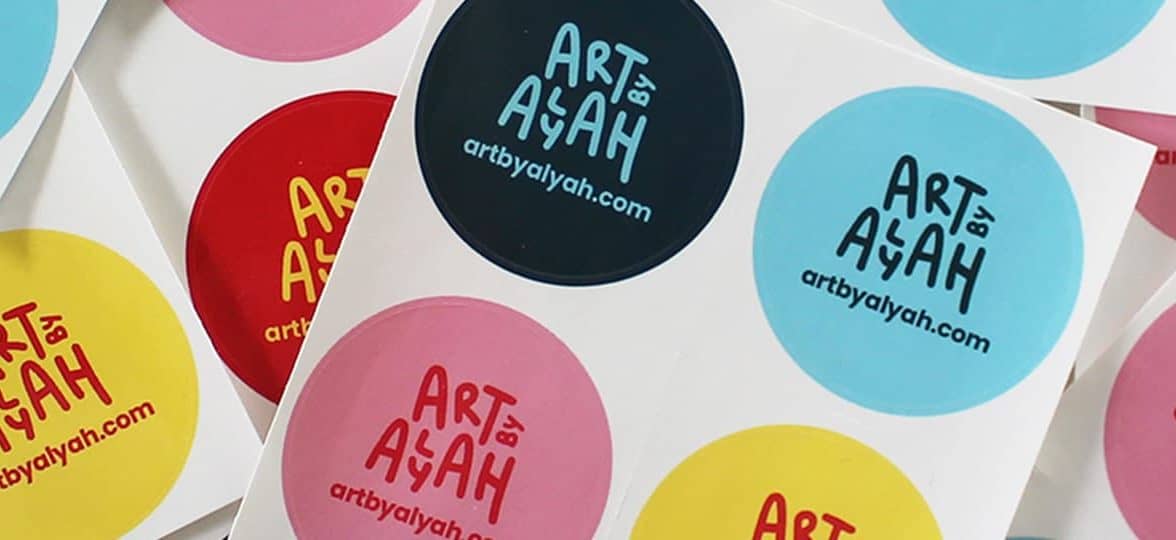 Stickers may be small but they're hugely versatile. Especially because you can print a different design on every Sticker. Here are five brands creating mini, sticky masterpieces.
Art by Alyah: Rainbow energy
Alyah Holmes is the illustrator and designer behind Art by Alyah. When she's not working on creative projects for business clients, she sells her prints to a worldwide audience on her website. Her motto? Making people happy through her artwork. Mission accomplished, if you ask us.
And this promise goes beyond her prints themselves. Alyah makes sure every single detail of her packaging puts a smile on her customers' faces with colorful Round Stickers. "I use my custom Stickers on my art shop packaging. I place them on the back of my framed prints, and all over my poster shipping tubes. It's a quick and simple way to brand your products, and to add a little something special to your orders." She goes above and beyond to guarantee the best experience to her beloved customers.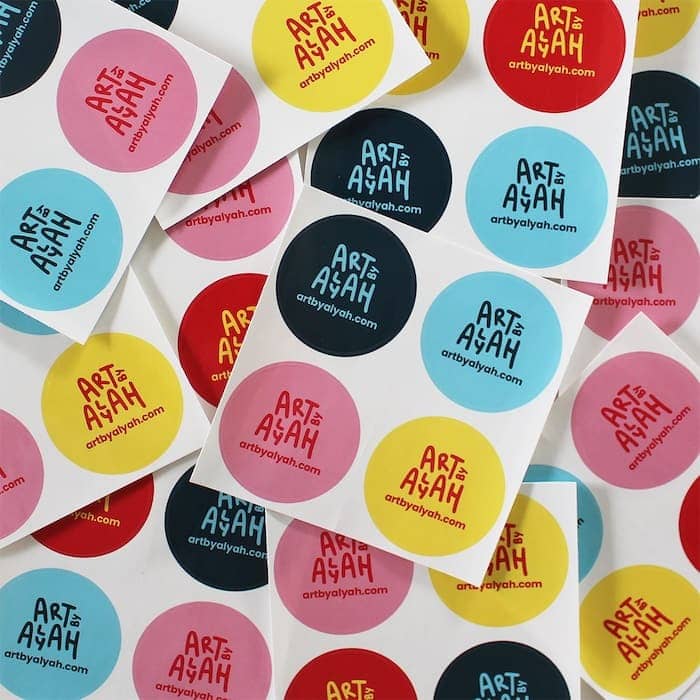 For her (super cute) Sticker designs, she went all in with the colors. "I wanted a color palette that represented my artwork: fun, colorful, bright and tropical." She rocked bright hues that perfectly complement each other to really pop – just like her art. Her favorite thing about her Stickers? She was free to express her creativity with a variety of designs. "I can use Printfinity to print a different design on each Sticker, so I'm never limited! I also love the small sleek pocket the Stickers come in, as I travel often and it makes it easy to bring my shipping supplies with me."
Want to power up your unboxing appeal like Alyah? Check out our expert tips.
Lark: Life of the party
Based in Toronto, Lark makes party planning that little bit easier. Originally from Northern Ireland, founder Anna took the leap from comms to a product-based business – and rose to the challenge with panache. Lark curates and sells stylish and modern party kits for all the occasions, from paper cups to candles and wooden utensils.
To kick off her business in style, Anna chose premium quality with MOO Stickers. First, she needed simple circular Stickers to easily add her logo to party kits. Thanks to Printfinity, she was able to feature each and every hue from the lovely color palette she developed with her designer Clawrence. But she didn't stop there. Printfinity helped Anna solve a packaging problem with minimum costs with a clever Sticker idea. "Each party kit [is different]. I wanted to create custom packaging to hold the kits, but my budget meant that I wasn't able to print a custom box for each specific kit's contents. My solution was to have one box design printed and use Stickers to showcase the contents of each kit – meaning I was able to customize the packaging after all!"
When we asked Anna what she liked most about her MOO Stickers, we couldn't help but blush. "They look so professional, the quality is exceptional, [I liked] the fact that I was able to print a range of Sticker designs at a great price. I loved that I could manage everything online, too. It's an all-around simple and satisfying customer experience." Stop it, you.
Carved Color: Say it with Stickers
Taylor Suchy started Carved Color as a way to recover from a brain injury through art therapy. Working with clay allowed her to embark on a creative healing journey. "From throwing the clay to painting it, you are creating a new life from mud and at every step… the process gives back to you." Based in Southern California, her positivity-filled business is all about educating people about the benefits of art therapy. "I am just trying to brighten up the day, one colorful mug at a time!"
When she launched Carved Color, Taylor knew branding would be key to its growth. "Anyone running a small business knows your craft is only part of the equation. Marketing, sales, branding and social media are some of the many other aspects you must become good at. I use MOO Stickers as a vital part of my branded experience. I want the customer to interact with my brand from receiving the item on their doorstep to unboxing it in their home." She found a variety of uses for Stickers, from "fragile" labels for her shipping boxes to Sticker seals for the inner packaging. And she didn't lack Sticker design ideas. "Where the "fragile" sticker has more practical purpose, the product Sticker is more playful and can have branded sayings such as "Real women cook with a kiln" or "Pot it like it's hot." The possibilities are endless!"
Her favorite part? "How easy they are to make. I download the Illustrator file, add my artwork, and I am more than halfway there. I also should mention that all the Stickers don't have to be the same! I can utilize my full color palette and have round stickers with just my logo or a phrase all in the same order." Printfinity done right.
Wickend: Worth the candle
Located in Québec, Mahika Hache is the brain behind Wickend, a sustainable candle brand based on the principle of upcycling. Committed to having a positive impact on the planet, she created a range of hand-poured candles made of recycled wine bottles. With soft colors and a beautiful, minimalist branding, Wickend can already stand up to even the most established brands.
Mahika used Printfinity to create a range of simple yet pristine product labels for her different candle scents. With Rectangular Stickers, she created premium-looking labels with a variety of colors and designs reflecting the different fragrances available. With their strong, tear-free materials, they're easy to stick (and unstick) without leaving glue on the candle recipient. A plus for Mahika, who also loves the printing quality of her Sticker designs. "The colors are super vibrant, just like I designed them, and MOO packaging is super cute." We could say the same about yours!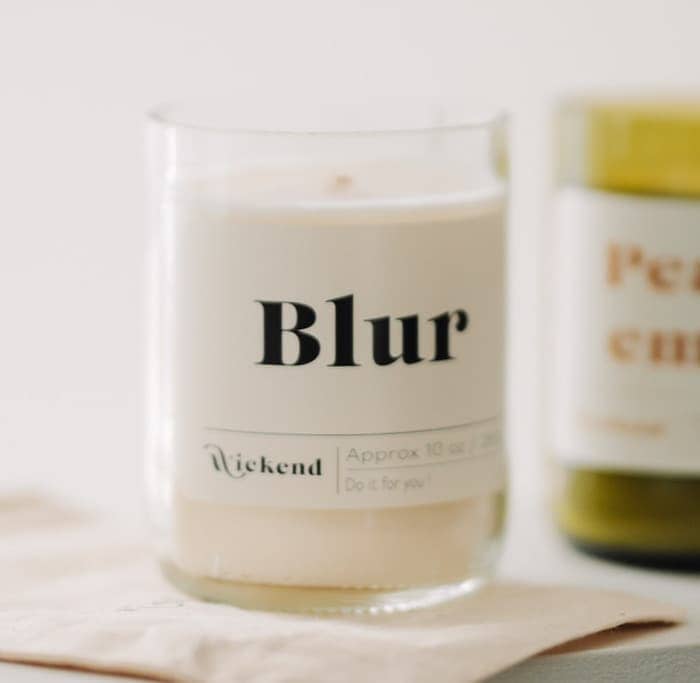 Inspired by the way Mahika used MOO Stickers as product labels? Find out other creative ways to use them here.
CLAYD Collective: Making clay fun
Canadian brand CLAYD Collective is a bimonthly collection of polymer clay adornments made by Canadian-Indonesian graphic designer Tiffany Sargent. When her ceramics studio closed due to COVID-19 restrictions, Tiffany turned to polymer clay. Using her experience of color theory, she started designing wearable adornments inspired by what she loves and the special people in her life. And thus CLAYD Collective was born.
From backing cards to Thank You Cards and custom Stickers, Tiffany is a MOO enthusiast for her business. "[The] brand is very punny and uplifting. We love having fun with words and want to bring a smile to your face, ear to ear (literally!). We knew that we can't just settle with one Sticker for our daily use, so we just had to go all out." That's where Printfinity came into play. It allowed her to choose as many designs as there are Stickers in a pack, to print all of her great Sticker ideas. "We wanted to make our customer's day when they receive our order. Each Sticker features fun and light-hearted sayings such as: It's here! What are you waiting for? Open me! […] Ooh! Your ears must have been burning, […] Eat the cake / donut / nutella / fries. These are one size fits all."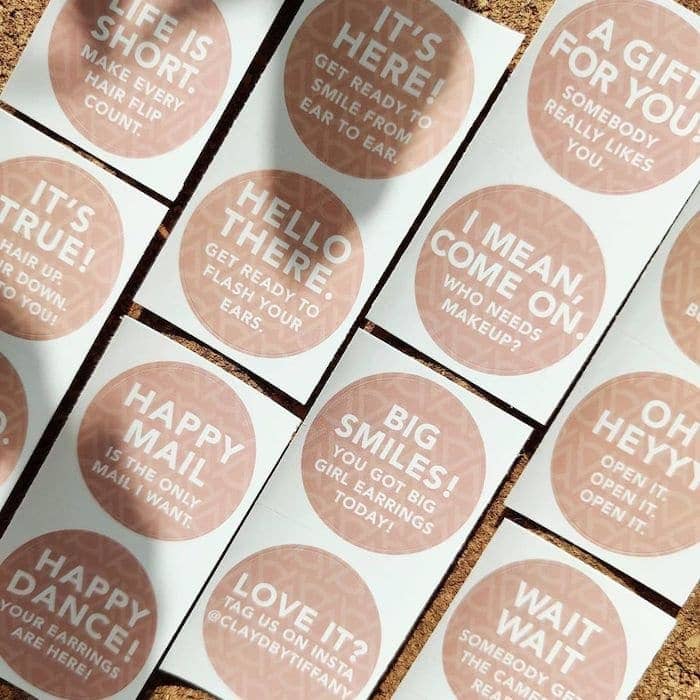 What she loves most about her MOO Stickers? "What's not to love? […] These custom Stickers have been a joy to seal each order with. We love that every order has a completely different Sticker and returning customers are always pleased with all the funny stickers that are included in their orders. We love working with MOO because we love and trust their quality, plus they are the only company that offers Printfinity printing. Want to hear a secret? We ordered some extra product cards from another company in a bind and the quality was nothing like MOO's. Serves us right to order from somewhere else. Never again!" Oops, our heart just melted.
Bring (all) your Sticker design ideas to life with Printfinity here.
Keep in touch
Get design inspiration, business tips and special offers straight to your inbox with our MOOsletter, out every two weeks.
Sign me up!