Branding beauty: 8 print designs we're obsessed with
From hairdresser business cards to salon gift cards, check out our community's beautiful designs.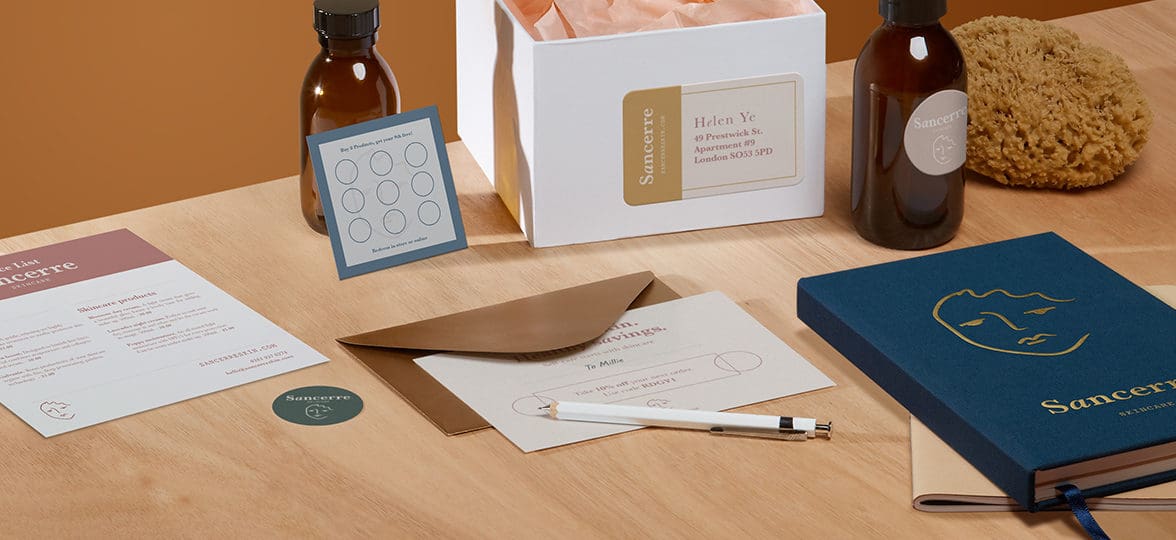 The beauty industry is all about helping people let their identity shine through. So is good design. Expressing a brand's identity through a set of skillfully picked design elements is the mark of great branding. That's why branding your beauty business right is vital to giving a sense of your expertise and uniqueness.
From hair stylist business cards to salon gift cards, get inspired with some of our creative community's most stunning designs for beauty brands.
Four Eyes Design: simply sleek
Four Eyes Design was created with one goal in mind: create great branding that stands out. Laura, 26, is committed to championing the independent businesses from her local area of Middlesbrough, UK. Working with a variety of businesses, she captures the essence of their brand identity while providing a sense of simplicity and understatement, a key element at the core of everything she designs.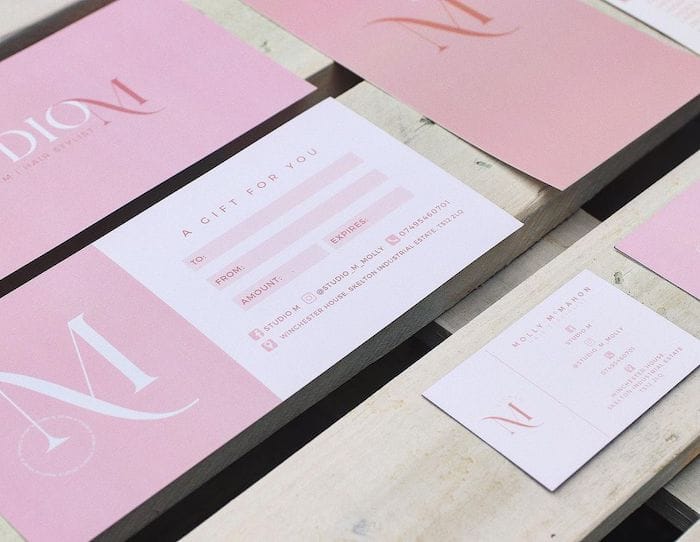 For Studio M's branding, she created a suite of playful designs, from Gift Certificates to Business Cards. "The collaterals just sum up the overall feel of Molly's hair salon. It's girly, fun and just completely welcoming." She created the hair stylist's business cards with our premium Luxe paper, and used long matte Postcards and Flyers for the salon's gift cards and their price list. "I love that we chose subtlety for the cards and didn't go all singing all dancing with gloss and foil, as gorgeous as these special touches are as I always say – simplicity is key."
The Logo Page: the golden ticket
Ellen and Alex, the talented twins behind The Logo Page, specialize in branding and (great) logo design. Their numerous clients in the hair & cosmetics industry are a testament to their incredible instinct for branding beauty.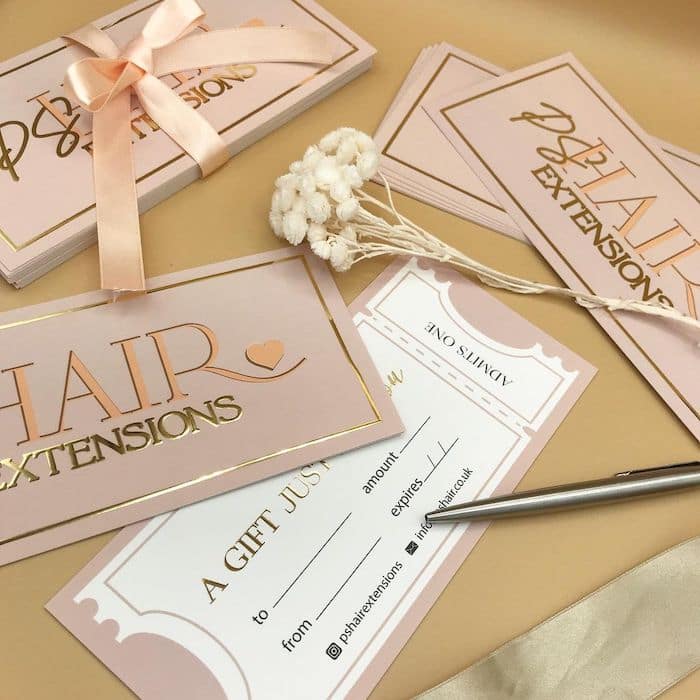 For PS Hair Extensions's vouchers, the duo of designers used Super Postcards and a Gold Foil finish to give a classy and luxurious touch. With a beautiful dusty pink shade to make the gold finish stand out, their retro-inspired ticket design gives the gift vouchers an extra-special, sophisticated feel. "The design was inspired by the high-end beauty industry but with a fun, young and modern twist of the vintage admission ticket."
Myan Duong: brows first
Austin-based designer Myan Duong is nothing if not multifaceted. An associate experience director by day, she doesn't stop creating when the evening comes. What she loves? Bringing ideas to life. Handmade jewelry maker, Pinterest influencer, graphic designer… Beauty branding is just one of her many talents. Just like Myan, brow specialists Bespoke Co-op are a versatile business. When they're not performing micro blading, tattooing, tinting, waxing or laminating brows, they're training the next generation of brow experts in their Houston beauty salon.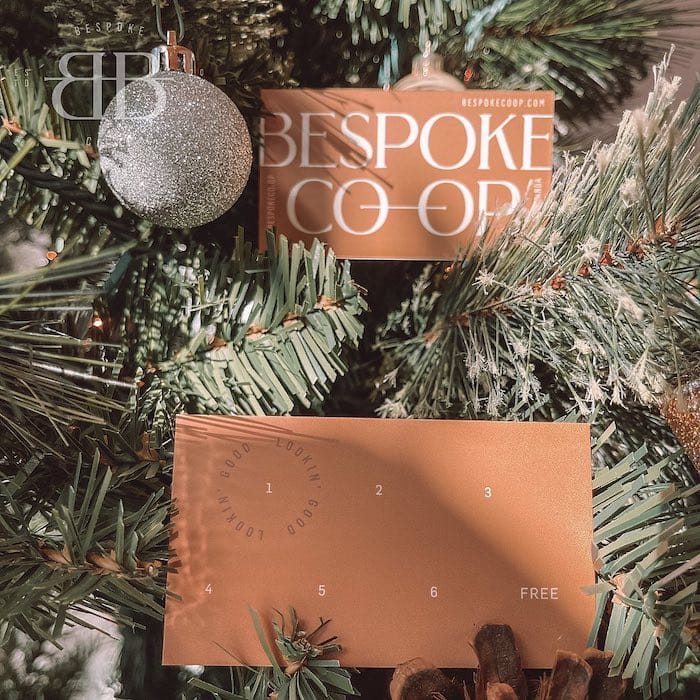 "Client experience is of our utmost priority. We have a lot of regular brow waxing clients, and to express how much we value them, we had Brow Waxing Loyalty Punch Cards created by our graphic designer and friend, [Myan Duong]." For these minimalist Loyalty Cards, space was of the essence. Playing with a mix of modern serif and sans serif fonts on a warm brown background, the cards reflect flawlessly the mission of the salon – perfectly shaped, perfectly colored eyebrows. "We love how crisp and readable the tiny numbers and letters come out. The smoothness is also our favorite thing about these cards. They are fun to touch and are super easy to write on as well. "
Lucy's Logos: goldilocks 2.0
British creative studio Lucy's Logos focuses on logo design and brand identity. Lucy is a big hit with beauty, fashion and lifestyle brands alike, from nail bars to pet apparel and candy shops. Her unique designs convey a strong sense of brand identity, and make great – and highly instagrammable – conversation starters.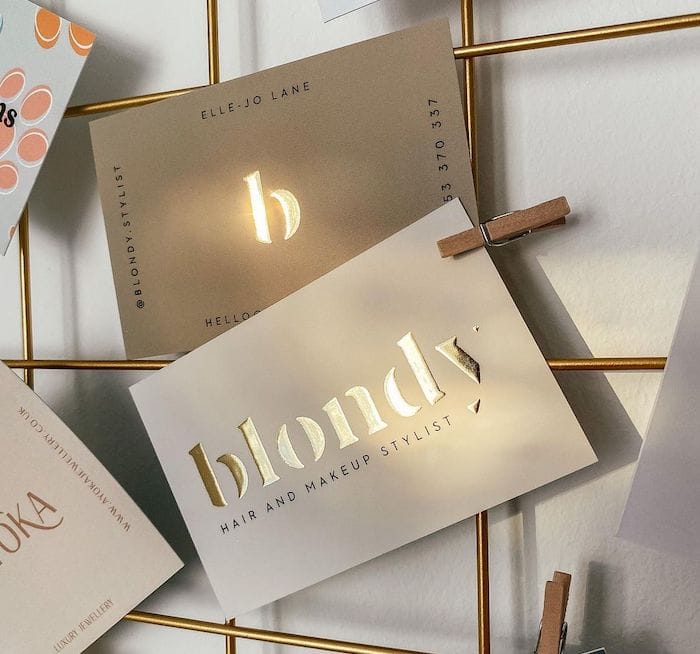 For hair & makeup stylist Blondy, the design whizz embraced the reference with a Gold Foil finish that would make goldilocks green with envy. "Foil is the perfect little addition to any small print to give it that extra luxury feel." She chose a sandy blond background to highlight the bold, stencil-like gold font on the hairdresser's Business Cards, another clever reminder of Blondy's specialty.
Social Collective Agency: eye candy
Based in Naples, the Social Collective Agency specializes in all-things content, from social media management to website design and brand strategy. Whether she goes for minimalist aesthetics and muted palettes or bright colors and playful compositions, founder Giorgia thrives on telling brands' stories through design.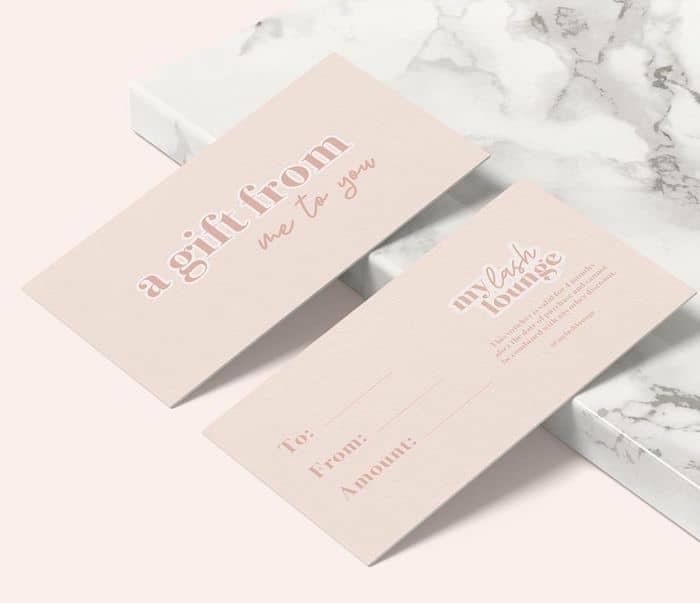 For My Lash Lounge, she used MOO's MiniCards as lovely mini gift cards. Playing with a range of soft shades, Giorgia used white space to highlight the logo in a subtle yet eye-catching way. But there's more: the brand took gift vouchers to the next level with irresistible packaging. Wrapped in a transparent, branded bauble and decorated with a satin bow, the MiniCards sit amongst petals and chocolates for an extra-special treat.
Blush by Ella: pretty in (dusty) pink
British makeup artist Ella Walters is the brains (and hands) behind Blush by Ella – but the beautician is not just great at making humans look pretty. The multitalented MUA also designed her very own Business Cards. Cosmetology is just the tip of the iceberg! "I really fell in love with branding last year and I've noticed how much difference it's made to my business. Working in such a competitive industry, it really is the little things that make people remember you, and I never thought a business card could so perfectly showcase my business and its vibe."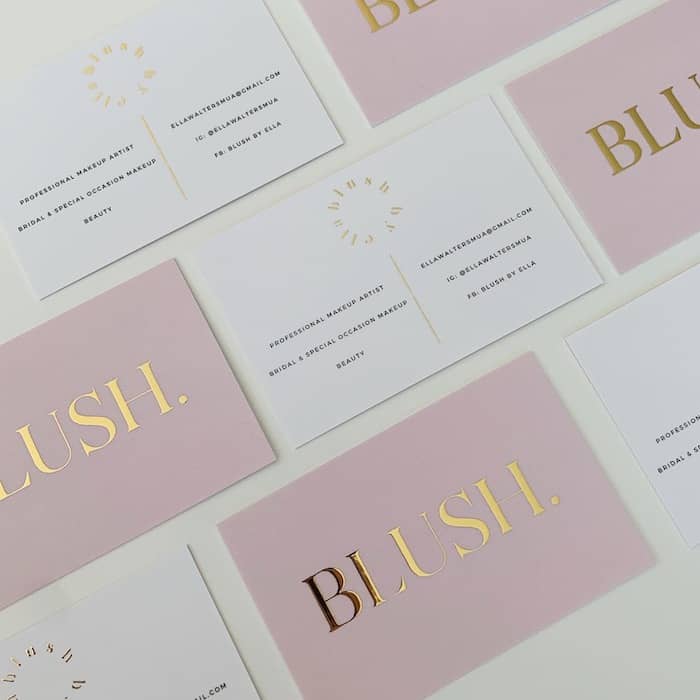 Ella approached her beauty Business Card design like she would do a makeup gig. Combining a beautiful dusty pink background with an elegant Gold Foil finish, she painted her brand story in just a few simple strokes. "When potential clients come across your business cards at bridal fairs, local coffee shops, or steal them from their friends after a recommendation, your cards introduce your business before you get the chance to. So I opted for all of the glam because that's exactly what my business is all about! And I mean, who isn't obsessed with Gold Foil?"
Beth's Branding Co: sky high
Founder of Beth's Branding Co Beth Stefanczyk is committed to designing unique branding that makes businesses look the part – many of which happen to be promising beauty brands. From business cards for beauty salons to hairdresser stamp cards, Beth sees every project as an opportunity to let brands shine through.
For The Skin Genie, she designed a range of marketing materials to showcase the business' fresh branding with Square Business Cards, Round Stickers and Gift Certificates. Combining bright white and a light sky blue, the branding conveys a sense of trust and expertise, which the illustrated icon and the curved, swirly font complement nicely, reflecting the playfulness of the brand.
Beth's Branding Co: minimalist glory
When it comes to beauty, if Business Cards are important, price lists are an absolute must-have. For The Nail Room by Danae, Beth used long Postcards to print her treatment list design. She achieved the perfect balance between minimalism and warmth by marrying a muted color palette and modern sans serif type to a lovely handwritten font.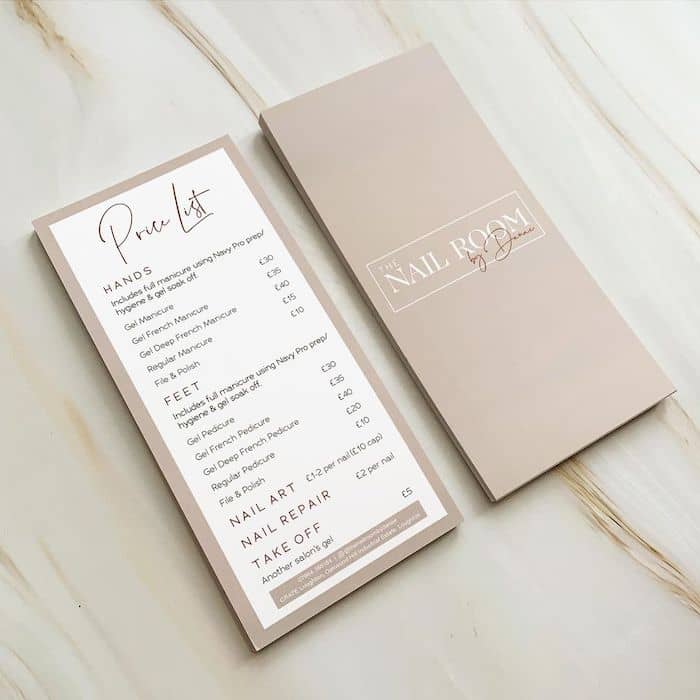 Feeling inspired? Get your brand out there with MOO's range of custom marketing materials.
Keep in touch
Get design inspiration, business tips and special offers straight to your inbox with our MOOsletter, out every two weeks.
Sign me up!