Meet the Perpetual Planner
It's here to help you get stuff done, however you like to plan.
Sure, you've probably got a calendar app on your phone. But we designed the Perpetual Planner to make planning feel more of a "Let's do this!" kind of a thing. Something real. Something physical. Something that included a shiny metal Calendar Clip. 
It's based around the best parts of our Hardcover Notebooks. So you'll enjoy the same smooth, quality paper and tough cloth cover. Plus the lay-flat binding means flappy pages won't get in the way of your plans.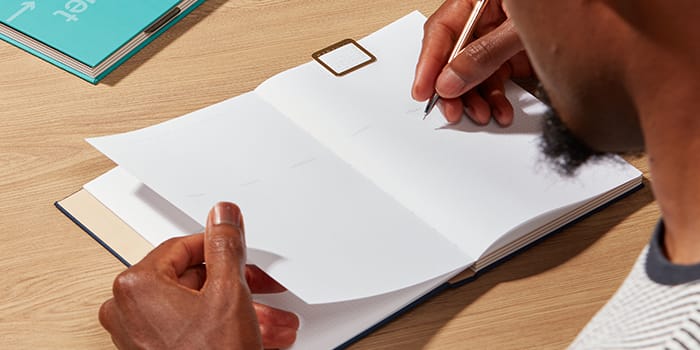 No dates or limits
See how it's got no dates or years? That's so you can start and finish it whenever you like. Take a break then come back fresh to a project. It means there's no gaps or wasted space, and you don't have to buy a new one every January.
And because everyone likes to plan differently, we've kept the layout nice and flexible. So there are dots instead of lines, essentials like the days of the week – and just enough structure to keep things neat. You can plan what you like, when you like.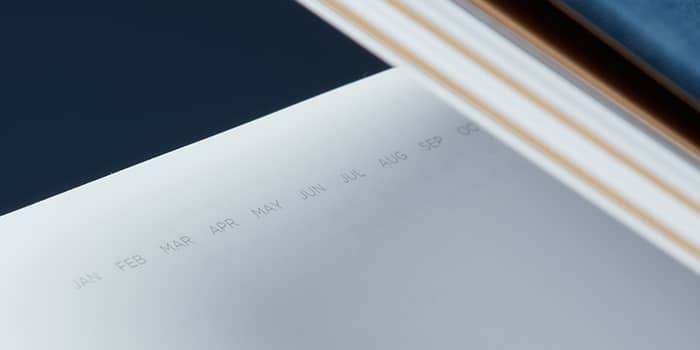 Handy and helpful
The Calendar Clip works like a bookmark… but it also gives you an overview of the month you're in. Just slide it to match where the days fall. We got the idea for it from looking at old brass measuring tools, and it adds a nice, tactile element to the planner.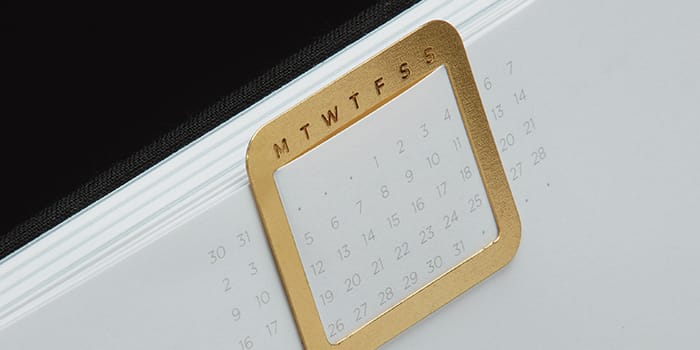 We've also included three sections of color pages. These feature a mix of grids and lines. You can use them for sketching, lists, 3D drawings – anything you like. The idea's to give you a break from the weekly pages, and let you reflect on all the things you've done.
Dream it. Design it.
The Perpetual Planner's also customizable – just like our Hardcover Notebook. So if you're a team who likes to plan together, or one that simply enjoys matching stationery, you can brand it how you like.
Basically, our new undated planner's for anyone who's got a dream. Whether that's to run a marathon or run a business. It's about taking that first step.
The Perpetual Planner's available to order now – and it's ready to customize, too.
Keep in touch
Get design inspiration, business tips and special offers straight to your inbox with our MOOsletter, out every two weeks.
Sign me up!