Leaf Envy plants seeds for new growth and sustainability
This plant store stays committed to sustainability while making botanical-filled spaces accessible.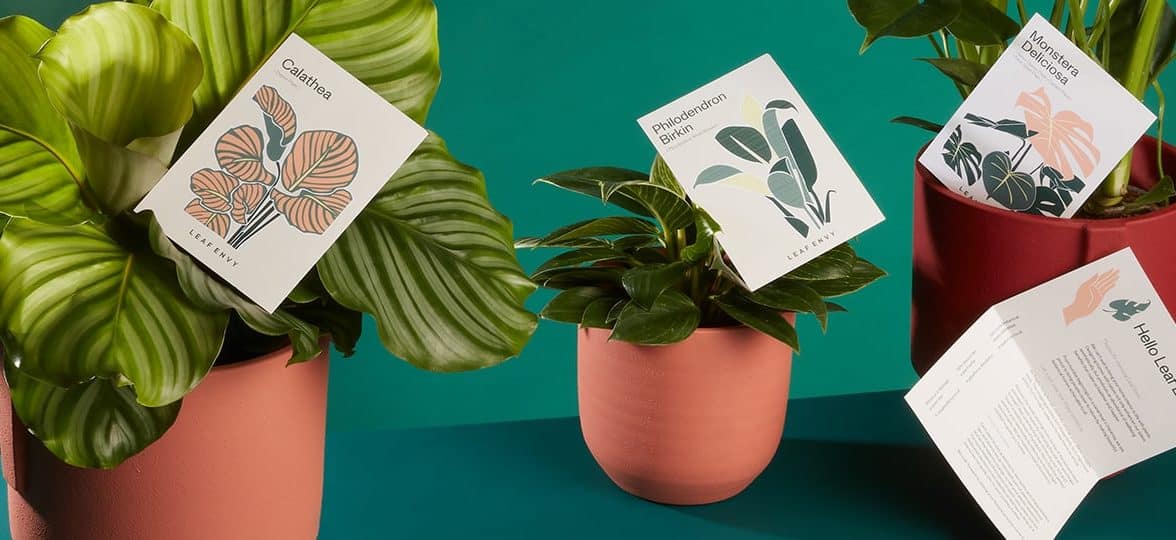 As the online plant store Leaf Envy looked for a sustainable way to share care info with its customers, MOO's Cotton Postcards made for the perfect partner in growth.
About Leaf Envy
The UK-based, online plant store Leaf Envy has a clear mission: connecting people with nature by bringing spaces to life with plants. When founder Beth Chapman first set out to make beautiful botanical homes achievable for everyone, she also wanted to put sustainability at the forefront of everything the brand does. That's why for every purchase, Leaf Envy plants a new tree and has committed to shipping every product in 100% recyclable packaging.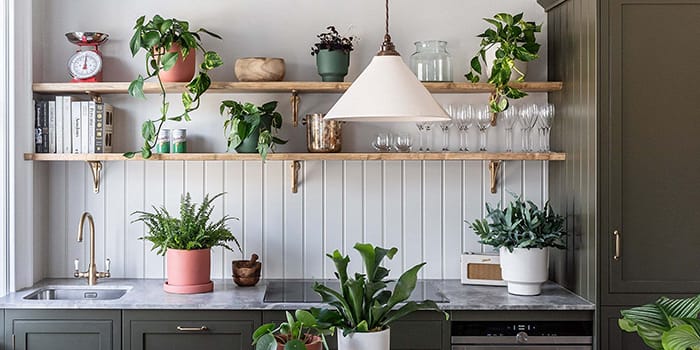 After first opening at a floating pop-up shop on a boat along Regent's Canal, the budding company was ready to virtually lay down its roots. Leaf Envy moved online, opening up a shop that could serve as the go-to spot for plant collectors, stylists and enthusiasts. As of today, Leaf Envy offers a wide collection of unique plant species and bespoke pots in addition to a monthly subscription box.
The challenge
After transforming her own apartment into a foliage-filled retreat, Chapman quickly discovered just how difficult it was to navigate the world of plant care. As Rachel Simmonite, Operations Manager at Leaf Envy explained, although caring for plants can be beneficial for customers' health and homes, like any act of love, it often involves some hard work.
During the early days, Chapman used to share all of her plant-specific knowledge through Instagram and word of mouth. Once the store grew out of its original retail space, however, it was time to find an even better way to spread what the team describes as the "Leafy Love."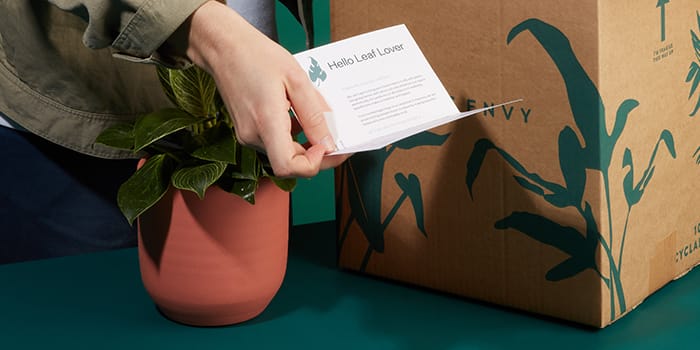 Leaf Envy needed a sustainable way to share details on how to take care of each of their offerings as well as whether the plant is pet-friendly and which pots it can be stored in. Initially, the team did this by creating a detailed page on the website for each plant. Vital care information such as water, light and humidity requirements as well as "sad plant signs" were added to the online storefront.
As Simmonite said, Leaf Envy was ready to take its mission a step further. The team wanted to make plant care even more accessible by bringing the instructions directly to their customers' homes through detailed, physical inserts. As a company that is committed to our planet and future, however, Leaf Envy knew it needed a superior solution that was equally sustainable.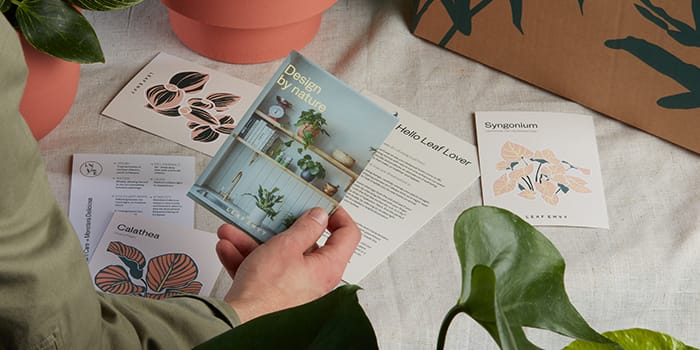 The solution
"We wanted an option that was high quality but also matched our sustainability promise," shared Simmonite. "MOO offered us the recycled Cotton Postcards that were the perfect uncoated texture, finish and color."
As a MOO Business Services member, Leaf Envy is able to access the Cotton Postcards that are not available through the standard MOO website. MOO's Cotton Postcards are made from 100% recycled T-shirt offcuts from U.S. manufacturers — a material that would usually get thrown away. As a result, the inserts that Leaf Envy ships with every package are completely tree-free.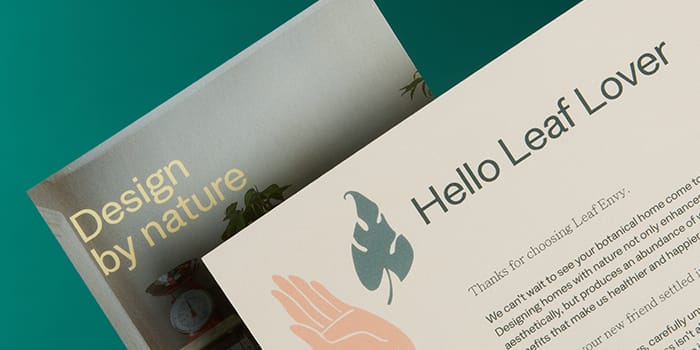 Not only do the Postcards help Leaf Envy stay true to its commitment to sustainability, but each is also subtly textured and uncoated. This makes it easy for plant lovers to write any notes or easy-to-forget details such as the last day they wanted their favorite foliage.
Every insert also features artwork of the plant that's just been purchased thanks to Leaf Envy's own in-house Marketing Graphic Designer, Adrienne Moura. Moura's hard work ensures each insert features a bold illustration that is lovingly crafted and highlights the beauty of every plant. So, while the Postcards serve as an informative guide, plant owners and botanical enthusiasts can also proudly display each as a mini piece of artwork around their home, whether it's on the fridge or near the windows their plants live beside.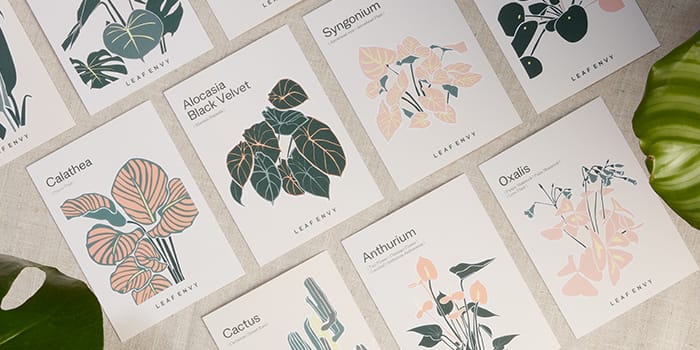 Results
Now, Leaf Envy ships each package with beautiful, sustainable inserts that show customers exactly how to take care of their plants.
"Our customers are loving the cards," noted Simmonite. "We wanted to make it easy for our customers to collect, keep and learn about plant care knowledge — designing and printing a care card for each species was the answer. We think these inserts provide an extra special touch for our customers and help us to stand out from other plant brands. We've even had TrustPilot reviews that specifically mention the cards!"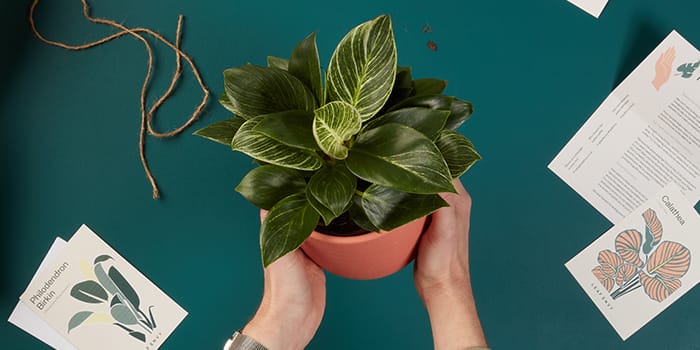 In addition to touting an "Excellent" score on TrustPilot, Leaf Envy's customers have provided glowing feedback on the site when it comes to the new care cards. The reviews call out not only the clear attention to detail that goes into each plant's packaging, but also how useful it's been to have the physical printout of care instructions whenever needed.
While the inserts have already been well-received, as Simmonite concluded, the team at Leaf Envy still has plenty of budding ideas for different ways to share their love for both the planet and plants.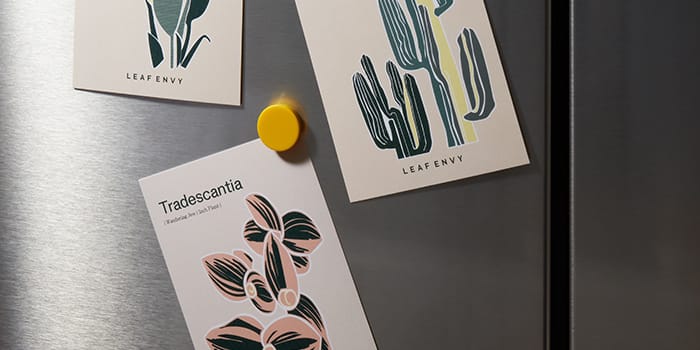 "We've had a few ideas about how we can make more out of the care cards. The finish and illustrations are such good quality, we think they should be displayed in the home! Who knows — maybe you'll see a range of framed care cards coming out in the future."
Looking to water your own roots? To learn more about how a Business Plan with MOO can help sustain your brand and the planet, check out our business printing services.

October 2022 update: This article references the way we used to make Cotton Business Cards. We now use a different process.
Keep in touch
Get design inspiration, business tips and special offers straight to your inbox with our MOOsletter, out every two weeks.
Sign me up!