Standing out from the crowd with corporate identity design
Corporate identity design can make or break your business. Here's how.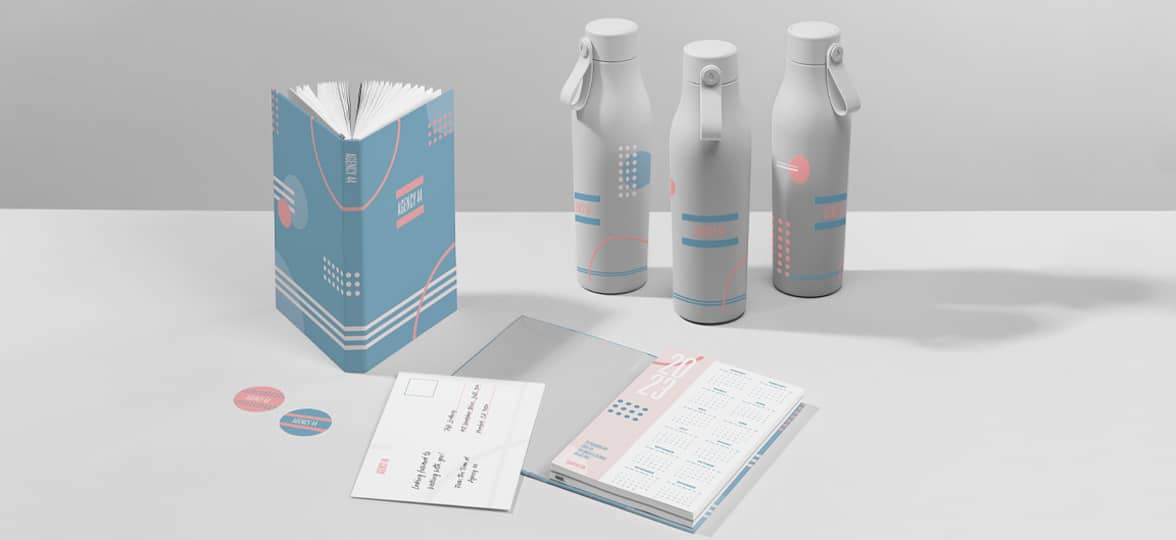 Nike, Coca-Cola and Apple. Three very different companies unified by one common denominator: a strong corporate identity.
Take Nike, for example. When you read a brand name like that, chances are you instantly imagine the company's swoosh logo design. As a visual representation of Nike's corporate image, it plays an important role in the company's overall brand strategy — and yet, it's just a small piece of the puzzle.
The truth is there are many other factors to consider when it comes to corporate identity design. But the good news? We've put them all together right here so you can take your strong brand personality to the next level.
Read on to learn everything you need to know about expressing your brand identity through visual communication, marketing materials and graphic design assets.
What is corporate identity?
Corporate identity — also known as visual identity — encompasses visual assets that represent your entire organization. This includes everything from website and logo design to your social media and marketing collateral.
Basically, corporate identity design ties the entire company together with one consistent look and feel. Think of it like a common thread that customers follow to better understand your business.
Okay — but what's the difference between corporate identity and corporate branding? Aren't they one and the same? The short answer is no, although those phrases are often used interchangeably.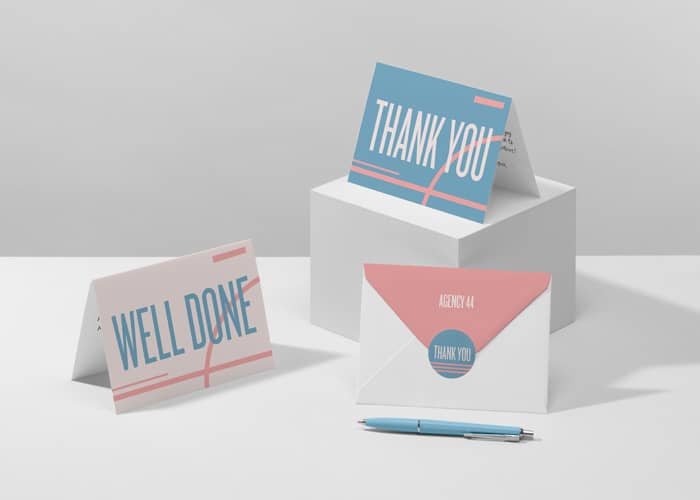 Corporate branding vs. corporate identity
Corporate branding refers to the relationship between customers and your brand. More specifically, it's about managing how the public feels about your company. Do they associate your brand name with luxury? Or, do they consider you a pioneer in your industry? Or — and we hope that they don't — do they imagine a bad experience they had in the past?
Think about it like this: Your brand is how people talk about your company when it's not in the room. Hopefully they're saying nice things, but the truth is they could just as easily say something you wouldn't want spread around town.
Corporate and/or visual identity refers specifically to using visual communication to shape your public perception. It's a specific, conscious decision to visually change how people see your brand (sort of like trying a new style or getting a makeover). For instance, revising your company slogan or switching up your color palette are all corporate identity design choices.
Why does corporate identity matter?
Believe it or not, corporate image can actually make or break your organization.
How, you ask? Well, let's first consider the advantages of a strong brand design and how focusing on corporate identity can benefit your business:
Boosts brand awareness and recognition: A distinct visual identity is a powerful tool that can supercharge brand equity in the hearts and minds of your target audience. A Marq report reveals that maintaining consistent corporate branding can yield a 10-20% increase in revenue. Simply put, consistent visuals help unify your messaging so customers can instantly recognize your brand name on any marketing channel.
Differentiates your brand from competitors: Standing out from the crowd isn't easy, which is why visual identity is so important. You want customers to instantly distinguish your business from the competition, and branding does exactly that.

Helps people relate to your business: According to 5W PR's 2022 Consumer Culture Report, 71% of consumers read up on a brand's values before making a purchase. A consistent brand design that reflects your company values is key to breaking down barriers and building trust with your audience.

Reinforces your brand personality: Every brand has a personality; an embodiment of who they are and how they behave. Some are fun, lighthearted and silly, while others are buttoned-up and serious. A well-crafted corporate identity can support your brand personality and help the public perceive your company according to your strategy.
A well-crafted corporate identity can support your brand personality and help the public perceive your company according to your strategy.
Now, consider the flip side. If a company's look and feel doesn't match how the brand operates, it can negatively impact how customers understand it. This may lead to mistrust and confusion among the target audience, not to mention public embarrassment for the brand.
For example, Uber redesigned its corporate identity in 2016. The company ditched its black-and-white 'U' logo design and adopted a new icon with a different color scheme. The problem? The redesign didn't reflect the company or its values. In fact, many claimed it had a crude resemblance to a certain part of the human body. After two years of criticism, Uber reworked its brand image again. This time, the company returned to its classic black-and-white visual identity (and it's stayed that way, to date).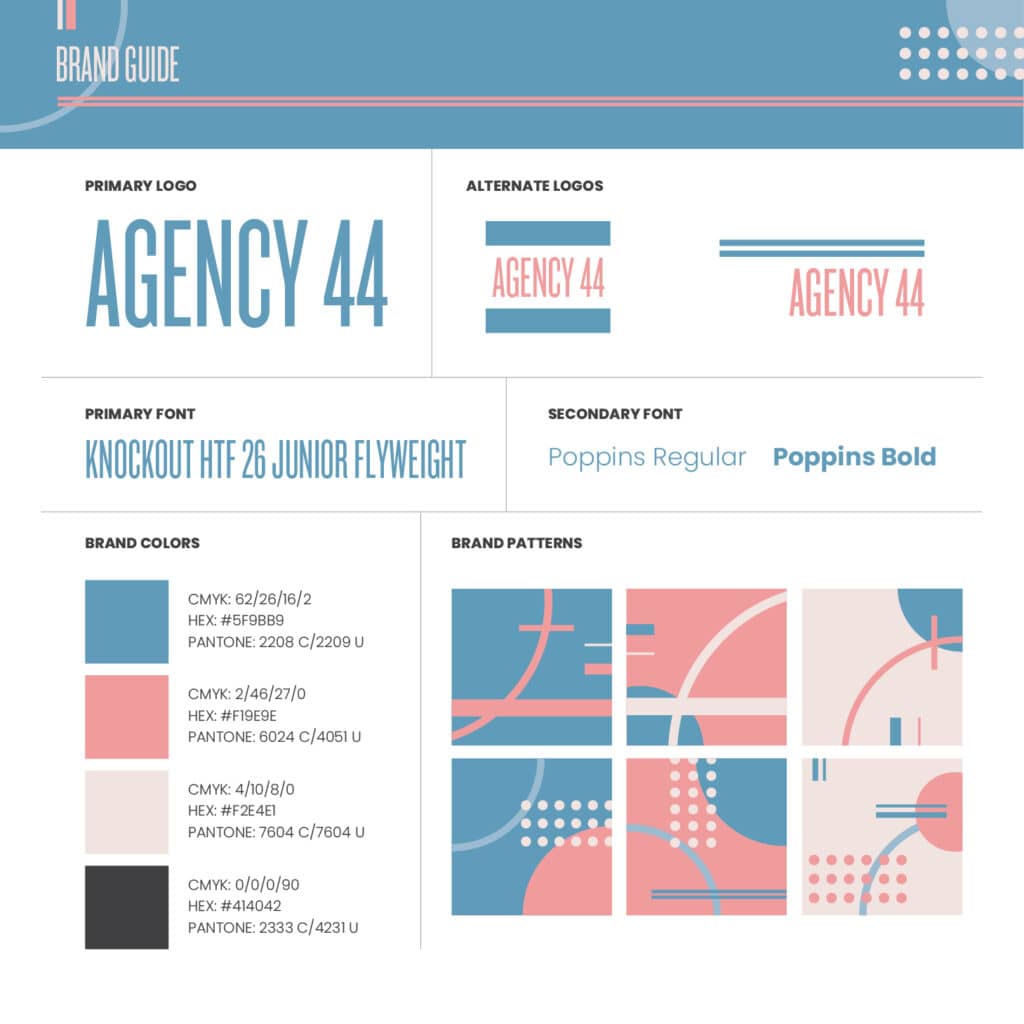 The 4 key design elements of any corporate identity
Building a great visual identity boils down to including an essential handful of corporate design elements. Each one is just as important as the last, as all of them play a major role in executing your visual brand strategy.
1. Logo design
Logos are perhaps the most fundamental corporate identity component. As a literal visual representation of your business, your logo design should help customers identify your brand name at a glance. That said, don't overthink it. According to Rachel Rodgers, our Head of Design Services based in Denver, Colorado, "more often than not, the best logos are the simplest ones."
2. Typography
Yes, even the font matters. Every detail — from the line weight and curvature to the spacing between every character — can change how your audience perceives your messaging. The typeface itself is important, but so is the shape it creates, according to Rodgers. 
"If you have a wide, extended font that creates a long, horizontal shape, consider a second variation where the words or logomark become stacked vertically," she says. "This way, you have lockups to choose from depending on the format in which they're being used."
Keep in mind that every font has a different connotation, so it's best to do your research and learn which ones appropriately reflect your visual identity.
3. Color
Color is a powerful thing, especially when it comes to corporate branding. Your color palette choice can significantly influence how a potential customer perceives your brand. For instance, did you know that up to 90% of purchase decisions are made based on color alone?
"It's also important to choose colors that convert effectively between different color modes, like CMYK and RGB," Rodgers adds. "While neon orange might make your brand pop on screen, that color simply cannot be achieved on paper with digital printing."
However, choosing a color palette isn't easy. Take time to carefully consider how color relates to your visual identity. We recommend looking for inspiration from brands you'd like to emulate, then thinking about how certain colors psychologically influence your audience.
4. Form/Shape
Lastly, consider how form (or, more simply, shape) impacts your corporate design. It may be a subtle distinction visually speaking, but, in terms of psychology, it can make a world of difference. Round shapes generally create a sense of warmth and unity. Shapes with hard edges, on the other hand, are associated with strength, stability and trust.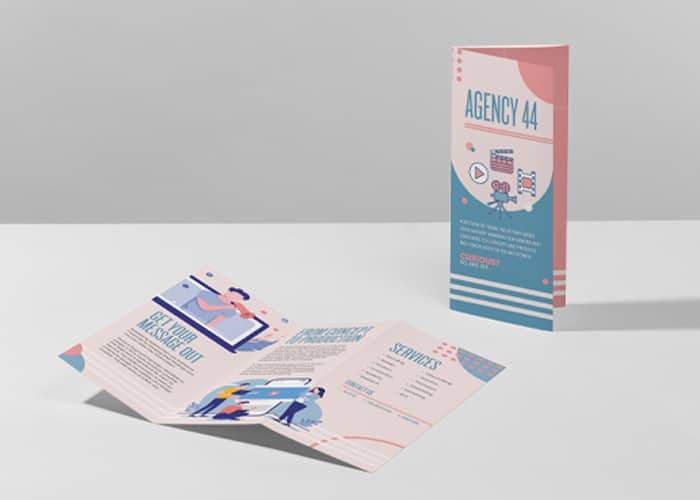 Developing your identity with design assets
A great way to get the ball rolling when building a strong brand identity is to develop custom design assets. Remember: Visual identity encompasses everything that visually represents your company — marketing materials included. So, why not start there?
There's ample opportunity to align your marketing collateral with your brand strategy if you haven't already done so. Let's say you want to make a great first impression with a prospective client. That's where a Business Card is your best friend. Simply put, the weight of a well-designed card is something people will remember. Plus, it's an impressive start to a (fingers crossed) even more impressive partnership.
Okay – but then what? How do you follow up on a first impression? One way to do it: Print your follow-up communication on custom Stationery or a branded Postcard. When clients receive these items, they'll know right away who they're from and what your brand is all about. Not only might they have your logo, but they'll align seamlessly with the rest of your visual identity.
Next, it's time to think about your existing customers. What better way to thank them for their business than with a meaningful gift? Promotional Products and Notebooks are two great ways to show appreciation for your customers and build a long-lasting relationship.
Each of these design assets are an effective way to visually communicate your brand. Not sure where to start? Here are a few best practices:
Create a style guide that sets the parameters for your designer to work from. This ensures everything stays on brand and according to your corporate identity.

Know your audience. Always consider what assets your customers would enjoy or find useful and design them with purpose. Consider polling your audience, holding focus groups and conducting market research to understand how people feel about your current design.

Keep an eye on your corporate identity. Consistency is key, so make sure no marketing collateral and design assets deviate from your brand strategy.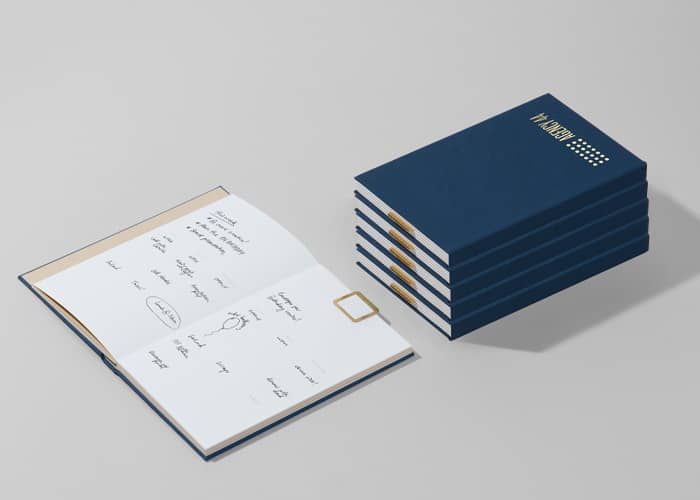 Here's what MOO can do for you
Don't worry: You don't need to be an expert designer to reap the benefits of a solid visual identity. Many businesses simply don't have the resources for an in-house design team, and even fewer have the know-how to do it on their own.
That's where MOO comes in. When you partner with MOO, you gain the support of our team who can help you with everything from aligning marketing materials with your visual identity to branding your internal onboarding items, or even a full design rebrand if needed. With our in-house design expertise, you can rest assured that your corporate identity is in good hands.

Best of all, you retain full control over your brand with a centrally managed platform where you can upload templates, allow people within your business to order products and receive consistent support from a dedicated account manager. With MOO's business printing services on your side, you can wow your employees, customers, and clients with premium products, including Business Cards, Stationery and more.
Ready to boost your brand identity? Fill out the form below to speak with an Account Manager.
Keep in touch
Get design inspiration, business tips and special offers straight to your inbox with our MOOsletter, out every two weeks.
Sign me up!