Building the Indiegogo brand, one customer story at a time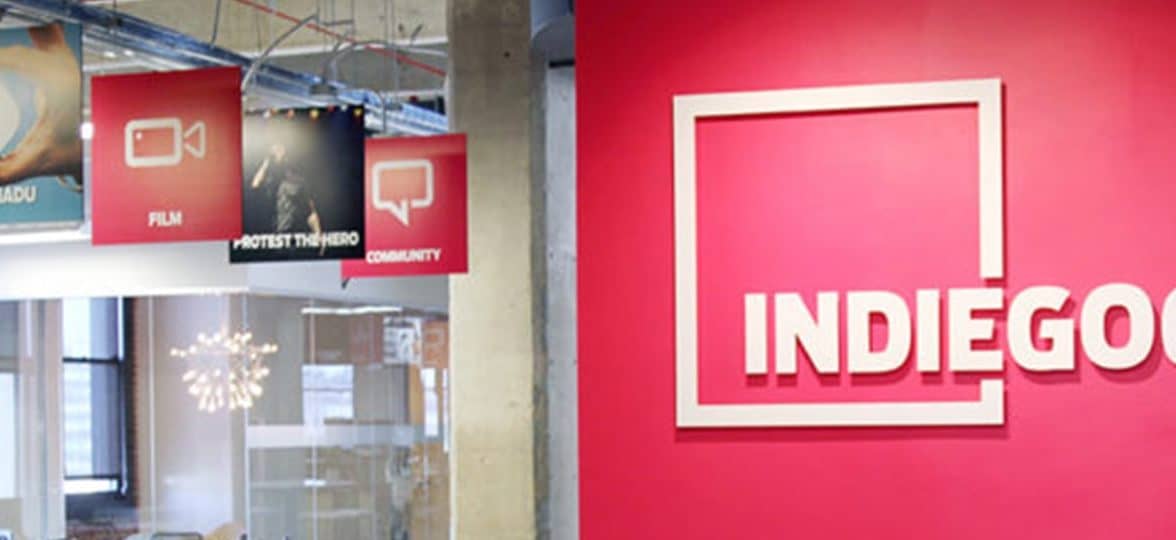 Every idea should have its shot, and every creative should have their moment. That's the principle that Indiegogo was founded on in 2007, and years later, the crowdfunding platform has helped entrepreneurs all around the world turn their ideas into reality. We chatted with Erica Labovitz, Indiegogo's head of integrated marketing, about how they got their own start, and why they keep customer stories at the center of the business model and brand.
How Indiegogo got its groove
When Indiegogo launched back in 2007, the idea of crowdfunding was virtually nonexistent. "It just wasn't a word that people used yet," Labovitz says. "All funding was done through venture capital firms, bank loans, or donation." But much like the way a then-young PayPal would change the way people managed money online, Indiegogo was soon to catalyze a transformation of how startups found investment.
As funders and company founders warmed to the concept of cash coming not from one or two major investors but from a crowd of micro-investors, competitor platforms began to sprout around the web. Still, Indiegogo held its ground with a few unique points.
"Historically, we were the only open platform, meaning that we have no application process for campaigns," Labovitz explains. (Other crowdfunding platforms have restrictions on the types of projects accepted.)
Indiegogo is also global, with campaigns in 223 countries around the world. "We've always stayed true to our mission to allow anyone access to capital, and have remained open to all types of projects that meet our terms of use," Labovitz says.
Community is central to the brand
Campaigners and funders have come together to accomplish a range of amazing things — from uniting to help the nation of Greece with its immense debt, to raising over $4.5 million to bring Super Troopers 2 to the big screen. These campaigns changed the personal funding landscape and got people thinking about just how much can be accomplished through the power of crowdfunding. "It's impossible to say which is the most successful, since success is about a lot more than funds raised," Labovitz says, "but we've had tons of memorable campaigns over the years."
In 2014, Indiegogo underwent a comprehensive rebrand and the team decided to make its community of backers and project owners the focus.
"Our customers have always been central to what we do."
Today, stories of the incredible projects funded on Indiegogo are threaded throughout the company's marketing materials, from its website and newsletters to social media channels. The team even took storytelling onto its business cards, using MOO's Printfinity tech to showcase a different, awesome customer story on the back of each business card. That means employees can pick and choose the right featured story for the person they're going to meet — say, Super Troopers 2 for the media executive in Los Angeles, and Ubuntu Edge for the technology campaigner in New York City.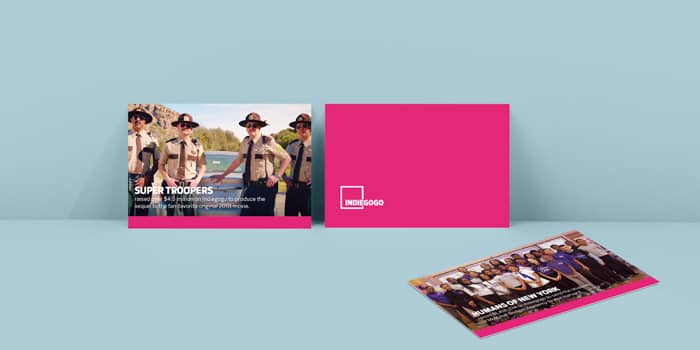 "It's a nice opportunity for us to share our entrepreneurs' stories when we meet people in person and tell them about the impact Indiegogo is making," Labovitz says. "It's been a big hit!"
A culture of customer support
The appeal of Indiegogo also lies in its commitment to the customer experience — and that's something that continues to evolve every day. "We are always developing product features to improve the process for both campaigners and backers," says Labovitz.
To that end, the company introduced a campaign strategist team, making Indiegogo the only crowdfunding platform that works directly with project owners to bring ideas to life. It has formed partnerships with major retailers including Arrow Electronics, Brookstone, Newegg, and Target to help get new products on the shelves. It also provides online resources to help campaigners launch and market their projects, and constantly refines its platform to make it easier for backers to find campaigns they'll love.
"Now, we are really setting ourselves apart by being the best partner for entrepreneurs throughout their entire journey of bringing a product to market," Labovitz says.
Bringing ideas to life is what Indiegogo is all about – which is why the Indiegogo brand story is so tightly weaved with the stories of its users and the projects they're passionate about. "Our customers have always been central to what we are doing at Indiegogo, and we want to showcase them in any way possible," Labovitz says.
---
Tell your brand story with MOO Business Services
At MOO, we've been helping people make their mark in the world with amazing quality print products for over a decade. And as our customers have grown, so has our service offering. That's why for bigger businesses—with 10+ employees—we now offer MOO Business Services. It's MOO + benefits. MOO Business Services combines dedicated account management with an easy online ordering platform and expert design services. It's a complete package for businesses to give you more brand control and consistency—while saving you time, stress, and money in the process.
Fill out the form here and a friendly Account Manager will reach out to you.
Keep in touch
Get design inspiration, business tips and special offers straight to your inbox with our MOOsletter, out every two weeks.
Sign me up!