Townske lives la vida local
We're on a mission to find out all the wonderful ways you can turn your passion into a full-time business. Founded by Sydney-based Dan and Joe, Townske is a new social media platform that allows people to share and discover city guides in a super easy and visual way. We shared a cold brew with Dan and grilled him about their story so far.
Where did the idea for Townske come from?
We were visiting NYC for the first time and, like any Australian, we wanted to find good coffee. We couldn't! So we went on a mission to find the best coffee spots all over the city. We found that good coffee did exist, but the apps we were using were too complex and time consuming. Most people don't have the time to do this, they just want to know the places that are right for them – quickly.
So we started to design the platform we wanted to use. Finding amazing cafes really enriched our NYC experience and our trip was so much better as a result.
How do you see it competing against established travel guides?
Competing products didn't meet our needs for getting to know a city. We found that the problem with review sites was that you didn't know who was giving the review and an opinion is only relevant if you trust the person who is giving it. This is one of the key problems that Townske is going to solve and one of our differentiators.
How has the development of Townske been funded so far?
Currently we're self funded through our established e-commerce company –rushfaster.com.au. So we're not actively looking for funding at the moment. Instead, we're focused on proving our assumptions and building a great product. Once we've done this, it's in the business plan to raise capital.
As well as the launch, what are your plans for Townske over the next 12 months?
We will be looking for investment when we can prove our business model assumptions. We're close to much of this. We're also talking with some big brands about partnerships. Right now we're building a solid team, iterating through product designs & working on the App which will come out soon.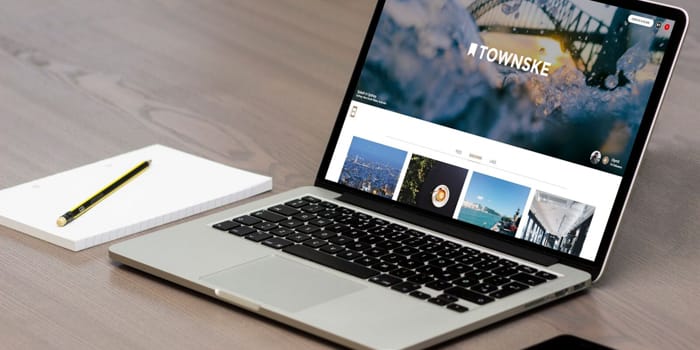 What is Townske's mission – what are you out to change?
We will cut down the time people spend researching their holidays and improve the experience they have. With Townske, people can have much better holidays and far richer experiences within their own cities. We want to help people have fun and feel like a local in any city in the world.
Are you setting up a business? If so, what are you on a mission to change? Tell us in the comments below!
Keep in touch
Get design inspiration, business tips and special offers straight to your inbox with our MOOsletter, out every two weeks.
Sign me up!