A recipe for a successful business
Victoria Eggs, a British-themed homeware designer, is the true definition of an entrepreneur. She found her niche, self-funded her business and is just about to take on her first employee. So, what's her recipe for success?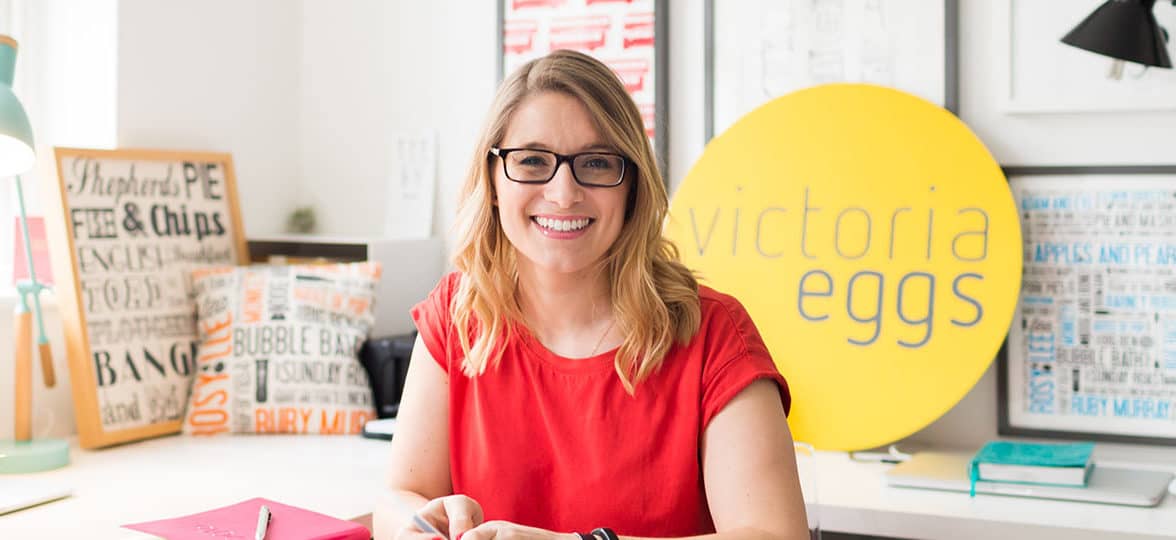 Victoria Eggs, a British-themed homeware designer, is the true definition of an entrepreneur. She found her niche, self-funded her business and is just about to take on her first employee. So, what's her recipe for success?
Victoria Eggs is one of the most ambitious entrepreneurs you'll meet – she also happens to be just as nice as she is ambitious. If we were to describe her by her name, she's most definitely sunny-side-up.
From Cockney-themed tea towels to an English-dinner-themed apron, Victoria's award-winning, whimsical products are sold globally and have also been featured in magazines closer to home, such as Elle Decor, Marie Claire, and House Beautiful.
We sat down with Victoria to find out how she manages to stay focused while steadily growing her business on her own—and of course, how it all began.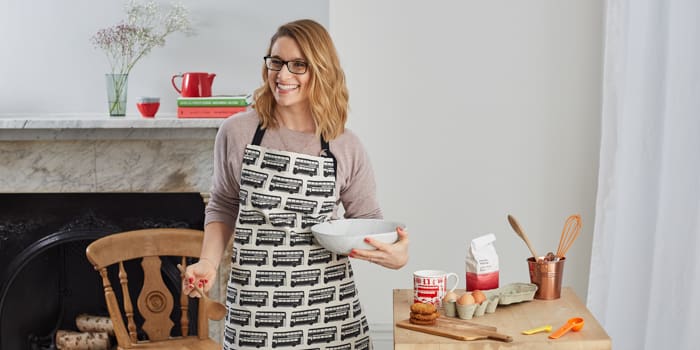 How did you find your niche designing British homeware?
I was designing for Ben Sherman in Australia, working on iconic British patterns like Brighton Beach. Naturally, over time, I built up a portfolio of designs that weren't really suitable for Ben Sherman, but being away from home, the designs tugged on my heartstrings. Even the simplest of designs like a cup and saucer just felt so nostalgic and iconic and I knew I wanted to do something with these designs.
When I came back to London in 2010, I had a choice to find a job—any job, or start my own business—and starting my own business was something I've always wanted to do. It needed to be something creative, that also combined my love of project management. And that's when I decided to take the plunge.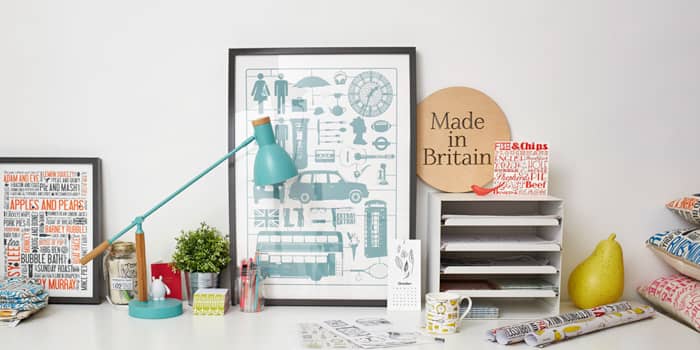 What inspired the heart of your brand?
It's always been a British-inspired brand designed to celebrate my love for all things British through nostalgic, fun and playful patterns.
As time went on, it seemed only fitting and right that the products were made in Britain, too. So, the brand has now evolved to a place where "Made in Britain" is the core of the brand as much as—if not more than—the inspiration behind the design.
How did you fund your business when you were starting out?
It's been completely self-funded – which is why it's grown at a slower rate compared to a lot of businesses – there's been no investments.
I was always a real saver when I was younger and worked part time jobs throughout uni. I was always saving up for something and I continued to save while I was living in Australia by working two jobs out there. When I returned to the UK, the exchange rate was in my favour, which was lucky.
I've had a few cash flow issues more recently – it can be tricky when lots of people are ordering products – you don't get paid for 60 or 90 days. My wonderful dad has helped me out with little bridging loans in between and I also have a fairly decent overdraft from my bank when I need it.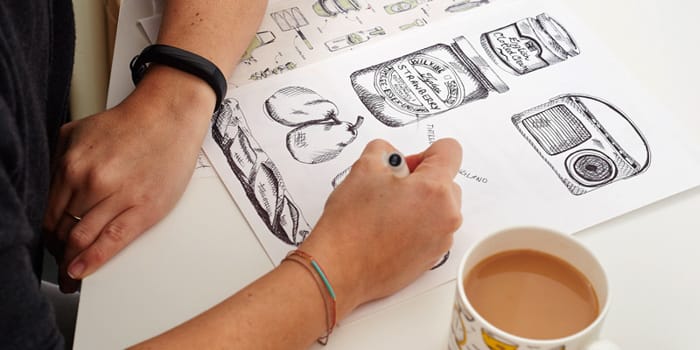 Have you taken on any employees since starting your business?
I'm taking on a full-time sales person which is incredibly exciting! I can't wait for them to look after the customers we've got and to go out and find new ones. This role will help me grow the business in line with the ambitious but realistic targets I've got set for 2017 and 2018.
It's taken me a little while to work out the perfect role for an employee, but now that I've seen where I spend my time and what brings in the money, I think this is the right position to start with.
I have a clear idea of our monthly sales targets and the breakdowns of those targets, along with which retailers and locations we should be focusing on – we'll be able to track and monitor the success together.
When you're self-employed, it can be very difficult to do everything—marketing, sales, managing customers, replying to emails—there's just not enough time in the day, however organised you are and I have to remind myself of that sometimes.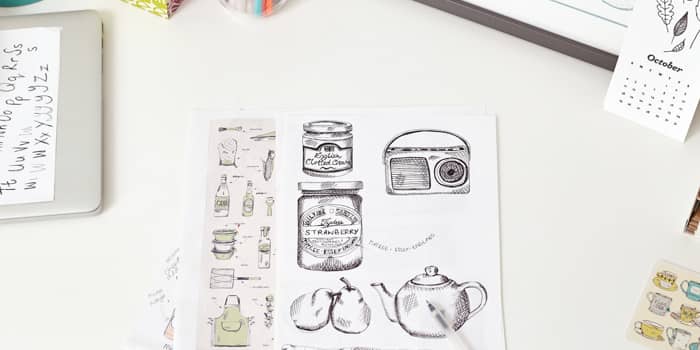 How do you market your business?
I use Facebook and Instagram. I'm a visual person and my products need to be showcased on visual platforms – these channels are perfect for showcasing my brand and product images on a personal level.
I also send out weekly email newsletters to customers along with a monthly email newsletter to wholesale customers.
Are your sales mainly within Britain, or are they international?
I sell products in America – we supply several shops. I also sell in Asia, and Australia, and to expat communities. Basically, to people who simply love Britain and British-ness.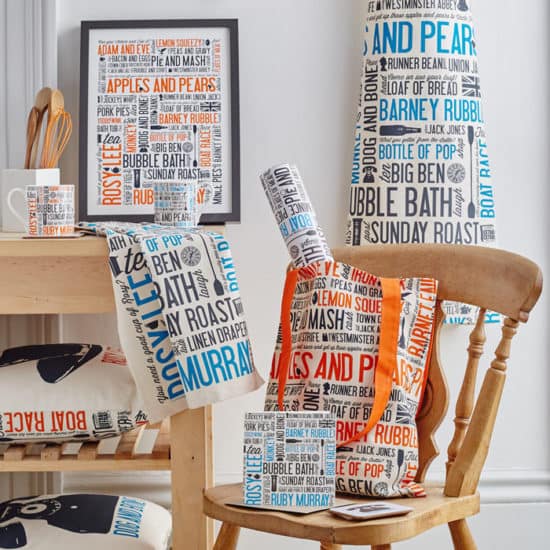 So, how much of your business is B2B vs. B2C?
B2B is about 80%. I've introduced the new sales role so that they can focus on the B2B side whilst I try to boost the B2C side of the business.
I've got lots of plans for the new website, and a whole new marketing strategy which includes email newsletter campaigns, social media advertising, and paper mail outs to customers that have ordered before.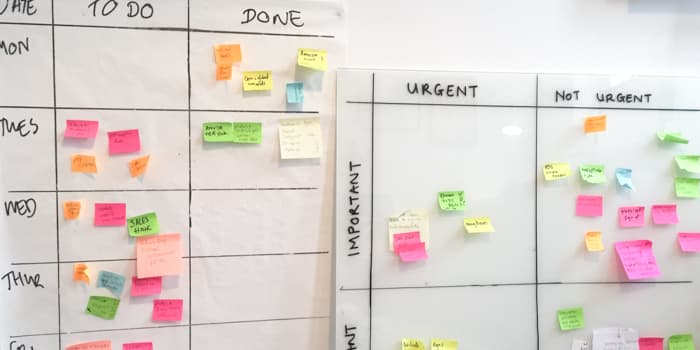 How do you stay organised and focused?
You can get really bogged down in the minutiae—by the emails pinging the corner of your screen all of the time—but I think it's really important to remain focused on that one target you have for that day or week and block your time and focus on things that matter to you, rather than letting other people's priorities become yours.
My "to do" list and "done" list is broken down into a chart that has "urgent/not urgent at the top and important/not important" at the bottom. It's a real life saver!
I put everything on little post it notes—so it's really easy to move and prioritise tasks, unlike a normal list. I have everything I want to do on the left side of the board, and as I'm doing it, I move it across. It's also a really good way to get everything out of your head, and you know you're not scratching around thinking "oh, have I remembered that?"
By the end of the week, I aim to have all the post-its on the right side, it's real visual "well done"—which is nice, because you don't often get a "well done" when you're working by yourself.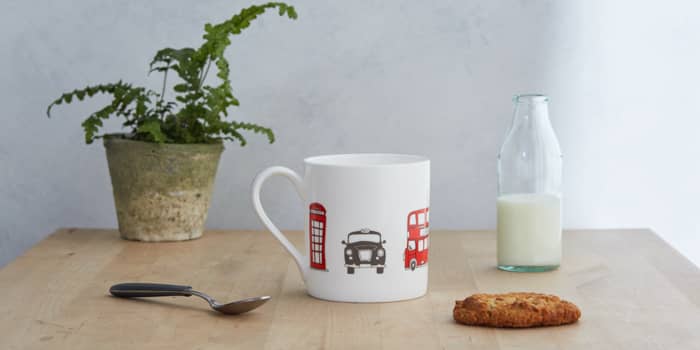 How else do you reward yourself as you typically work alone?
Every time an order comes through and a retailer or customer says "I love your products!" or "We want orders," or, "We want samples"—I give myself a pat on the back and say, "Yeah, OK, I'm doing something right."
And it's so easy—I'm guilty of doing this myself—to always look at where you want to be next month or year, and always strive for that next goal. But it's really important to take a step back to reflect and say "Well done," too. Treat yourself with whatever you feel a nice reward is and make note when you've done something good, and hold on to it for a little while.
Keep in touch
Get design inspiration, business tips and special offers straight to your inbox with our MOOsletter, out every two weeks.
Sign me up!