OFFSET: A new angle on the creative process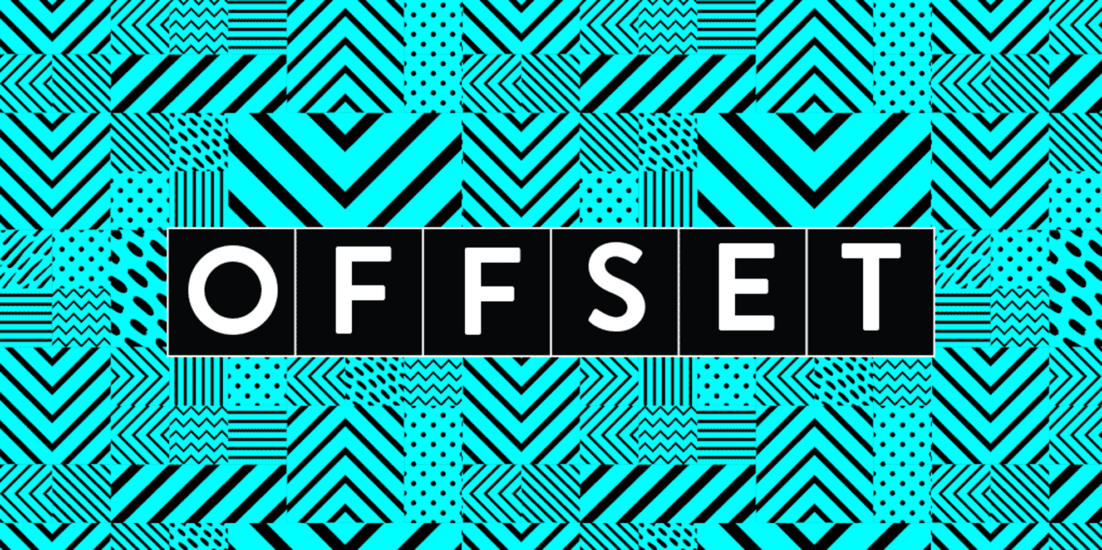 OFFSET is an event for anyone with a love of good design. With a long list of incredible speakers, panel discussions and opportunities for expert career guidance, it's the hot ticket for anyone in the creative industries. We caught up with Lisa Haran, the event's co-director, to find out a bit more about her background – and what we can expect to experience.
Lisa! Tell us about you. What's your backstory?
My training was in Fine Art Printmaking but after college I made the move into the digital world, starting with web design and development and finally into TV design and production.
My passion lies in exploring different areas of creativity, discovering my strengths and learning new skills. Throughout my 8-year stint in television I started to move away from hands-on design work and into a more Creative Director role.
Cue OFFSET.
Although I had been involved in various roles from the beginning of OFFSET, in 2014 an opportunity arose to become a Creative Director as some members of the previous team moved on. It was daunting but exhilarating to have this chance to continue its legacy.
So, for the uninitiated, what is OFFSET?
With over 2,500 attendees each year, Offset has become one of the world's most inspirational, educational and vocational conferences for the design and creative industries.
Since 2009, our amazing speakers have included creative icons like Massimo Vignelli, Sir Peter Blake, Paula Scher, David Carson, Milton Glaser, Kyle Cooper, Stefan Sagmeister, Micheal Bierut, Shepard Fairey, Tomi Ungerer, JR, Lance Wyman, George Lois and Louise Fili. Having names like these grace our stages over 3 days is just amazing.
OFFEST a beacon of hope and celebration of creativity.
Representing industry at all levels, our speakers are key disruptors and influencers in their field driving everything from huge global campaigns to awe-inspiring personal projects. We're proud that our stage hosts octogenarian design legends, and illustrators and designers who are breaking into their careers. The mix is intoxicating.
How did the idea for OFFSET come to be?
Bren Byrne, my co-Creative Director and one of the founders of OFFSET, had been producing small scale speaking events for a number of years as well as being an Illustrator and Designer.
Back in 2008 there was a big black cloud over the Irish economy. It touched every industry in the design world and Bren and his partners really wanted to create an event that would act as a beacon of hope and celebration of creativity. We wanted to get people back to being motivated in looking to the future.
They made a decision, quite naturally, that OFFSET should reflect their interests – both professional and personal – in terms of speaker choice, but also in how they ran it. That's at the heart of what we still do – the whole process is like a mirror of the core team involved, and hopefully by keeping it honest in that way it makes it unique.
What's the aim of Offset?
We want to show people how they can look at the creative process in a different way. It's recognising that career journeys are not just about students passing their exams or professionals satisfying clients.
To show people they can look at the creative process in a different way.
You set your ambitions as high as you can, either failing or succeeding along the way but finding a balanced process. What excites us is what the audience is going to do after hearing our speakers. The impact on our creative community can empower people to take risk and push for more interesting projects, to believe in the potential of creativity. That's what OFFSET's all about.
How did it go from just an idea to actual event? What were your main challenges in those early days? Tell me a little about how the festival has grown from the first one in 2009
When OFFSET launched, we had no idea if it would work. We operated then, as now, without a title sponsor and have always invested our own time and money into delivering the event, totally relying on creating an event people would want to buy tickets for.
In many ways, the first 2 years were labours of love. We felt there was a real need for what we were providing, particularly in Ireland. The fact that we have grown from 450 people the first year to well over 2,000 last year, and with people coming from the US, Canada, Australia, parts of Asia and all over Europe, the UK and of course Ireland, has been incredibly humbling.
It's become a vital part of the calendar here in Ireland, as well as internationally, and has helped transform the creative ambitions of so many who attend. We liken it to a music festival: you buy your ticket because of the well-known names on the lineup, but it's the artist you have never heard of on the small stage at 11am on a Sunday that changes your life forever.
We know it's unfair to pick favourites… but we're going to make you. Who has been your favourite speaker so far?
Every year there always seems to be at least one moment – if not two or three or four – that defines exactly what the event means to me and reflects what we hope to achieve by putting OFFSET on in the first place. So let me give you my highlights.
In 2012, Kyle Cooper was astounding. He's one of my heroes. He really wanted to be part of it, so flew in and back at the last minute. His show reel showed such incredible skill, emotion and vision. It was breathtaking.
What will probably go down as one of the great talks of OFFSET history, was when we were all lucky enough to witness Tomi Ungerer in conversation with Irish illustrator, Steve Simpson in 2015. With the first, and richly deserved standing ovation of the weekend, Tomi urged us to be 'endlessly curious' and brought us on a touching and captivating journey through his life and his work.
His open and honest account of his life including his experience of Nazi occupation in France had the audience upright in their seats. If you hadn't heard of Tomi before, after this talk you would never forget him. I certainly won't. It actually brings tears to my eyes to remember the moment he hugged me and Bren after thanking us for asking him to be part of OFFSET. These are the moments that remind me why I do what I do and why I love it so much.
Last year was just full of great moments. As I'm distilling it to just one, I'll choose being in the main auditorium for Seb Lester's talk. You could physically feel the effect it was having on the audience. There were a good few tears by the end. The scale and impact of his work married with such intimate beauty knocked everyone sideways.
You can see a few more of the highlights in our video.
The events are a great way for creatives to meet each other – how important is networking when working in the creative sector? Does the event give attendees the chance to network?
OFFSET is very different to other conferences in that there are no VIP areas, and no green rooms. The space is a democratic one, and facilitates both the speakers and attendees to mingle freely, hang about in the foyer and come to the pub and the parties.
We have a way of operating that makes people very comfortable. We treat everyone like friends and they love the OFFSET experience from first contact to building solid relationships over the years.
Large-scale creative industry events can be too focused around competitions and awards but we feel it's vital to offer a non-competitive outlet, especially to socialise. With that in mind we host a number of events where delegates and speakers alike can let their hair down. In short we like to party – it's the magic dust that holds OFFSET together.
What's next for OFFSET?
We have been working hard on plans to expand our visibility outside of the annual three days in Dublin and last year we hosted our first international OFFSET in London with great success. Our next stop will be Sheffield.
When we first considered Sheffield as our UK hub, we felt it held similar qualities to Dublin. Of course we were aware of the rich design history and traditions Sheffield possesses but like Dublin it has such an exciting contemporary scene. We can't wait for the doors open in The Crucible this October 21st-22nd and share what we do with a new audience.
Keep in touch
Get design inspiration, business tips and special offers straight to your inbox with our MOOsletter, out every two weeks.
Sign me up!