Isaac Gibson's playing cards
The business cards come up trumps.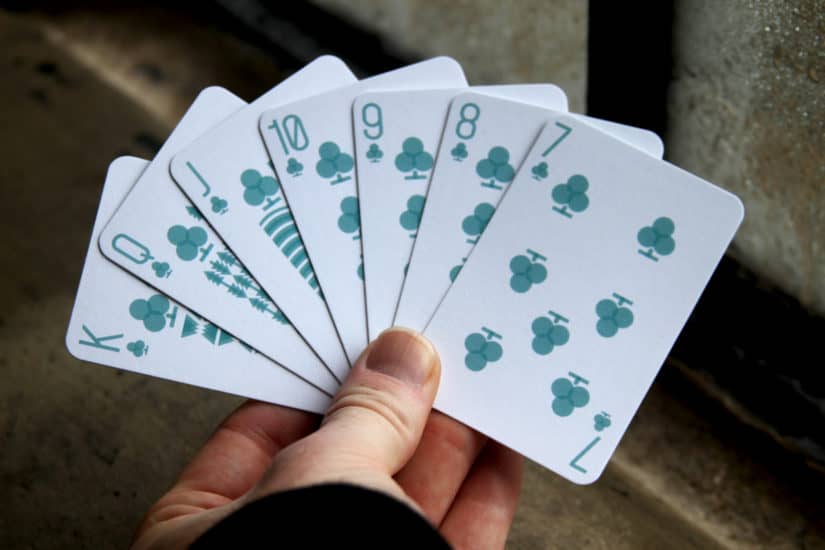 Here at MOO, we know how to make a great lasting impression and our Rounded Corners are inspiring your creative minds everywhere. We love it when you share your experiences and results with us. So we caught up with Freelance Designer Isaac Gibson, to get the lowdown on how he created his own playing cards. Snap.
So what inspired your business cards?
Firstly, I wanted to go with Rounded Corners as I think it's stylish and different. I want to stand out from the crowd.
But the biggest inspiration for my cards was seeing so many things go to waste. For this reason I wanted to create a set of playing cards from all recycled and repurposed materials.
The packaging was inspired by Jeff Gray, founder of Scene3. He recycles old skateboards into useful everyday accessories. I pitched the idea to Jeff and he jump on board and created the packaging for me out of recycled skateboards.
What did you enjoy about the process?
Being able to see the playing cards go from concept to digital design to holding them in my hands was an awesome process. I love that all the materials used in creating these cards are recycled. I hope it will inspire other people to look around them for things they could recycle/repurpose to create cool stuff.
Cracking work Isaac Gibson! If you need a touch of inspiration or help promoting your project or business take a look at how MOO could help.  
Discover the Rounded Corners Collection.
Oh, and if you already have some cards of your own, share your #MOOcards on social channels – don't be shy!
Keep in touch
Get design inspiration, business tips and special offers straight to your inbox with our MOOsletter, out every two weeks.
Sign me up!