How to land your first client: working as a fashion illustrator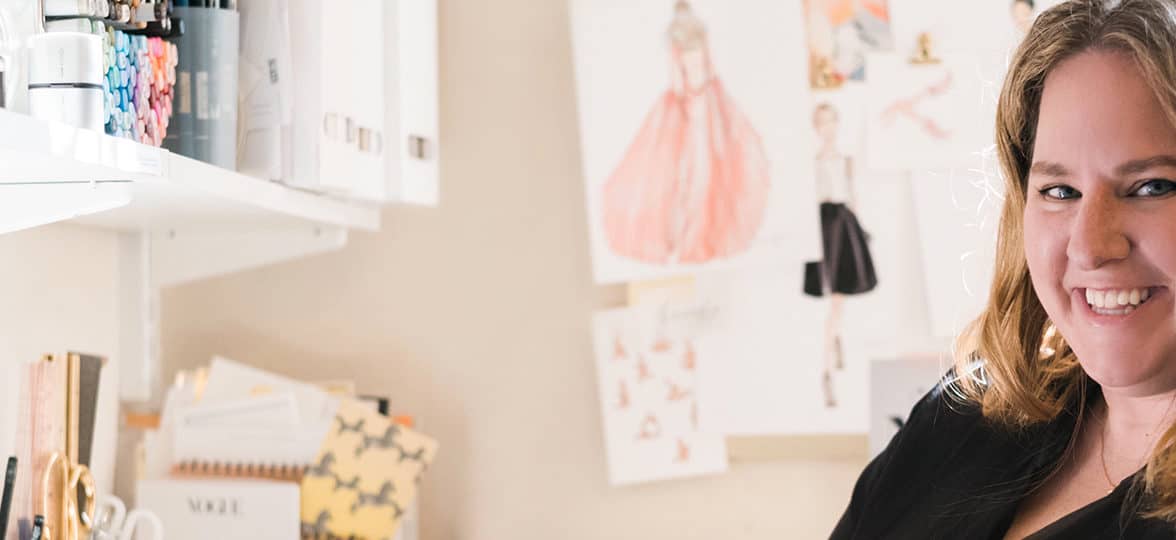 Fashion illustrator, Brooke Hagel is at the top of her game. Find out how she faced her fears and landed herself a life-changing job.
New York based Brooke was always destined for big things – she kicked off her career interning in the wardrobe department of Sex and the City, Cynthia Rowley and Saturday Night Live while she was still studying at college. After graduating, Brooke started designing and styling for Hearst magazines, working on a number of different titles. Now, Brooke works freelance, boasting a covetable lists of clients, including Vogue, Burberry and Samsung.
So, with a client portfolio as awesome as Brooke's, we were super excited to catch up with her to chat about her career so far. Here, she shares how she landed her first big client, her tips for managing her busy schedule, and why a good old fashioned pen and paper beats digital.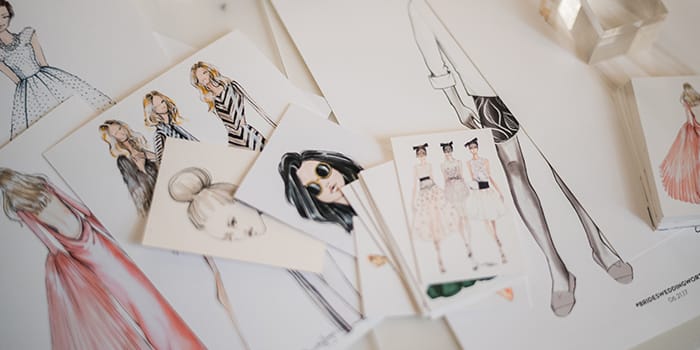 How did you decide that a career as a freelancer was the right thing for you?
I love the freedom a freelance career offers. Being able to travel, make my own schedule, and work with a wide array of clients across different industries is ideal for me.
In the beginning, of course, it was slow and I was nervous about sustaining a freelance career. However, every year my business continues to grow and I gain more clients and opportunities – which is amazing! It has worked for me and I honestly couldn't imagine going back to a traditional office 9 to 5.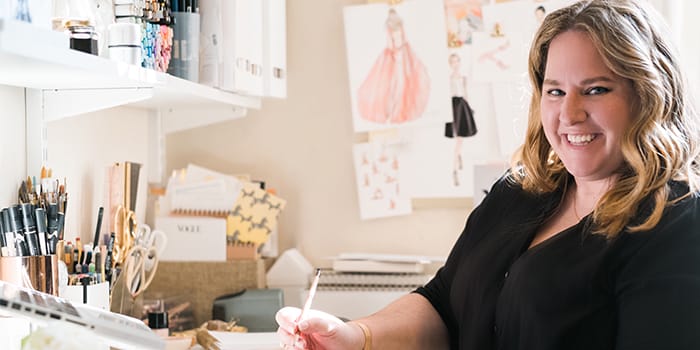 Your client portfolio is absolutely amazing! Who was your first and how did you land them?
Timex was the first brand to hire me – I was asked to create custom fashion illustrations for their spring catalogue. At the time, I was still working as a full-time designer and hadn't illustrated for a few years – I missed it. It was at this time that I started my blog, Fabulous Doodles and opened my first Etsy shop, Brooklit – this is how Timex found me.
I was then approached by a PR company to live-sketch at their fashion blogger cocktail party. I'd been asked to live-sketch at events previous to this but had always said no for fear of not being able to draw fast enough and having people watch over me. Nevertheless, I decided to give it a try, even though I was petrified! It went incredibly well so I decided to blog about it, sharing pictures from the event.
The very next day, I had an email from the Director of Events at Vogue asking me if I was available to live-sketch their event! I promptly set up a meeting (after picking myself up off the floor) and went into Vogue to share my portfolio. Since that meeting 5 years ago, Vogue has been one of my best and most loyal clients.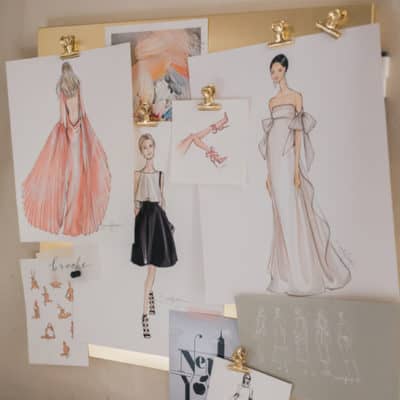 You've got a really distinctive style – how do you ensure you keep your identity when working on client projects?
My aim is to create work that I'm proud of and excited about while incorporating the client's product and/or concept into my illustrations. I'll always do my best communicate my ideas, perspective, and style clearly. When I was starting out, clients would often ask me to mimic other illustrators work – but this was a red flag for me. I've worked hard to ensure my my blog, Instagram, and Etsy reflects my style so that a prospective client can get a really good understanding of the scope of my work.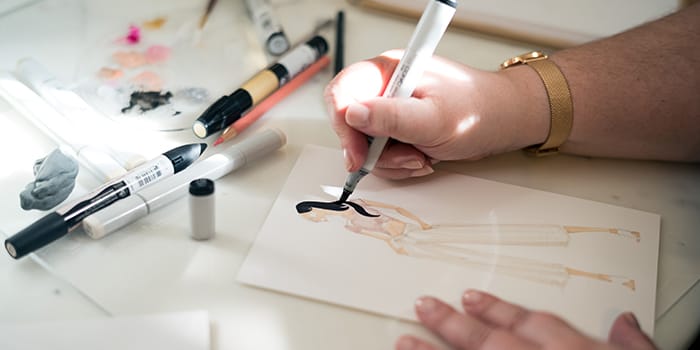 You've started to create digital sketches on your iPad – how does this process differ to traditional pen and paper and what drew you to creating work in this way?
Digital drawing has intrigued me for some time – I finally took the plunge about a year and half ago – I use an iPad and Apple Pencil. It's certainly different and takes some getting used to. I've tried a variety of drawing apps to experiment in and found different ones work to achieve different effects.
The process still takes significantly longer than it does with traditional art supplies, but the time keeps shortening the more I work with the iPad. I've been using an app that records every pencil stroke to create videos of my illustrations-in-progress, as well as, layering drawings over photos. The results have exceeded my expectations and the videos have gone on to be my most popular social media posts to date, (check them out here and here) but I'll always go back to traditional art supplies and won't be turning in my pencils, markers or paints anytime soon.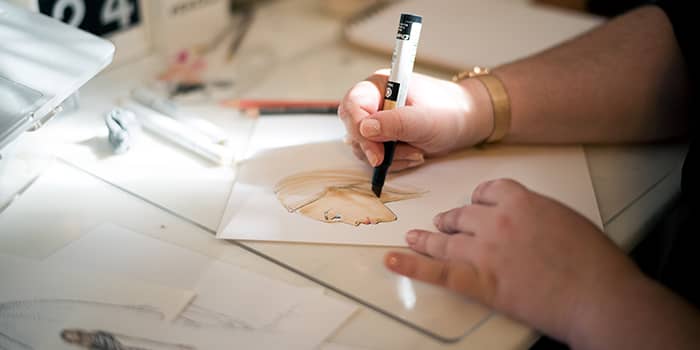 We see you've also illustrated 17 books – are they all fashion titles? Do you approach these projects differently to your usual commissions?
It's hard for me to believe that I've illustrated that many books! The majority of them are fashion titles, but I've worked on a few children's books too. The process is similar to a usual commission, in that I first present pencil sketches for the publishers or author to review then proceed with a second round of more polished, coloured illustrations. For Chloe by Design, the young adult series I illustrated, the process ran quickly with very few amends because we'd done so many titles and I was given creative freedom, which I really enjoyed. Since the first edition, I've also been asked to consult on the storyline and fashion designs early on in the manuscript process because of my fashion industry experience, which I love.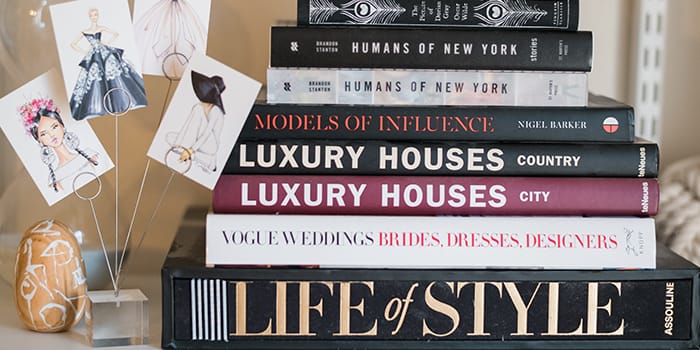 It looks like you've got a constantly busy schedule which is of course fantastic, but how do you make sure you avoid burnout? What are top self-care tips?
In a perfect world, projects would be evenly spaced out and my time would be managed to a 'T', but as a freelancer, it can be almost impossible. Work seems to come in tidal waves, so when there's a lull, I've found the best thing I can do is take care of my business – and myself.
Over the years, I've learnt that summer tends to be slow, so this year I made travel plans well in advance and scheduled a few weeks away. Also, if I travel to meet with clients, or live-sketch in other cities, I'll always try to tack on an extra night or two to relax and explore.
How do you use MOO products?
First and foremost, I use the Luxe Business Cards as my mini portfolio. I have them with me at all times. I often find that people are unsure what a fashion illustrator is, but the minute I fan out my cards and show my illustrations, it's drawn out for them – literally. People can never choose just one card though – they treat them like collectables and take an entire stack at events! Over the years, I've also ordered Notecards, Postcards, Stickers and MiniCards for both myself and clients.
What's your advice for other aspiring entrepreneurs wanting to kickstart their career in fashion or illustration?
Share your work! The only way prospective clients will find you is if your work is out there. Whether it be through your own site, blog, Instagram, Facebook – or the next big social media platform – share it and promote yourself. No one else is going to do it for you, especially in the beginning. If I hadn't have blogged about live-sketching at the PR fashion blogger party, who knows if I would've ever heard from Vogue.
Create your own collectable artworks on Luxe Business Cards
Keep in touch
Get design inspiration, business tips and special offers straight to your inbox with our MOOsletter, out every two weeks.
Sign me up!