From canvas to collectables with pocket-sized prints
These awesome large-scale artists are using #MOOcards to make super cute small-scale versions of their work.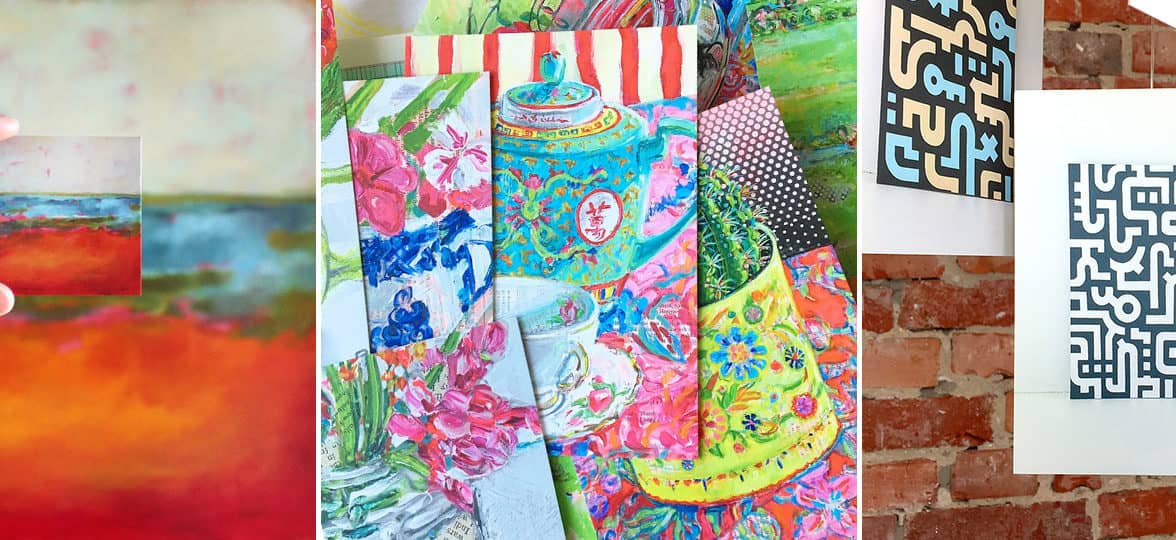 These awesome large-scale artists are using #MOOcards to make super cute small-scale versions of their work.
Meet Polly, Michiel and Drew – large-scale artists who've made pocket-sized prints. We're in love with these little scaled-down galleries – and their customers are big admirers too. Take a look – we're sure you'll agree.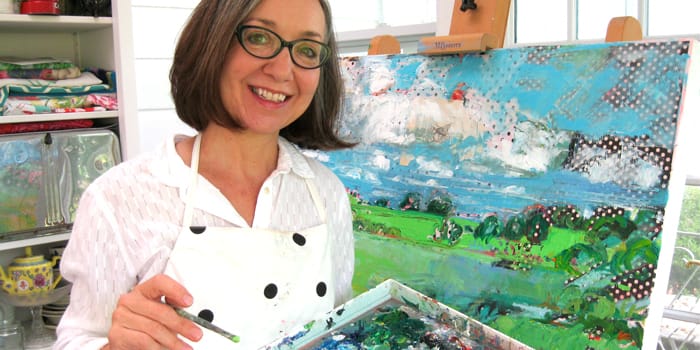 Polly Jones is a full-time mixed media artist living in Abilene, Texas. She's maintained a studio practice for over 30 years and works from her converted sun porch that she shares with her artist and art professor husband, Kenny.
Polly's still life setups are composed of things she finds in her daily life. Her aim is to "find beauty, life, energy and delight in ordinary everyday moments and objects". She describes her focus as: "Intense color, light, pattern and texture," and while painting, she "incorporates paper from map fragments, ledgers, hymns, poetry and even vintage encyclopedia pages as a way to include other voices and viewpoints into the image." In her designs, she also often uses polka dot grids as a way to: "refer to atoms, spirits and pixels – all things that are hard to see, seemingly pervading the physical world." Wow.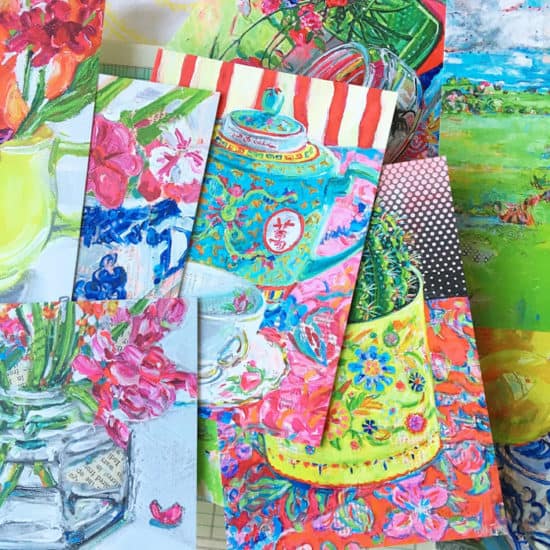 Polly's #MOOcards play a varied and important role for her: "they allow me to share my information when I have exhibits or meet new people – it's a great way to become connected with future collectors and the Printfinity aspect has been a fantastic way for me to share my portfolio in person. My Postcards have also become an important part of the selling process as I include them when mailing paintings.It's great to give a fun bonus to collectors that also shares my information and work. I've even started to list my Postcards on my Etsy store as I had people wanting to buy sets of them! They're sturdy, the perfect size and the color is spot on – I love them so much."
Create your own collectable Postcards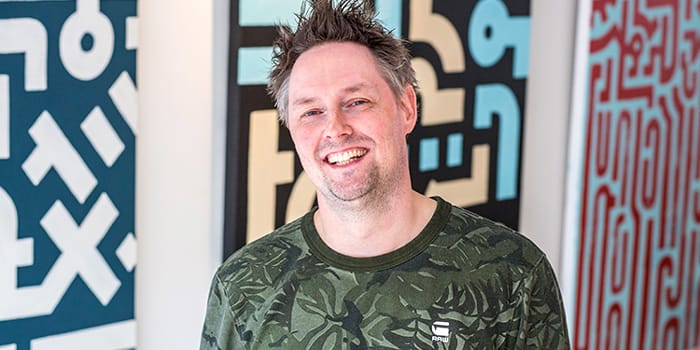 Michiel Nagtegaal is a self-taught, Dutch visual artist working under the name of Mr. Upside. Alongside this, he runs his own freelance design business – Designia – specializing in UI and UX design, illustration and graphic and identity design. Before starting Designia in 2007, Michiel was working at online agency, Supershift that he co-founded. Seeking more creative freedom, he left the successful company to pursue his freelance design career.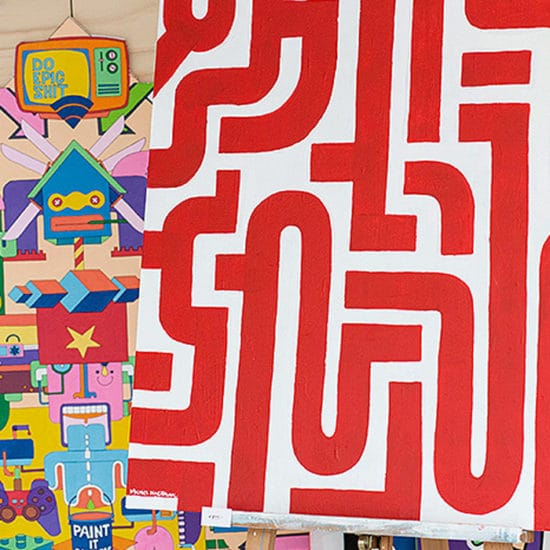 Michiel has always had a passion for drawing and believes that art has the power to influence the energy levels of the viewer. He achieves this by using vibrant colors in his artworks. "I've always had a 'thing' for the bold lines seen in graffiti art and the rebellious 'vibe' of the skateboarding scene – I still find inspiration in those subcultures now. I'm also hugely inspired by contemporary artists such as, Takashi Murakami, Victor Ekpuk and Retna."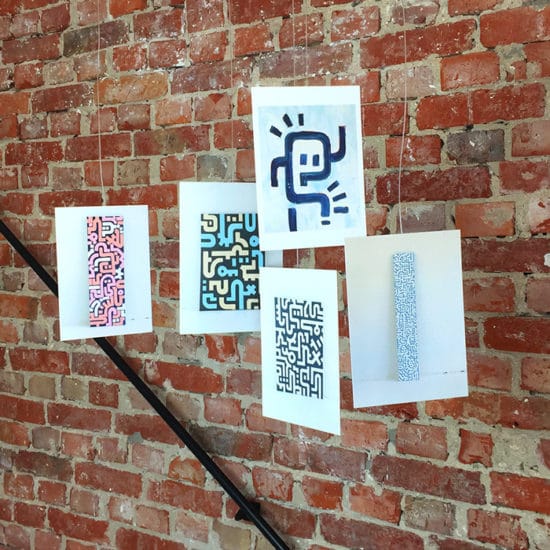 On creating his #MOOcards, Michiel told us: "Printing your art is easy and cheap nowadays, but it can be hard to find quality paper stock. When I ordered my MOO sample pack, I was amazed by the luxurious packaging, the super-heavy paper used for the Luxe Postcards and the little creative details like the colored seam. It's that little bit of extra effort, quality and service that clearly separates MOO from other online printers. I've gotten only positive reactions to my Postcards. I print my artwork on one side, and leave the other side blank so that I can write a personal note to accompany each artwork I sell. I also love Printfinity – it allows me to print a different design onto each card."
Create pocket-sized prints of your artwork
Drew Noel Marin is based in Sarasota, Florida. She's been working as an artist since 2014 – her favoured medium is acrylic on canvas. Growing up, Drew always had an appreciation for the arts – from fine art to theater to beauty. For the last 10 years, Drew has also been working as a cosmetologist. Painting brings her a sense of peace – combining texture and bright color combinations makes her feel happy.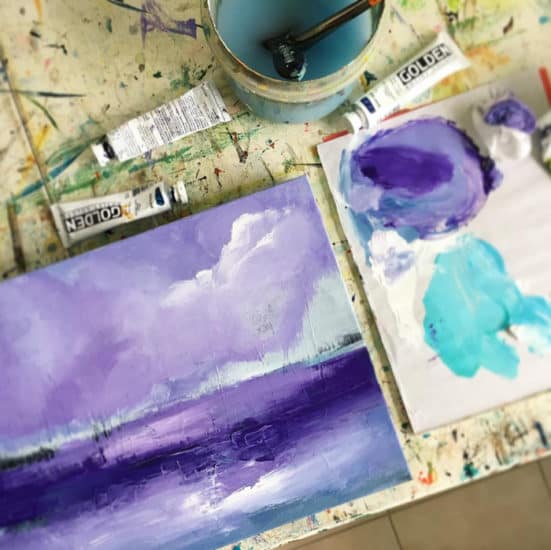 Drew's inspiration comes from the present moment: "my emotions steer my painting (color, composition and style) in many different directions. I find that what works best for me, is letting my intuitive side take over, and not being so hard on myself".
When creating her cards, Drew uploaded an image of one of her 36"x36" paintings: "I wanted to give future collectors a visual of my artwork, while also giving easy access to my full online portfolio. I chose Square Business Cards on original paper with a matte finish – the quality is amazing, sturdy and strong, and the finish gives off the truest color showing an accurate representation of the painting itself. I can't say enough good things about my #MOOcards! The simplicity of designing my own card is fun and easy to do – what you see on your screen, is exactly what you get and I love that! MOO has allowed me to express and expand my business in ways that compliment my profession and I couldn't be happier!"
Get your portfolio printed onto Square Business Cards
Keep in touch
Get design inspiration, business tips and special offers straight to your inbox with our MOOsletter, out every two weeks.
Sign me up!