Bakery business card ideas that are just the icing on the cake
Discover three bakeries with Business Cards that leave you hungry for more.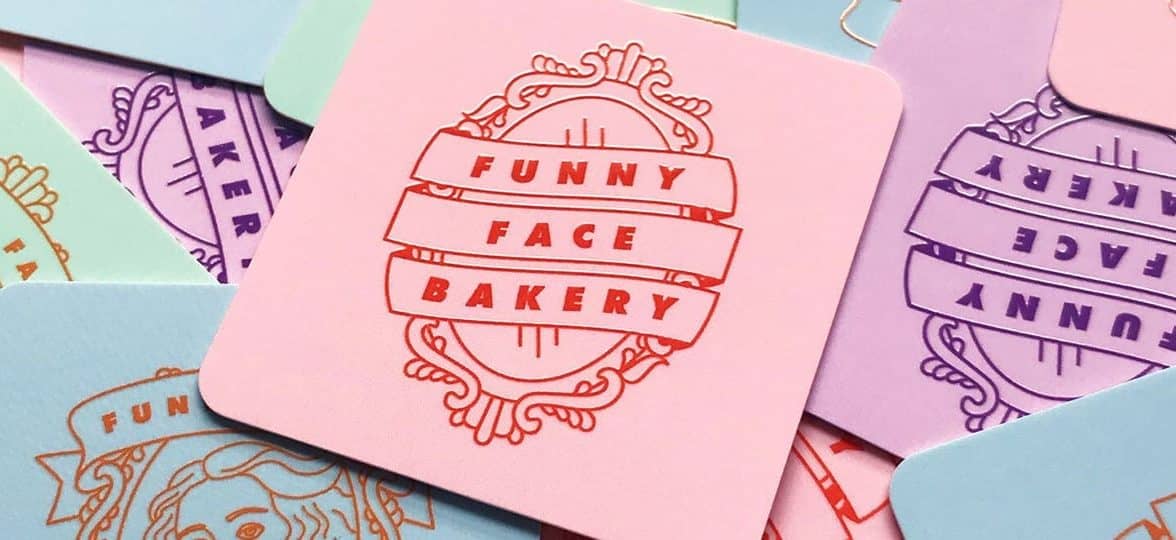 You've perfected your bakes and cakes. Now mix your bakery and branding for the ultimate showstopper when it comes to promoting your business. Indulgent color palettes, icing-glossy finishes and frosting-like lettering can make a mouth water before even taking a look at your cakes. And Business Cards are the perfect taster for your brand – slipped into every order and in every hand.
Looking for inspiration for your bakery's branding? Discover three bakeries with Business Cards that leave you hungry for more.
Devour Cakes by Jamylia Haren
Jamylia Haren is the founder of Devour Cakes, a custom cake business based in Idaho. The self-taught baker creates edible works of art that look and taste amazing. A one-woman business, she puts all her artistry and personality into mouth-watering, highly Instagrammable cakes and cupcakes.
Represent something that is unique to you
To promote her growing business, Jamylia created beautiful Business Cards that reflect her brand – and herself. She combined both seamlessly with a minimalist line drawing by Attabeira that's sure to stand out from traditional baker Business Cards. "I wanted it to be unique and aesthetically pleasing. So, I came up with the thin line drawing that resembled me with my curly hair, holding the cake with the expression that I was indulging in it – or in my case Devour-ing it!" As a solo business owner, it was key for Jamylia to show the face behind the cakes – but also the promise of a delicious, indulgent time. "You can see the feeling you'll receive from devouring my cakes. But you can [also] see me, which I feel is most important when having a small business – to represent something that is unique to you."
She chose our sturdy Super Paper with a Soft Touch finish to give her bakery Business Cards the quality they deserved – and one that matched her cake creations. "My favorite thing about [them] is the matte finish. It's sleek and with no shine, you never get a glare and are able to see the card in its full glory. With the soft touch, the feel just screams quality. I constantly get complimented on how smooth and sturdy my cards are. All around it has been one of my greatest investments for my business."
Design, cakes and business cards. What more could you want?
Funny Face Bakery by Lucy Jennings
Here at MOO, we've been fans of Lucy Jenn's work ever since her colorful Business Card designs first popped up on our Instagram feed (you can read all about it here). Based in London, the graphic designer and illustrator has a gift for bringing brands to life with playful, vibrant designs.
We couldn't do a piece on bakery Business Card ideas without her. One of Lucy's very first clients as a freelancer was Funny Face Bakery, a groovy New York bakery specializing in beautifully hand-painted cookies of objects, animals and people (no, your own face is not off-limits). A match made in heaven.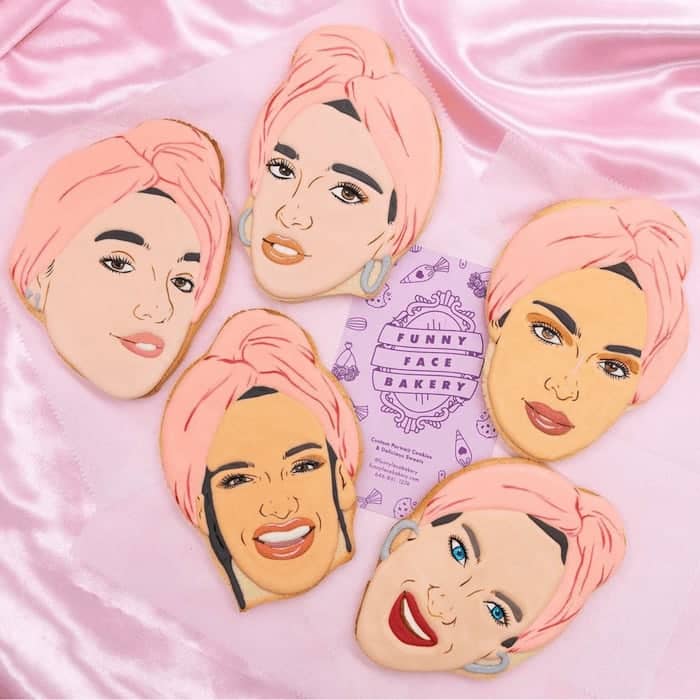 For Funny Face Bakery's Business Cards, she didn't lack inspiration. "The client came to me with so many wonderful ideas and influences, drawing from art history, traditional fairytale books, classic Disney, Wes Anderson films and old school bakeries in Europe. [They're] well-known for their […] custom portrait cookies, so in addition to their main logo I created a secondary crest featuring a mirror (because you can see your own face on one of their cookies if you wish!)." The Funny Face Bakery team also wanted to reference the fact their cookies are hand-painted, so Lucy created some bold line work illustrations based on famous paintings from art history. She rocked a playful (and mouth-watering) color palette to give the design a more contemporary spin and used the Futura typeface as a nod to Wes Anderson.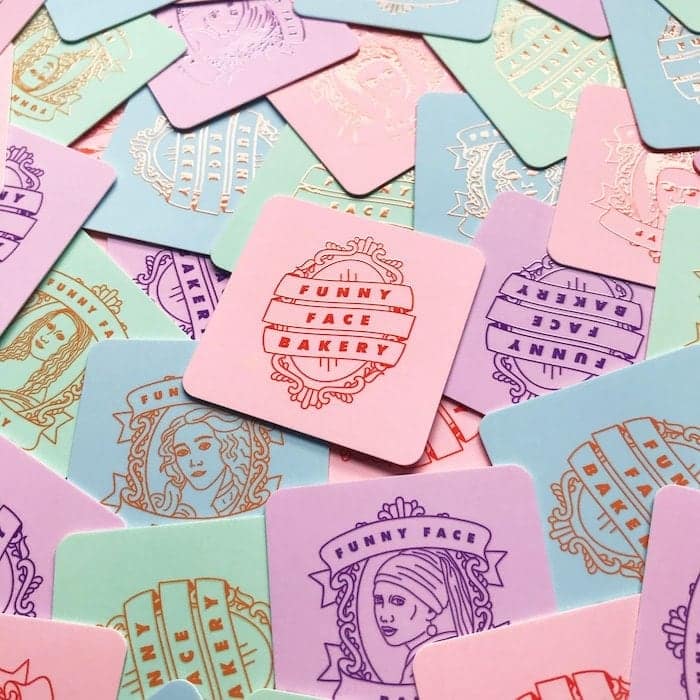 Lucy went for Square Business Cards with rounded corners to make her designs really pop. "Going for a non-traditional shape is a great way to stand out and be memorable. There's also something about the square shape that reminds me of pastry and cake boxes, when all the packaging comes together it just works so well." As a final touch, she used Raised Spot Gloss to highlight key elements of the design. "I love making cards that people would like to hold on to. The Raised Spot Gloss Finish gives the cards another layer of grandeur. It's a great way to make your cards feel special without having to commit to using Gold or Silver Foil in the design."
Esme Bakes by The Creative Studio
Based in Bristol, The Creative Studio is a graphic design studio specializing in all-things branding – from logos to web design to packaging and marketing materials. Working with a variety of businesses, founder Jessica has a special place in her heart for beauty salons and bakeries, which she focuses on in the UK and internationally. With their beautiful, indulgent creations, Bristol baker Esme Bakes was the perfect client.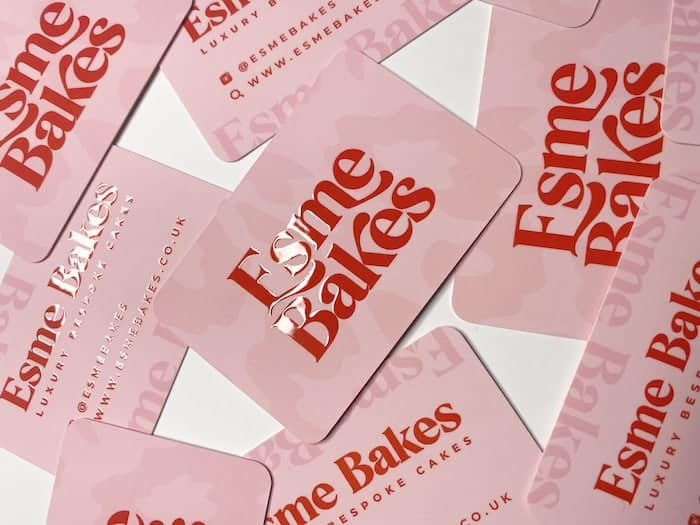 So, how did Jessica approach the bakery's Business Cards? To convey Esme's creativity and talent on paper, she chose Spot Gloss Business Cards with rounded corners. Their luxurious feel makes the powerful design and bold colors (literally) stand out.
With their pink and red color palette, soft touch and rounded corners, we almost want to try a piece of this mouth-watering design – and the glossy lettering is just the icing on the cake.
Jessica's favorite thing about the baker's Business Cards? "They have an amazing quality finish. They are so affordable yet the print quality is remarkable." We couldn't put it better ourselves.
Ready to create Business Cards for your bakery? Add the icing on the cake with Business Cards.
Keep in touch
Get design inspiration, business tips and special offers straight to your inbox with our MOOsletter, out every two weeks.
Sign me up!