8 incredibly creative and artistic business card designs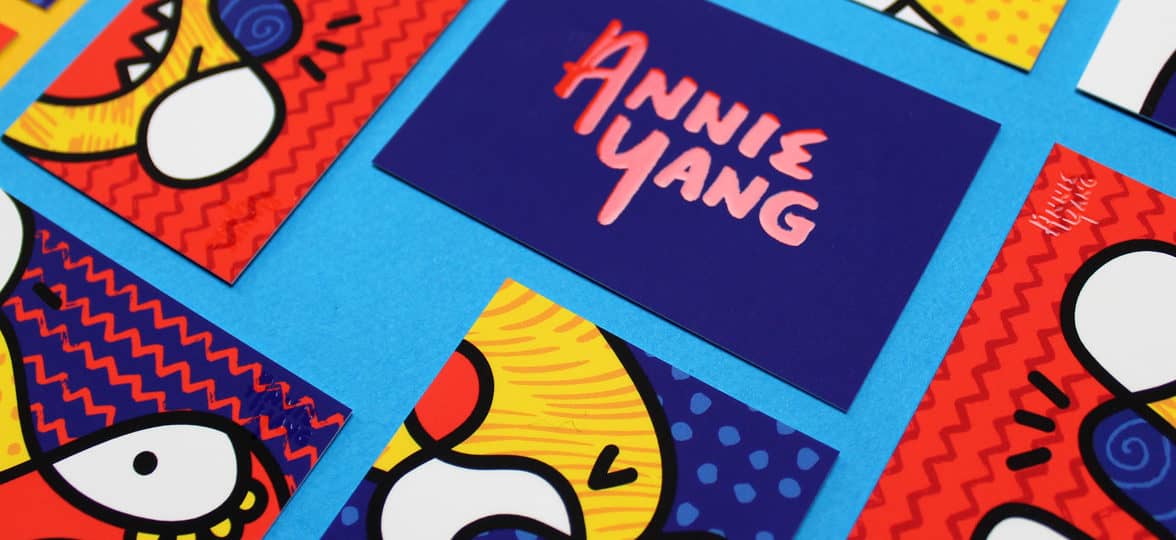 Here's how some of our most creative customers took their creative business cards from perfectly practical to miniature artworks.
1. Lucy Jennings
London-based illustrator and designer, Lucy Jennings, opted for our Cotton paper as a canvas for her fun and fruity business card designs.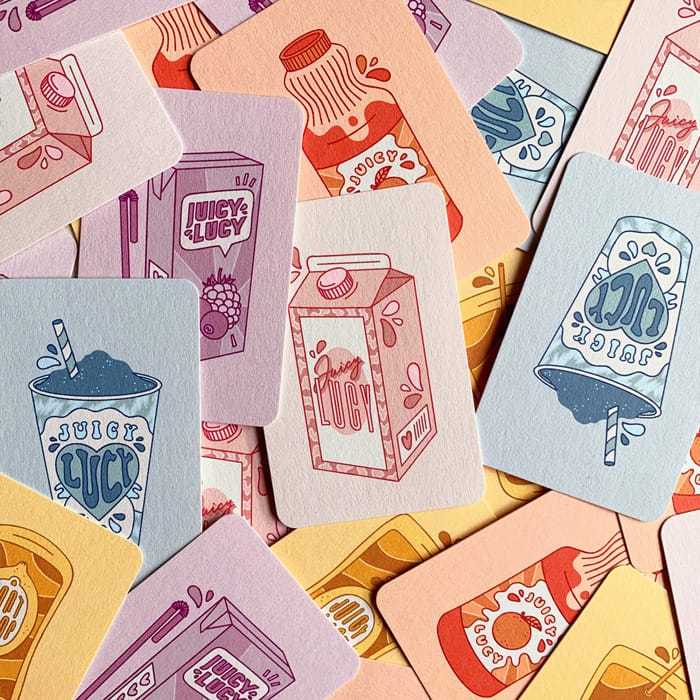 "I wanted my illustrator business cards to be lighthearted, amusing and memorable. I drew inspiration from the drinks of my childhood – Sunny D, Capri Sun and Slush Puppies – and my nickname, Juicy Lucy. I try to be conscious of my impact on the environment so I chose recycled Cotton paper. The textured finish is an added bonus – I always get compliments on my choice of paper! Printfinity gave me room to explore different colors, styles and ideas – sometimes you can't fit your whole personality into one card."
2. By Anna Bay 
Anne van den Berg (By Anna Bay) is an illustrator from the Netherlands. She creates many of her sets completely out of paper and she strives to create little worlds for us to get lost in. Her work is minimal, dreamy and always colorful and her artist business cards are no different.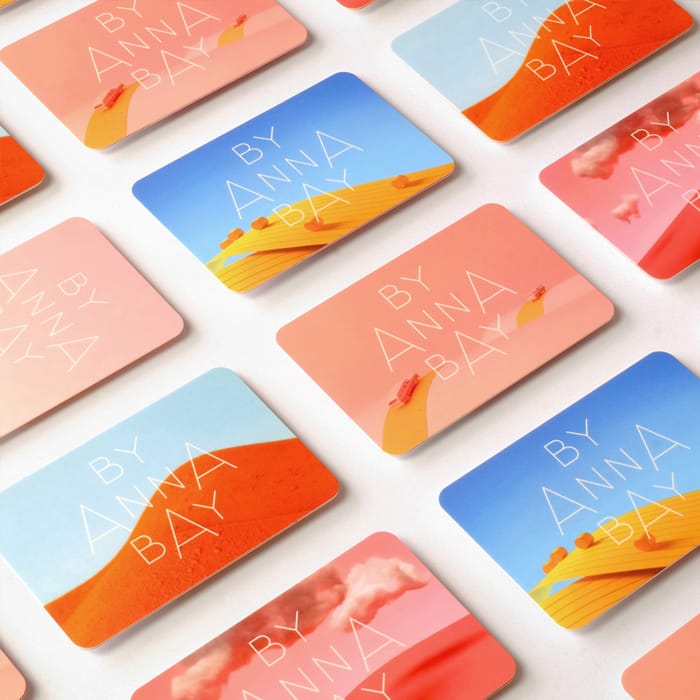 "I always have a portable portfolio with me. People can pick a specific image that they like, which gets them involved and makes it feel like a gift – a few of my contacts are even collecting my business cards! I always get a really enthusiastic response from people when I show them my cards and I'm often asked where I got them from. I love the Original matte paper – I chose it the first time I made an order and it's become a tradition now."
3. Dozy Rose
Roza Hamta is a UK-based illustrator and graphic designer who has a bold, playful, millennial-inspired aesthetic that she's applied to her creative business card designs to best show off her work.
"The reaction to my illustrator business cards on social media has been wonderful. They've often been described as 'pocket size works of art'," she says. "They're one of my most shared pieces of work and have attracted a lot of new followers. I also love having the eco-conscious choice to use MOO's Cotton Business Cards made from recycled t-shirt off-cuts."
4. Annie Yang
Graphic designer and illustrator, Annie Yang has created a suite of artistic business cards based on her freestyle black marker designs. Combined with bold primary colors and a Spot Gloss finish, she's created little miniature business card artworks which set her apart from her peers at events and with clients.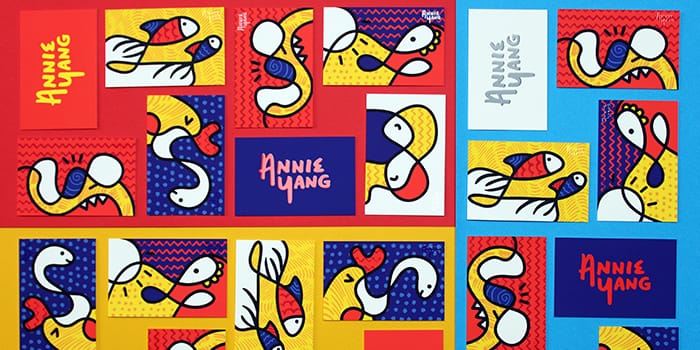 "To create my personal cards, I scribbled random black lines with strokes and colors – it was fun not knowing what the end result was going to be. Using Printfinity was great because it allowed me to add Spot Gloss on different areas of each card. I like how my logo catches the light, mimicking the flash of ink, and drawing people in to take a closer look."
5. Suzie Shin
Chicago-based Graphic Designer, Suzie Shin created her artist Business Cards using the "Space & Sci-Fi" public domain gallery of The British Library. She chose her favorite prints, combined with her logo and printed the finished designs on MOO Cotton paper.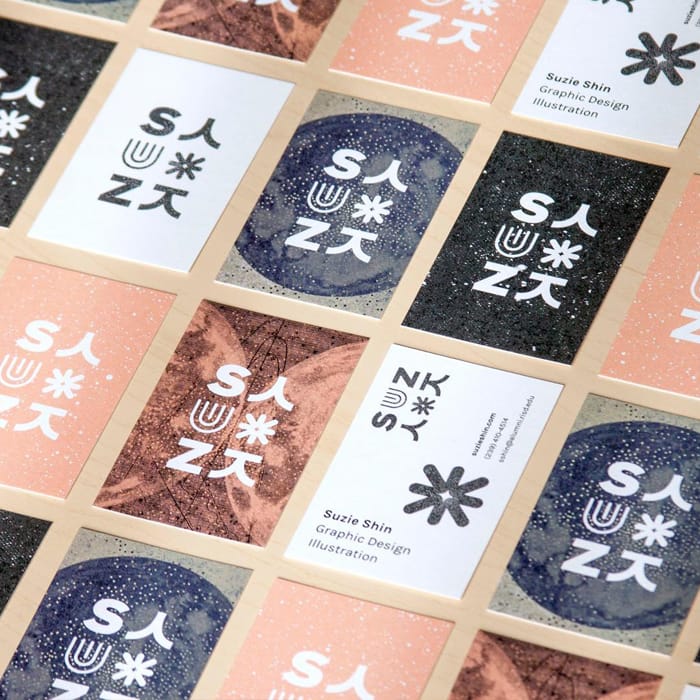 "The inspiration for my logo came from my cultural background. My parents immigrated from South Korea to America, and like most immigrants, they had to decide on two names for their children: one from our culture, and one in English. I was named Suzie, and 수지 (pronounced "Sooji"). In homage to my deeply integrated Korean-American upbringing, my logo features my short nickname "SUZ" and the first characters of my name in Korean. The logo reveals who I am personally and artistically through the use of Korean characters, variable textures and color palette."
Print your creative business card designs on Cotton.
6. Season of Victory
Freelance illustrator and designer, Lina (Season of Victory) is based in London but her brilliant and bold designs reflect the pop culture she loved growing up and the different cities she's lived in throughout her life. So do her illustrator business cards!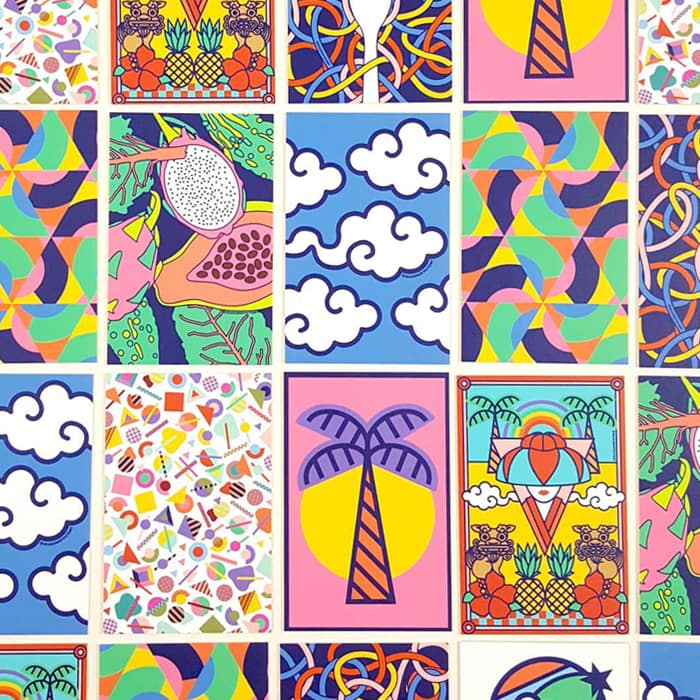 "I think growing up in Japan and the US really influenced my preference for using color – lots of exposure to crazy cartoons, mass market design, and patterns. I chose the Luxe finish – I wanted the natural, textured feel to contrast with my bold illustrations. I also loved the extra color seam detail. I chose Printfinity so that I could update the business card illustrations when I wanted – switching out the ones I get tired of with new favorites. The quality is great and the colors are rich – very detailed print quality. I've always had really dull, corporate cards in the jobs I had in the past, so it was fun to finally create cards in my own style."
Make your artist business cards stand out with Luxe.
7. Aidan Gooding Donoghue
London-based Graphic Designer Aidan Gooding Donoghue specializes in bright colors and bold drawings to create typographic designs with illusional twists – and beautifully creative business cards.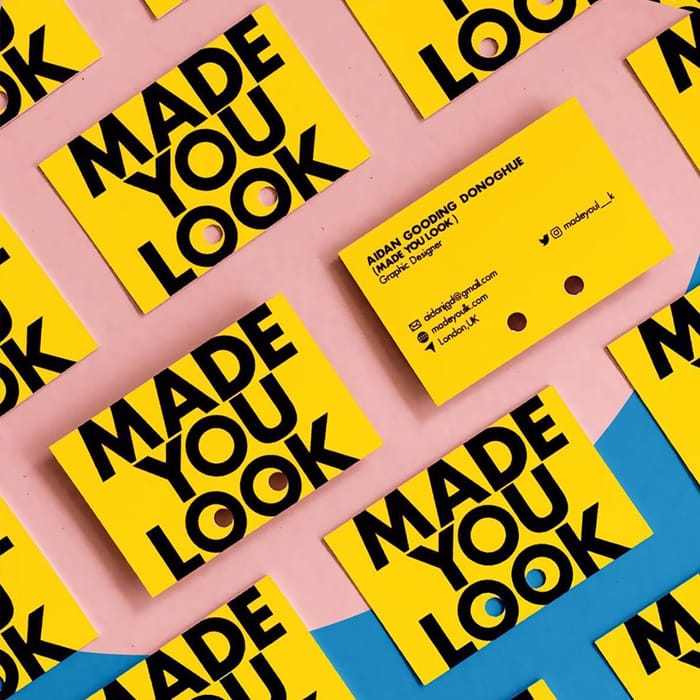 "I started to work on my own personal branding and obviously needed business card as part of that. Using the logo I created, I decided that the card needed to be bright and bold to stand out. I also wanted the design to be interactive, so by punching holes in the card it would mean that each card would be individual creating a different experience for anyone receiving the card. I decided to use the Soft Touch Super Business Cards as I wanted a matte finish and also knowing that I would be punching holes into the card I wanted them to be sturdy.I love the way that the cards have come out, the colors on it are bold and I feel that it definitely gets a message across and hopefully will make you look!"
8. Mai K. Nguyen
Product Designer + Illustrator Mai Nyguyen lives in California and writes/prints her own comic book series in her spare time. She used MOO Business Cards to create a pack of cards that are completely unique and used them to communicate a very important message. To say they're some of the most creative artistic business card designs we've ever seen would be an understatement!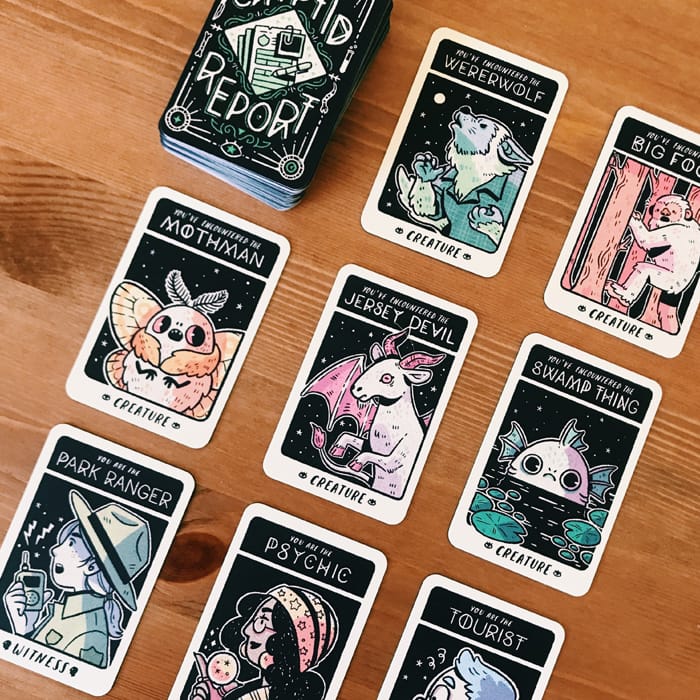 "I wanted to make a card game to help me propose to my partner. Since this was a personal gift, I only needed one set. It was a bit difficult to find a place to help me print just one deck of playing cards, so MOO's Printfinity feature worked out perfectly for me. I got the standard matte business cards with rounded corners. The original sizes are nice because it's closer to the size of a playing card than a regular business card. Plus the texture of the paper and the rounded corners makes for a very nice tactile feel.
"The matte texture of the paper really complements flat business card illustrations – it just gives it a deeper, sharper look to it and my drawings came out looking really nice! The box that it comes in was also a huge plus for me. I was planning on making my own box for the cards so it would look like a real card game, but I ended up just using the box from MOO and customizing it with a label. It's very sturdy and makes the gift look very special." 
Congratulations to Mai and her partner and thanks for choosing MOO for something so special!
Design your miniature artworks now with MOO Business Cards.
Keep in touch
Get design inspiration, business tips and special offers straight to your inbox with our MOOsletter, out every two weeks.
Sign me up!