5 ways to create effective to-do lists
From the humble to-do list to the fancy-sounding Kanban board, these organization techniques are ideal for creative folks who like to use their brains in interesting ways…
1. Make a priority checklist with the Ivy Lee method
Time management expert James Clear calls the Ivy Lee method "the daily routine experts recommend for peak productivity." We call it the $400,000 technique. Why? Ivy Lee, the man who founded the method, shared it with a group of executives in 1918 and told them to pay whatever it was worth. Three months later, he had a check for $25,000 –  equivalent to $400,000 in modern terms. Here's that money-spinning idea in full:
Write down the 6 most important things you need to accomplish tomorrow.

Rank them in order of importance.

Work on your first item until it's finished. Then, move onto the next.

When the day is done, transfer unfinished items to a new list of tasks for tomorrow.

Repeat.
James Clear has a theory about why this method works: it's simple, forces you to prioritize tasks, and makes it easy for you to single task. Boom. To-do list conquered.
2. Believe the hype with Bullet Journalling
The Bullet Journal method made waves online when it first appeared in 2015 – it's one of the neatest productivity solutions we've seen and one of the most Instagram-worthy too. Millions of people across the world swear that this is the most flexible and efficient system for getting things done – and they can't all be wrong, right?
The method uses nothing more than a pen, a notebook, and (if you're a stickler for neatness) a ruler. Each page has a topic and a bullet list with plans, events, notes and ideas. You build your lists around your priorities, marking out different kinds of items with simple hand-drawn symbols. As well as the standard symbols provided by the system, you can create your own, making your bullet journal as pretty or as plain as you choose.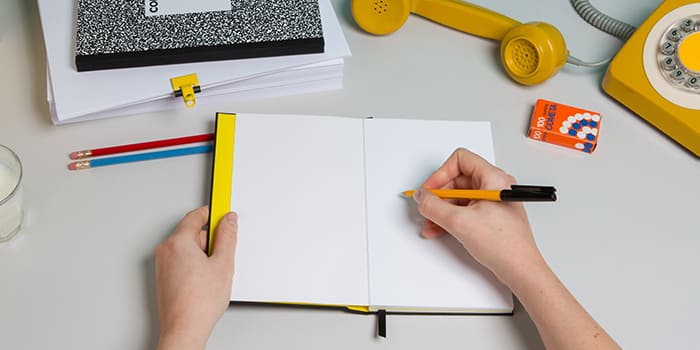 The Bullet Journal works both as a planner and a log – for example, you can note down a future event like a birthday, or record something that happened, for example, your first ever sale to an online customer.
Now, we know what you're thinking – you're going to have to get yourself a shiny new Notebook to practice your bullet journalling techniques, right? Sure! We've got you covered. Look no further than the newest addition to our fabulous Notebook family.
Designed by Timothy Goodman, this super-cool Notebook features his signature graphic style captured picked out in silver foil: meetings kill creativity. With lay-flat binding and 160 pages of Munken Kristall paper, it really is as usable as it is beautiful. But hurry, this Notebook is limited edition and won't be around for long!
3. 'Program' yourself with checklists
Modern life is full of complex tasks that we error-prone humans have to complete, from setting up your printer to cooking a meal for 2. Surgeon Atal Guwande – a man whose job allows no room for mistakes – recommends using checklists as a way to correctly perform routine tasks with minimum effort. By writing out a step by step 'program' for yourself to follow, you can make sure nothing is missed or done wrong, without having to engage a tired or over-burdened brain with remembering what you need to do.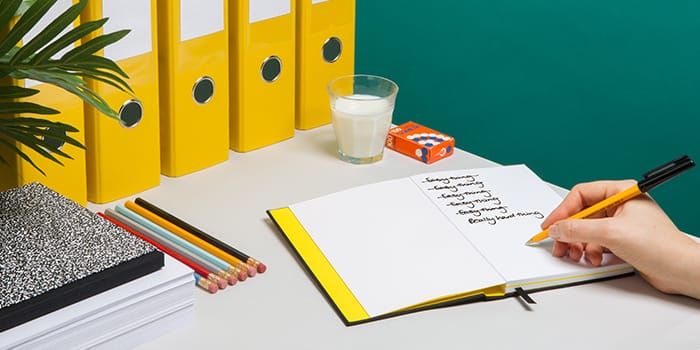 4. Track progress with the Kanban method
The impressive-sounding Kanban board is actually a really simple idea – it's a set of categories: to-do, doing, and done. You start off with everything in 'to-do', and move tasks from left to right across the board as you progress with them.
Born in the world of software development, the Kanban board exists virtually through apps like Trello, and can also be a real-life pinboard or even a section of wall with cards or notes stuck to it. You can get as crazy or simple with this as you want. Into color coding? Go for it. Want to use up those novelty sticky-notes you found in a drawer? Now is the moment!
As Andrew Kunesh notes on the Zapier website, "Kanban is great for teams and those who like to see the big picture at a glance. When using the method, you'll have all of your tasks, due dates, and task progress in front of you, so there's nothing keeping you from diving right into your work."
5. Cut down wasted effort with the Pareto Principle
The Pareto Principle, also known as the 80-20 rule, states that around eighty percent of results come from only twenty percent of the effort. Or, to put it another way, most of the progress towards your goals comes from a few accomplishments. You might be sitting at your desk for 8 hours, but make most of your day's progress in less than 2.
Based on that principle, the Harvard Business Review recommends that you write down your 6 top priorities for the day, and then cross out the bottom 5. Then try to focus on the top priority for 90 minutes straight. If you find yourself drawn to a particularly cute cat video, write down the task again to re-focus your attention.
After you've targeted your most important task with lazer-like precision, you can then (in theory) spend the rest of your day addressing those nice-to-have tasks that usually get forgotten about. Or just watching cat videos – your call.
An added bonus
We want you to lead the most creative and meeting-free lives possible. That's why we developed a "Meetings Kill Creativity" Chrome plugin, so you'll never get stuck in an unwanted meeting again. Just click here to download and you'll not be in your next meeting in no time.
Keep in touch
Get design inspiration, business tips and special offers straight to your inbox with our MOOsletter, out every two weeks.
Sign me up!