From Zoom to the ballroom: today's corporate event ideas
Just because a corporate event serves an important purpose doesn't mean it can't also be fun.
Slowly but surely, the in-person corporate event is making its long-awaited comeback. From executive team and board retreats to conventions with multiple speakers and breakout sessions, companies around the country are starting to send out Invitations with physical addresses attached for the first time in a long while.
Although "IRL" corporate events are beginning to pop back up on the calendar, that doesn't mean you should ditch the virtual world entirely. Incorporating the lessons of the past year and combining the best of both in-person and digital events can help you to maximize turnout for your next product launch celebration or board meeting.
As you start the process of planning for your next corporate event, consider how you can offer your guests a one-of-kind, face-to-face experience while still making virtual attendance possible. With the right ideas and proper execution, you'll be able to deliver an experience that motivates and educates, no matter where participants are viewing from.
Why hybrid events are here to stay
Whether to stop the spread of illness or to simply accommodate employees working in multiple locations, business leaders expect the hybrid event to be the way of the future. By combining in-person get-togethers with virtual components that can be accessed around the world, hybrid events make sure there's a spot at the table for everyone. According to a February 2021 survey of more than 100 event organizers from the Global Business Travel Association (GBTA), 3 out of 5 said they are expecting to hold a hybrid event this coming year. 
"We saw virtual events that enabled attendees to engage with content in their own ways, but there were still many aspects about in-person events that organizers and attendees missed—from the connections and face-to-face interactions to the excitement of grabbing your morning coffee," said Alon Alroy, co-founder of the hybrid event platform Bizzabo, speaking with TechRepublic. 
While the COVID-19 pandemic has certainly been a main driver of the move to hybrid events (71% of respondents in the GBTA survey said they had not held a hybrid event prior to the pandemic) organizers expect to use and benefit from the format well after the pandemic ends. For larger corporations with offices across the country, a hybrid event can help to significantly cut costs by limiting the number of plane tickets and hotel reservations needed for a conference. Hybrid capabilities can also help employees and leaders with conflicts that prevent them from traveling (or who don't feel safe doing so right now) remain involved and informed.
Ultimately, organizers moving forward will most likely use a mix of in-person, virtual and hybrid, depending on context. The key, regardless of format, is creating an event that will captivate participants and help support the event goal — whether it's to build synergy amongst leadership, boost team spirit or celebrate a successful quarter after a stressful year with a party.
Preparing for your event
Whether you decide to host your event virtually, in-person or in a way that blends the two, there are some best practices to keep in mind as you get ready and prepare for the big day:
Know your goal
It can be tempting to dive headfirst into planning, but there's one important question you need to ask before sending a single invite: What is the goal of your event? 
Not all corporate meet-ups are made equal. You should have an explicit purpose and a strategic goal you're trying to reach. Some examples of potential event objectives include spreading brand awareness, announcing a new product or service launch or simply positioning your company as a thought leader in your area of expertise. By taking the time to outline your goals for the big day, you'll be able plan more effectively — and maybe score a larger budget too. 
Before you start putting your event in motion, consider the following questions: 
Who is your audience?

We're not just talking about the people you invite — although they're a very important consideration too. Decide not only who you want attending this event, but also the groups you want reading about its coverage and impact.



Where does this fit into your company-wide strategy?

Consider your organization's short- and long-term goals. The desired outcome for your event should clearly align with these objectives.

How will you measure success?

A "good" event looks different to everyone. Whether you're hoping to stir up some good press or attract a record number of attendees, setting an objective metric can help you benchmark your overall performance.
By taking the time to outline what all relevant stakeholders hope to achieve from your event, you'll have a clearer idea of what the day of should look like.
Send your invites early
A good rule of thumb is to send out your invites at least three to four weeks in advance for smaller, internal corporate gatherings. For larger live events such as conferences that will require guest speakers and hotel blocking, you'll want to plan a full year in advance. Regardless of the size of your event, be sure to include important details such as the location, date and any necessary information for phoning in virtually. 
Not only does this long lead time give you and your attendees more than enough time to prepare, but it also may be necessary for any health screenings or testing that your venue of choice requires. 
After so many events were canceled over the past year and a half, it can feel a little daunting to flip your calendar months forward or even a full year ahead. However, doing so will allow you to maximize the turnout at your corporate get-together. 
As you design and send out your invites, keep the following tips in mind:
Use a simple design:

It can be tempting to go big and bold with the graphics on your invites, however that may only serve to distract from necessary details. Using a minimalistic design will not only boost the readability of your invitations, but it will also help ensure they look professional and well done.

Deploy consistent branding:

Whether your event is a one-off conference or happens every year, your invites should use similar colors, graphics and the same typography as the rest of your promotional assets and materials. Feel free to modernize the materials from year to year, but be sure to maintain the essence of your branding as you update the invites for your event.



Provide Digital RSVP options:

Include a way for guests to instantly RSVP with a digital form and follow up your initial invite with a digital e-card. For those located across the country or even the world, this ensures that even if their physical invitation is lost in the mail, they still get word of the event.
If you're not sure where to start when it comes to designing your own invites, working with a printing partner can help simplify the process.
Create a world-class experience for attendees
What is the most crucial part of your event? Ensuring both your virtual and in-person attendees have a great experience.
Informative flyers

: After your in-person guests check in, make sure they know where they're going. Provide

Flyers

and informational packets with a schedule for the day including the location and times for any speakers or break-out sessions. If your guests can pick and choose their own agenda during the registration process, put informational packets together in advance to save some time on the day of.

Clear posters and print outs:

We've all been there: You're absolutely certain the room you need to be in is two hallways and one right turn away, and then … you hit a dead end. If the event space allows, put up

Posters

and maps with the directions to any conference halls or rooms you'll be using.



Branded party favors:

Don't let your attendees leave empty handed. From branded notebooks and pens to

Reusable Water Bottles

, there's no shortage of ways to say "thank you for attending." For virtual guests, sending a small

Gift Basket

is a great way to recognize their attendance even if they weren't able to come in person.
As you prepare for the big day, always consider the branding and design of any promotional assets you use. The materials don't need to be identical, but they should feel cohesive in the way they look and feel. 
Develop a back-up plan
We've all heard of Murphy's law: Anything that can go wrong will go wrong.
Spare yourself the unnecessary stress of pivoting your plans in the moment and instead make a list of four or five of the most critical parts of your company event such as your keynote speaker, a certain catering partner or even the venue itself.
For each of the components you identify, ask yourself:
What can I do if there's an issue one week out? What about a single day, or just an hour before the doors open?

Is there someone on my team or a virtual attendee who can act as a designated understudy for a speaker if they drop out?




How will I record and share videos of speakers if virtual guests have internet connectivity issues or there are problems with the livestream?
While you may know there was a change of plans, your guests will be none the wiser.
And, in the event your worst-case scenario becomes a reality, take a breath. If you find you need to change the date of your corporate gathering or put it on hold for the time being, you can easily spread the word with customizable Change the Date Cards.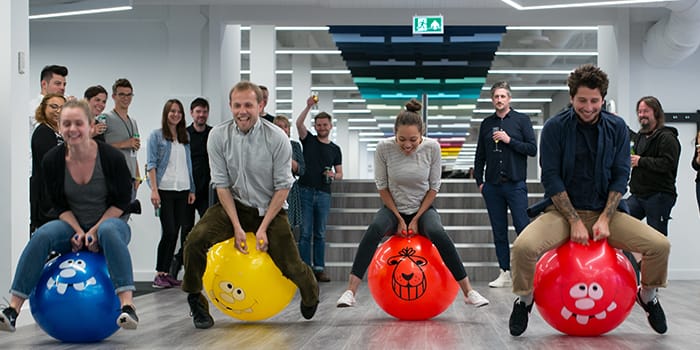 An event for every purpose
While you obviously have to get the work done, a big part of a successful internal event is ensuring attendees are having a good time. Come Monday, employees will be returning to work feeling motivated and with a sense of shared purpose that might have been missing after a year and a half without these large gatherings. Each idea communicates something different about the future of your organization and, with the right tweaks, can provide joy to both remote and in-person attendees:
Get a little competitive
Everyone loves a little healthy competition. Divide attendees up into teams and let the games begin! Turning portions of your event into a game is a fun way to help to break up the malaise of endless speakers and help employees practice their team building and leadership skills in a way that's a little more fun than your standard in-office icebreakers. 
In addition to spicing up your employee events, gamification and team-building activities can be used in your smaller teams to help smooth out the return to the office and help new hires get acquainted with their cubicle mates.
The right creative corporate event idea for your event could include:
A scavenger hunt:

Get attendees moving and thinking with riddles and clues.

If possible, tie your scavenger hunt into your event's overall theme for some added fun.

Pictionary telephone:

Test creative juices and get participants laughing and thinking outside of the box.

In addition to lightening up the day, this game can get employees to consider more innovative ways to work with their team members at the office.



A trivia game:

Test attendee knowledge of everything from geography to company history.

This is another great way to tie a game into the overall event — pull facts and statements from guest speakers you hear from throughout the day.

The name game:

For this one, participants wear a

Name Tag

with the name of a celebrity on it. The goal is for them to guess who they're "wearing" by asking questions and working through the mystery with other attendees — no peeking allowed!
While it may feel like competitive games will require team members to be in person, this is not necessarily true. The virtual event platform Hopin, for example, lets users design a virtual scavenger hunt where users can hunt for "tokens" like keywords in an address or pictures of an activity. These kinds of challenges can add fun and spontaneity to events that aren't necessarily known for being either — especially when held virtually. 
That's entertainment!
Remember concerts? What about live comedy? They're both back and could play a big part in your next corporate events. Companies hold corporate events for a variety of reasons — the right entertainment can build morale and demonstrate your company's sense of fun with live entertainment, be it a magician, live band or comedian. 
If you're not sure who to pick, follow these tips as you work to scout out the right talent for your event:
Align the act with your theme:

For a corporate retreat or team-building event, something more recreational like a comedian or musical act will likely make the most sense. However, for professional development days, you may want to consider looking for a guest speaker whose background and experience align with the topics you plan to cover.

Make sure it's engaging:

Take the time to scout out your potential entertainer's social media presence and any recordings of their act you can find online. There's nothing mor disappointing than finding out that after all of your hard work and planning that you hired a performance that doesn't hit the mark.



Plan your agenda:

Consider where your entertainment act will fall during the day. Starting the morning with a high energy performer may leave attendees feeling drained or distracted, whereas they may not be able to have as great of a time if the act is the final part of your corporate event. 
Another way to boost the hype around your event is to involve would-be attendees throughout the planning process. In the months leading up to your event, create a poll to see what the team's preferred entertainment would look like. Whether your office only votes on the categories of performances they're interested in or the specific person they'd like to hear from, giving them some say helps to ensure everyone gets something out of the event. Plus, it takes the responsibility of picking someone each team member will like off of your own plate.
While there's nothing quite like live entertainment, employees who can't attend your event in person can still witness the fun. All you need to do is set up a livestream. The events company Bizzabo, for example, hired a hip-hop improv comedy team for their most recent virtual corporate event, entitled "(Almost) HYBRID." The performers created original songs based on experiences the employees had shared — boosting employee engagement, no matter where in the world they were attending from.
Food is the way to the heart
No corporate event is complete without a catered spread in the back of the reception hall. Rather than return to the standard fare, let this reboot be an opportunity to mix it up. Try getting a catered spread from a local business. You can ask attendees who live nearby for the scoop on the right sandwich shop or taco spot to handle the catering. 
Don't want your virtual attendees to be left out of the food fun? Mail a gift basket of non-perishable snacks or other goodies. From crackers and cookies to healthier options like dried fruit, a gift basket is your way to bring a little taste of the conference to participants who couldn't make the trip. If there are any local delicacies your conference location is known for, be sure to include them. A personalized Greeting Card can also go a long way towards helping virtual attendees feel like they're a part of the corporate event experience, wherever they're watching from.
Start planning your corporate event
It's easy for even the most experienced event organizer to feel overwhelmed when it comes time to plan their first corporate get-together in a post-pandemic world. Just remember that by preparing well in advance and getting all of your necessary assets organized, you'll be well on your way to maximizing turnout and providing your virtual and in-person guests with an experience they won't soon forget.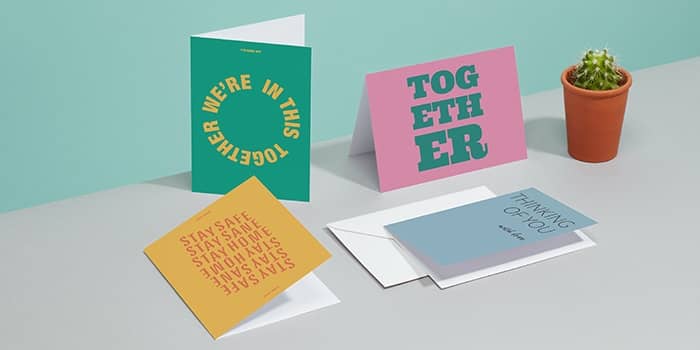 Looking for a printing partner that can support your next corporate event and beyond? MOO has Business Printing plans for organizations of all sizes.
Fill out the form here and a friendly Account Manager will reach out to you.
Keep in touch
Get design inspiration, business tips and special offers straight to your inbox with our MOOsletter, out every two weeks.
Sign me up!