B2B email marketing tips that actually get you clicks
More than ever, companies are turning to their email marketing subscription lists to make connections.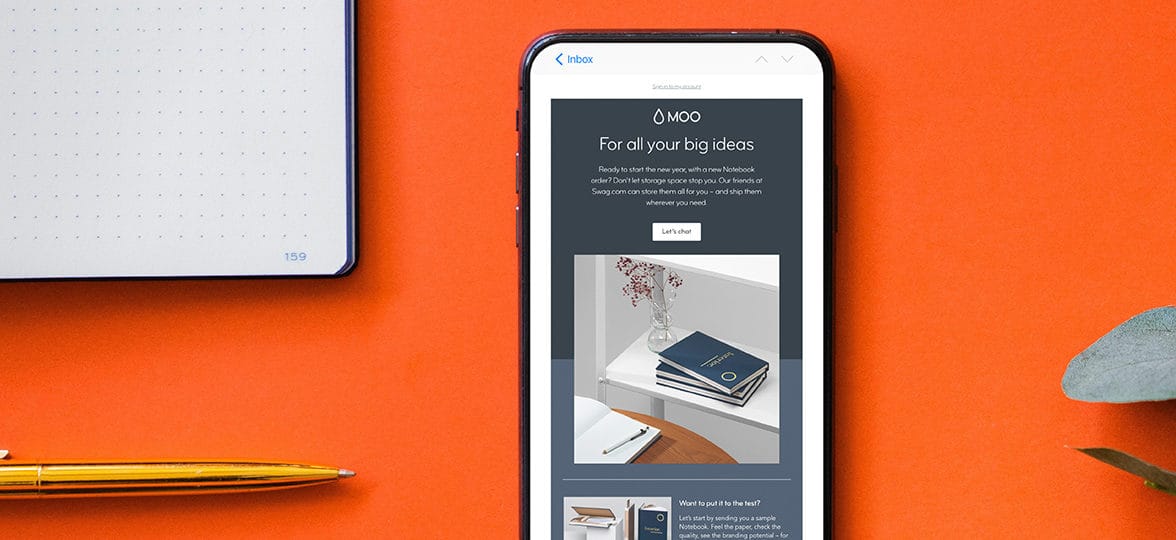 You open your inbox, only to find an endless list of promotional emails. We've all been there. But what happens when the shoe's on the other foot? Your email marketing materials need to stand out from the competition, especially in the B2B space, where more companies than ever are turning to their subscription lists to make connections. 
Why email marketing works
While email marketing may sometimes feel like shouting into the void, study after study confirms that it really does work. If done right, emails can be one of your most important marketing options — driving engagement, developing quality leads and increasing your conversion rate. According to Experian, each dollar spent on email marketing has an average return of between $45 and $51, an incredible return on investment. The medium is also relatively inexpensive compared to others, like large ad buys, making it attainable for businesses of all sizes.
With so many advantages, it's no wonder email marketing has become a staple in almost every industry. More than ⅓  of marketers send their customers as many as three to five emails a week, according to Hubspot. And those emails are paying dividends — now more than ever. Hubspot also stated that 78% of marketers saw an increase in email engagement in 2020. 
Standing out from the pack
So you know email marketing can work. And you also know the field is crowded. Now comes the tricky part — making your next email marketing campaign one customers will notice. A great marketing email excels on multiple fronts — messaging, audience, timing and design. Each new campaign is also an opportunity to acquire data and see where you can improve. As you get your next promotion underway, remember these helpful tips.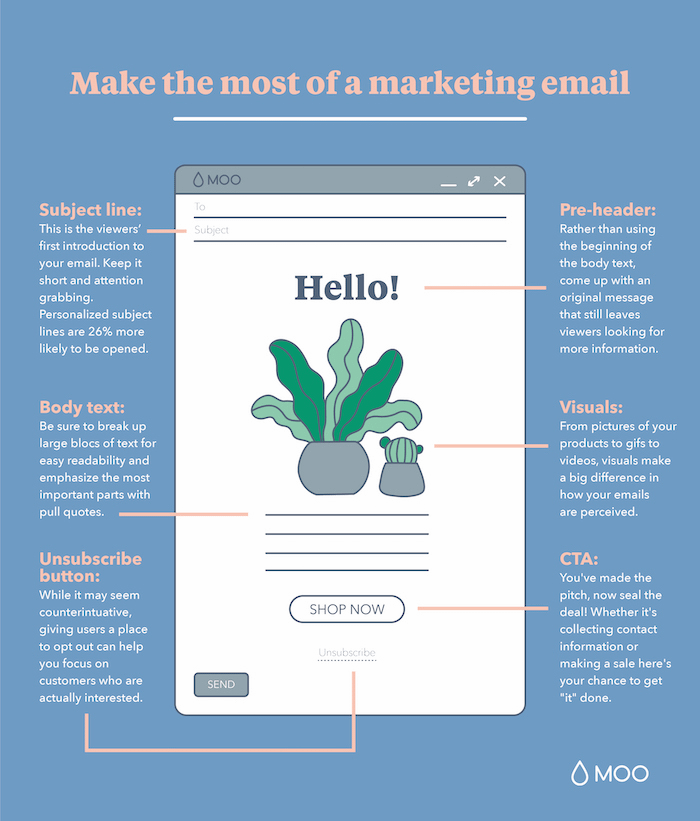 Subject lines are your first impression
Email subjects need to catch a reader's eye in a way that doesn't feel too gimmicky. While threading the needle between gotcha-style clickbait and uninspiring subject lines can be challenging, it's also your best bet to grab the attention of wandering eyes. Subject lines should be concise and informative, yet still surprising. You can also try adding colorful features like emojis into the mix if it feels appropriate for your email subscribers. 
Another area of the email to pay close attention to is the pre-header, or the bit of preview text that's visible before a person clicks on an email. Rather than just being the first sentence of your email, you can customize the preview text to present valuable information right away and attract viewer interest. The visible text length of a preheader will vary depending on the device, but a good rule of thumb is to stay under 100 characters.
If you're not sure if a subject line, preheader or any other element of your email is having the desired impact, you can always run an A/B test. This is when you divide your subscriber list in half and send out two nearly identical emails — only altering the feature you're testing for — and see which does better.
Know your audience
For emails that connect, you need to demonstrate that you understand the needs of your target audience. Speak to the specific challenges your customers are facing (there's probably more than a few right now) — and offer constructive ideas. Businesses aren't just looking for a product when they make an important purchase, they want a partner. Show your readers your company can fill that role.
In addition to getting the messaging of your email right, focus on using a set tone of voice throughout your campaign. Businesses use set language to show customers what they value. A software company looking to show how their products can help foster creativity and collaboration, for example, would probably steer clear of more technical jargon. Look to your other marketing materials for inspiration and to ensure your branding stays consistent. 
Craft a message built for B2B
A good B2B email should be written differently than the consumer-facing promotions likely clogging your spam folder. B2B marketing focuses on planting a seed and building brand awareness and trust, before ultimately making the sale. B2B buying cycles tend to be lengthy — as customers are carefully weighing their options, or may not need your product right away. Always being in "sales mode" probably isn't the best approach. 
One way to increase brand loyalty is with an email newsletter. Newsletters are a great way to support your digital marketing efforts with longer writing that establishes thought leadership or shows your mailing list that you know what you're talking about. This approach can also pay real dividends down the road. The Content Marketing Institute says that 31% of B2B marketers list email newsletters as the No. 1 way they nurture leads.
Get personal
The typical customer wants to feel like their business is meaningful to you. That means finding ways to personalize content to their needs. Email personalization can involve anything from addressing subscribers by name in each email to using customer data to provide customized product recommendations. Personalization also means ensuring your emails feel like they're coming from a real person, not a machine. For example, you could try signing off with the name of a staff member, rather than just your company information.
Great design matters
With only a second or two to impress, smart and appealing design makes all the difference. Your email template should be laid out in a way that doesn't feel cluttered and emphasizes the most important information. Templates are available on both general email services, like Microsoft Outlook, and programs designed specifically for marketing, like MailChimp. Make sure your email is designed to be responsive on both desktop and a mobile device so that readers are catered to whether they're at their home office or on the go.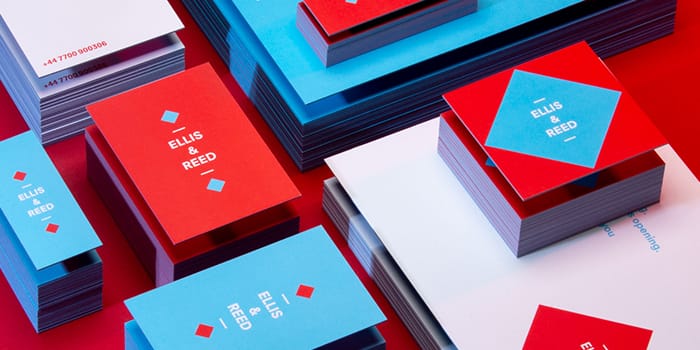 In addition to following general best practices, your company should strive for design that has a little flair and fits your overall brand aesthetic. Incorporate the logos and color schemes of your Business Cards, Postcards or other materials into your marketing emails. This visual consistency will boost brand recognition.
Want to take your marketing strategy offline? Try our range of premium Postcards, Envelopes, Stickers and more.
Fill out the form here and a friendly Account Manager will reach out to you.
Keep in touch
Get design inspiration, business tips and special offers straight to your inbox with our MOOsletter, out every two weeks.
Sign me up!