How these brands stand out with Copper Foil 
If you're looking for something a bit different – Copper Foil is where it's at.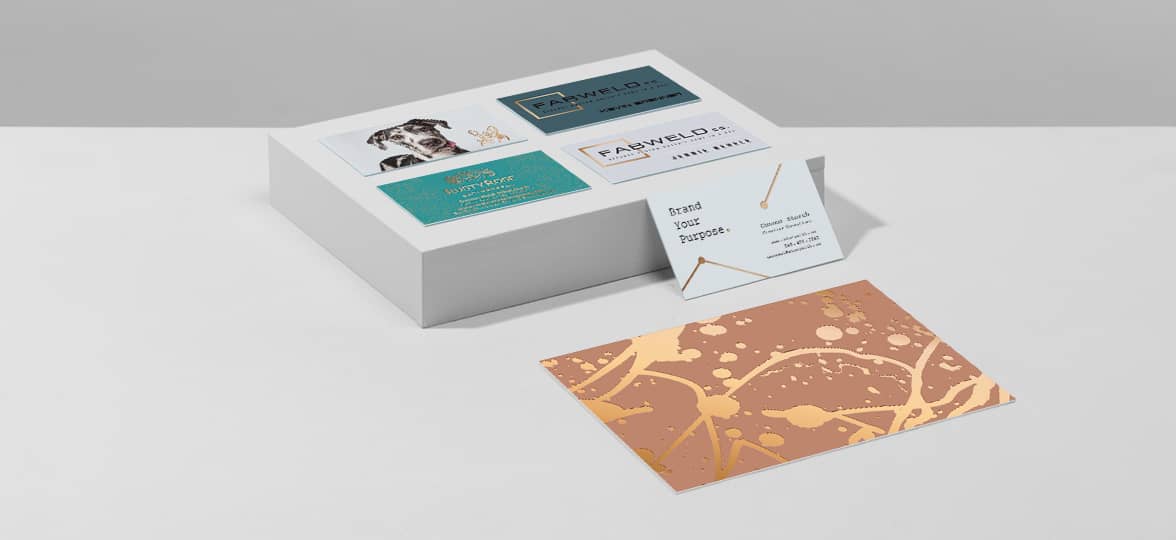 We recently chatted to three brands who are making waves with Copper Foil. Our exclusive catalog offers this incredible special finish across Business Cards and Postcards. So whether you're looking to wow your customers during the holidays or enhance your everyday branding – Copper Foil provides the ultimate luxury finish to your message.
But don't just take our word for it, check out the MOO customers who do it best.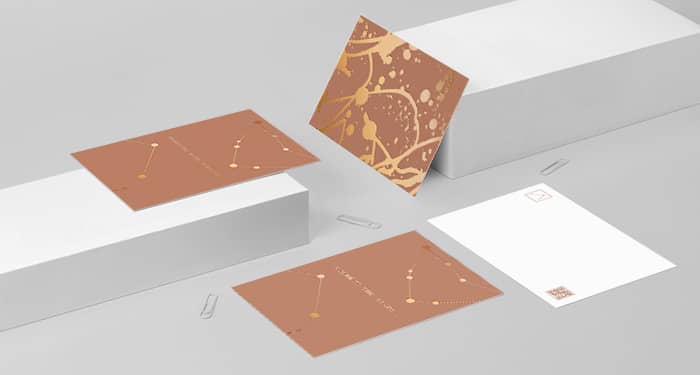 Co. Story
Co. Story is a consulting firm empowering brands of all sizes and shapes through intentional storytelling. We caught up with founder, Connor Storch, to delve deeper into the secrets of effective brand communication via print.
"We were drawn to copper for its unconventionality and, of course, that it was a new and exclusive offering at MOO."
When it came to selecting Copper Foil for their Business Cards and Postcards, Connor knew it was the perfect fit. He told us, "At Co. Story one of our core principles is to forecast trends. We were drawn to copper for its unconventionality and, of course, that it was a new and exclusive offering at MOO."
He continued; "Copper exudes a warm glow through its rich, earthy tones that connect with our brand essence. We believe in the power of having a brand signature, so Copper Foil enables us to establish our own aesthetic that stands out and leaves a lasting impression."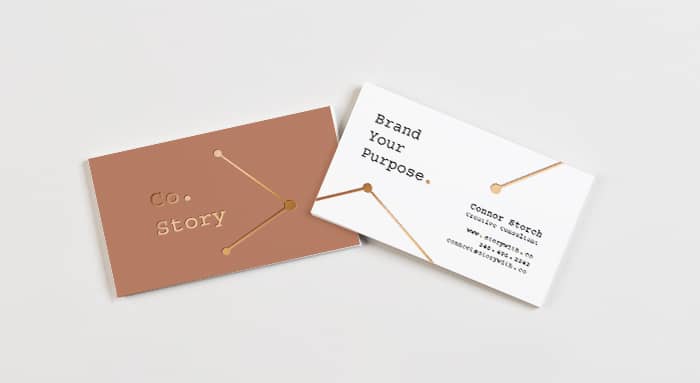 Connor firmly believes in creating memorable brand moments so if you are going to provide someone with a representation of yourself, you should make it count. He told us, "It's been an incredibly rewarding experience to witness the reactions of people when they feel our ultra-smooth cards with the Copper Foil finish. Without fail, every time I hand out my Business Card it elicits compliments, and I find myself blushing in response."
FabWeld Co
Next up is FabWeld Co, a Woman Veteran-Owned Small Business specializing in all types of metal fabrication. We spoke to Jennie, the owner, about the importance of impactful Business Cards.
"I thought having some type of metallic finish on our Business Cards would be an excellent way to convey what we do, we work with metals," she told us. Jennie takes great pride in her business and believes the design of her stationery reflects how they do business – with precision, quality, and a touch of elegance.
Judging by the reactions of people who receive FabWeld's Business Cards, it's clear that they've made an impression. She told us, "People love the Copper finish on our Business Cards. They ask where we had them made, they haven't seen other business cards like it!"
RustyRose Photography
Last but not least, is the photography studio, RustyRose Photography, specializing in equine, pet, and family photography led by Heidi Mikolajczyk.
When it came to representing her brand identity, Heidi was after something that elevated her Business Cards and made them truly stand out. "The Copper Foil just adds the pizazz I was looking for! I love copper and rose gold so it just adds that sparkle and shine that truly elevates the cards and makes people stop in their tracks to gaze upon its beauty. They all have to hold it and feel it. People just lose their minds over it. It's the perfect way to spread the word about my business" said Heidi.
Ready to try Copper Foil for your business? Get started by signing up for a MOO Business Plan by filling out the form below.
Keep in touch
Get design inspiration, business tips and special offers straight to your inbox with our MOOsletter, out every two weeks.
Sign me up!