How MadeUp Co. went from bland to brand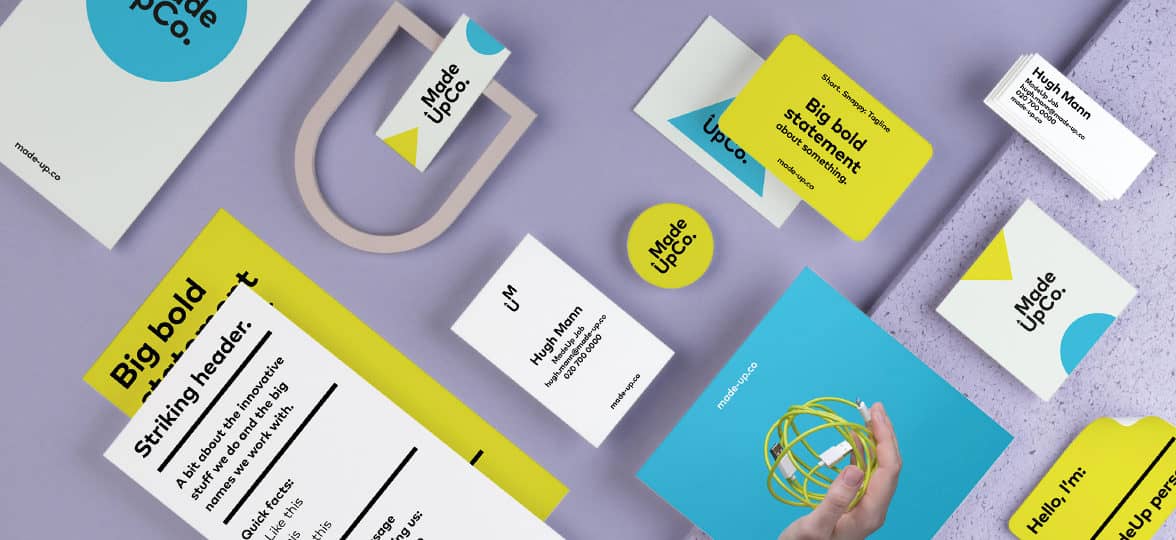 At MOO, we love helping elevate brands of all shapes and sizes – even fictional ones. For our latest sample pack (featuring all our premium print products) we decided to use our favorite fictional startup, MadeUp Co., to show how our products can take your brand to the next level.
Meet MadeUp Co.
Founded just after that thing happened, MadeUp Co. made waves in The Industry by launching The Product. It was a big success. And it saw the company quickly outgrow their garage-turned-office and move into MadeUp HQ in downtown Somewhere.
"We were in need of sales and marketing teams, and before we knew it we had twenty employees," MadeUp founder Hugh Mann recollects. "We were so focused on the rollout of The Product that didn't even have branding for marketing collateral. Our sales reps were handing out business cards we'd made on the office printer."
Realizing they needed to reach out to the business world, MadeUp looked to reboot their brand and offer more than just made-up goods and services.
The MadeUp makeover
Mann and team looked to their competitor's branding to see how they could stand out in The Industry. They realized they needed to make a big, bold statement to make a name for themselves. After months of research and user testing, they settled on the MadeUp mission statement: "Short. Snappy. Tagline.™" "It said everything we wanted to say, but in three short words," Mann explains. "With this bold new vision, we needed bold branding to match it."
The results were unreal. They chose bright blues and greens to make their fictional messaging come to life. "We knew we had something special, but we didn't want our months of R&D to go to waste by skimping out on print," Mann explains. "We budgeted for marketing materials for every employee, and wanted to make sure our branding looked great on all our stationery."
The right print partner
With a growing global sales team and marketers at trade shows each month, the MadeUp team knew they needed an online print vendor for all their employees around the world. "The moment their sample pack came through the door, we knew MOO were right for us," says MadeUp Brand Manager. "And because they have an in-house design team, we knew they could help us put our brand on paper."
So they signed up for MOO Business Services and worked with a designer to make an enigmatic announcement.
MadeUp sent Postcards to all their prospects and customers, announcing both the rebrand and details of New Product. It was a huge success. "We couldn't imagine a better response," Mann agrees. Thanks in part to their #cleverhashtag campaign, they managed to hit impressive numbers like 20,000 and 9 million.
A MadeUp family
Months after the announcement, MadeUp doubled in size, and now has over 200 staff on board. All new MadeUp hires receive an onboarding kit to welcome them to the company. It includes their own personalized Business Cards, MiniCards with the WiFi details, and Stickers featuring inspiring MadeUp words like "Think Stuff" and "Imagine Things," which speak to the company's core values.
"Our brand is stronger than ever," Hugh Mann tells us. "With our brand assets on MOO Business Services, we're able to preach our branding to new hires from day one. And it's convenient too. Our MOO Account Manager reaches out to us every month to check in on what we need. We're like old friends now."
"We were thrilled when MOO asked us to be on their new sample packs. They were the key to making the MadeUp brand a reality."
---
Find out more about MOO Business Services
At MOO, we've been helping people make their mark in the world with amazing quality print products for over a decade. And as our customers have grown, so has our service offering. That's why for bigger businesses—with 10+ employees—we now offer MOO Business Services. It's MOO + benefits. MOO Business Services combines dedicated account management with an easy online ordering platform and expert design services. It's a complete package for businesses to give you more brand control and consistency—while saving you time, stress, and money in the process.
Want help building your brand? Fill out the form below and a friendly Account Manager will reach out to you.
Keep in touch
Get design inspiration, business tips and special offers straight to your inbox with our MOOsletter, out every two weeks.
Sign me up!