How to prepare for a trade show on a small budget
Here's how to pull off an outstanding event, even when your budget is limited.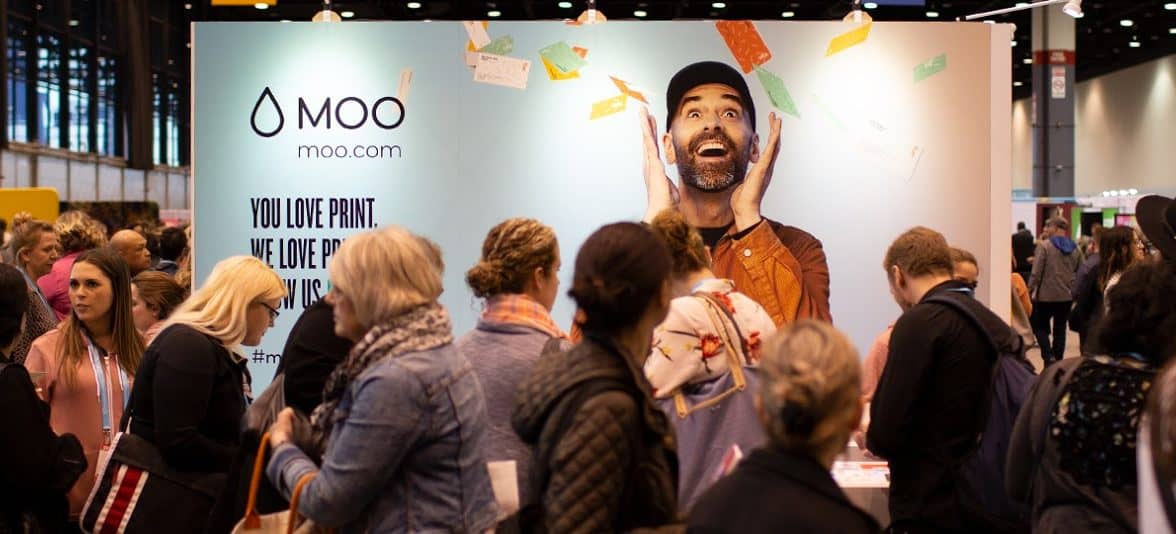 Trade shows are a great way to get your brand out there and make connections in your industry. Here's how to pull off an outstanding event, even when your budget is limited.
A trade show can offer a huge boost for your business, allowing you to grow your audience and forge new relationships with potential vendors, suppliers, staff and customers in a short space of time. But they can be expensive too, especially if you're considering an event with a high exhibitor fee.
Trade shows come in all shapes and sizes, from college recruitment fairs to product showcases or industry events. Whichever kind of event you're preparing for, here are some ideas to help you get the most out of your trade-show budget and make your event stand memorable, even if you're competing with larger companies.


1. Follow a preparation checklist
As soon as you book your event, you'll have a sudden and sizeable to-do list of things you need to organize ready for the big day. Take control with an event-show checklist that will keep your preparations on track.
Keeping to your schedule means you'll be cool, calm and collected throughout the planning process, and it will help you avoid costly last-minute rush-rates from suppliers too.
Divide your list according to the lead time needed for each item. For example, you'll need to start looking as soon as possible if you're planning to recruit helpers for the day, whereas a job like printing extra business cards can be done in as little as 24 hours.
2. Build relationships, negotiate discounts
You'll likely be working with a few different suppliers and vendors when you set up your trade show, and some of them may be able to offer you a discount or bulk deal.
Being clear about how much budget you have available can prompt people to offer you the best available rates and work with you to make the sale – it's in their interest to get your trade, after all.
Let them know what you want to achieve within the available budget. They'll have worked with many different companies and are likely to have suggestions about how you can get the most out of what they have to offer.
To foster these kinds of supplier relationships, try making bookings or enquiries over the phone rather than via email or web forms. That way you'll have the opportunity to speak to a real person and explore options with them, such as including design support or project management, before you make a commitment to do business.


3. Create different print materials for different audiences and goals
Trade shows can feel like a whirlwind of flyers, postcards and handouts, so you need to bring your best printed promotion game if you want to stand out from the crowd. But how can you do that when you're on a tight budget?
One option is to tailor your printed materials and make a smaller number of high quality flyers in different designs for different audiences. Tip: MOO Printfinity is perfect for this, as it allows you to produce up to 50 different designs in a single print run.
Create designs for several different flyers or postcards for your various audiences. For example you could have a "working with us" flyer for potential employees, a "latest products" one for customers, a "stock our stuff" one for vendors, and so on. That way, rather than contributing to flyer overload, you can give the right flyer to the right person, with more chance that they'll read and appreciate it. Don't forget to print name tags for your team, too!
For customers, you can include some discount codes or special deals which can be redeemed at your booth on the event day or on your website for a longer period.
Producing multiple versions of your flyers is much easier when you have a centralized location for your print templates. With a versatile platform like the one provided with a MOO Business Services subscription plan, you can easily pivot between your different designs.
4. Get your flyer number ratios right
Many trade show exhibitors focus on printing as many flyers and cards for an event as possible to maximize their reach, reasoning that they can always be reused and that larger orders mean better value. But who said you had to go for quantity over quality?
Instead, try planning the number of flyers and cards you order according to the number of attendees. Not every person will take a flyer, so you know your final quantity will be below the attendee total.
The size of the event will also play a role – at a smaller occasion, each person will have more of a chance to visit every booth before getting tired or bored, so aim for a higher ratio like 75%. At a larger event, a smaller proportion of the total visitor numbers will connect with your brand to the extent that they'll take a flyer, so you can move the ratio down to a lower percentage, like 50%.
5. Embrace the smartphone factor
It's worth remembering that in the age of the smartphone, not everyone needs to have a paper flyer in their hands to receive information about your brand.
With this in mind, consider using posters and large, high-quality printed marketing materials to share information. As well as taking a flyer away with them, visitors can photograph your price lists, social media handles and special offer codes pinned up around your booth or stand using their smartphones.
This way you can adapt your strategy and invest in small numbers of truly gorgeous paper stocks and designs without burning through your budget.
And as an added bonus, visitors can easily share information about you with friends and social media followers too, simply by posting their photos from your booth.


6. Have crowd-pleasing giveaways
Giveaways, such as a premium Notebook branded with your company logo, or a tempting discount on your products and services, can be the secret sauce that boosts engagement at your trade show stand. Even lower-value items like stickers can be desirable enough to prompt a visitor to stop and engage, if the designs are attractive and interesting.
If you have only a small budget to play with, consider investing in a low number of giveaway items and making the process of getting them part of the fun. Even if you only have a handful of items to give out, the scarcity of the prizes can amplify their desirability and enhance the interest you drum up.
You can amplify your reach by promoting the giveaway on social channels, inviting followers who may be at the event to stop by your booth for a chance to win.
A popular option is to use a business card raffle system to give away a small quantity of more premium prizes. Collect your visitors' cards in a box or bowl during the event and pick a winner at an allotted time, using the contact details from their card to let them know they've won.
A fun twist on this idea is to make it more participatory and creative – something that often goes down well at student events or careers fairs. Visitors can enter the giveaway by taking part in a fun challenge like drawing your logo on a post-it note, or taking a selfie and posting it on Instagram with your hashtag. Choose the ones you like best, or simply pick at random, to identify a winner.
Got a trade show coming up? Why not get in touch to find out how MOO Business Services can help you prepare. Complete the form here and a friendly Account Executive will be in touch to help you get started!
Keep in touch
Get design inspiration, business tips and special offers straight to your inbox with our MOOsletter, out every two weeks.
Sign me up!