How to attract people to your exhibition stand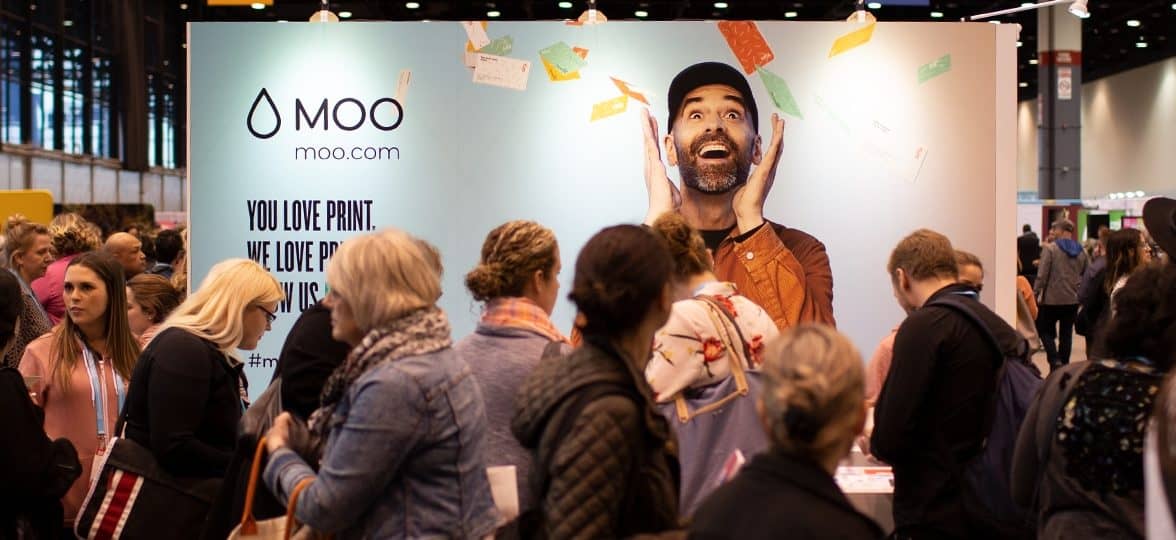 Exhibitions and trade shows are an opportunity to entice new  customers, scope out industry trends and make a splash with your brand. Here's how to create unforgettable connections.
1. Choose the right exhibition for your business
Taking part in a trade event or exhibition can be a huge step forward for your business. It can bring in new leads and customers, boost your brand awareness, and give you insights into what competitors are doing. It also gives you invaluable face-to-face marketing time with an audience of people who are already tuned in to the type of business you do, so you can really explore what really gets your target customers excited.
But for all those positive points, it also means a significant investment of your time and money. That's why it's important to consider carefully whether an event is the best next step for your business at the moment. It's all too easy to get caught up in the excitement when an event is announced, but for the best outcomes, you need to keep cool and think strategically.
Are you 100% event-ready?
If you're on top of all the points in this list, we'd say you're in a pretty fantastic place to take part in an event.
Consider the costs
Look into how much money is involved in booking and equipping a stand, and develop a budget you can stick to.
Prepare your marketing materials
Stock up on take-aways like Flyers, Business Cards and Stickers, and don't forget to factor in the cost of stand design – especially if you're drafting in professional help.
Think about staff members
Who will be manning the stand? What's the cost of their time and what would they otherwise be doing on the day?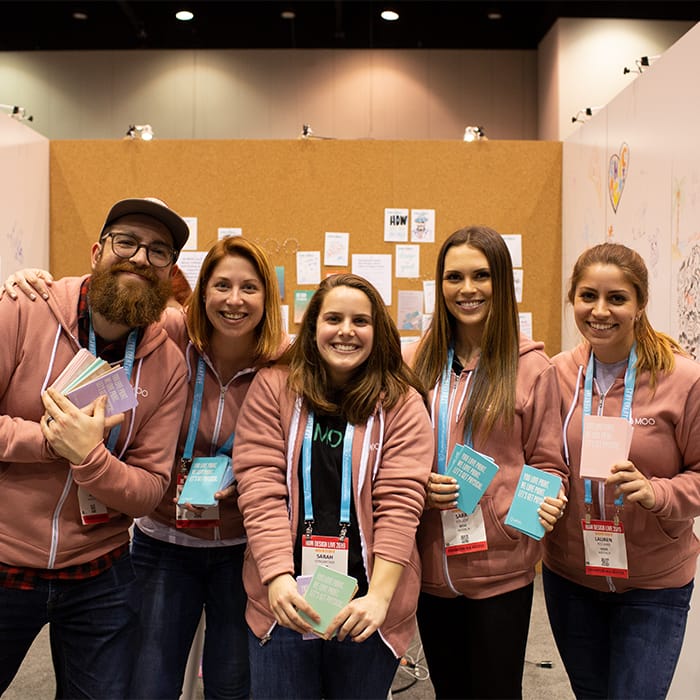 Identify your top products and services
What will you focus on at the event? Is there a 'hero' product that best represents your brand image? Or a particularly successful product that you want to drive more sales of?
Set goals and objectives for the event
For example, what do you want to get out of the experience? How will you know if it's been worth the investment?
Research your options and find the best event for you
If you're confident that now is the right time to take your show on the road, it's a good idea to spend a bit of time choosing your event with care, so that you get the very best experience and outcomes on the day. Here are some ideas for choosing the right exhibition:
Consider your audience
Having a clear view of who you want to attract can help narrow down the options. Is it a B2B or B2C crowd you're after? Do you hope to make sales on the day, or are you aiming more for brand awareness and checking out the competition?
Stay in the event loop
Make sure you're signed up to networking and event sites like Eventbrite and Meetup.com to get alerts about what's happening locally.
Join online communities
Social media can be a trove of useful information and insider tips on the event circuit for your industry. Look for Facebook groups for event organisers and show traders in your field. These are often 'closed' or 'private' groups, so you may need to request to join.
Know your local area
Draw on local resources like your area's Chamber of Commerce, guilds and societies or even libraries and community groups to find potential events.
2. Promote your presence at the event
Marketing in advance
Build up to the big day with a marketing campaign that lets potential customers know you're going to be there:
Social media
It's superb platform for building excitement. Use a little-and-often approach to remind people about your stand, and offer previews and hints about what's in store on the day. Find out the event hashtag and use it in all your event-related updates on Twitter, Facebook and whichever other channels you use. You could even create a special offer for customers who find you through social media. This not only entices more visits to your booth, it's also great for testing out which channels your customers are finding you on.
Advertising
This can be another handy option depending on your budget. Consider trade magazines – especially for trade shows and trade fairs where the audience is very specialized – and check with the event organisers whether there's ad space available in the show brochure or website.
Email newsletters
Use your email newsletter to go into more detail about the event, including the days and times, where to find your stand on the floor plan, and what you have to offer on the day – whether that's demonstrations, a chance to meet experts, a drop-in workshop or clinic, or a preview of new  products and services.
Packaging
If you sell physical products, you could drop a Flyer into your packages to promote your presence at the event. Try adding an exclusive discount – maybe a rebate on the ticket price or a 10% off a purchase at your booth – to encourage your customers to visit.
Think about takeaway messages
As well as planning ahead, think about what happens after the event. Attendees are likely to go home buzzing with new ideas and information from the day. They'll have seen a lot of businesses and absorbed a lot of ideas, so make the most of all the excitement.
It's a good strategy to keep your message simple and specific – focus on a particular product or service, or support a single-minded marketing message in your exhibition stand design and marketing.
It may be helpful to think about your brand's elevator pitch – a short, condensed summary of who you are and what you do. It's what you want attendees to remember about you, even if they forget everything else. Make sure all staff involved in the event are on the same page with your messaging approach and have that elevator pitch front of mind on the day.
3. Set up a stand that demands attention
Grab attention with great design
The most important element of your display is clear branding and messaging. After all, you want people to be compelled to talk to you! Otherwise, you're just another branded pen rattling around in another company's tote bag.
An attractive booth is a great way to show customers your brand personality and get that polished, professional look. And a well designed exhibition stand can go a long way to making you stand out from the crowd.
It doesn't have to be a one-off cost, either. If you're going to do trade shows for a few years, it's worth getting the highest-quality materials you can afford. This not only shows customers that you mean business, you can also use the materials for pop-up displays in-store events and brand photography.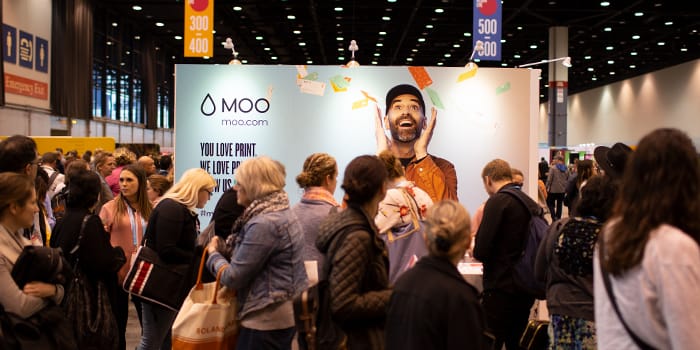 Should you hire a designer for your trade show display?
For many businesses, bringing in a design expert to kit out their stand or booth is the best way forward. That's not to say DIY stands can't be hugely successful, but with so much riding on visual first impressions, a professionally crafted display can be a worthwhile investment – not to mention a time-saver that frees you up for other planning tasks. Here are some pointers to help you choose a designer.
Get personal recommendations
Designers and illustrators often find their clients locally, especially if they're freelancers or small agencies. If you've seen artwork you like, ask the business owners who they used and how the service and turn-around-time was.
Compare a few quotes
Approach a few different designers for a chat about your project. This isn't just to get the lowest price for the job, you're also looking at how well you communicate and what kind of approach they take to your project. Finding the right fit will make the process much easier and more fun.
Questions to ask a potential designer
Before you decide on a designer for your event stand, there are a few important things to ask them:
How they charge. Is it a one-off quote for the whole job, or do they bill by the hour? Will they need payment in advance, or do they bill after everything is signed off?

How briefing works. A good creative result starts with a good creative brief, so make sure you establish how they like to kick off the project – it might be a meeting, a phone call or a written spec. Give as much information as possible so you have a shared idea of what you want the finished result to look like.

Feedback and making changes. Make sure you have adjustments built into your quote, so if something's not quite as you want it, you can ask the designer to tweak it without you paying more.
What does a successful event stand look like?
It's in the right place
To maximize your footfall, make sure you research the event space a few months in advance. Where are the most popular events and speakers around your industry taking place? Can you get a spot near them? Even if it means paying a little bit more, choose a prime location. It could mean thousands of dollars in business—or more—down the road.
There's merch and freebies
Everyone loves to pick up some goodies as they browse the stalls at an event. But don't just go for candy and USB sticks. A fresh approach will make you memorable and can be a great ice-breaker too. Play to your strengths here. For example, if you've got a keen baker on your team, go for frosted mini cupcakes iced with your brand logo. Or if you're blessed with design talent, give away some cool Stickers that promote your brand while looking good on the lid of someone's laptop.
There's prize draws
Rather than offering a little something for every visitor, you could invest the budget on a single, big hero prize (anything from a drone camera to dinner for two). Hold a draw for your big item, and use it as a chance to collect contact info from entrants to add to your leads. This will give you the opportunity to have longer conversations with potential clients.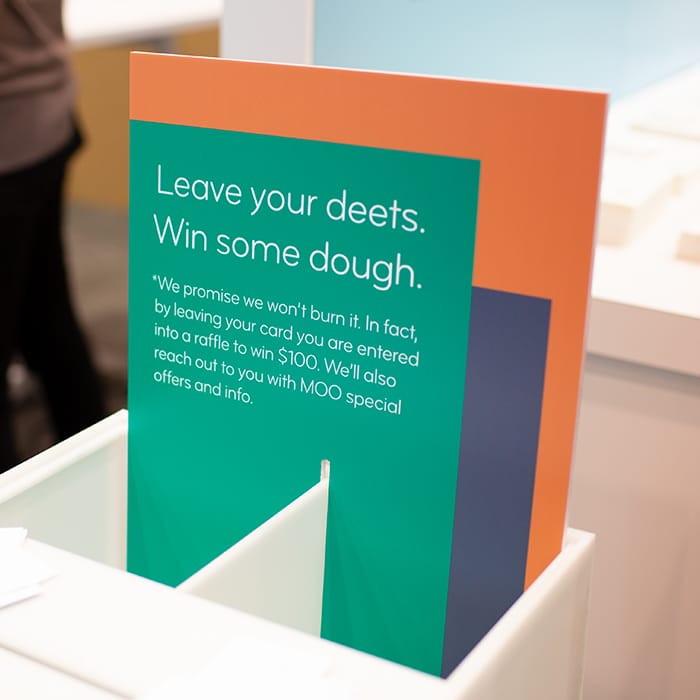 It's interactive
Give visitors a chance to get their hands on your products or prototypes by stocking your stand with samples and giving people free rein to explore and ask questions. You can also provide tablets or touchscreen devices to let them explore digitally and start becoming immersed in your brand.
There's plenty of information to take away
Trade shows are one of the few places where people actually take your promotional print materials. That's why you should make your Postcards, Business Cards and Stickers as eye-catching and on brand as possible.
If you don't have a designer on your team, consider using a freelancer to create the product announcements and event invitations – maybe the same person doing your event stand, if you've decided to go that route.
You could go a step further and have a newsletter sign-up sheet so you can keep your new contacts up to date.
4. Connect with visitors
People like being around others who make them smile – so why not focus on being the exhibitor that makes attendees feel great?
Events are the best opportunity to demonstrate your brand voice. Hopefully, your number one priority is delighting your customers. That's why you should staff your event with friendly company representatives and stay engaged with visitors. An attendee will remember a great interaction with one of your teammates more than anything.
Know who you're talking to
According to TSNN, trade show attendees fall into a few distinct types, from the general visitors who pay attention to everything fairly equally, to the super-focused niche visitors who make a beeline for stands relevant to their specific interests.
If you want to attract visitors as broadly as possible, it's worth knowing about these different groups and their motivations. You need to have general appeal, in the form of an attractive exhibition stand design, eye-catching displays and friendly staff – while also telegraphing what you have to offer to that more specialized audience. Cues like brand names, logos and the language you use in your on-stand marketing can all strengthen your specialist appeal.
Keep conversations going
When someone visits your stand, you have the chance to forge an ongoing connection that could lead to new business opportunities or collaborative work. To get to that point, you need to maintain an enjoyable conversation and build from a casual chat to a more meaningful exchange. Here are some ways to do just that:
Smile and make eye contact
Use non-verbal communication to welcome passers-by to your booth and encourage them to stop and say hello. When they do, be quick to extend a handshake and exchange names.
Get to know them
Find out what brought them to the event, how it's going for them and what they've enjoyed so far. As well as talking directly about your business, build rapport by finding out where they've studied, what their goals are and what they enjoy in their free time. It may seem like small talk but it can help you establish a personal connection.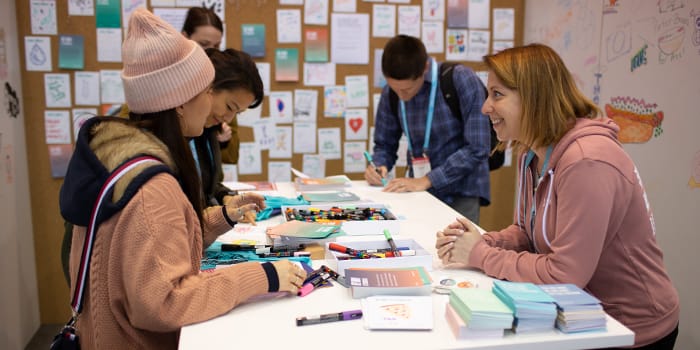 Look out for the best leads
Some visitors are more likely than others to turn into fruitful connections. Have a few 'qualifying questions' up your sleeve, such as 'have you heard of our products?' or 'do you have X in place at the moment?' Looking at their badge, if they're wearing one, can also give useful clues about their fit for your business. If they are, you can go into more depth about what you have to offer.
Carry on the conversation
Before concluding your chat, establish ways to stay in touch with potential customers, whether it's asking to follow or connect with them on social media, getting their email or swapping Business Cards.  
5. Follow up with your exhibition stand visitors
The final piece of the puzzle? Follow up those leads! After the event, reach out to the potential customers you met and let them know you'd like to stay in touch and explore working together. Here's how to follow up effectively after your big day.
Work methodically
After the trade fair flurry, you'll be left with a big pile of cards or long list of email addresses and names. This is when it can get tricky, unless you have a systematic follow-up plan. One option is to collect all the names and details in a spreadsheet and assign them to members of your team. This means that not only is everyone responsible for their own leads, any leads without an obvious owner can be caught too.
Match the message to the medium
If you're following up by email or mail, a letter-style format works well. If you're using social media, the contact needs to be shorter and less formal in style. A phone call can be much more casual and personal, but it needs to come to a point and secure a meeting or it will quickly be forgotten.
Note the 48 hour trade show follow-up window
To make sure people don't forget your face, follow up with potential customers within 48 hours. You'll be fresh in their mind, and they'll also have had the chance to relax and digest everything they saw and learned at the trade show.
Always say thank you
Frame your follow-up as a thank-you letter or message. By focusing on the benefits you got from the conversation with them, you can establish some feel-good vibes. And according to popular psychology, knowing they've done you a favor could actually make them like you more.
Personalize your follow-ups
Make sure to include a personalized detail about your conversation or the event in general. This will increase the likelihood that they'll remember you and reply. Besides, with that great location, amazing print materials, and friendly staff, how could they not?
Photo credit: byronparkphotography.com
Keep in touch
Get design inspiration, business tips and special offers straight to your inbox with our MOOsletter, out every two weeks.
Sign me up!