5 ways to delight your customers with design thinking
Want to create delightful user experiences with your products and services? Design thinking is a people-first theory based on designing products that leverages user feedback to make your creations simple and easy to use. By putting customers first, you can create helpful products and services, from invoices to phone support, that will make your brand unforgettable—and your customers will love you for it.
Here's how to use design thinking to streamline your customer experience:
1. Make better experiences – listen to your customers
First things first: empathize with your customer. Interview them. Listen. Understand what motivates them. It's only through this kind of quality time that you'll learn about all the unconventional ways that they use your products and what they truly want.
"Design thinkers are in love with their customer's problems more than they are their own product," says Laura Weiss, principal at Weiss Collaborative and senior experience design advisor at consulting firm Slalom. "If we simply ask ourselves 'how might we design a better water bottle?' the result will likely look like a water bottle—we've inadvertently limited ourselves. If we step back and instead ask 'how might people be better hydrated?' (which is what they really want) well, that's how you invent a Camelbak."
Record your customers' use cases irrespective of your product and then see where your product does (or doesn't) fit into their lives. Also record anywhere that their needs and expectations aren't being met.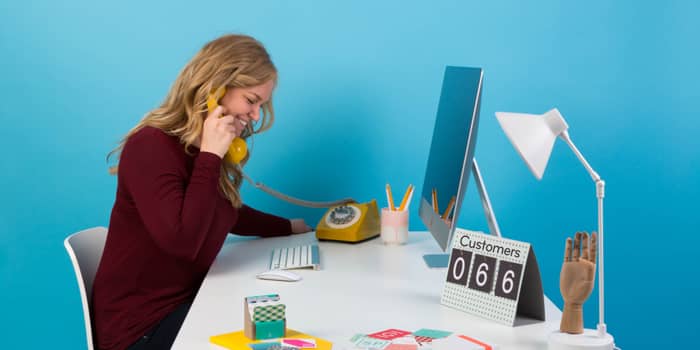 2. Every detail counts – map the customer journey
Next, use what you've learned to map out the stages that your customers go through, including all the touchpoints. The more consistent you can make that experience, the better. For example, a great handoff between the sales and customer service team can really set them up for long-term success. Review your new customer journey map with the team to ensure that it's as efficient as possible. Consistent check-ins throughout the year can iron out any issues before it comes time for their renewal.
3. Go further – make your best even better
Based on your customer journey, dare to dream up a new one. Ask yourself, what would happen if you removed the parts that are inconvenient? Is there any part of your process that exists simply because it's how other companies do it? And what about additions? What do your customers want that they aren't getting? Can you fix a common complaint by making minor changes? Rewrite your customer journey with the customer in mind: make it more enjoyable, and make sure that it enhances their success.
4. Trim the excess – simple is always better
However, you reimagine your customer journey, make sure that it gets a haircut. Simple is always better and your end-goal should be to reduce the number of steps that your customers must go through to order more products and be more successful. For example, here at MOO, we've applied the design-thinking process to our ordering system to reduce it to the fewest number of clicks necessary for customers to get beautifully designed Business Cards, Flyers, and Letterhead. We know that they're busy and as much as (we hope) they appreciate our presence, they'd rather be running their businesses.
5. Never settle – always deliver delight
Once a design-thinker, always a design-thinker. It's an ongoing process and once you put it in place, let your customers know exactly why you've made those changes and invite their constant feedback. It's only through this human-centered design process that you'll be able to test, optimize, and improve your customer journey into something that makes them fall in love!
Never accept business-as-usual. Design thinking can help your business be the best it can be—both for your employees and customers. How do you use design thinking to boost your business? Share your tips in the comments below!
Keep in touch
Get design inspiration, business tips and special offers straight to your inbox with our MOOsletter, out every two weeks.
Sign me up!